Surprise! EcoHealth Landed $1 Million Grant To Work With '80% Mouse Death' Boston University On 'Future Pandemic Prevention'
Monday's report in the Daily Mail that the University of Boston has engineered a chimeric COVID that has an 80% kill rate in humanized mice has caused quite the stir.
To review, in an effort to research what makes Omicron so transmissible – and funded in part by grants from the NIH and Anthony Fauci's NIAID – a team of researchers cobbled the Omicron spike protein to the original strain of Covid-19. The resulting virus was five times more infectious than Omicron.
"The Omicron spike (S) protein, with an unusually large number of mutations, is considered the major driver of these phenotypes. We generated chimeric recombinant SARS-CoV-2 encoding the S gene of Omicron in the backbone of an ancestral SARS-CoV-2 isolate and compared this virus with the naturally circulating Omicron variant," reads the pre-print.
The authors speculate that their chimeric strain is unlikely to be as deadly in humans as it was in the mice because the specific breed used in testing are more susceptible to severe Covid.
Gain of Function?
"The research is a clear example of gain of function research of concern and enhanced potential pandemic pathogen (ePPP) research," said Dr Richard Ebright, a chemist at Rutgers University in New Brunswick, New Jersey, adding "'It is especially concerning that this new US-government ePPP research – like the previous US-government ePPP research on chimeric SARS-related coronaviruses at Wuhan Institute of Virology that may have caused the pandemic – appears not to have undergone the prior risk-benefit review mandated under US-government policies."
Gain of function research was largely restricted in the US until 2017, when the National Institutes of Health began to allow it to take place using government funds.

Previously it had been halted from 2014 to 2017 over concerns that it could lead to the inadvertent creation of a pandemic. -Daily Mail
The University of Boston refuted the notion that they were performing GoF research, adding that it was reviewed and approved by the Institutional Biosafety Committee (IBC) and the Boston Public Health Commission (don't you feel safer already?).
"This research mirrors and reinforces the findings of other, similar research performed by other organizations," said a spokesperson. "Ultimately, this research will provide a public benefit by leading to better, targeted therapeutic interventions to help fight against future pandemics."
Peter Daszak again?
Which leads us to today's report…
Just two months before the '80% mouse kill rate' SARS paper was published, EcoHealth Alliance – the NYC-based nonprofit headed by Peter Daszak (and was also funded by the NIH and Fauci's NIAID to genetically manipulate bat Covid in Wuhan, China) – bragged about a $1 million NSF grant to work with Boston University on a project to 'work towards predicting and preventing future pandemics."
NEW YORK – 30, AUGUST, 2022 – EcoHealth Alliance (EHA), in partnership with Boston University, was awarded a $1 million Predictive Intelligence for Pandemic Prevention Phase I (PIPP) grant by the National Science Foundation. The team of scientists will strategize methods of early infectious disease detection and intervention.
…
EHA researchers will focus on predictive models of location and likely pathogens. This will be accomplished by first compiling a list of mutagenic RNA viruses with a high risk of spillover based on their ability to spread, cause outbreak, and cause severe illness. Next, the team will identify locations at risk of spillover and localized spreadby assembling a list of animals known to host one or more of the focal viruses. -EHA
And from Boston University's press release announcing the partnership:
A multidisciplinary team of researchers at Boston University will work towards predicting and preventing future pandemics as part of a new $1 million project funded by the National Science Foundation (NSF). Faculty members from the Rafik B. Hariri Institute for Computing and Computational Science & Engineering, the Center for Information & Systems Engineering (CISE), the Center for Emerging Infectious Diseases Policy and Research (CEID), the Bioengineering Technology & Entrepreneurship Center (BTEC), and the National Emerging Infectious Diseases Laboratories (NEIDL) will work with researchers from EcoHealth Alliance to develop a set of models that can predict disease emergence and spread, and to devise effective pandemic mitigation strategies.
Of note, several researchers from the EcoHealth-allied National Emerging Infectious Diseases Laboratories (NEIDL) were involved in the creation of the 80% mouse death chimeric SARS-CoV-2.
Last year we reported that 18 months before the pandemic, scientists in Wuhan, China submitted a proposal to release enhanced airborne coronaviruses into the wild in an effort to inoculate them against diseases that could have otherwise jumped to humans, according to The Telegraph, citing leaked grant proposals from 2018.
The bid was submitted by Daszak, who was hoping to use genetic engineering to cobble "human-specific cleavage sites" onto bat Covid 'which would make it easier for the virus to enter human cells' – a method which would coincidentally answer a longstanding question among the scientific community as to how SARS-CoV-2 evolved to become so infectious to humans.
Perhaps Daszak is teaching BU scientists about sequencing spike proteins?
This post was originally published at Zero Hedge
Maryland School Implements New Mask Mandate
As Biden masks up in front of the press
An elementary school in Maryland has reinstated mandatory mask requirements, as Joe Biden appeared in front of the press wearing a face covering Tuesday.
Rosemary Hills Elementary School in Silver Spring, a wealthy DC suburb, has brought back the mask mandate for students and staff, and added that the coverings should be N95 masks.
The school sent out a letter informing parents they have taken the decision after just THREE students tested positive for COVID.
"Additional KN95 masks have been distributed and students and staff in identified classes or activities will be required to mask while in school for the next 10 days, except while eating or drinking. Masks will become options again following the 10-day period," the letter states.
We've heard that one before.
"At-home rapid test kids will be sent home and made available for students," Principal Irwin Kennedy further notes, adding that CDC guidance decrees that testing should be done "5 days after an exposure (starting day 6)" or at such time as symptoms occur.
"We will continue to reinforce good hand washing and follow cleaning and disinfection procedures," the letter further states.
The move comes as Joe Biden donned a face diaper as he arrived at a White House gathering, before removing it altogether.
The White House says Biden will wear the mask after his multiple time vaxxed and boosted wife contracted COVID again.
Related:
SUBSCRIBE on YouTube:
Follow on Twitter:
Follow @PrisonPlanet
———————————————————————————————————————
Brand new merch now available! Get it at https://www.pjwshop.com/


ALERT! In the age of mass Silicon Valley censorship It is crucial that we stay in touch.

We need you to sign up for our free newsletter here.

Support my sponsor – Summit Vitamins – super charge your health and well being.

Also, we urgently need your financial support here. ———————————————————————————————————————
Trump Lockdown Tyrant Does 180, Says No New Mask Mandates
When COVID-19 broker out, Dr. Deborah Birx, a former military AIDS researcher with no training, experience, or publications in epidemiology or public health policy, found herself leading a White House Task Force which would play a seminal role in dictating how the country locked down for the pandemic.
In March of 2020, Birx and Dr. Anthony Fauci were grinning like Cheshire Cats with Duper's Delight as they laid out an unprecedented lockdown and masking strategy which Birx later admitted they pulled out of their asses.
Now that we're revisiting mask mandates over the latest Covid-19 surge, Birx and Fauci are seemingly on different sides of the debate.
"We don't need to mandate," Birx told Newsmax on Saturday, in response to reports that an increasing number of hospitals and businesses are now requiring masks again.
"We need to actually empower people with the information that they need for themselves and their families because every family is different," she continued. "And by the way, outside is safe, and playgrounds are safe."
Meanwhile Fauci – the guy who was funding risky bat coronavirus research in Wuhan, China and was then put in charge of the Coronavirus response in which he had scientists scramble to create and bolster propaganda denying a lab leak – went on CNN to push for mask mandates, claiming "there have been many studies indicate the benefit of wearing masks."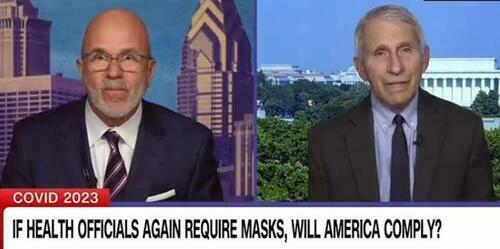 Yet, Anchor Michael Smerconish brought up the Cochrane review of masks, one of umpteen studies that have all found that the face coverings do little to nothing against COVID transmission (via Summit News).
"When you're talking about the effect on the epidemic or the pandemic as a whole, the data are less strong," Fauci said, sqirming. "There are other studies, Michael, that show at an individual level, for individuals they might be protective."
Sure Tony…
This post was originally published at Zero Hedge
Video: Fauci Squirms As CNN Anchor Confronts Him With Data Showing Masks Don't Work
"There are other studies"
Anthony Fauci refused to back away from the recommendation of face masks Saturday as CNN (of all networks) confronted him with a study showing that they have no effect on preventing the spread of COVID.
After Fauci claimed "there have been many studies indicate the benefit of wearing masks," Anchor Michael Smerconish brought up the Cochrane review of masks, one of umpteen studies that have all found that the face coverings do little to nothing against COVID transmission.
"When you're talking about the effect on the epidemic or the pandemic as a whole, the data are less strong," Fauci squirmingly admitted, but then went on to suggest people should still wear them anyway.
"There are other studies, Michael, that show at an individual level, for individuals they might be protective," Fauci claimed.
Senator Rand Paul blasted Fauci for spreading "more subterfuge":
Others chimed in:
Elsewhere during the interview Fauci said he hopes people will comply with wearing masks again, while stating "we're not talking there's forcing anybody to do anything."
He continued, "We're not talking about mandates or forcing anybody but when you have a situation where the volume of cases in society gets to a reasonably high level, particularly the vulnerable, those who are elderly, and those with underlying conditions are going to be more susceptible and vulnerable if they do get infected to get severe disease leading to hospitalization."
"I would hope that if in fact we get to the point where the volume of cases is such an organization's like the CDC recommend, CDC doesn't mandate anything, I mean, recommends that people wear masks, I would hope that they abide by the recommendation and take into account the risk to themselves and to their families," Fauci further stated.
He continued, "People keep thinking that the federal government is going to mandate that you wear a mask, that's not going to happen," he said. "But there may be individual institutions, organizations that are going to say, if you want to come to work, you've got to wear a mask."
Here is the full interview:
As we have highlighted, there is a creeping attempt to bring back masking and COVID restrictions despite no large bounce in cases and the fact that they just don't work.
Related:
SUBSCRIBE on YouTube:
Follow on Twitter:
Follow @PrisonPlanet
———————————————————————————————————————
Brand new merch now available! Get it at https://www.pjwshop.com/


ALERT! In the age of mass Silicon Valley censorship It is crucial that we stay in touch.

We need you to sign up for our free newsletter here.

Support my sponsor – Summit Vitamins – super charge your health and well being.

Also, we urgently need your financial support here. ———————————————————————————————————————