Virginia Democrat Wants To Criminalize Parents Who "Misgender" Their Children
Making laws surrounding transgender "rights" is disturbingly a lot like the concept of spectral evidence taken from the days of the Salem witch trials.  Trans identity is a purely subjective concept with zero concrete proof to support it – All a person has to do is simply say they are now whatever made-up gender they announce at the moment and the rest of the world is supposed to revolve around them.
During witch trials witnesses could say that ghosts or spirits were telling them that a defendant was guilty of devilry, and the court was supposed to take these unfounded accusations as evidence. Similarly, under gender identity laws a person could say that they are trans and accuse other people of violating their "right" to be referred to in the pronouns they prefer.
But it goes beyond the issue of personal feelings. Maybe a biological man suddenly decides he is a woman that wants to use a public woman's bathroom because there is an underage girl in there he has targeted, but he's not required to provide proof of being a woman and we are not allowed to stop him. We are required to accept his identity at face value based on his subjective claims. Otherwise, we are "assuming that person's gender." We become the bad guys for applying common sense.
Subjective law is the beginning of the end of a free society because it places the preponderance of evidence into the hands of lunatics and dictators that can fabricate their own proof at will.
Virginia Democrat and delegate Elizabeth Guzman believes the opposite, though.  She plans to introduce a bill in Virginia's upcoming fall session that would expand the definition of child abuse to include parents who refuse to use gender identify in the manner their children demand.  In other words, if you are a parent in Virginia, your kids have the power in the household.  All they have to do is say they are trans and if you do not obey then Child Protective Services can get involved.
The bill would make misgendering of children a misdemeanor or possible felony. Guzman clarifies:
"If the child shares with those mandated reporters, what they are going through, we are talking about not only physical abuse or mental abuse, what the job of that mandated reporter is to inform Child Protective Services (CPS)…That's how everybody gets involved. There's also an investigation in place that is not only from a social worker but there's also a police investigation before we make the decision that there is going to be a CPS charge."
When asked by the local reporters whether she isn't "criminalizing parents" as many Republicans argue, Guzman answered:
"No, it's not. It's educating parents because the law tells you the do's and don'ts…So this law is telling you do not abuse your children because they are LGBTQ."
When countered with arguments from people who call for religious freedom, Guzman makes the typical leftist response:
"The Bible says to accept everyone for who they are. So that's what I tell them when they asked me that question, and that's what I will continue to tell people."
First, in terms of legal definitions, there is no scientific indicators of what makes a child or anyone else "trans." Thus, there is no way to prove in a court of law that a parent "abused" a "trans child" because there is no way to prove a child is trans. Beyond the extremely tiny percentage of people that have the mental illness known as Gender Dysphoria, which requires years of psychological therapy to designate, objective proof of trans identity does not exist.
Second, a child's hurt feelings are not grounds for CPS to intervene in parental rights.
Third, the trans identity movement is not a civil liberties movement, it's a political movement. LGBT people have the same exact legal rights as everyone else. What the trans movement wants is extraordinary powers and special treatment. They want the ability to dictate other people's speech and behavior according to their whims. This is unacceptable.
Fourth, it is not the purpose of the law to "educate parents." It's not the job of the government to educate parents. The government and the bureaucrats that infest it are not qualified to give parenting advice. It is the job of government only to protect the rights of citizens as outlined in the Constitution. Gender pronouns and personal feelings are not constitutionally protected.
Free speech is protected, though.
Fourth, Guzman appears to be unfamiliar with the Bible, because there is a list of behaviors in that book that are prohibited. We might not all agree with every item on that list, but "accepting everyone" is absolutely not a religious requirement. Some people and behaviors should not be accepted, because they lead to the decline and downfall of civilization. Thousands of years of observation have taught us this, but leftists believe they know better. Children dictating to their parents is on that list, along with enabling the mentally ill and putting them in positions of authority.
One would hope that Elizabeth Guzman and ideological zealots like her will be swiftly removed from office as soon as possible, but it is likely that America will have to suffer through more of their insanity before people are finally fully fed up.
This post was originally published at Zero Hedge
Beyond the Realms of Absurdity
Welcome to the new crime of not joining in.
UK police telephoned and warned a woman because she refused to accept an LGBT-themed 'Pride' carrier bag after buying something in a shop.
Please share this video! https://youtu.be/bU1VkNZKakk
SUBSCRIBE on YouTube:
Follow on Twitter: Follow @PrisonPlanet
———————————————————————————————————————
Brand new merch now available! Get it at https://www.pjwshop.com/
ALERT!
In the age of mass Silicon Valley censorship It is crucial that we stay in touch.
I need you to sign up for my free newsletter here.
Support my sponsor – Summit Vitamins – super charge your health and well being.
Get early access, exclusive content and behind the scenes stuff by following me on Locals.
———————————————————————————————————————
Author Of 'Gender Queer' Book Found In Schools Says "I Don't Recommend This Book For Kids"
"'Gender Queer' is a comic, and in full color, but that doesn't mean it's for children"
The author of the book titled 'Gender Queer', one of the controversial LGBTQ+ materials featuring explicit images that has cropped up again and again in schools has stated that the book is not meant to be available for young children.
Maia Kobabe, who identifies as non-binary told the Washington Post that her book is aimed at "older teens," not kindergarten aged kids.
"It keeps being called a children's book … but I think that's coming from a misreading of the comic-book form. 'Gender Queer' is a comic, and in full color, but that doesn't mean it's for children," Kobabe stated.
"I originally wrote it for my parents, and then for older teens who were already asking these questions about themselves. I don't recommend this book for kids!" she said in the interview published last week.
The comments come after GOP Senator John Kennedy read aloud graphic excerpts during a Senate Judiciary Committee hearing:
Kennedy read "I got a new strap-on harness today. I can't wait to put it on you. It will fit my favorite dildo perfectly. You're going to look so hot. I can't wait to have your c**k in my mouth. I'm going to give you the blow job of your life. Then I want you inside of me."
"The words you spoke are disturbing, especially coming out of your mouth, it's very disturbing," Illinois Secretary of State Alexander Giannoulias told Kennedy in response.
The book is one of several that have prompted outrage and protests among parents as it features graphic illustrations of sex between two men, use of sex toys, oral sex, and masturbation, among other things.
Passages from the book have been read out by parents during school board meetings, in some cases leading to them being shut down and asked to leave.
The Gender Queer book was also cited by Chelsea Clinton in tweets defending the use of such material in schools:
Related:
SUBSCRIBE on YouTube:
Follow on Twitter:
Follow @PrisonPlanet
———————————————————————————————————————
Brand new merch now available! Get it at https://www.pjwshop.com/


ALERT! In the age of mass Silicon Valley censorship It is crucial that we stay in touch.

We need you to sign up for our free newsletter here.

Support my sponsor – Summit Vitamins – super charge your health and well being.

Also, we urgently need your financial support here. ———————————————————————————————————————
Indeed Out-Wokes Corporate America With $10,000 Relocation Checks For Trans Employees
Austin-based online job search platform, "Indeed," aims to 'out woke' corporate America by offering transgender employees or those with transgender children a $10,000 relocation payment. Both Bloomberg and Axios confirmed the relocation payment program. 
Before we discuss relocation payments, it's important to note that Indeed proudly states on its website that it had the wokest corporate policies in America in 2018. It said its 2018 Corporate Equality Index (CEI), a national benchmarking survey and report on corporate policies and practices related to lesbian, gay, bisexual, transgender, and queer (LGBTQ) workplace equality, score "received a perfect score of 100 percent."
For some context, CEI is administered by the Human Rights Campaign, the largest LGBTQ+ political lobbying group in the world. HRC has received millions of dollars in funding from George Soros' Open Society Foundation.
Indeed's executives appear to have one objective in mind: rank the highest on the CEI index this year (we all remember earlier this year what happened to Bud Light when they tried that on TikTok). One way execs are attempting to achieve a high score is to offer a relocation program to trans workers, cutting them a $10,000 check to cover 'travel-related expenses' out of conservative states (or areas where they don't feel comfortable) to safer grounds.
"While Indeed introduced the program to its employees in July, until now, the company has not discussed it publicly," Bloomberg said.
Indeed provided further details about the program to Axios:
It's for US-based employees and immediate family members who seek gender-affirming care and live in a location where state laws or government-issued directives criminalize or restrict access to such medical care.
It also applies to those who live in places that attempt to restrict support for children who are gender non-conforming, transgender or non-binary.
Eligible employees will receive approval to relocate to a state or jurisdiction where they will be able to access the care and support they need, as well as a $10,000 flat-rate benefit to support their relocation expenses.
None of this comes as a surprise given Indeed's mission since 2018 has been to 'out woke' corporate America in its pursuit of a high CEI score. But why?
Some netizens were confused by Indeed's move considering the Bud Light backlash earlier this year after a white privileged liberal executive believed the brewer was time for a change. However, its customer base thought otherwise, nuking the beer as demand has since crashed.
"Kinda weird that companies never did stuff like this for black people or disabled people," one netizen asked. 
Another asked, "Does Indeed offer any relocation money for women who live in particularly misogynistic states? Of course not. "
Someone else pointed out: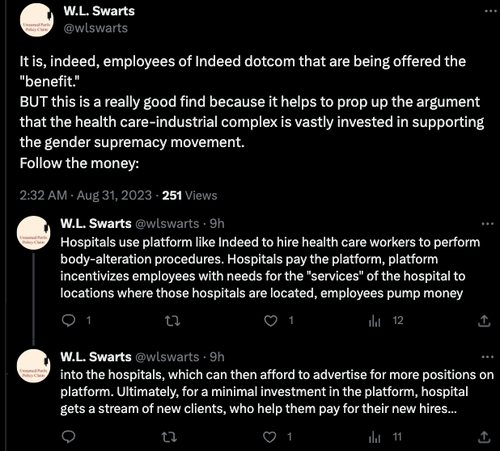 We wonder if Indeed will have an increase in the number of trans workers trying to capitalize on the free money.
This post was originally published at Zero Hedge