Elon Musk Alarmed After Apparent Inclusion On Well-Known Ukrainian 'Kill List'
Elon Musk has publicly expressed alarm over his name and profile appearing to have been added to a well-known Ukrainian 'kill list', following controversy and outrage from Kiev over his prior "Russia-Ukraine peace poll" and subsequent threats to cut funding for Starlink satellite internet services deployed in the country.
On Friday, the billionaire SpaceX founder responded directly to a viral tweet by independent journalist Eva Bartlett which claimed "Musk added to Ukraine's Myrotvorets kill list (which includes 327 children!)," in which he asked her "is this list real?"
Musk later appeared to answer is own question in the affirmative, tweeting out a link to the 'kill list' website's Wikipedia page. The website within recent weeks fell into the spotlight after Pink Floyd's Roger Waters highlighted his own inclusion on the list.
"Concerning," Musk later wrote.
In the case of Waters, Louder Sound writes;
The 'list' that Waters is referring to is stored on the NSFW website Myrotvorets ('Peacemaker'), which, in addition to posting graphic photos of dead Russian soldiers, allegedly features around 187,000 names of people critical of the Ukrainian government, alongside their home address, phone numbers and contact details. The left-wing UK website The Canary actually identified Waters' name on the list in an article published in May, stating that the musician was on the database as he is accused of "Anti-Ukrainian propaganda. An attempt on the territorial integrity of Ukraine. Participation in attempts to legalize the annexation of Crimea by Russia."
Newsweek, meanwhile, in attempting to identify and verify the Ukrainian website suggested that it is independently-run, but at the same time kept open the question of whether it has direct links to the Ukrainian government:
As various media reports on Mirotvorets note, it is an NGO that keeps an open-sourced database of persons that it deems to have promoted anti-Ukrainian narratives or acted to destabilize Ukraine's national security. Since the start of the war, it also keeps count of the Russian soldiers and agents killed on its territory.

It was founded by a Ukrainian politician and activist Heorhiy/Georgiy Tuka. It has also been closely linked to politician Anton Gerashchenko, whom The Times of London in a recent interview referred to as a co-founder of the project.
According to Rolling Stone, "There is a list maintained by a far-right Ukrainian organization that contains hundreds of thousands of enemies of Ukraine, from alleged members of the Wagner private military company to journalists accused of cooperating with puppet governments in the Donbas region. The site, which has been roundly internationally condemned — but not taken down by the Ukrainian government itself — claims not to be a kill list but rather "information for law enforcement authorities and special services."
Newsweek highlighted that in some instances names of Ukrainians that had their names and addressed published as "collaborators" were hunted down and prosecuted, and that some turned up dead.
The Mirotvorets list has no official standing in Ukraine, though Al Jazeera, citing the rights group Uspishna Varta, reported that it had been used as evidence in more than 100 court cases against those suspected of involvement with pro-Russian paramilitaries.

In April 2015 two pro-Russian Ukrainians, politician Oleg Kalashnikov and publicist Oles Buzina, were shot dead in Kyiv.

Al Jazeera reported that the attacks took place just days after Mirotvorets published personal details,including addresses, about the two men, but no direct link has been found or proven in court. -Newsweek
And according to Mirotvorets' Wikipedia page, the site does maintain an "enemies of Ukraine" list, and has even come under censure from Western allies of Kiev, who find it somewhat of an uncomfortable embarrassment.
"The site has remained open despite repeated requests from the UN, G7 ambassadors, the EU and human rights groups to close it down, and although it has no official status, it acts to supplement government databases at checkpoints," the Wikipedia page which Musk refers to cites.
Eva Bartlett herself, the journalist and pundit that Musk interacted with on Twitter, is reported to be on the kill list.
Screenshot of "liquidated persons" on the Myrotvorets site… names that appear were accused of publicly supporting Russia or of being "anti-Ukrainian", or being collaborators with the occupying Russian army.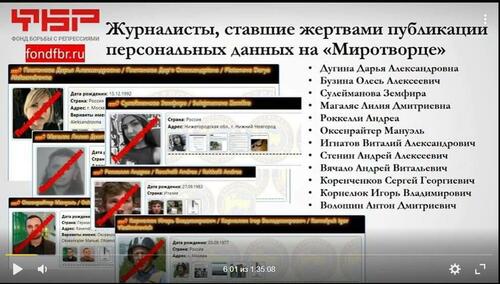 While a screenshot of Musk's profile on the kill list is now being widely circulated, his name may have only briefly appeared on the website, reportedly having been taken down quickly after it became focus of attention on social media.
This post was originally published at Zero Hedge
Ukraine Tells People Not To Panic As WHO Warns Of 'Life-Threatening' Winter
The World Health Organization (WHO) announced in a Monday statement that the power situation in Ukraine is so dire that it will potentially be "life-threatening" for millions of Ukrainians due to the recent devastating series of Russian air attacks on the national energy grid.
"Put simply – this winter will be about survival," Hans Kluge, regional director for Europe at the United Nations' health body, said from the Ukrainian capital. "This winter will be life-threatening for millions of people in Ukraine," he added.
The attacks, the last major wave of which came this past Tuesday and continued intermittently into the weekend, are "already having knock-out effects on the health system and on the people's health," Kluge described.
"Continued attacks on health and energy infrastructure mean hundreds of hospitals and health care facilities are no longer fully operational," the WHO official said. "We expect two to three million more people to leave their homes in search of warmth and safety," he forewarned.
Ukrainian Prime Minister Denys Shmyhal last Friday estimated that half of the entirety of the country's energy infrastructure has been disabled by the Russian attacks at this point. Millions are already without power as temperatures plunge and Kiev saw its first snow of the season starting days ago.
"Unfortunately Russia continues to carry out missile strikes on Ukraine's civilian and critical infrastructure. Almost half of our energy system is disabled," Shmyhal was cited in Reuters as saying.
Politico reported last week that Congressional leaders had been given classified intelligence reports detailing the expected impact of Russia's campaign to degrade Ukraine's power grid.
"The Ukrainian government is warning Western allies that it is anticipating increased Russian attacks on its energy infrastructure in the coming days and that Kyiv does not have enough replacement parts to bring heat and power back online if those occur, according to two congressional officials and one Western official briefed on U.S. intelligence," the report said.
Politico detailed further that "Ukrainian officials have in recent days asked their American counterparts and more than half a dozen European countries for assistance preparing for a prolonged period with limited electricity and gas — a scenario Kyiv expects to complicate fighting on the ground and displace civilians, the officials and an adviser to the Ukrainian government said."
Amid emergency rolling blackouts and city or regional mandates banning use of large appliances and other imposed consumption limits, Ukraine government officials are urging the people not to panic. "Denying the panicky statements spread by social networks and online media, we assure you that the situation with the energy supply is difficult, but under control," the energy ministry said in a Saturday statement.
This post was originally published at Zero Hedge
AP Fires Reporter Behind False Report Claiming 'Russian Missiles Struck Poland'
The Associated Press on Monday fired one of two reporters with a byline on last week's now-retracted report that claimed "Russian missiles" had "crossed into NATO member Poland" and killed two people.
From The Daily Beast, AP Fires Reporter Behind Retracted 'Russian Missiles' Story":
That report, which was widely cited across the internet and on cable news, was taken offline the following day and replaced with an editor's note admitting the single source [a "senior U.S. intelligence official"] was wrong and that "subsequent reporting showed that the missiles were Russian-made and most likely fired by Ukraine in defense against a Russian attack."

On Monday, the AP fired James LaPorta, the investigative reporter responsible for that story, Confider has learned.
The piece, which was originally co-bylined with John Leicester (who is still working at the AP), attributed the information to a single "senior U.S. intelligence official," despite the AP's rule that it "routinely seeks and requires more than one source when sourcing is anonymous."

The only exception, according to its statement of news values and principles, is when "material comes from an authoritative figure who provides information so detailed that there is no question of its accuracy"—a situation that seemingly did not occur, as the report was fully retracted last Wednesday.

When reached for comment, an AP spokesperson did not comment on LaPorta's ouster but instead wrote: "The rigorous editorial standards and practices of The Associated Press are critical to AP's mission as an independent news organization. To ensure our reporting is accurate, fair and fact-based, we abide by and enforce these standards, including around the use of anonymous sources."
The Washington Post blamed internal "confusion and misunderstanding" for the report:
Internal AP communications viewed by The Post show some confusion and misunderstanding during the preparations of the erroneous report.

LaPorta shared the U.S. official's tip in an electronic message around 1:30 p.m. Eastern time. An editor immediately asked if AP should issue an alert on his tip, "or would we need confirmation from another source and/or Poland?"

After further discussion, a second editor said she "would vote" for publishing an alert, adding, "I can't imagine a U.S. intelligence official would be wrong on this."
Woman moment.
But a person at the Associated Press familiar with the larger conversations surrounding the story that day said LaPorta also told his editors that a senior manager had already vetted the source of LaPorta's tip — leaving the impression that the story's sourcing had been approved. While that editor had signed off on previous stories using LaPorta's source, that editor had not weighed in on the missile story.

Easton said the organization did not anticipate any discipline for the editors involved.
"She" voted to publish this bombshell report that violated the AP's own rules on the use of anonymous sources and risked sparking WW3 because she couldn't "imagine" a senior U.S. intelligence official could be wrong but she is not being fired — only LaPorta is getting canned.
Some great "standards" you got there, AP!
This post was originally published at Information Liberation
Sweden Finds "Foreign Objects" & Explosive Residue On Nord Stream Pipelines
Swedish investigators announced Friday the conclusion of their formal investigation into the Nord Stream pipeline blasts on September 26. To nobody's surprise, the investigation has concluded the natural gas leaks which rocked European energy markets and resulted in tit-for-tat accusations between Moscow and the West was the result of "gross sabotage". 
While not naming a culprit, the Swedish final report of this initial stage of the inquiry uncovered evidence of "foreign objects" placed on the pipelines.
"During analyzes carried out, residues of explosives have been identified on several of the foreign objects seized," the report said.
The Swedish Prosecution Authority's statement said, "In the crime scene investigations carried out on site in the Baltic Sea, the area and the extensive damage to the gas lines as a result of the detonations have been extensively documented."
Russia has denied responsibility, while at the same time pointing the finger at Washington or its allies. Swedish investigators say they will now work toward establishing who was behind the sabotage:
"The advanced analysis work is still in progress – the aim is to draw more definitive conclusions about the Nord Stream incidents," the agency said. "The investigation is extensive and complex and will eventually show whether anyone can be suspected of, and later prosecuted for this."
Previously, Denmark and Sweden said soon after the massive leaks in late September that the blasts "probably corresponded to an explosive load of several hundred kilos."
Russian media sources, as well as a handful of Western pundits, have alleged that US naval activity was observed in that regional of the Baltic Sea during the time of the incident.
If Sweden ultimately says that Russia was behind the attack on the pipelines, Moscow is likely to dismiss it, and call for their own independent access to and investigation of the evidence and site.
This post originally appeared at Zero Hedge