Gazprom CEO Warns EU: "Whole Towns Could Freeze" This Winter
Even though Europe's natural gas storage for this winter is nearly full, the head of Russian energy Gazprom PJSC still warned European households could freeze in the event of a cold snap, according to Bloomberg. 
"Winter can be relatively warm, but one week or even five days will be abnormally cold, and it's possible that whole towns and lands, god forbid, will freeze," Gazprom CEO Alexey Miller said at Russian Energy Week in Moscow.
Miller said during peak winter demand days, Europe could experience a gap of 800 million cubic meters of NatGas per day, or about one-third of its total consumption. The figures were from a report by unidentified analysts.
Natgas to Europe is stable so far this week, albeit at reduced levels over the past year. Shipments via Ukraine are one of the last remaining Russian supply lines to western Europe after the bombing of Nord Stream pipelines. Even though NatGas shipments have dwindled and pushed many European economies to the brink of recession, inventories across the continent are nearly full at 91%.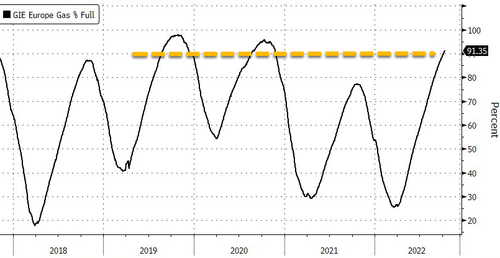 The good news is EU storage is above a 10-year average of 71% for this time of year.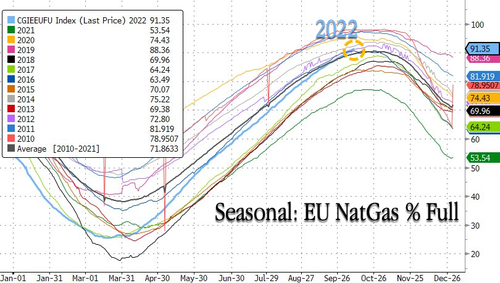 Dutch front-month gas futures, a European benchmark, has been nearly halved since late August on relief from inventories and hopes of a warmer winter.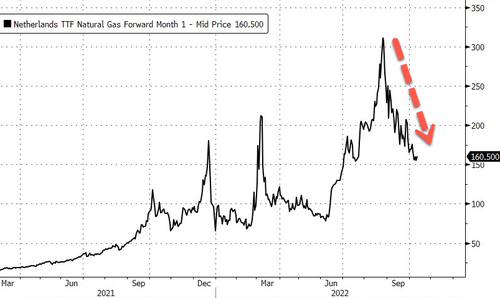 But new data from the European Centre for Medium-Range Weather Forecasts (ECMWF) outlines that a high-pressure system over western Europe could bring colder weather, less wind, and less rainfall. Less wind would reduce the generation of renewable power.
Gazprom's CEO said EU NatGas inventories could be drained to 5% full in March…
"Sure, Europe will survive, but what will happen by the time of gas injection" into storage before winter of 2023 and 2024.

"It will be clear then that energy crisis has come not for a short period of time."
It appears Europe's energy crisis is far from over… The UK is already warning about its inability to import enough NatGas this winter, threatening to unleash power blackouts across its grid.
This post was originally published at Zero Hedge
Austrian Defense Minister Warns Europeans Are Unprepared For Days-Long Blackouts
Leaving one third of citizens unable to "supply themselves."
The Austrian defense minister has warned that Europeans could face blackouts that go on for days, leaving one–third of citizens unable to "supply themselves."
Klaudia Tanner made the comments during an interview with German news outlet Die Welt.
"The question is not whether it (the blackout) will come, but when it will come," said Tanner, blaming the war in Ukraine.
"For Putin, hacking attacks on Western power supplies are a tool of hybrid warfare. We must not pretend that this is just a theory. We must be prepared for blackouts in Austria and Europe," she added.
Austrian armed forces are set to establish 100 self-sufficient barracks by 2025 that are capable of sustaining themselves for a minimum of two weeks if energy supplies are seriously disrupted.
Tanner spoke to how unprepared Europeans were for crippling elongated blackouts by warning, "one-third of citizens would not be able to supply themselves on the fourth day of a blackout at the latest."
While Vladimir Putin remains the convenient scapegoat, others have pointed to Europe's overdependence on 'green energy' and its shutting down of traditional coal-fired and nuclear plants as one of the primary reasons for increasing the risk of blackouts.
In Germany for example, the country only has three remaining operational nuclear power plants, with MPs even having to vote to extend their life span into 2023 after previous plans to shut them down.
As we previously highlighted, Germans buying up electric heaters in anticipation of the gas supply being cut off is threatening to cause huge spikes in demand that could lead to widespread blackouts.
"If everyone switched on a fan heater at home, it would mean that we would have to almost double the existing network structure on every street," said Peter Lautz, the boss of the Stadtwerke Wiesbaden Netz utility company.
Before winter began, cities across Germany announced they were planning to use sports arenas and exhibition halls as 'warm up spaces' to help freezing citizens who are unable to afford skyrocketing energy costs.
Top Green Party official Winfried Kretschmann caused controversy earlier this year by suggesting Germans use washcloths instead of taking showers, as well as buying expensive eco-heating systems that are unaffordable for the average person.
SUBSCRIBE on YouTube:
Follow on Twitter: Follow @PrisonPlanet
———————————————————————————————————————
Brand new merch now available! Get it at https://www.pjwshop.com/
ALERT!
In the age of mass Silicon Valley censorship It is crucial that we stay in touch.
I need you to sign up for my free newsletter here.
Support my sponsor – Turbo Force – a supercharged boost of clean energy without the comedown.
Get early access, exclusive content and behind the scenes stuff by following me on Locals.
———————————————————————————————————————
Video: Biden Energy Advisor Admits That The Regime Wants To Limit Oil Production "To Accelerate The Transition"
While asking oil companies to increase production now and tapping more reserves to bring gas prices down before mid term elections
Biden administration energy advisor Amos Hochstein admitted Wednesday that while the regime wants to increase oil production in the short term, its overall aim is to limit it in order to "accelerate the transition".
Appearing on CNN, Hochstein proclaimed "I think we have been clear that we want to see the U.S. industry increase oil production."
Then in the same breath, Hochstein stated that the main goal is to limit production of fossil fuel derived energy now in order to "make sure that we're in a better footing to accelerate the transition."
"So, we have to make that differentiation to make sure that the American consumer has what it needs… to grow our economy and the global economy, but not take steps and endanger the climate work that we're trying to do," Hochstein further declared.
He continued, "[I]t is about making a choice between what is the short-term and the medium-term so that we can make sure we have enough oil and gas to support us through the transition, and what are the kind of steps that we don't want the oil and gas industry to take that would have long-term consequences when we don't want new major projects that would take 20, 30 years to become profitable."
Watch:
The comments came in the wake of Biden announcing another release of 15 million barrels of oil from the Strategic Petroleum Reserve ahead of the 2022 midterms in an attempt to reduce gas prices.
During the CNN interview, Hochstein also claimed that the administration intends to buy oil at $70/barrel next year, when prices come down, to refill the SPR:
The U.S. SPR is at its lowest level for 4 decades, and has tanked since Biden took office:
Biden himself repeated the claim that he will buy back oil at a lower price and save money, while critics pointed out that Democrats blocked President Trump from filling the reserves when oil was just $24/barrel two years ago:
The White House Press Secretary had no answers when asked about that:
Jean-Pierre also failed to explain why more oil is needed from the SPR if gas prices are going down, as the Biden regime has claimed:
Fox News reporter Peter Doocy asked Jean-Pierre "So, you're asking oil companies to further lower gas prices. What makes you think they are going to listen to an administration that is ultimately trying to put them out of business?"
Jean-Pierre knows full well that the agenda is the "transition," and to put an "end" to fossil fuel energy companies.
The administration is openly admitting that is the case while Jean-Pierre plays dumb:
While Biden claimed that oil companies are raking in record profits and that the price of gasoline is not being reflected at the pump, his official Twitter account sent out a chart showing the exact opposite:
While it is still up on average $1.50 from when he took office, Biden's Chief of Staff Ron Klain claimed the administration has "tackled" gas prices:
The administration continues to claim the economy is "strong" while quietly preparing for an economic crash on par with 2008, according to The New York Times.
SUBSCRIBE on YouTube:
Follow on Twitter:
Follow @PrisonPlanet
———————————————————————————————————————
Brand new merch now available! Get it at https://www.pjwshop.com/


ALERT! In the age of mass Silicon Valley censorship It is crucial that we stay in touch.

We need you to sign up for our free newsletter here.

Support our sponsor – Turbo Force – a supercharged boost of clean energy without the comedown.

Also, we urgently need your financial support here. ———————————————————————————————————————
Video: Bill Gates Says European Energy Crisis Is "Good"
Says people will be forced to "move to these new approaches more rapidly"
While people in Europe face the prospect of not being able to afford to heat their homes this winter, and experiencing freezing dark blackouts, Bill Gates declared that "in the long run" the energy crisis is a "good" thing.
Touting his Breakthrough Energy Ventures climate-technology (carbon tax) investment company, Gates told CNBC "People did get a little optimistic about how quickly the transition could be done."
"Without the Russian natural gas being available in Europe… it's a setback," Gates continued.
"We need to find non Russian hydrocarbon sources to substitute for those so there's coal plants running and variety of things, because, you know, keeping, you know, people warm, keeping those economies in decent shape is a priority," Gates asserted.
He continued, "Now, on the other hand, it's good for the long run, because people won't want to be dependent on Russian natural gas so they'll move to these new approaches more rapidly."
Watch:
Gates published a "State of the Energy Transition," Tuesday, declaring that it should be the responsibility of countries such as the United States which have prospered from burning fossil fuels to move to completely decarbonize all sectors of the economy.
He writes "Many countries in Europe and North America filled the atmosphere with carbon to achieve prosperity, and it is both unrealistic and unfair to expect everyone else to forgo a more comfortable life because that carbon turned out to change the climate."
Gates also writes "I don't think the market by itself can press reset on an entire economy in just a few decades," adding "We need a plan to speed the process up."
Meanwhile…
SUBSCRIBE on YouTube:
Follow on Twitter:
Follow @PrisonPlanet
———————————————————————————————————————
Brand new merch now available! Get it at https://www.pjwshop.com/


ALERT! In the age of mass Silicon Valley censorship It is crucial that we stay in touch.

We need you to sign up for our free newsletter here.

Support our sponsor – Turbo Force – a supercharged boost of clean energy without the comedown.

Also, we urgently need your financial support here. ———————————————————————————————————————