Swiss Company Offers Fortified Luxury Bunkers For The Apocalypse
A Swiss firm which supplies fortified underground residences has unveiled its new L'Heritage bunkers – for ultra high-net worth individuals who want to ride out the apocalypse bathed in the lap of luxury they've grown accustomed to.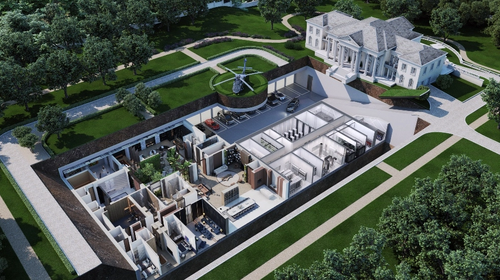 The company, Oppidum, commissioned French architect Marc Prigent to design the sprawling underground abodes for "unprecedented times" – with each one offering a minimum of 10,000 square feet of space.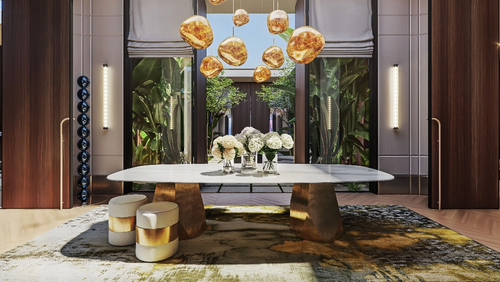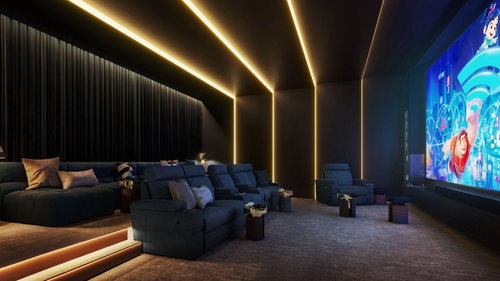 The residences can be customized to the owner's tastes – and can include extra facilities such as an extra-large garage, a private art gallery, meeting lounges, an indoor garden, and even a spa with a private pool, according to Robb Report.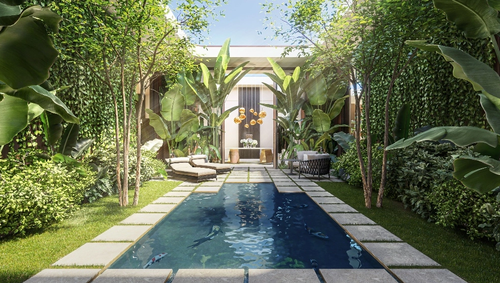 The residences have two independent air filtration systems – a primary unit for peacetime operation which provides fresh air indefinitely, and a state-of-the-art secondary air filtration system that can protect against airborne contaminants "be it of radioactive, chemical, biological or nuclear origin," according to the website.
Should the need arise, the Oppidum's unique high-pressure air reserve and internal circulation provides sufficient level of oxygen in the building and at the same time maintains an overpressure to ensure absolute airtightness and gas-tightness of the indoor environment.

The air filtration includes a CO2 removal system to provide breathable air when there is insufficient or no fresh air supply in the building. If necessary, the auxiliary supply connected to the CO2 removal will provide a sufficient level of oxygen. -Oppidum
The main structure is a reinforced concrete shell designed for static and dynamic loads, blast or shock waves, seismicity and other factors, and shelters can even be "designed to the highest NATO STANAG 2280:2016 level of protection."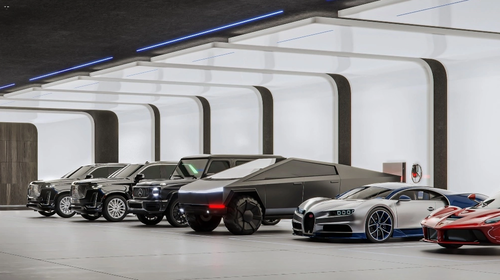 Heavy security is key, given that these bunkers are made to ride out an apocalypse in extreme luxury. To that end, fortified blast doors are controlled by a multi-biometric meter that scans a resident's face, iris, palm and fingerprints. Each residence also comes with an integrated, military-grade security system, as well as (of course) the ability to survive off-grid.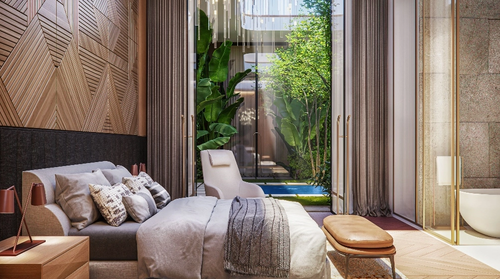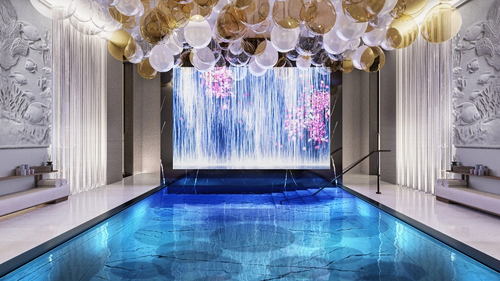 "They are places of serenity and absolute safety for owners and their families. We are privileged to offer our clients the highest levels of service, creating beautiful places that will protect them and their legacy for generations to come," said Oppidum founder and CEO Jakub Zamrazil in a statement.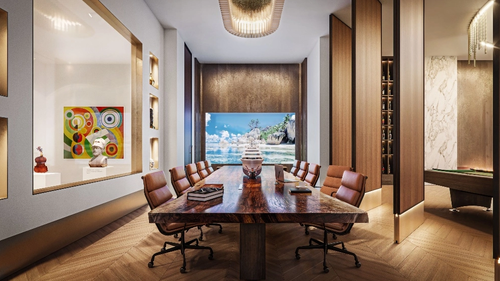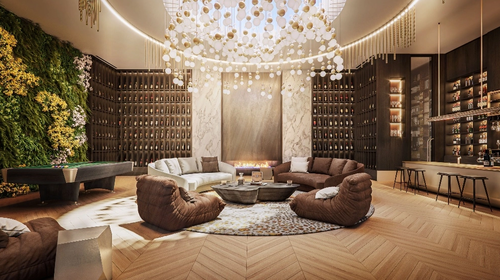 The bunkers are available in the US, EU, UK and UAE.
This post was originally published at Zero Hedge
Ukraine Tells People Not To Panic As WHO Warns Of 'Life-Threatening' Winter
The World Health Organization (WHO) announced in a Monday statement that the power situation in Ukraine is so dire that it will potentially be "life-threatening" for millions of Ukrainians due to the recent devastating series of Russian air attacks on the national energy grid.
"Put simply – this winter will be about survival," Hans Kluge, regional director for Europe at the United Nations' health body, said from the Ukrainian capital. "This winter will be life-threatening for millions of people in Ukraine," he added.
The attacks, the last major wave of which came this past Tuesday and continued intermittently into the weekend, are "already having knock-out effects on the health system and on the people's health," Kluge described.
"Continued attacks on health and energy infrastructure mean hundreds of hospitals and health care facilities are no longer fully operational," the WHO official said. "We expect two to three million more people to leave their homes in search of warmth and safety," he forewarned.
Ukrainian Prime Minister Denys Shmyhal last Friday estimated that half of the entirety of the country's energy infrastructure has been disabled by the Russian attacks at this point. Millions are already without power as temperatures plunge and Kiev saw its first snow of the season starting days ago.
"Unfortunately Russia continues to carry out missile strikes on Ukraine's civilian and critical infrastructure. Almost half of our energy system is disabled," Shmyhal was cited in Reuters as saying.
Politico reported last week that Congressional leaders had been given classified intelligence reports detailing the expected impact of Russia's campaign to degrade Ukraine's power grid.
"The Ukrainian government is warning Western allies that it is anticipating increased Russian attacks on its energy infrastructure in the coming days and that Kyiv does not have enough replacement parts to bring heat and power back online if those occur, according to two congressional officials and one Western official briefed on U.S. intelligence," the report said.
Politico detailed further that "Ukrainian officials have in recent days asked their American counterparts and more than half a dozen European countries for assistance preparing for a prolonged period with limited electricity and gas — a scenario Kyiv expects to complicate fighting on the ground and displace civilians, the officials and an adviser to the Ukrainian government said."
Amid emergency rolling blackouts and city or regional mandates banning use of large appliances and other imposed consumption limits, Ukraine government officials are urging the people not to panic. "Denying the panicky statements spread by social networks and online media, we assure you that the situation with the energy supply is difficult, but under control," the energy ministry said in a Saturday statement.
This post was originally published at Zero Hedge
AP Fires Reporter Behind False Report Claiming 'Russian Missiles Struck Poland'
The Associated Press on Monday fired one of two reporters with a byline on last week's now-retracted report that claimed "Russian missiles" had "crossed into NATO member Poland" and killed two people.
From The Daily Beast, AP Fires Reporter Behind Retracted 'Russian Missiles' Story":
That report, which was widely cited across the internet and on cable news, was taken offline the following day and replaced with an editor's note admitting the single source [a "senior U.S. intelligence official"] was wrong and that "subsequent reporting showed that the missiles were Russian-made and most likely fired by Ukraine in defense against a Russian attack."

On Monday, the AP fired James LaPorta, the investigative reporter responsible for that story, Confider has learned.
The piece, which was originally co-bylined with John Leicester (who is still working at the AP), attributed the information to a single "senior U.S. intelligence official," despite the AP's rule that it "routinely seeks and requires more than one source when sourcing is anonymous."

The only exception, according to its statement of news values and principles, is when "material comes from an authoritative figure who provides information so detailed that there is no question of its accuracy"—a situation that seemingly did not occur, as the report was fully retracted last Wednesday.

When reached for comment, an AP spokesperson did not comment on LaPorta's ouster but instead wrote: "The rigorous editorial standards and practices of The Associated Press are critical to AP's mission as an independent news organization. To ensure our reporting is accurate, fair and fact-based, we abide by and enforce these standards, including around the use of anonymous sources."
The Washington Post blamed internal "confusion and misunderstanding" for the report:
Internal AP communications viewed by The Post show some confusion and misunderstanding during the preparations of the erroneous report.

LaPorta shared the U.S. official's tip in an electronic message around 1:30 p.m. Eastern time. An editor immediately asked if AP should issue an alert on his tip, "or would we need confirmation from another source and/or Poland?"

After further discussion, a second editor said she "would vote" for publishing an alert, adding, "I can't imagine a U.S. intelligence official would be wrong on this."
Woman moment.
But a person at the Associated Press familiar with the larger conversations surrounding the story that day said LaPorta also told his editors that a senior manager had already vetted the source of LaPorta's tip — leaving the impression that the story's sourcing had been approved. While that editor had signed off on previous stories using LaPorta's source, that editor had not weighed in on the missile story.

Easton said the organization did not anticipate any discipline for the editors involved.
"She" voted to publish this bombshell report that violated the AP's own rules on the use of anonymous sources and risked sparking WW3 because she couldn't "imagine" a senior U.S. intelligence official could be wrong but she is not being fired — only LaPorta is getting canned.
Some great "standards" you got there, AP!
This post was originally published at Information Liberation
Sweden Finds "Foreign Objects" & Explosive Residue On Nord Stream Pipelines
Swedish investigators announced Friday the conclusion of their formal investigation into the Nord Stream pipeline blasts on September 26. To nobody's surprise, the investigation has concluded the natural gas leaks which rocked European energy markets and resulted in tit-for-tat accusations between Moscow and the West was the result of "gross sabotage". 
While not naming a culprit, the Swedish final report of this initial stage of the inquiry uncovered evidence of "foreign objects" placed on the pipelines.
"During analyzes carried out, residues of explosives have been identified on several of the foreign objects seized," the report said.
The Swedish Prosecution Authority's statement said, "In the crime scene investigations carried out on site in the Baltic Sea, the area and the extensive damage to the gas lines as a result of the detonations have been extensively documented."
Russia has denied responsibility, while at the same time pointing the finger at Washington or its allies. Swedish investigators say they will now work toward establishing who was behind the sabotage:
"The advanced analysis work is still in progress – the aim is to draw more definitive conclusions about the Nord Stream incidents," the agency said. "The investigation is extensive and complex and will eventually show whether anyone can be suspected of, and later prosecuted for this."
Previously, Denmark and Sweden said soon after the massive leaks in late September that the blasts "probably corresponded to an explosive load of several hundred kilos."
Russian media sources, as well as a handful of Western pundits, have alleged that US naval activity was observed in that regional of the Baltic Sea during the time of the incident.
If Sweden ultimately says that Russia was behind the attack on the pipelines, Moscow is likely to dismiss it, and call for their own independent access to and investigation of the evidence and site.
This post originally appeared at Zero Hedge