Now That Twitter Belongs To Elon, Here Is What He Will Do To The Platform In His Own Words
Now that the dramatic, if pointless and expensive, interlude of Musk trying to sabotage his own (extremely overpriced) purchase of Twitter is finally over with Musk conceding to buy the social network at the original proposed price of $54.20.
So what's next? Will Musk keep Twitter as is, or will he burn it down, fire all its employees,and rebuild it from the ground up? Conveniently, Musk's Twitter-linked text messages, publicly released as part of the Twitter lawsuit legal disclosure, provide enough information for what Musk really wants in terms of a final product.
irst, as stated in the following exchange with Valor CEO Antonio Gracias, Musk believes in free speech. So much so that he finds Russia Today "quite entertaining" with "lots of bullshit but some good points too."

Musk expressed similar sentiment in the following exchange with ex-wife Talulah Jane (TJ) Riley, who was dismayed at the Babylon Bee's suspension and who proposed to "buy Twitter and make it radically free speech"… or "delete it."

Musk then speaks to VC entrepreneur Jon Lonsdale, where they discuss Musk's desire to make Twitter an open source algo because it's important to "reign in big tech" and "our public square needs to not have arbitrary sketch censorship." Musk's response: "what we have right now is hidden corruption!"

As an aside, a few weeks later, after it emerged that Musk had purchased a sizable stake in Twitter, Jon Lonsdale made an interesting observation: "I bet you the board doesn't even get full reporting or see any report of the censorship decisions and little cabals going on there but they should – the lefties on the board likely want plausible deniability!"

Things get more interesting in this exchange with Twitter founder Jack Dorsey, in which Jack echoed not only that Twitter must be an "open source protocol" but that it "can't have an advertising model. Otherwise you have surface area that governments and advertisers will try to influence and control. If it has a centralized entity behind it, it will be attacked." Jack's conclusion: "this isn't complicated work, it just has to be done right so it's resilient to what has happened to twitter." After a lengthy back and forth, Musk tells Jack that "it's worth both trying to move Twitter in a better direction and doing something new that's decentralized."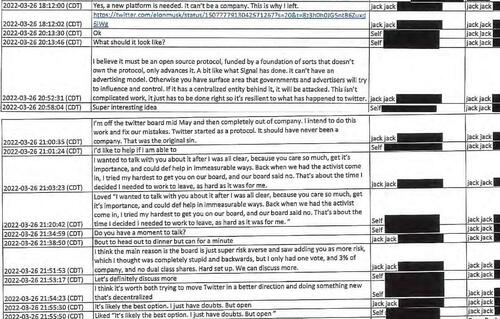 A quick tangent, in which we learn that it wasn't just Elon seeking to buy Twitter, so was the J.P. Morgan of crypto, Sam-Bankman Fried: look for SBF to have a prominent role in the company going forward.

And a second tangent: what is SBF's net worth and how much money could he put into twitter: short answer to both: a lot.

Another interesting exchange, this time with Mathias Dopfner, CEO of German media conglomerate Axel Springer, which owns a bunch of tabloids such as Bild, in which he says that if Musk buys it, Alex Springer would be willing to run twitter.

An especially interesting exchange took place minutes after Musk revealed his Twitter stake with a person who, unlike everyone else in the disclosure, demanded to be unnamed. Due to the "sensitive" nature of his proposal "navigating how to let right-wingers back on Twitter… especially the boss himself")we can only assume it is due to fear of being canceled by the radical left mob.

Another exchange after Musk announced he was seeking a board seat is with the abovementioned Matthias Dopfner, head of Germany's Axel Springer, who does everything in his power to make his personal media outlets painstakingly, boringly, crushingly woke and politically correct, who we learn is really just another hypocrite and closet "anti-woke", suggesting to Musk that he create a marketplace for algos, "e.g., if you're a snowflake and don't want content that offends you pick another algorithm." If only Dofpner would do the same with his empire of snowflake-catering tabloids. Amusingly, Dopfner has some other "actionable" recos, such as "solve free speech." Oh ok. Here is the rest of what the CEO of one of the world's biggest tabloid empires (and recent acquiror of Politico) wants to do:
Status Quo: it is the de facto public town square, but It is a problem that it does not adhere to free speech principles. => so the core product is pretty good, but (i) it does not serve democracy, and (ii) the current business model is a dead end as reflected by flat share price.
Goal: Make Twitter the global backbone of free speech, an open market place of ideas that truly complies with the spirit of the first amendment and shift the business model to a combination of ad-supported and paid to support quality
Game Plan:
1.) "Solve Free Speech"
1-a) Step 1″ Make it censorship-FREE by radically reducing Terms of Services (now hundreds of pages) to the following: Twitter users agree to:

(1) Use our service to send spam or scam users,
(2) Promote violence,
(3) Post illegal pornography.

1-b) Step 2: Make Twitter censorship-RESISTANT

Ensure censorship resistance by implementing measures that warrant that Twitter can't be censored long term, regardless of which government and management
How? Keep pushing projects at Twitter that have been working on developing a decentralized social network protocol (e.g., BlueSky). It's not easy, but the back-end must run on decentralized infrastructure, APIs should become open (back to the roots! Twitter started and became big with open APIs).
Twitter would be one of many clients to post and consume content.
Then create a marketplace for algorithms, e.g., if you're a snowflake and don't want content that offends you pick another algorithm.
2.) "Solve Share Price" – Current state of the business:
Twitter's ad revenues grow steadily and for the time being, are sufficient to fund operations.
MAUs are flat, no structural growth
Share price is flat, no confidence in the existing business model

But while a lot of these ideas were inbounds to Musk, where things get really "insightful" is when Elon chats with his brother Kimbal, about his vision. We will publish these without commentary because, well, it's well beyond our pay grade to comment on Musk's "vision" – some peculiar cross between a social media, blockchain, a direct messaging app which stores messages forever, and all of it using some token (why not dogecoin).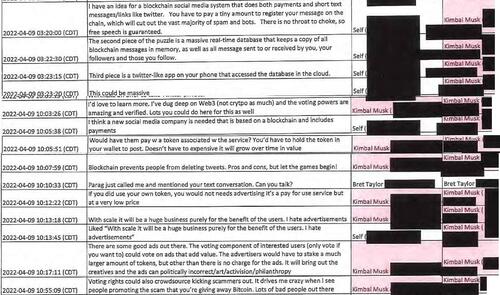 Here Jason Calacanis also chimes in with some ideas. His comments on De Sasntis are amusing.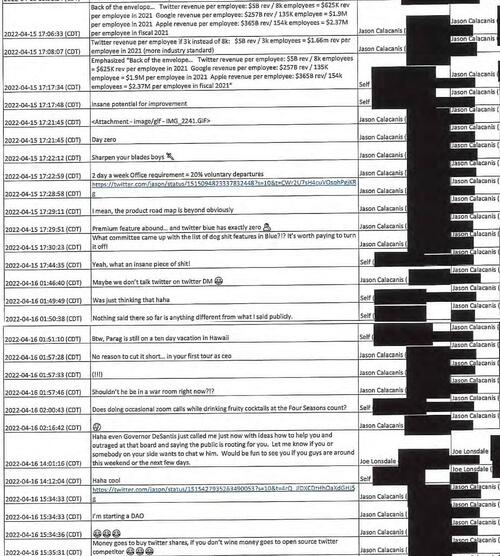 It continues a few days later, where Calacanis reveals he may be the next Twitter CEO, and Musk is receptive: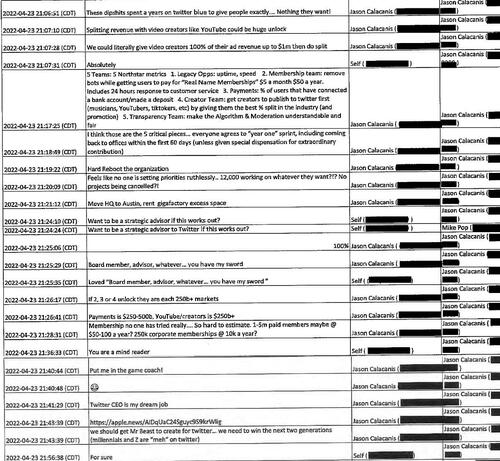 And some more ideas from Calacanis:

Finally, some good news for the liberals out there:

While those were some of the key exchanges, there is much more in the full Musk text message discovery below:
This post was originally published at Zero Hedge
Dems Blast "Threat" Of "So-Called Journalists" As Taibbi, Shellenberger Expose "State-Sponsored Thought-Policing"
Update (1300ET): Well, that escalated quickly…
As one might expect, the Judiciary hearing on the "weaponization" of federal agencies, featuring Matt Taibbi and Michael Shellenberger as witnesses was full of fireworks, facts, and ad hominem friction.
Out of the gate, Ranking Member Democratic Del. Stacey E. Plaskett labeled the two "so-called journalists" as dangerous and a "threat" to former Twitter employees.
She claimed that Republicans brought "two of Elon Musk's 'public scribes'" in "to release cherry-picked out-of-context emails and screenshots designed to promote his chosen narrative – Elon Musk's chosen narrative – that is now being parroted by the Republicans" for political gain.
"I'm not exaggerating when I say you have called two witnesses who pose a direct threat to people who oppose them," Plaskett said after the video.
Chairman of the House Judiciary Committee, Republican Rep. Jim Jordan of Ohio, had a simple response to her accusations:
"It's crazy what you were just saying."

"You don't want people to see what happened," Jordan continued.

"The full video, transparency. You don't want that, and you don't want two journalists who have been named personally by the Biden administration, the FTC in a letter. They say they're here to help and tell their story, and frankly, I think they're brave individuals for being willing to come after being named in a letter from the Biden FTC."
Taibbi snapped back…
As Glenn Greenwald chimed in from Twitter: "To Democrats, "journalist" means: one who mindlessly and loyally endorses DNC talking points. "
Unshaken, Matt Taibbi continued, when he was allowed to respond, laid out what he and Shellenberger had found in their research of The Twitter Files:
"The original promise of the Internet was that it might democratize the exchange of information globally. A free internet would overwhelm all attempts to control information flow, its very existence a threat to anti-democratic forms of government everywhere," Taibbi said.

"What we found in the Files was a sweeping effort to reverse that promise, and use machine learning and other tools to turn the internet into an instrument of censorship and social control. Unfortunately, our own government appears to be playing a lead role."
Taibbi pointedly added that "effectively, news media became an arm of a state-sponsored thought-policing system."
"It's not possible to instantly arrive at truth. It is however becoming technologically possible to instantly define and enforce a political consensus online, which I believe is what we're looking at."
Democrats only response to Taibbi and Shellenberger's facts was to get personal…
The full hearing can be viewed below:
As we detailed earlier, journalists Matt Taibbi and Michael Shellenberger are testifying before the House Judiciary Committee's Select Subcommittee on the Weaponization of the Federal Government today. Both journalists were involved in the 'Twitter Files' disclosures, in which we learned that the government was directly involved in censoring disfavorable speech.
"Our findings are shocking," writes Shellenberger at his blog. "A highly-organized network of U.S. government agencies and government contractors has been creating blacklists and pressuring social media companies to censor Americans, often without them knowing it."
Ahead of the appearance, Taibbi released his prepared remarks. He also dropped a new and related Twitter Files mega-thread on 'THE CENSORSHIP-INDUSTRIAL COMPLEX' which will be submitted to the Congressional record which, according to Taibbi, 'contains some surprises.'
Continued…
But Twitter was more like a partner to government. With other tech firms it held a regular "industry meeting" with FBI and DHS, and developed a formal system for receiving thousands of content reports from every corner of government: HHS, Treasury, NSA, even local police: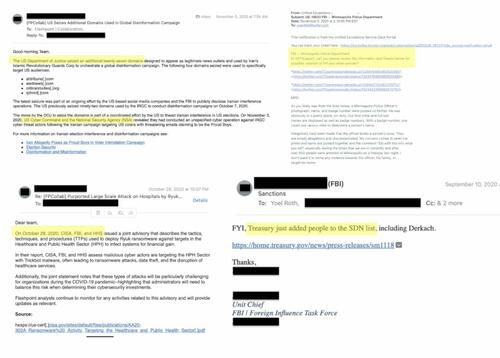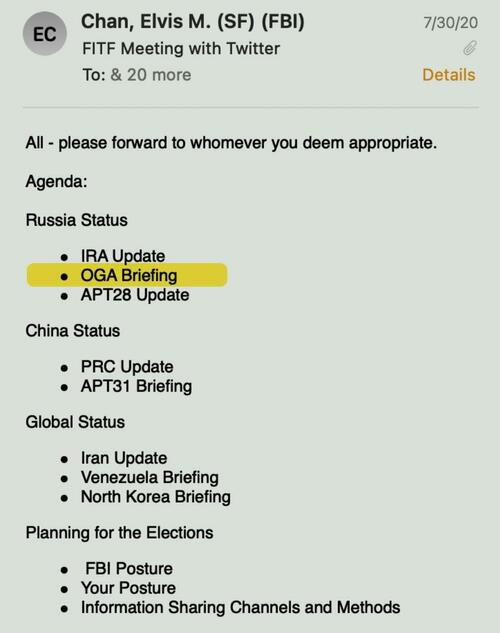 Emails from the FBI, DHS and other agencies often came with spreadsheets of hundreds or thousands of account names for review. Often, these would be deleted soon after.


5. Many were obvious "misinformation," like accounts urging people to vote the day after an election. But other official "disinfo" reports had shakier reasoning. The highlighted Twitter analysis here disagrees with the FBI about accounts deemed a "proxy of Russian actors":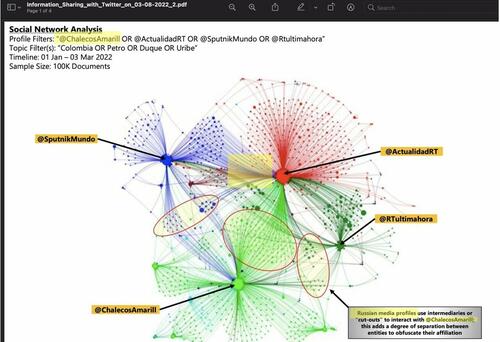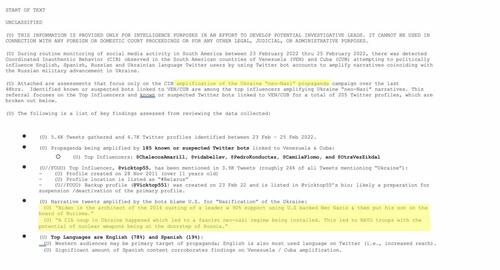 Then we saw "disinfo" lists where evidence was even less clear. This list of 378 "Iranian State Linked Accounts" includes an Iraq vet once arrested for blogging about the war, a former Chicago Sun-Times reporter and Truthout, a site that publishes Noam Chomsky.
In some cases, state reports didn't even assert misinformation. Here, a list of YouTube videos is flagged for "anti-Ukraine narratives":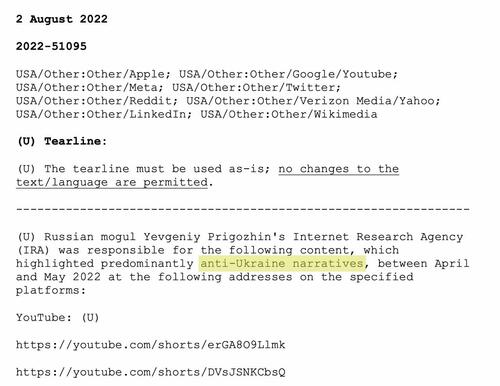 But the bulk of censorship requests didn't come from government directly.
Asked if Twitter's marketing department could say the company detects "misinfo" with help of "outside experts," a Twitter executive replied: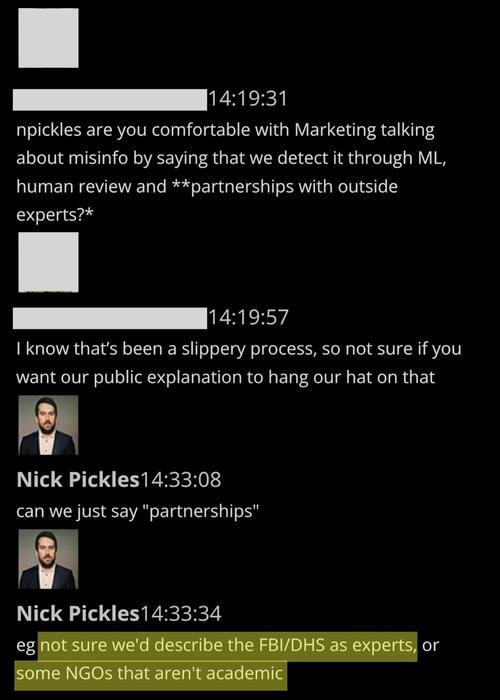 We came to think of this grouping – state agencies like DHS, FBI, or the Global Engagement Center (GEC), along with "NGOs that aren't academic" and an unexpectedly aggressive partner, commercial news media – as the Censorship-Industrial Complex.
Who's in the Censorship-Industrial Complex? Twitter in 2020 helpfully compiled a list for a working group set up in 2020. The National Endowment for Democracy, the Atlantic Council's DFRLab, and Hamilton 68's creator, the Alliance for Securing Democracy, are key: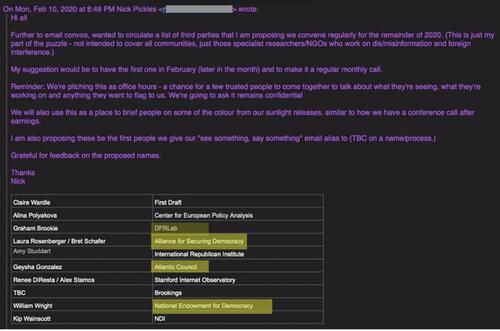 Twitter execs weren't sure about Clemson's Media Forensics Lab ("too chummy with HPSCI"), and weren't keen on the Rand Corporation ("too close to USDOD"), but others were deemed just right.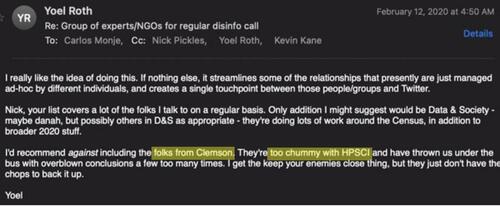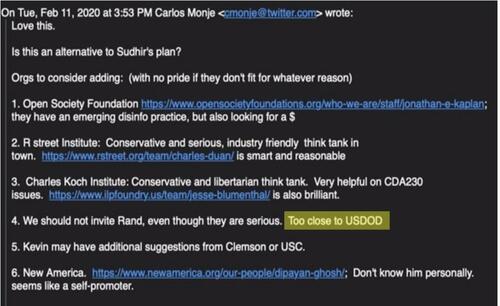 NGOs ideally serve as a check on corporations and the government. Not long ago, most of these institutions viewed themselves that way. Now, intel officials, "researchers," and executives at firms like Twitter are effectively one team – or Signal group, as it were: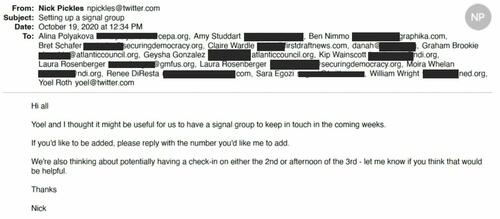 The Woodstock of the Censorship-Industrial Complex came when the Aspen Institute – which receives millions a year from both the State Department and USAID – held a star-studded confab in Aspen in August 2021 to release its final report on "Information Disorder."
The report was co-authored by Katie Couric and Chris Krebs, the founder of the DHS's Cybersecurity and Infrastructure Security Agency (CISA). Yoel Roth of Twitter and Nathaniel Gleicher of Facebook were technical advisors. Prince Harry joined Couric as a Commissioner.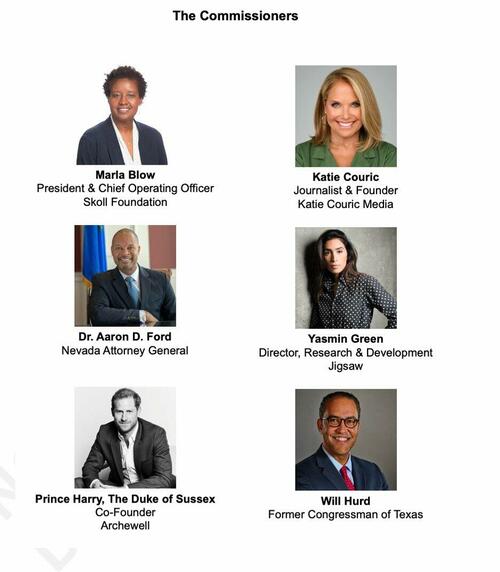 Their taxpayer-backed conclusions: the state should have total access to data to make searching speech easier, speech offenders should be put in a "holding area," and government should probably restrict disinformation, "even if it means losing some freedom."


Note Aspen recommended the power to mandate data disclosure be given to the FTC, which this committee just caught in a clear abuse of office, demanding information from Twitter about communications with (and identities of) #TwitterFilesreporters. (link here)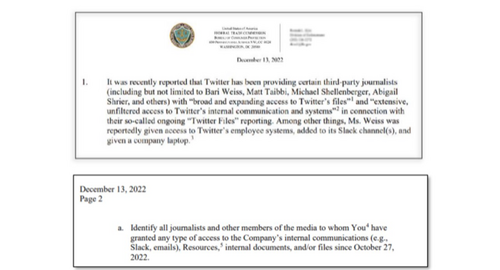 Naturally Twitter's main concern regarding the Aspen report was making sure Facebook got hit harder by any resulting regulatory changes:

The same agencies (FBI, DHS/CISA, GEC) invite the same "experts" (Thomas Rid, Alex Stamos), funded by the same foundations (Newmark, Omidyar, Knight) trailed by the same reporters (Margaret Sullivan, Molly McKew, Brandy Zadrozny) seemingly to every conference, every panel.
The #TwitterFiles show the principals of this incestuous self-appointed truth squad moving from law enforcement/intelligence to the private sector and back, claiming a special right to do what they say is bad practice for everyone else: be fact-checked only by themselves. While Twitter sometimes pushed back on technical analyses from NGOs about who is and isn't a "bot," on subject matter questions like vaccines or elections they instantly defer to sites like Politifact, funded by the same names that fund the NGOs: Koch, Newmark, Knight.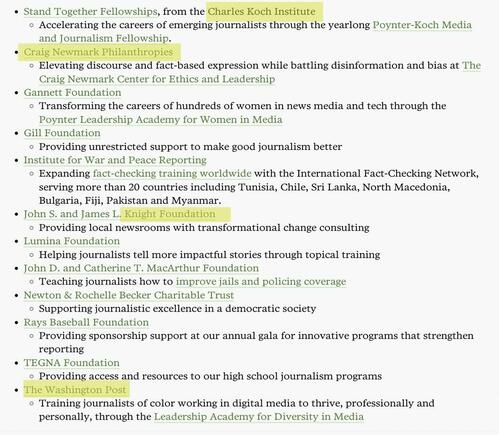 #TwitterFiles repeatedly show media acting as proxy for NGOs, with Twitter bracing for bad headlines if they don't nix accounts. Here, the Financial Times gives Twitter until end of day to provide a "steer" on whether RFK, Jr. and other vax offenders will be zapped.Well, you say, so what? Why shouldn't civil society organizations and reporters work together to boycott "misinformation"? Isn't that not just an exercise of free speech, but a particularly enlightened form of it? The difference is, these campaigns are taxpayer-funded. Though the state is supposed to stay out domestic propaganda, the Aspen Institute, Graphika, the Atlantic Council's DFRLab, New America, and other "anti-disinformation" labs are receiving huge public awards.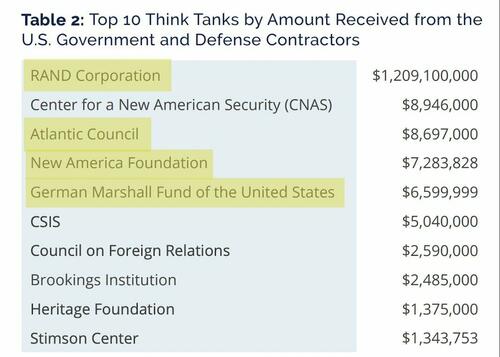 26. Perhaps the ultimate example of the absolute fusion of state, corporate, and civil society organizations is the Stanford Internet Observatory (SIO), whose "Election Integrity Partnership" is among the most voluminous "flaggers" in the #TwitterFiles: pic.twitter.com/wiSN9tl5Bl

— Matt Taibbi (@mtaibbi) March 9, 2023
After public uproar "paused" the Orwellian "Disinformation Governance Board" of the DHS in early 2020, Stanford created the EIP to "fill the gaps" legally, as director Alex Stamos explains here (h/t Foundation for Freedom Online).
EIP research manager Renee DiResta boasted that while filling "gaps," the EIP succeeded in getting "tech partners" Google, TikTok, Facebook and Twitter to take action on "35% of the URLS flagged" under "remove, reduce, or inform" policies.
According to the EIP's own data, it succeeded in getting nearly 22 million tweets labeled in the runup to the 2020 vote. It's crucial to reiterate: EIP was partnered with state entities like CISA and GEC while seeking elimination of millions of tweets. In the #TwitterFiles, Twitter execs did not distinguish between organizations, using phrases like "According to CIS[A], escalated via EIP."
After the 2020 election, when EIP was renamed the Virality Project, the Stanford lab was on-boarded to Twitter's JIRA ticketing system, absorbing this government proxy into Twitter infrastructure – with a capability of taking in an incredible 50 million tweets a day.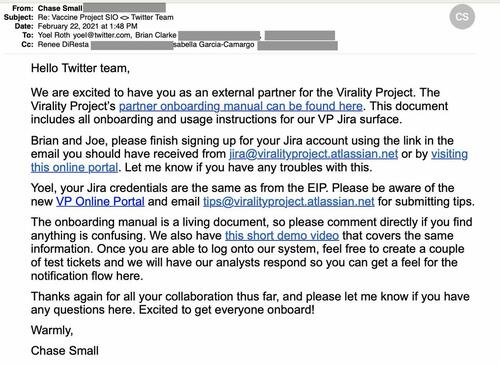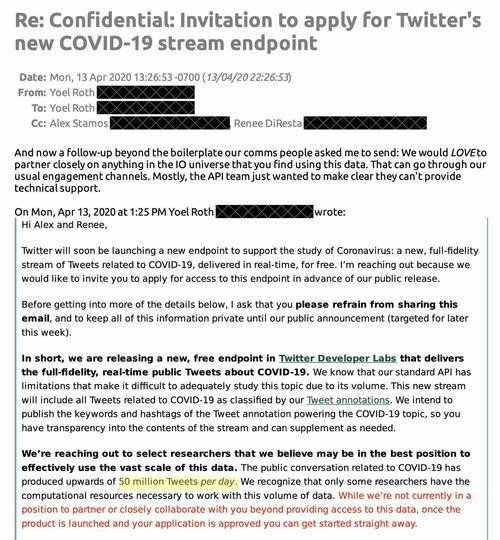 In one remarkable email, the Virality Project recommends that multiple platforms take action even against "stories of true vaccine side effects" and "true posts which could fuel hesitancy." None of the leaders of this effort to police Covid speech had health expertise.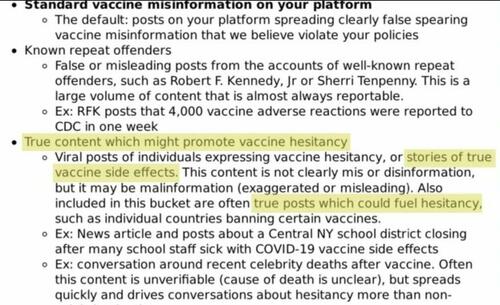 This is the Censorship-Industrial Complex at its essence: a bureaucracy willing to sacrifice factual truth in service of broader narrative objectives. It's the opposite of what a free press does.
Profiles portray DiResta as a warrior against Russian bots and misinformation, but reporters never inquire about work with DARPA, GEC, and other agencies. In the video below from @MikeBenzCyber, Stamos introduces her as having "worked for the CIA":
DiResta has become the public face of the Censorship-Industrial Complex, a name promoted everywhere as an unquestioned authority on truth, fact, and Internet hygiene, even though her former firm, New Knowledge, has been embroiled in two major disinformation scandals.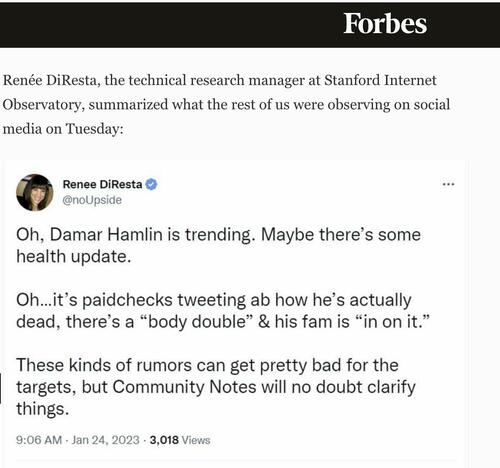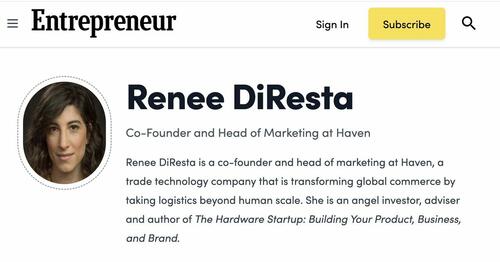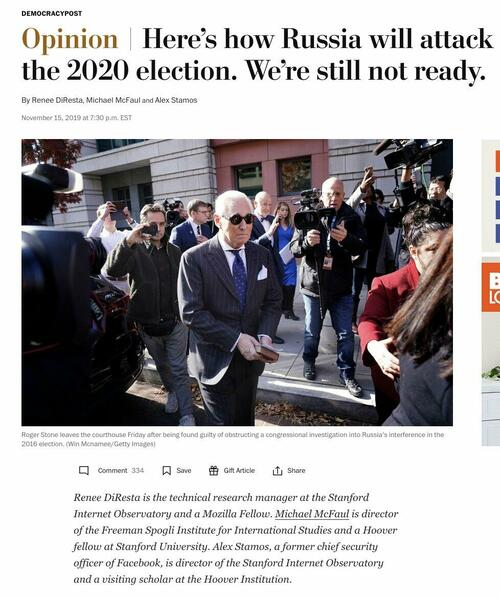 This, ultimately, is the most serious problem with the Censorship-Industrial Complex. Packaged as a bulwark against lies and falsehood, it is itself often a major source of disinformation, with American taxpayers funding their own estrangement from reality.
DiResta's New Knowledge helped design the Hamilton 68 project exposed in the #TwitterFiles. Although it claimed to track "Russian influence," Hamilton really followed Americans like "Ultra Maga Dog Mom," "Right2Liberty," even a British rugby player named Rod Bishop. Told he was put on the Hamilton list of suspected "Russian influence" accounts, Bishop was puzzled. "Nonsense. I'm supporting Ukraine," he said.
As a result of Hamilton's efforts, all sorts of people were falsely tied in press stories to "Russian bots": former House Intel chief Devin Nunes, #WalkAway founder @BrandonStraka, supporters of the #FireMcMaster hashtag, even people who used the term "deep state":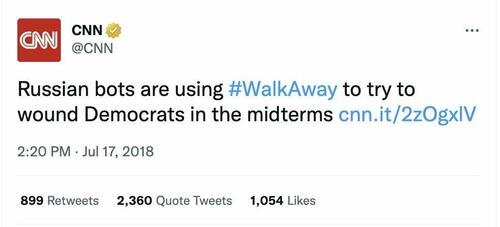 Hamilton 68 was funded by the Alliance for Securing Democracy, which in turn was funded by the German Marshall Fund, which in turn is funded in part by – the Department of State.
42. Though at least one reporter for a major American paper was at a meeting in September, 2018 when New Knowledge planned the bizarre bot-and-smear campaign, the story didn't break until December, two days after DiResta gave a report on Russian interference to the Senate.

— Matt Taibbi (@mtaibbi) March 9, 2023
Internally, Twitter correctly assessed the Moore story as far back as fall of 2017, saying it had no way if knowing if the Moore campaign purchased the bots, or if "an adversary purchased them… in an attempt to discredit them."

Twitter told this to reporters who asked about the story contemporaneously. Moreover, after the story broke, Twitter's Roth wrote: "There have been other instances in which domestic actors created fake accounts… some are fairly prominent in progressive circles."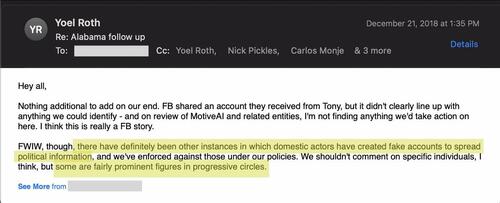 Roth added, "We shouldn't comment." Repeatedly in the #TwitterFiles, when Twitter learned the truth about scandals like Project Birmingham, they said nothing, like banks that were silent about mortgage fraud. Reporters also kept quiet, protecting fellow "stakeholders."
Twitter stayed silent out of political caution. DiResta, who ludicrously claimed she thought Project Birmingham was just an experiment to "investigate to what extent they could grow audiences… using sensational news," hinted at a broader reason.

"I know there were people who believed the Democrats needed to fight fire with fire," she told the New York Times. "It was absolutely chatter going around the party."
The incident underscored the extreme danger of the Censorship-Industrial Complex. Without real oversight mechanisms, there is nothing to prevent these super-empowered information vanguards from bending the truth for their own ends.
By way of proof, no major press organization has re-examined the bold claims DiResta/New Knowledge made to the Senate – e.g. that Russian ads "reached 126 million people" in 2016 – while covering up the Hamilton and Alabama frauds. If the CIC deems it, lies stay hidden.
In the digital age, this sprawling new information-control bureaucracy is an eerie sequel to the dangers Dwight Eisenhower warned about in his farewell address, when he said: "The potential for the disastrous rise of misplaced power exists."
Thanks to @ShellenbergerMD and reporters/researchers @Techno_Fog, @neffects, @bergerbell, @SchmidtSue1, @tw6384, and others for help in preparing this testimony. The Twitter Files searches are performed by a third party, so material may have been left out.
This post was originally published at Zero Hedge
Ari Emanuel's Endeavor Invested in Twitter One Month After Elon Musk Banned Kanye "Ye" West
Hollywood bigwig Ari Emanuel, who together with the Anti-Defamation League led the charge to cancel Kanye "Ye" West, quietly invested in Elon Musk's Twitter one month after Ye was permanently banned from the platform.
Emanuel made the investment after Twitter had tanked in value by 56% and Musk was floating a potential bankruptcy.
From Axios, "Scoop: Ari Emanuel's Endeavor invested in Twitter 2.0":
Endeavor, the sports and entertainment company led by Ari Emanuel, invested in Twitter in mid-January, two sources tell Axios.

Why it matters: Endeavor is the first outside investor known to have bought into Twitter 2.0, subsequent to Elon Musk closing his $44 billion takeover and implementing a rash of layoffs and other changes.
Ye was permabanned on December 1st.
[…] Details: The investment wasn't material to Endeavor, one source noted, but made sense for the firm strategically.

[…] Catch up quick: Musk began approaching investors in December to help raise money to pay off Twitter's debt.

At the time, Axios' Dan Primack reported that Musk, via his family office, was offering to sell additional equity to investors at the same $44 billion valuation that he paid for Twitter.

Between the lines: Fidelity cut its carrying value of Twitter by 56% during the first month of Elon Musk's ownership, Axios reported in December.

Musk warned engineers and product staff in December that a Twitter bankruptcy "isn't out of the question."

It was reported in December that the company was struggling to hit its advertising targets, amid trepidations from marketers and broader macro economic trends impacting the ad market.

[…] Be smart: Musk and Emanuel have long had a close personal relationship.

In September, Bloomberg reported that Emanuel tried to pave the way for a settlement between Musk and Twitter, when Musk was trying to back out of the deal.

Musk was on Endeavor's board until March 2022.
This may explain why Musk's ban of Ye was permanent and the "general amnesty" he proposed never came to fruition.
Ye's final tweet was a picture of Musk being hosed down by Emanuel while on vacation in Mykonos, Greece in July, 2022.
Emanuel wrote a column in December criticizing Ye and calling on Blacks to reject "the virus of antisemitism and hate and division" and instead unite with Jews against Whites.
This post was originally published at Information Liberation
Elon Musk Says He Might Put A Propaganda Warning Label On CNN's Tweets
"If an organization portrays itself as balanced, but is not, it should be labeled to inform the public."
Twitter owner Elon Musk suggested Monday that he may be compelled to place propaganda warnings on tweets posted by CNN after it emerged that the network actively discouraged staff not to look into or share any COVID lab origin information.
Fox News reports that an inside source at CNN has charged that the former president Jeff Zucker gave the order to everyone at CNN to back off any talk about COVID having originated in a Chinese lab, labelling it a "Trump talking point."
After a bombshell leak revealed that the Department of Energy has concluded, in addition to the State Department and the FBI, that the virus did likely leak from the Wuhan lab, the CNN insider said "People are slowly waking up from the fog," adding "It is kind of crazy that we didn't chase it harder."
Not only did CNN back off the lab leak theory, it began actively trying to debunk it with minions like Oliver Darcy writing stories headlined "Here's how to debunk coronavirus misinformation and conspiracy theories from friends and family."
With all of this in mind, Musk responded Monday to a Twitter user who asked him, "When are you going to label CNN as State Affiliated Media?"
Musk also responded to a tweet from Dr Jay Bhattacharya, noting that Fauci "egregiously betrayed the public trust,":
Musk previously called for prosecuting Fauci, before releasing a host of Twitter Files in December that exposed how the Biden government attempted to control the pandemic narrative with censorship and suppression of information.
SUBSCRIBE on YouTube:
Follow on Twitter:
Follow @PrisonPlanet
———————————————————————————————————————
Brand new merch now available! Get it at https://www.pjwshop.com/


ALERT! In the age of mass Silicon Valley censorship It is crucial that we stay in touch.

We need you to sign up for our free newsletter here.

Support our sponsor – Turbo Force – a supercharged boost of clean energy without the comedown.

Also, we urgently need your financial support here. ———————————————————————————————————————