Fauci Net Worth Soared 66% During Pandemic
The net worth of Dr. Anthony Fauci's household soared a whopping 66% over the course of the pandemic, according to new financial disclosures obtained by OpenTheBooks.com. Fauci reported a Jan 1, 2019 net worth of $7,523,634. By Jan 1, 2022, it had grown to $12,677,513.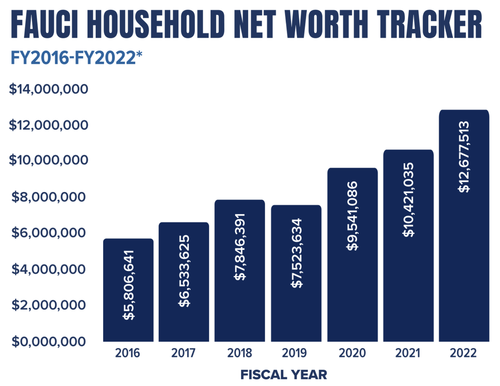 As director of the National Institute of Allergy and Infectious Diseases, Fauci was paid a 2021 salary of $456,028, making him the highest-paid employee in the entire federal government. His wife, Christine Grady, is chief bio-ethicist for the National Institutes of Health, does very well too, raking in a $238,970 salary last year.
Fauci is famously paid more than the president, and his wife collects more than the vice president. However, those hefty federal salaries aren't the only driver of the Fauci household's pandemic-era enrichment.
In 2021, Fauci was awarded the Tel Aviv University-affiliated Dan David Prize, which came with a $1 million check. The prize committee said Fauci "has been widely praised for his courage in speaking truth to power" during the Covid-19 pandemic.
The committee was apparently oblivious that Fauci was the power and routinely spoke falsehoods about everything from the usefulness of masking to herd immunity, the efficacy of vaccines, and NIH funding of gain of function research at the Wuhan Institute.
As is customary, Fauci donated some of his prize money back to be awarded as student scholarships, but still pocketed $901,400, according to the financial statements reviewed by OpenTheBooks.com.
Though it's chump change compared to the Dan David Prize, Fauci also scored $12,500 from both the Elliot Richardson Prize in Public Service and the Abelson Prize from the American Association for the Advancement of Science, and got $5,198 when he was named Federal Employee of the Year at the 2020 Samuel J. Heyman Service to America Medals ceremony.
Fauci even did some moonlighting as an editor for McGraw Hill, taking home $100,000 for his work in 2021.
There's no indication Fauci made any "shrewd" investments a la Nancy and Paul Pelosi. According to the financial disclosures, Fauci's portfolio comprises broad mutual funds with no individual stocks:
"These funds were held in a mix of trust, retirement, and college education accounts. Fauci has an IRA worth $706,219 (up $67,700); a defined benefit brokerage account totaling $2,551,210 (up $147,688); and a revocable trust worth $7,014,197 (up $1,718,299). His wife's revocable trust is worth $2,269,225 (up $306,406) and an IRA totaling $136,662 (up $16,385)," reports OpenTheBooks.com.
OpenTheBooks.com has filed four federal lawsuits against NIH to pry loose additional details not only about Fauci but also about royalties received by other NIH employees.
Though Fauci has announced he'll retire by the end of the year, the wheelbarrows full of taxpayer money will keep on rolling his way. When you're the highest-paid employee in federal government history and you've been on the federal payroll for more than 55 years, that'll make for an astounding pension of some $375,000 a year.
It's emblematic of the whole miserable Covid-19 spectacle: Bureaucrats wallow in government money while ordinary people suffer the ever-mushrooming destruction caused by public health's catastrophic lockdown and mandate regime.
This post was originally published at Zero Hedge
COVID Lockdown Protests Erupt In Beijing, Xinjiang After Deadly Fire
Protests have erupted in Beijing and the far western Xinjiang region over COVID-19 lockdowns and a deadly fire on Thursday in a high-rise building in Urumqi that killed 10 people (with some reports putting the number as high as 40).
Crowds took to the street in Urumqi, the capitol of Xinjiang, with protesters chanting "End the lockdown!" while pumping their fists in the air, following the circulation of videos of the fire on Chinese social media on Friday night.
Protest videos show people in a plaza singing China's national anthem – particularly the line: "Rise up, those who refuse to be slaves!" Others shouted that they did not want lockdowns. In the northern Beijing district of Tiantongyuan, residents tore down signs and took to the streets.
Reuters verified that the footage was published from Urumqi, where many of its 4 million residents have been under some of the country's longest lockdowns, barred from leaving their homes for as long as 100 days.
In the capital of Beijing 2,700 km (1,678 miles) away, some residents under lockdown staged small-scale protests or confronted their local officials over movement restrictions placed on them, with some successfully pressuring them into lifting them ahead of a schedule. –Reuters
According to an early Saturday news conference by Urumqi officials, COVID measures did not hamper escape and rescue during the fire, but Chinese social media wasn't buying it.
"The Urumqi fire got everyone in the country upset," said Beijing resident Sean Li.
According to Reuters;
A planned lockdown for his compound "Berlin Aiyue" was called off on Friday after residents protested to their local leader and convinced him to cancel it, negotiations that were captured by a video posted on social media.

The residents had caught wind of the plan after seeing workers putting barriers on their gates. "That tragedy could have happened to any of us," he said.

By Saturday evening, at least ten other compounds lifted lockdown before the announced end-date after residents complained, according to a Reuters tally of social media posts by residents.
This post originally appeared at Zero Hedge
Poll: Only 28% Of Americans Are Worried About COVID Anymore
78% believe the pandemic to be "over"
A Gallup poll has found that fewer than a third of Americans remain worried about COVID.
"Twenty-eight percent of Americans say they are 'very' or 'somewhat worried' they will get COVID — the lowest percentage Gallup has recorded since the summer of 2021," the pollster notes.
The survey also found that 78% believe the pandemic to be "over," a new high, with most people saying that everyone should "lead their normal lives as much as possible and avoid interruptions to work and business."
Gallup further notes that "The same poll finds the smallest percentages of Americans yet reporting they are steering clear of specific situations because of the coronavirus, including avoiding large crowds (24%), avoiding travel by plane or public transportation (19%), avoiding going to public places (16%) and avoiding small gatherings (13%)."
"Use of face masks remains fairly common, but the 40% saying they have worn one in the past week when outside their home is also a new low during the pandemic," the pollster adds.
Most Americans are not bothering with social distancing anymore either, according to the poll.
"About six in 10 Americans (59%) say they have made no attempt to isolate themselves from people outside their household in the past 24 hours — the most eschewing social distancing since the beginning of the pandemic," Gallup explains.
"Sixteen percent, similar to the level in April, now say they have completely or mostly isolated themselves from people outside their household, while 25% — the lowest reading since April 2020 — say they have isolated themselves partially or a little," the report further notes.
Despite the findings, along with all the recent revelations about vaccines and vaccine mandates, globalist technocrats appear to be planning to bring back vaccine passports for the "next pandemic."
SUBSCRIBE on YouTube:
Follow on Twitter:
Follow @PrisonPlanet
———————————————————————————————————————
Brand new merch now available! Get it at https://www.pjwshop.com/


ALERT! In the age of mass Silicon Valley censorship It is crucial that we stay in touch.

We need you to sign up for our free newsletter here.

Support our sponsor – Turbo Force – a supercharged boost of clean energy without the comedown.

Also, we urgently need your financial support here. ———————————————————————————————————————
Anti-Lockdown Stanford Professor: "Academic Freedom Is Dead"
"They systematically tried to make it seem like everyone agreed with their ideas about COVID policy, when in fact there was deep disagreement among scientists"
A Stanford Professor who challenged the orthodoxy of lockdowns has warned that "academic freedom is dead," and that all those who have stood up to the regime narrative now face "a deeply hostile work environment."
Dr. Jay Bhattacharya, an author of the Great Barrington Declaration in which thousands of scientists called for a policy of herd immunity over lockdowns, warned that "When you take a position that is at odds with the scientific clerisy, your life becomes a living hell." 
Speaking at the Academic Freedom Conference at Stanford's Graduate School of Business recently, Bhattacharya, who previously described lockdowns as the most catastrophically harmful policy in "all of history," and "the single worst public health mistake in the last 100 years," noted "we have a high clerisy that declares from on high what is true and what is not true."
Watch:
In a further interview with Fox News, Bhattacharya noted "The basic premise is that if you don't have protection and academic freedom in the hard cases, when a faculty member has an idea that's unpopular among some of the other faculty – powerful faculty, or even the administration … If they don't protect it in that case, then you don't have academic freedom at all."
Bhattacharya and thousands of other academics and scientists were initially vilified for damning lockdowns, but have since been vindicated as the societal and medical toll of the shutdowns has been revealed.
Bhattacharya said of the declaration, "The purpose of the one-page document was aimed at telling the public that there was not a scientific consensus in favor of lockdown, that in fact many epidemiologists, many doctors, many other people – prominent people – disagreed with the consensus."
The professor then described how proponents of the declaration were systematically frozen out of discussions and debates.
"If Stanford really truly were committed to academic freedom, they would have… worked to make sure that there were debates and discussions, seminars, where these ideas were discussed among faculty," he urged, adding that  "power replaced the idea of truth as the guiding light."
"So you have somebody like Tony Fauci who says unironically, that if you question me, you're not simply questioning a man, you're questioning science itself," Bhattacharya further noted, adding "That is an exercise of raw power, where he places himself effectively as the pope of science rather than a genuine desire to learn the truth."
"They systematically tried to make it seem like everyone agreed with their ideas about COVID policy, when in fact there was deep disagreement among scientists and epidemiologists about the right strategy," the professor asserted.
Bhattacharya has also called on new Twitter owner Elon Musk to "expose the government censorship regime,":
Bhattacharya's comments come as a new analysis of federal and state data revealed that for the first time a majority of Americans dying from COVID were at least partially vaccinated.
"Fifty-eight percent of coronavirus deaths in August were people who were vaccinated or boosted," the Washington Post reports in a piece headlined 'Covid is no longer mainly a pandemic of the unvaccinated'. 
SUBSCRIBE on YouTube:
Follow on Twitter:
Follow @PrisonPlanet
———————————————————————————————————————
Brand new merch now available! Get it at https://www.pjwshop.com/


ALERT! In the age of mass Silicon Valley censorship It is crucial that we stay in touch.

We need you to sign up for our free newsletter here.

Support our sponsor – Turbo Force – a supercharged boost of clean energy without the comedown.

Also, we urgently need your financial support here. ———————————————————————————————————————