Video: Tucker Carlson Suggests Biden Admin Blew Up Russian Gas Pipelines
Accuses U.S. regime of "environmental terrorism"
As evidence piles up that the Russian Nord Stream gas pipelines were deliberately sabotaged, Fox News host Tucker Carlson suggested Tuesday that the Biden regime is to blame.
Pressure in the Nord Stream 2 undersea gas pipeline dropped from 300 to 7 bars on Sunday night, followed by a similar occurrence in Nord Stream 1's on Monday afternoon.
Explosions were detected in the vicinity off the undersea pipelines early Monday morning and Monday evening, registering 1.9 and 2.3 respectively on the Richter scale.
Swedish seismologist Björn Lund, director of the Swedish National Seismic Network, SNSN, which measures Swedish earthquakes and explosions, told the national SVT television channel that the ruptures in the pipelines may have been caused by undersea detonations.
"You can clearly see how the waves bounce from the bottom to the surface. There is no doubt that it was a blast. We even had a station in Gnosjö that picked this up," said Lund, a lecturer in seismology at Uppsala University.
European officials, including the Danish prime minister, Mette Frederiksen, as well as German government sources said sabotage could not be ruled out.
In addition, according to a report by German magazine Der Spiegel, the CIA warned Berlin about a potential attack on gas pipelines in the Baltic Sea "weeks ago."
EU MEP Radek Sikorski, the Chairman of the EU-USA delegation, literally thanked the U.S. for the incident:
The sudden drop of pressure in the Nord Stream 2 pipeline may also have caused a gas leak near the island of Bornholm in the Baltic Sea, a situation being monitored by Danish authorities.
It goes without saying that these pipelines don't just rupture on their own:
Some have suggested that Russia purposefully sabotaged its own pipelines as a pretext to ramp up military engagements in Ukraine.
During his show Tuesday, Carlson urged "If you are Vladimir Putin you would have to be a suicidal moron to blow up your own energy pipeline—that's one thing you would never do," Carlson said. "Natural gas pipelines are the main source of your power and wealth. And most critically, your leverage over other countries."
"Blowing up Nord Stream does not help Vladimir Putin," Carlson added, further noting "He would not do that. Why would he? But that doesn't mean that other countries wouldn't consider doing it. They would consider it and we know they have considered it, because at least one of them has said so in public."
The host then played clips of Joe Biden and State Department official Victoria Nuland threatening to "bring an end to" the Nordstream pipelines back in February and January just prior to the invasion of Ukraine by Russia.
"Notice how he phrased that," Carlson said after playing the clip, adding "He didn't say, 'I will pause the delivery of gas from Russia to Germany.' He said there won't be a Nord Stream 2. We'll put an end to it. We'll take it out. We'll blow it up."
"Looking back, those words seem chilling eight months later," Carlson proclaimed.
Carlson stated that the Biden administration could be guilty of "environmental terrorism," asserting that "If you're worried about climate change, what just happened to the Nordstream pipelines is as close to the apocalypse as we have ever come."
"As natural gas pours into the Baltic Sea and into the atmosphere… Could the Biden administration really do something like this?" Carlson asked.
"We can't say for sure," he continued, further noting "We don't know for sure… we can tell you that close allies of the Biden White House believe they certainly did do it."
SUBSCRIBE on YouTube:
Follow on Twitter:
Follow @PrisonPlanet
———————————————————————————————————————
Brand new merch now available! Get it at https://www.pjwshop.com/


ALERT! In the age of mass Silicon Valley censorship It is crucial that we stay in touch.

We need you to sign up for our free newsletter here.

Support our sponsor – Turbo Force – a supercharged boost of clean energy without the comedown.

Also, we urgently need your financial support here. ———————————————————————————————————————
Video: Biden Energy Advisor Admits That The Regime Wants To Limit Oil Production "To Accelerate The Transition"
While asking oil companies to increase production now and tapping more reserves to bring gas prices down before mid term elections
Biden administration energy advisor Amos Hochstein admitted Wednesday that while the regime wants to increase oil production in the short term, its overall aim is to limit it in order to "accelerate the transition".
Appearing on CNN, Hochstein proclaimed "I think we have been clear that we want to see the U.S. industry increase oil production."
Then in the same breath, Hochstein stated that the main goal is to limit production of fossil fuel derived energy now in order to "make sure that we're in a better footing to accelerate the transition."
"So, we have to make that differentiation to make sure that the American consumer has what it needs… to grow our economy and the global economy, but not take steps and endanger the climate work that we're trying to do," Hochstein further declared.
He continued, "[I]t is about making a choice between what is the short-term and the medium-term so that we can make sure we have enough oil and gas to support us through the transition, and what are the kind of steps that we don't want the oil and gas industry to take that would have long-term consequences when we don't want new major projects that would take 20, 30 years to become profitable."
Watch:
The comments came in the wake of Biden announcing another release of 15 million barrels of oil from the Strategic Petroleum Reserve ahead of the 2022 midterms in an attempt to reduce gas prices.
During the CNN interview, Hochstein also claimed that the administration intends to buy oil at $70/barrel next year, when prices come down, to refill the SPR:
The U.S. SPR is at its lowest level for 4 decades, and has tanked since Biden took office:
Biden himself repeated the claim that he will buy back oil at a lower price and save money, while critics pointed out that Democrats blocked President Trump from filling the reserves when oil was just $24/barrel two years ago:
The White House Press Secretary had no answers when asked about that:
Jean-Pierre also failed to explain why more oil is needed from the SPR if gas prices are going down, as the Biden regime has claimed:
Fox News reporter Peter Doocy asked Jean-Pierre "So, you're asking oil companies to further lower gas prices. What makes you think they are going to listen to an administration that is ultimately trying to put them out of business?"
Jean-Pierre knows full well that the agenda is the "transition," and to put an "end" to fossil fuel energy companies.
The administration is openly admitting that is the case while Jean-Pierre plays dumb:
While Biden claimed that oil companies are raking in record profits and that the price of gasoline is not being reflected at the pump, his official Twitter account sent out a chart showing the exact opposite:
While it is still up on average $1.50 from when he took office, Biden's Chief of Staff Ron Klain claimed the administration has "tackled" gas prices:
The administration continues to claim the economy is "strong" while quietly preparing for an economic crash on par with 2008, according to The New York Times.
SUBSCRIBE on YouTube:
Follow on Twitter:
Follow @PrisonPlanet
———————————————————————————————————————
Brand new merch now available! Get it at https://www.pjwshop.com/


ALERT! In the age of mass Silicon Valley censorship It is crucial that we stay in touch.

We need you to sign up for our free newsletter here.

Support our sponsor – Turbo Force – a supercharged boost of clean energy without the comedown.

Also, we urgently need your financial support here. ———————————————————————————————————————
Video: Bill Gates Says European Energy Crisis Is "Good"
Says people will be forced to "move to these new approaches more rapidly"
While people in Europe face the prospect of not being able to afford to heat their homes this winter, and experiencing freezing dark blackouts, Bill Gates declared that "in the long run" the energy crisis is a "good" thing.
Touting his Breakthrough Energy Ventures climate-technology (carbon tax) investment company, Gates told CNBC "People did get a little optimistic about how quickly the transition could be done."
"Without the Russian natural gas being available in Europe… it's a setback," Gates continued.
"We need to find non Russian hydrocarbon sources to substitute for those so there's coal plants running and variety of things, because, you know, keeping, you know, people warm, keeping those economies in decent shape is a priority," Gates asserted.
He continued, "Now, on the other hand, it's good for the long run, because people won't want to be dependent on Russian natural gas so they'll move to these new approaches more rapidly."
Watch:
Gates published a "State of the Energy Transition," Tuesday, declaring that it should be the responsibility of countries such as the United States which have prospered from burning fossil fuels to move to completely decarbonize all sectors of the economy.
He writes "Many countries in Europe and North America filled the atmosphere with carbon to achieve prosperity, and it is both unrealistic and unfair to expect everyone else to forgo a more comfortable life because that carbon turned out to change the climate."
Gates also writes "I don't think the market by itself can press reset on an entire economy in just a few decades," adding "We need a plan to speed the process up."
Meanwhile…
SUBSCRIBE on YouTube:
Follow on Twitter:
Follow @PrisonPlanet
———————————————————————————————————————
Brand new merch now available! Get it at https://www.pjwshop.com/


ALERT! In the age of mass Silicon Valley censorship It is crucial that we stay in touch.

We need you to sign up for our free newsletter here.

Support our sponsor – Turbo Force – a supercharged boost of clean energy without the comedown.

Also, we urgently need your financial support here. ———————————————————————————————————————
Extreme Cold May Trigger Power Blackouts Across New England
Last month we informed readers, "New England's Power Crisis Set To Return." Fast forward to today, as US Northeast temperatures steadily decline as heating demand increases, New England power producers warn grid strains are inevitable as natural gas supplies tighten.
New England consists of six states in the US Northeast, Connecticut, Maine, Massachusetts, New Hampshire, Rhode Island, and Vermont. The region faces a power crisis every winter because its power grid relies on NatGas and lacks pipeline infrastructure for domestic flows. Over the years, NatGas pipeline infrastructure has been delayed, blocked, or abandoned, which means the region's power-grid operators have to compete in international markets for supplies.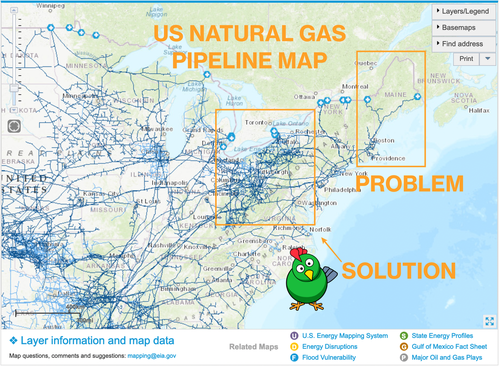 WSJ reported that power-grid operator, ISO New England Inc., warned a colder-than-normal winter "could strain the reliability of the grid and potentially result in the need for rolling blackouts to keep electricity supply and demand in balance."
ISO New England's top executives said if power producers have to increase NatGas deliveries due to severe weather drawing down supplies, it would indicate they would be paying international spot-market purchases.
"The most challenging aspect of this winter is what's happening around the world and the extreme volatility in the markets," said Vamsi Chadalavada, the grid operator's chief operating officer. "If you are in the commercial sector, at what point do you buy fuel?"
One major problem is that power producers have limited NatGas storage facilities and lack pipeline capacity reserved mainly by utilities serving homes and businesses. Power producers procure a portion of supplies with fixed-price agreements and mostly rely on spot markets.
"Anybody who is depending on the spot market for their natural-gas supply is probably going to have a pretty significant sticker shock," said Tanya Bodell, a partner at consulting firm StoneTurn who advises energy companies in New England.
We pointed out last year, "New England Is An Energy Crisis Waiting To Happen," and the worsening supply woes in Europe and the world means NatGas spot markets will be elevated through the cold season.
New England had the bright idea to decommission coal, oil, and nuclear generators, leaving the grid exposed to NatGas. New England ISO figures show about 5,200 megawatts of that capacity have retired in the last decade.
The region's power mix changes have left it increasingly reliant on international NatGas spot markets. State governors have asked US Energy Secretary Jennifer Graholm to waive the Jones Act and allow foreign-owned tankers to ship LNG from the US Gulf region.
All of this has led to New England residents facing some of the highest electricity bills in years. Heating season is already underway.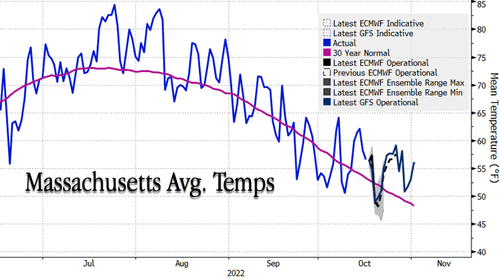 New England ISO expects the grid will be stable if there's a mild-to-moderate winter. However, if there's an extreme cold spell across the Northeast, then grid chaos could unfold:
"The grid overall is in a much tighter position.

"If we get a sustained cold period in New England this winter, we'll be in a very similar position as California was this summer," Nathan Hanson, a senior vice president of energy and commercial management of LS Power Development LLC, which has two NatGas power plants in New England, warned.
This post was originally published at Zero Hedge