"Murderapolis": Ground Zero For 'Defund The Police' Movement Now Suffering Horrendous Crime Wave
In the mid-1990s, the murder rate was so high in Minneapolis that it earned the nickname, "Murderapolis."
Now, more than two years after the Democrat stronghold turned into ground zero for the 'defund the police' movement after the murder of George Floyd, Murderopolis is back.
In a kind of Newtonian response, the city became the epicenter of the culturally seismic "Defund the Police" movement. But that progressive local effort fizzled with a decisive referendum last November.

Now, with its police department under investigation by the Department of Justice, the city of 425,000 is trying to find a way forward amid a period of heightened crime that began shortly after Floyd's death. –CNN
In 2020, murders jumped from 46 to nearly 80. In 2021, 93 people were killed in the city. This year, homicides are on track to surpass 2020.
"The criminals were celebrating. They were getting rich" after police withdrew from violent neighborhoods in the wake of Floyd's killing, said longtime resident, KG Wilson. "They were selling drugs openly."
Wilson's 6-year-old granddaughter was killed in May of 2021 after getting caught in the crossfire of a shootout in north Minneapolis.
Others are blaming the pandemic.
"It unsettled settled trajectories," said former federal prosecutor, Mark Osler, who now teaches at St. Thomas School of Law in Minneapolis. "Kids who were going to school, who would have graduated but drifted off because there is no school — we're seeing a lot of the violent crime is by juveniles."
After the left demonized cops following Floyd's murder, the Minneapolis PD headcount dropped from 900 in early 2020 to around 560 in August – a loss of more than 1/3 of the force.
The hate was so strong that a 2021 ballot measure which would have replaced the Minneapolis PD with a new "public health-oriented" Department of Public Safety, barely failed – with 56% of voters rejecting it (61% in north Minneapolis).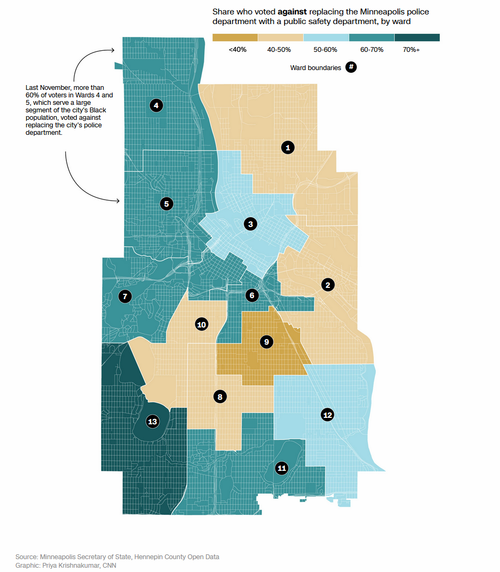 Then, the city council got wise as crime skyrocketed – dealing a final blow to the "defund" movement with a vote to re-fund the police by reversing a cut they'd made the prior year. Mayor Jacob Frey, meanwhile, has proposed beefing up the police budget for the next two fiscal years.
Feeling of lawlessness
According to the report, some 60% of police calls for shots fired have come from the north side, despite it making up just 15% of the population. Young men are openly selling drugs in public during the day, such as a gas station on Broadway ave. dubbed the "murder station" due to all the fatal shootings.
"You pull up to get gas — they try to sell you drugs," said Paul Johnson, 56. "And not just three or four, but it's a bulk of people."
Johnson's friend, Brian Bogan, said he moved from north Minneapolis to relatively safer St. Paul, because he didn't want his kids growing up in an area where you don't know if "it's fireworks or gunshots."
911 wait times have jumped
After Floyd's death average 911 response times from from 10 or 11 minutes in May of 2020, to 14 minutes later in the year – jumping in 2021 to more than 17 minutes in the north side's fourth precinct, where they remain.Some nights are so busy that the dispatchers are directed to hold all non-priority-1 calls citywide; these would include reports of property damage, suspicious persons or theft. That happened during a frenetic five-hour stretch on the night of September 8, when officers responded to multiple shootings and calls for shots fired — many of them in north Minneapolis; one near the "murder station" — that left two dead and seven wounded. -CNNThings have gotten so bad that the Minneapolis PD has flatly refused to respond to certain crimes in a timely manner – such as thefts and stolen goods. According to the police, hostility towards officers has compelled them to take a slower approach in certain parts of town.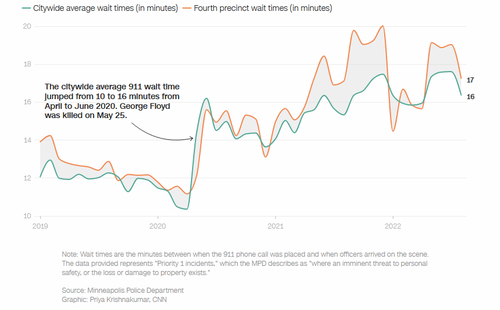 Police officials have characterized the slower response times as an "expected byproduct of a depleted force that has witnessed an overwhelming wave of retirements, resignations and disability leaves" due to post-traumatic stress.
"There's really been a very fundamental challenge to our sense of purpose in law enforcement," said interim Minneapolis Police Chief Amelia Huffman. "(Minneapolis) is the eye of the storm. So all of those challenges and the pressure is magnified, you know, a hundred fold — a thousand fold."
This post was originally published at Zero Hedge
Serial Killer Billy Chemirmir 'Killed by Cellmate' in Texas Prison
The judge in the case declared a mistrial.
Convicted murderer Billy Chemirmir, an illegal alien from Kenya suspected of being one of the most prolific serial killers in American history, was reportedly killed in prison on Tuesday morning by his cellmate.
From WFAA, "Convicted North Texas killer Billy Chemirmir killed in prison, officials say":
Convicted North Texas killer Billy Chemirmir, who was suspected in over 20 murders, was killed in a state prison Tuesday morning, officials confirmed to WFAA.

Chemirmir, 50, was serving life in prison without parole after he was twice found guilty of capital murder by Dallas County juries. He was accused of killing 20 other women in Dallas and Collin counties and still faced charges in those cases.

The Dallas County District Attorney's office confirmed they were notified by Texas prison officials that Chemirmir was killed Tuesday morning. State prison officials confirmed that Chemirmir was found dead in his cell early Tuesday and his cellmate, who was serving on a murder charge out of Harris County, was "identified as the assailant."

Dallas County District Attorney John Creuzot told WFAA that Chemirmir was killed after apparently making inappropriate comments sexual in nature towards his cellmate's children. According to Creuzot, the cellmate allegedly beat Chemirmir, dragged him out of his cell and killed him while other inmates watched. No one intervened and Chemirmir may have been stabbed with a pen, Creuzot said.
They should identify the cellmate so the public can send him letters of appreciation.
Authorities suspected Chemirmir could be involved in around 1,000 suspicious deaths in Texas but tried to convict him in 2021 specifically for killing 24 elderly patients who were overwhelmingly female and white.
Despite having a slam dunk case, one single female juror who "didn't even go back to [look at the evidence]" and "had her mind made up before she walked in" refused to convict, according to family member of a victim who was in the courtroom.
The judge in the case declared a mistrial and two new trials had to be held for separate victims in order to secure convictions.
Follow InformationLiberation on Twitter, Facebook, Gab, Minds and Telegram.
Criminals In Washington Are Intentionally Crashing Into Vehicles To Carjack Them
Just when you thought you'd seen it all.
Just when you thought you'd seen it all: now, criminals are intentionally wrecking vehicles in order to carjack them, according to a new report from KIRO7. 
Bellevue Police in Washington are alerting motorists to a new carjacking tactic taking place in their jurisdiction, the article says.
Officers responded to an attempted carjacking near the crossroads of Bel-Red Road and 156th Avenue Southeast in Bellvue, Washington, around 2:30 a.m. on a recent Friday.
The carjacking victim had reported a minor crash with a white Kia and said that upon exiting his vehicle to assess the damage, two individuals emerged from the Kia, brandishing guns and demanding his car keys.
The victim refused to hand over his keys, and the suspects fled in the Kia, the report continues.
Police are now warning that this event has similarities with other incidents taking place locally wherein assailants initiate minor accidents before attempting armed robbery.
Bellevue Police, as a result, recommend staying aware of your environment and avoiding distractions like texting. They have warned residents to opt for well-lit, busy roads, particularly at night, and steer clear of isolated or dimly lit areas.
Finally, they are telling residents to ensure their car doors are locked and windows are up, and to remain in their car if they feel endangered before calling 911.
"Unprecedented Levels" Of Theft In Nation's Capital Forces Supermarket Chain To Remove Name-Brand Items From Shelves
Walmart, Target, Kohl's, Foot Locker, Dick's Sporting Goods, and Dollar Tree, to name a few, have all raised concerns about out-of-control thefts in their stores nationwide.
The latest is supermarket chain Giant Food, which warned about "unprecedented levels" of "shrink" – the loss of inventory due to circumstances such as retail theft – at one of its stores in Washington, DC. 
NBC Washington said the Giant Food, located at 1535 Alabama Ave SE, has already warned if rampant shoplifting continues, the supermarket will have to close its doors. 
The Giant on Alabama Avenue SE is the only full-service supermarket in the area, and if it closes, it will create a food desert in Southeast DC. Instead of closing, it seems the grocery chain has come up with a solution:
In a statement, Giant said it plans to remove national brand health and beauty care items and replace them with private label brands where possible. The new policy aims to reduce "unprecedented levels" of theft and make the store safer for shoppers and employees.

"None of the tactics we deploy is the ultimate solution to the problem we face, but we continue to invest in efforts that will improve safety for our associates and customers and reduce theft," part of the statement read. –NBC Washington
Replacing brand name items, such as Tide, Colgate, or Advil, with only private label products is a last-ditch effort to prevent the store from closing.
DC's failed progressive social justice reform policies have only emboldened criminals, as AP News warned in July: "Violent crime is rising sharply, fueled by more homicides and carjackings."
Major corporations who funded the 'defund the police' movement during the Covid era are getting what they deserve: A surge in thefts as soft on crime Democrats in control of many of the nation's cities have only sparked a theft and violent crime wave.
Retailers sounded the alarm on the theft wave this past earnings season. The number of times CEOs mentioned "shrink" on earnings calls soared to a record high.

A new report last week drew a Mexican cartel connection in America's retail theft epidemic that cost companies like Walmart, Target, Kohl's, Home Depot, and Foot Locker, among others, tens of billions of dollars last year. Yet another failed Democrat policy to leave borders open.
Open borders are not so great after all… It's time to reinforce law and order in the nation or face out-of-control theft waves now making it to suburbia.
This post was originally published at Zero Hedge