Nobody Cares: Trump Approval Rating Remains Stable Despite Multiple Investigations
Despite the best efforts of the January 6th committee and Biden's 'weaponized' DOJ (which took 18 months to stage a public raid on the former President's home), Americans just don't care.
According to the most recent New York Times/Siena College poll – voters held nearly identical views from those earlier in the summer when it comes to a favorable view of Trump, whether they think he committed serious federal crimes, and who they would support in a potential 2024 Trump-Biden rematch.
Also worth noting that the Times poll sampled 49% Biden voters and 42% Trump voters, weighted towards younger Democrats and older Republicans.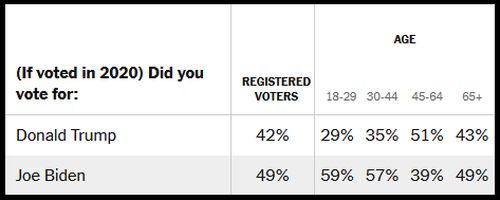 Overall, 44 percent of voters viewed Mr. Trump favorably, and 53 percent viewed him unfavorably. The recent poll was fielded early this month, after news of the Justice Department's inquiry into Mr. Trump's handling of confidential documents but before the New York attorney general announced she was suing Mr. Trump and his family business.
That level of Trump support has effectively been unchanged since the last Times/Siena poll, which was fielded in July amid televised hearings by the House committee investigating the Jan. 6 storming of the Capitol. It was also fundamentally similar to levels of support Times/Siena polls and other surveys found in recent years. –NYT
Approximately half of voters said they thought Trump had committed serious federal crimes, while 38% said they thought he hadn't – which was essentially identical to similar responses from July.
The Times also acknowledges that Trump supporters' loyalty towards the former president "has long been clear in his favorability ratings, which remained stable throughout his time in office, even during moments of peak turmoil, such as his first impeachment trial."
Many of Mr. Trump's signature policy proposals have remained fairly popular among the public, the September poll found. Half of all respondents favored a wall along the U.S.-Mexico border, including more than 15 percent of those who said they would vote for Mr. Biden in 2024. And a majority said they agreed more with the Republican Party than with the Democratic Party when it came to illegal immigration. -NYT
Meanwhile, the poll also found that 49% of registered voters think Democrats "have gone too far in pushing a 'woke' ideology on issues related to race and gender," while 34% think Democrats have not gone far enough in exposing "racism and sexism."
This post was originally published at Zero Hedge
Trump Says He Has A Plan To 'Solve' Ukraine War In 24 Hours If Reelected
Former President Trump in a new Monday night interview on Fox News declared he would "solve" the Russia-Ukraine war "in 24 hours" if he's elected president. His words came following his kickoff campaign rally for his 2024 White House bid held in Waco, TX over the weekend. 
He told a crowd of many thousands: "I will prevent World War III, which we're heading into" – and was met with widespread applause. But in his Monday appearance on Sean Hannity's show, Trump explained: "If it's not solved, I will have it solved in 24 hours with Zelensky and with Putin."
Trump continued in the Fox interview, "And there's a very easy negotiation to take place. But I don't want to tell you what it is, because then I can't use that negotiation; it'll never work."
"But it's a very easy negotiation to take place. I will have it solved within one day, a peace between them. Now that's a year and a half. That's a long time. I can't imagine something not happening," Trump added. And from there he weighed in on how he sees the war going for Ukraine at the moment, which is likely to cause anger among Kiev officials:
"The key is the war has to stop now because Ukraine is being obliterated," Trump said.
Recently both Ukrainian and Western officials have admitted heavy losses and that more ammo is needed on the front lines in order to match the Russians' superior artillery bombardment and supplies. For over the past month pro-Kremlin forces have made steady gains around the strategic city of Bakhmut in Donetsk, having nearly encircled it. But the Ukrainians have kept up the fight, and poured more manpower and weapons in.
China has this month tried to mediate in order to jump-start peace negotiations between the two warring sides, and Beijing has even had close contact with the Zelensky administration, but these efforts haven't appeared to go anywhere thus far, also amid Washington and NATO skepticism. 
As for Trump, he remains confident, having repeated lately that he can 'get along with' and talk to Putin candidly. According to more from the Monday night Hannity interview:
"So you'd prefer if you were president, you think you would have a negotiated settlement?" Hannity asked Trump.

"Within 24 hours," the former president replied.
Trump went so far as to emphasize he gets along "very well" with Putin. Recent polls have shown that a majority of Republican voters want to avoid deeper US involvement in the war.
A new IPSOS-Axios poll shows a divide on Ukraine policy among conservatives, with the debate and momentum clearly shifting in favor of those who want to avoid deeper US involvement in the war.
"Four in five Republicans want the U.S. to remain the world's leading power — but fewer than half support giving Ukraine weapons and financial support to try to save itself from Russia, according to the latest wave of the Axios-Ipsos Two Americas Index," an IPSOS-Axios poll published earlier in mid-March found.
This post was originally published at Zero Hedge
'The Witch Hunt Against Me Is DEAD': Trump Says Manhattan DA Tricked By 'Fraud' Star Witness, Wasn't Into 'Horseface' Stormy
Former President Trump on Saturday suggested that the Manhattan DA was tricked by "Star" witness Michael Cohen, Trump's former lawyer who was disbarred after pleading guilty in 2018 to multiple felony charges, including 5 counts of tax evasion, lying to a financial institution, lying to congress, and two campaign finance violations.
In addition to Cohen's credibility issues, a 2018 letter emerged last week in which Cohen's lawyer tells the Federal Election Commission that Cohen used his own funds to make a $130,000 'hush' payment to Ms. Stephanie Clifford (Stormy Daniels aka "Horse Face"), and that Trump did not reimburse him for it.
Following a Saturday night rally in Waco, Texas, Trump told reporters on his plane: "I think they've already dropped the case … they have absolutely nothing."
"It's a fake case. Some fake cases, they have absolutely nothing," Trump continued.
The former president made a similar statement earlier Saturday, writing:
"The Manhattan D.A. Witch Hunt against me is DEAD, no evidence at all, & it has been conclusively proven that I did nothing wrong!"
"The evidence against their "Star" witness, however, is overwhelming. An already disbarred lawyer & convicted Felon, the only question left is will the D.A.s Office sue him for lying & fraud. They should!"
Trump also told reporters on the plane that he wasn't trying to incite violence with a recent Truth Social post warning of "potential death and destruction" if he's indicted.
"No, I don't like violence and I'm not for violence. But a lot of people are upset." he said.
Cohen's credibility is shot
As the Epoch Times notes, former Trump attorney Robert Costello said he told the grand jury in the Manhattan case that Cohen was a tainted witness against Trump.
Cohen's testimony against the 45th president in the investigation, which reportedly is connected to so-called hush money payments that were given to adult performer Stormy Daniels during the 2016 presidential campaign. A lawyer for Cohen, when reached for comment, declined to issue a statement, although Cohen told MSNBC last week that Costello never represented him and disputed his testimony.

Bragg's has not returned a request for comment, and The Epoch Times cannot verify the authenticity of Trump's claims. Previous Epoch Times requests for comment from the DA's office have gone unanswered.

Over the past week, Bragg's office has issued one public statement on the case, and that came in response to a House Republican letter seeking testimony and information about the DA's case or whether his office would arrest Trump. A letter sent by his general counsel said that it was Trump who created a "false expectation" he would be indicted last week, although he provided no other details.
During Saturday night's rally in Waco, Trump declared that his "enemies are desperate to stop us," and that "our opponents have done everything they can to crush our spirit and to break our will."
He also told the crowd that Bragg was investigating him "for something that is not a crime, not a misdemeanor, not an affair."
"But they failed. They've only made us stronger. And 2024 is the final battle, it's going to be the big one. You put me back in the White House, their reign will be over and America will be a free nation once again."
This post was originally published at Zero Hedge
Mexican President Says Trump Arrest is About Keeping Him Off the Ballot
Slams Biden administration for hypocrisy over Julian Assange and attack on Nord Stream pipelines.
Mexican President Andres Manuel Lopez Obrador slammed the Biden administration for accusing him of corruption while abusing the justice system in America to engage in a political witch hunt against Donald Trump "so that he doesn't appear on the ballot".
AMLO made the comments in response to a U.S. government report that accused his an administration of "human rights violations," a charge which he asserts is a tissue of "lies".
Over the weekend, Trump said he expects to be arrested in connection with a potential indictment for 'hush money' payments made to Stormy Daniels before the 2016 election.
"Right now, former President Trump is declaring that they are going to arrest him," said AMLO, adding, "If that were the case…it would be so that his name doesn't appear on the ballot."
Obrador said he sympathized with Trump because he too had been targeted with "the fabrication of a crime, when they didn't want me to run."
"And this is completely anti-democratic… Why not allow the people to decide?" said AMLO.
Mexico's President AMLO says the United States cannot talk about human rights with Julian Assange detained, cartel violence with President Joe Biden bombing the Nord Stream pipeline, or democracy while arresting the leading presidential candidate Donald Trump. pic.twitter.com/BIh93L1I43

— kanekoa.substack.com (@KanekoaTheGreat) March 22, 2023
The president also shot down claims that he was responsible for the mistreatment of journalists by pointing to America's treatment of Wikileaks founder Julian Assange, adding that the report criticizing his administration, "should not be taken seriously."
"Let's see, human rights? Why don't you release Assange?" he asked. "If you are talking about journalism and freedom, why are you holding Assange?"
Obrador also said the U.S. had no right to browbeat him about violence given their alleged role in blowing up the Nord Stream oil pipelines.
"If you talk about acts of violence, how is it that an award-winning United States journalist tells us that the United States government sabotaged the Russian-European gas pipeline?" the president stated.
"Why is a cartel, or several cartels, allowed to operate in the United States, freely distributing the fentanyl that does so much harm to young people in that country?" he asked.
AMLO said the U.S. should stop trying to "be the government of the world" when their own behavior is rife with inconsistencies.
Last night, a letter written by Michael Cohen's attorney said that Cohen acted alone when paying off Stormy Daniels in 2016, with the case against Trump looking increasingly flimsy and more likely to collapse altogether.
SUBSCRIBE on YouTube:
Follow on Twitter: Follow @PrisonPlanet
———————————————————————————————————————
Brand new merch now available! Get it at https://www.pjwshop.com/
ALERT!
In the age of mass Silicon Valley censorship It is crucial that we stay in touch.
I need you to sign up for my free newsletter here.
Support my sponsor – Turbo Force – a supercharged boost of clean energy without the comedown.
Get early access, exclusive content and behind the scenes stuff by following me on Locals.
———————————————————————————————————————