Man Accused Of Murdering 18-Year-Old Conservative Released On Bail
A 41-year-old man accused of murdering 18-year-old Cayler Ellingson for being a supposed "Republican extremist" was released on $50,000 bail Tuesday from the Stutsman County jail in North Dakota.
According to the NY Post, Sannon Brandt spent just days in lockup after he was arrested in connection with the death of Ellingson – who Brandt initially told first responders that "he struck the pedestrian because the pedestrian was threatening him," according to a probable-cause affidavit provided to Fox News Digital Wednesday morning.
Ellingson was walking on the street shortly before 3am following a weekend street dance in Foster County when he was struck with a pickup truck, according to the North Dakota Highway Patrol. He was rushed to Carrington Hospital where he was pronounced dead upon arrival.
"Brandt stated that the pedestrian called some people and Brandt was afraid they were coming to get him," the document continues. "Brandt admitted to State Radio that he hit the pedestrian and that the pedestrian was part of a Republican extremist group."
North Dakota Highway Patrol reported on Sunday that there was a "street dance" on Jones Street near Hohneck Street in McHenry when Brandt struck Ellingson and then fled the scene.

Ellingson was rushed to a local hospital with serious injuries, but could not be saved.

Brandt's and Ellingson's families both showed up at the scene shortly after police arrived, court records show.

Ellingson's parents later told police they knew Brandt, but they did not believe their son did. Ellingston's mother described how she was on her way to pick up her son from McHenry when he called her and said "that 'he' or 'they' were chasing him." She could no longer reach him after that. -NY Post
Brandt was arrested early Saturday morning in his Glenfield home after police stopped him outside. He "admitted to consuming alcohol prior to the incident," according to the records.
"Brandt admitted to striking the pedestrian with his car because he had a political argument with the pedestrian and believed the pedestrian was calling people to come get him," the court document continues. "Brandt admitted to leaving the scene of the incident and returning shortly after where he called 911."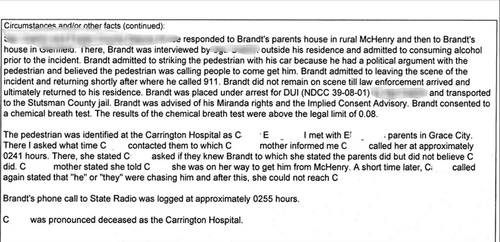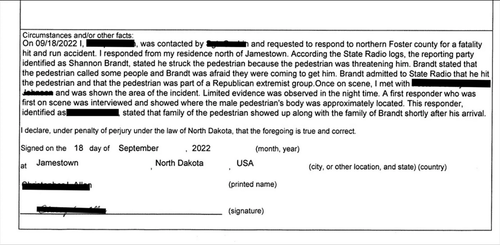 Brandt had a blood-alcohol level above the legal limit of 0.08, and was charged with criminal vehicular homicide. While he was charged with driving under the influence according to jail records, a criminal complaint did not include the charge, the Post reports.
This post was originally published at Zero Hedge
NYT 'Right Wing Conspiracy Theory' Comes True In Less Than 24 Hours
The latest salvo from the left in the ongoing 'unpersoning' of anyone (on the right) who questions election integrity fell flat on its face in less than a day.
On Tuesday, the New York Times framed a story circulating on the right over a software company's connection with the Chinese Communist Party as a "right-wing conspiracy theory."
"At an invitation-only conference in August at a secret location southeast of Phoenix, a group of election deniers unspooled a new conspiracy theory about the 2020 presidential outcome," was the Times' original lede (via the Daily Caller).
In it, the Times wrote that "right-wing" election deniers in Arizona had fabricated a conspiracy theory that election software company Konnech had secret ties to the CCP, and was passing them information on around two million US poll workers.
"In the two years since former President Donald J. Trump lost his re-election bid, conspiracy theorists have subjected election officials and private companies that play a major role in elections to a barrage of outlandish voter fraud claims," reads the article. "But the attacks on Konnech demonstrate how far-right election deniers are also giving more attention to new and more secondary companies and groups. Their claims often find a receptive online audience, which then uses the assertions to raise doubts about the integrity of American elections."
The next morning, Konnech executive Eugene Yu was arrested for the alleged theft of poll workers' personal information.
Whoops… assholes.
This post was originally published at Zero Hedge>
Former Clinton Advisor Says Hillary May Run In 2024
"I see more and more signs that Hillary's going to run"
Following comments criticising the handling of mass immigration on the southern border, a long time Clinton advisor says that it appears Hillary may be positioning herself for another presidential run in 2024.
The New York Post reports that strategist Dick Morris believes Hillary is moving toward presenting herself as a "moderate" centrist candidate in 2024.
"I see more and more signs that Hillary's going to run," Morris, a former aide to Bill Clinton, said during a radio interview.
Morris said the fact that Hillary is acknowledging that most Americans "do not believe in open borders," is a tell tale sign.
"These are all signals that she is going to be the moderate candidate for president. She's going to say after the election, 'See, the left cost us the House and the Senate. If we stay with a left-wing candidate in 2024, we're going to lose the White House. I'm the only one who will tack to the center and give us a chance at victory​,​'​" Morris said.
The political consultant added that "it's the strategy I designed for Bill Clinton in 1992" and that "​Hillary is just dusting off Bill's playbook that I wrote for him and applying it herself this year."
Listen (relevant part starts at 46 mins):
Morris previously recently predicted that Democrats are going to reject Biden for a second run in favour of Clinton in order to avoid the potential of "some crazy radical like Gavin Newson, Bernie Sanders. Maybe even AOC herself" becoming a front runner.
"That's going to drive the Democratic Party leaders to go to Hillary and say, 'Hey look. Please run again. We need you to save us from the crazy left,'" ​Morris said, adding "Otherwise we'll have Sanders as our candidate. We'll lose Congress by a ton. And we'll get wiped out in the presidential race.'"
During an MSNBC interview a fortnight ago, Hillary noted "nobody wants open borders who has any idea of how government and countries work."​
Hillary recently declared that she would never run for President again, but that hasn't stopped the rumours from circulating.
Meanwhile, despite continued questions over his mental degradation, Joe Biden has reportedly told Al Sharpton that he plans to run again for president in 2024.
In related news, an underreported piece by Breitbart last week detailed how Hillary aides reportedly seriously believed that Donald Trump, acting as a Russian agent, planned to poison Hillary with some sort of deadly handshake during the presidential debates in 2016.
The revelation is made in a forthcoming book by New York Times reporter Maggie Haberman, who details how "During preparations for the third debate, Clinton's team was disrupted by a warning from the husband of Senator Dianne Feinstein, who said he had been told that Russians might try to poison Clinton through a handshake with Trump, to inflict a dramatic health episode during the debate."
While the book claims Hillary personally didn't take the threat seriously, "Her communications director, Jennifer Palmieri, took the prospect seriously enough to check it out," Haberman writes.
Interestingly, there was no handshake at the beginning of the third debate:
SUBSCRIBE on YouTube:
Follow on Twitter:
Follow @PrisonPlanet
———————————————————————————————————————
Brand new merch now available! Get it at https://www.pjwshop.com/


ALERT! In the age of mass Silicon Valley censorship It is crucial that we stay in touch.

We need you to sign up for our free newsletter here.

Support our sponsor – Turbo Force – a supercharged boost of clean energy without the comedown.

Also, we urgently need your financial support here. ———————————————————————————————————————
Video: Lost Biden Speaks Total Gibberish, Asks For Help Completing Sentences
How can this guy be in charge of anything?
Here we go again.
During an appearance in Puerto Rico Monday Joe Biden suddenly started acting as if he had lost something, before asking for help to deliver pre prepared remarks, and then devolving into speaking gibberish.
Biden was walking to the podium when he suddenly stopped and looked at the ground as if he had lost something.
He appeared to mutter "look for here somewhere" while scanning the ground, perhaps looking for a place he was ordered to stand by handlers:
Biden then gibbered about being raised in a Puerto Rican community… in Delaware, or something, before struggling to read the teleprompter and asking for help to complete his sentences:
Eventually, Biden just completely devolved into a complete nonsense mash:
At least he wasn't asking where dead people were this time.
There are too many daily incidents like this to keep track of now:
SUBSCRIBE on YouTube:
Follow on Twitter:
Follow @PrisonPlanet
———————————————————————————————————————
Brand new merch now available! Get it at https://www.pjwshop.com/


ALERT! In the age of mass Silicon Valley censorship It is crucial that we stay in touch.

We need you to sign up for our free newsletter here.

Support our sponsor – Turbo Force – a supercharged boost of clean energy without the comedown.

Also, we urgently need your financial support here. ———————————————————————————————————————