Putin Announces Partial Mobilization In Ukraine War Escalation, Says West Wants To "Destroy Russia"
In a nationwide address that was delayed from its prime-time Tuesday delivery and ahead of votes in four Ukraine regions to join Russia, on Wednesday morning Russian President Vladimir Putin announced a partial military mobilization, while vowing to use all means necessary to defend Russia and pledged to annex the territories already occupied by Russia, raising the stakes in the seven-month-old conflict.
Calling the moves "urgent, necessary steps to defend the sovereignty, security and territorial integrity of Russia," Putin said that Russia is fighting the full might of NATO. The US and its allies, he said, are seeking to "destroy" Russia.
The partial mobilization means that reservists will be drafted into military service, Putin said, starting immediately. The Armed Forces will draw on military reservists only, and those who have completed national service, the president said promising that they will be provided with additional training along with all the benefits due to people involved in active duty.
The measure is "sensible and necessary" under the circumstances, Putin stated, adding that he has already signed an order for the call-up to start immediately.
In his speech, Putin accused Kiev of backing away from peace talks, acting on direct orders from its Western allies. Instead of negotiating, the Ukrainian government has beefed up its military with NATO-trained troops, many of whom are neo-Nazi extremists, he said.
Putin also accused the west of using "nuclear blackmail" against Russia noting that "if its territorial integrity is threatened Russia will definitely use all the means at its disposal." to defend Russian territory. "This is not a bluff."
Russian forces sent to Ukraine in February have secured a large portion of territory claimed by the Donetsk and Lugansk People's Republics as well as parts of Ukraine, and the resulting frontline stretches over 1,000km, according to the Russian president.
Putin also commented on the upcoming referendums in the two Donbass republics and two regions of Ukraine currently controlled to a large extent by Russian troops. The territories which include Luhansk, Donetsk, Kherson and Zaporizhzhia provinces, have announced plebiscites on whether become part of Russia, with the ballots scheduled to start on Friday. Putin said his government will respect the outcome of the four referendums, and provide security for the voting process.
Some other notable highlights from Putin's address:
the contracts for reserves last "until the end of the partial mobilization period" i.e. indefinitely
governors of Russian regions decide who and how many people get sent to the front
Putin's full decree on mobilization can be found on the Kremlin website although it is blocked for most western browsers. It says mobilized Russians will be treated the same as contract troops. The criteria for exemption are age, health, being in jail, and working in the armaments industry. Details from the (google-translated) decree below:
In accordance with the federal laws of May 31, 1996 No. 61-FZ "On Defense", of February 26, 1997 No. 31-FZ "On mobilization training and mobilization in the Russian Federation" and of March 28, 1998 No. 53- Federal Law "On military duty and military service" I decide:

1. To announce partial mobilization in the Russian Federation from September 21, 2022.

2. To carry out the call of citizens of the Russian Federation for military service for mobilization in the Armed Forces of the Russian Federation. Citizens of the Russian Federation called up for military service by mobilization have the status of military personnel serving in the Armed Forces of the Russian Federation under a contract.

3. Establish that the level of pay for citizens of the Russian Federation called up for military service by mobilization into the Armed Forces of the Russian Federation corresponds to the level of pay for military personnel serving in the Armed Forces of the Russian Federation under a contract.

4. Contracts for the passage of military service concluded by military personnel continue to be valid until the end of the period of partial mobilization, with the exception of cases of dismissal of military personnel from military service on the grounds established by this Decree.

5. Establish during the period of partial mobilization the following grounds for the dismissal from military service of servicemen undergoing military service under a contract, as well as citizens of the Russian Federation called up for military service for mobilization in the Armed Forces of the Russian Federation:

a) by age – upon reaching the age limit for military service;

b) for health reasons – in connection with their recognition by the military medical commission as unfit for military service, with the exception of military personnel who have expressed a desire to continue military service in military positions that can be replaced by the specified military personnel;

c) in connection with the entry into force of a court verdict on the imposition of a sentence of imprisonment.

6. To the Government of the Russian Federation:

a) to finance activities for partial mobilization;

b) take the necessary measures to meet the needs of the Armed Forces of the Russian Federation, other troops, military formations and bodies during the period of partial mobilization.

8. The highest officials of the constituent entities of the Russian Federation shall ensure the conscription of citizens for military service for mobilization in the Armed Forces of the Russian Federation in the number and within the time limits determined by the Ministry of Defense of the Russian Federation for each constituent entity of the Russian Federation.

9. Provide citizens of the Russian Federation working in organizations of the military-industrial complex with the right to deferment from conscription for military service for mobilization (for the period of work in these organizations). The categories of citizens of the Russian Federation who are granted the right to deferment and the procedure for granting it are determined by the Government of the Russian Federation.

10. This Decree comes into force from the day of its official publication.
Following Putin's address, Russia's minister of defense Sergei Shoigu also delivered a nationwide TV address, in which he said that the battlefield conditions in Ukraine as "difficult."
"We are not fighting with Ukraine, but with the collective west " he said, noting mobilization will be gradual, not one-time. He also added more nuclear threats: "All types of arms, including the nuclear triad, are fulfilling their tasks."
Some more highlights from Shoigu's address:
Calling up the reserves adds about 300,000 men to Russia's forces
"These are not people who've never seen or heard anything about the army."
Students are exempt and "only 1% of mobilization potential" will be used
Following the partial mobilization announcement, oil surged…
… futures tumbled…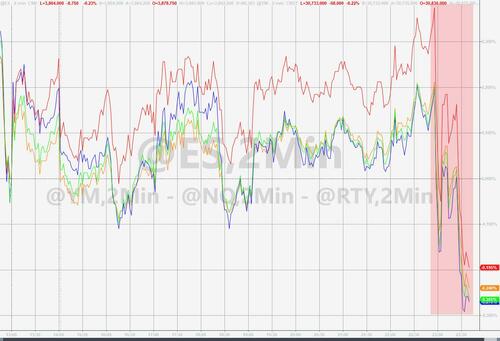 …the Bloomberg dollar index soared to a new record high…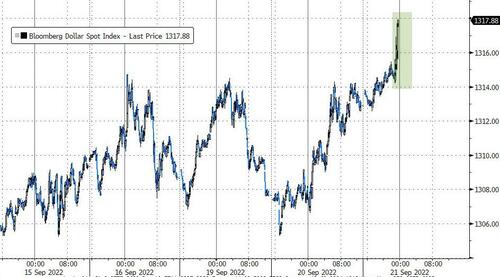 …yields dropped…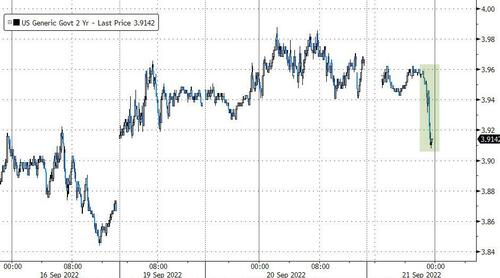 … and the EUR tumbled even further below parity.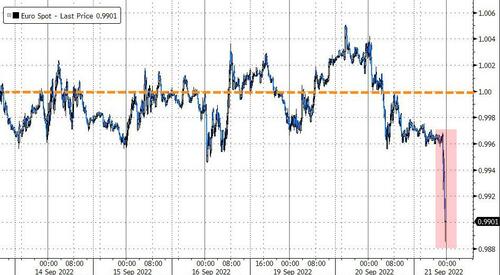 And now we await the Fed.
This post was originally published at Zero Hedge
Rand Paul Issues Ultimatum: Withdraw Ukraine Billions Or Face Government Shutdown
"If leadership insists on funding another country's government at the expense of our own government, all blame rests with their intransigence"
Senator Rand Paul declared that he will hold up a spending bill in the Senate and push toward a government shutdown unless $6 billion in aid to Ukraine is removed from the legislation.
Paul took to Twitter noting that he will only allow a vote on the spending stopgap before the Sept. 30 deadline for funding government if Senate leaders get rid of the massive amount of money earmarked for the war.
"If leadership insists on funding another country's government at the expense of our own government, all blame rests with their intransigence," Paul wrote.
Last week, Paul slammed the Ukrainian leadership as "corrupt" and blasting the visiting President Zelensky as "begging for more money."
In the Senate, Paul asked "When will the aid requests end? When will the war end? Can someone explain what victory looks like?" 
Paul also noted that Zelensky has cancelled Democracy in the country.
"They've cancelled the elections. What kind of democracy has no election?" he noted, adding "next year, Zelensky said he's not going to have an election because it would be inconvenient during the war and would be expensive."
He continued, "if you don't have elections, who in the world will be supporting a country that's not a democracy? They've banned the political parties, they've invaded churches, they've arrested priests. So, no, it isn't a democracy. It's a corrupt regime."
Meanwhile, Democratic Presidential candidate, Robert F. Kennedy Jr. warned on Thursday that the "next step of Ukraine War escalation" is stationing United States military advisers on the ground.
"Have they forgotten how we got embroiled in Vietnam?" RFK Jr. noted, linking to a recent article in Foreign Affairs calling for on-the-ground training:
SUBSCRIBE on YouTube:
Follow on Twitter:
Follow @PrisonPlanet
———————————————————————————————————————
Brand new merch now available! Get it at https://www.pjwshop.com/


ALERT! In the age of mass Silicon Valley censorship It is crucial that we stay in touch.

We need you to sign up for our free newsletter here.

Support my sponsor – Summit Vitamins – super charge your health and well being.

Also, we urgently need your financial support here. ———————————————————————————————————————
Kremlin Reacts To US M1 Abrams Tanks Entering Ukraine: "They Too Will Burn"
The Kremlin has responded to widespread reports from Ukraine that Kiev has received its first deliveries of American M1 Abrams battle tanks. Ukrainian officials have hailed that the tanks will help their forces punch through stalemated front lines.
Putin's spokesman Dmitry Peskov said "they too will burn" – in reference to prior instances of Western tanks being taken out, such as German Leopards and UK Challenger 2 tanks.
"All this can in no way affect the essence of the special military operation, its outcome," Peskov explained. "There is no panacea, no single weapon that can change the balance of power on the battlefield."
Beginning this year, Washington had pledged 31 Abrams tanks to the Ukrainians. It's believed the first ten were transferred to Ukrainian forces as of Saturday. More are expected this fall.
According to more from Peskov, via Reuters:
"Abrams tanks are serious weapons, but remember what the president said about other tanks made in another country," Peskov said, referring to other Western tanks supplied to Kyiv, which include German-made Leopards and British Challengers.
The White House has also this month for the first time announced it will supply a "limited" amount of long-range ATACMS missile systems, with a range of up to 190 miles.
In early September, The Guardian wrote, "A battlefield video circulating on social media overnight appears to show the destruction of a British Challenger 2 in Ukraine, which would be the first time one of the tanks has been destroyed in combat,."
UK media subsequently made it clear that up to that point no Challenger 2 tank had ever been lost in battle due to enemy forces since it entered production and was first deployed in 1994 (the exception was a friendly fire incident in Iraq in 2003).
Very controversially, the UK has been sending depleted uranium armor-piercing rounds to Kiev, in order to fire them from the Challenger II tanks. The UK Defense Ministry last spring admitted that it "does not monitor the locations from where DU rounds are fired by the AFU in Ukraine."
This post was originally published at Zero Hedge
Senator Shocked By Classified Briefing On Ukraine: Warhawks Want Blank Check With No Victory In Sight
Sen. Josh Hawley (R-MO), known for his efforts to force the Biden Administration to declassify information related to covid's possible lab origins at Wuhan, exited a classified briefing this week on the situation in Ukraine and expressed a feeling of shock.
"If there is some path to victory in Ukraine, I didn't hear it today. I also heard that there's going to be no end to the funding requests…"
Hawley went on to indicate that Americans will be asked to spend hundreds of billions more dollars in the region with an indefinite blank check in place to protect "US standing" on the world stage. Zelensky asked Biden and Congress for another $24 billion during his latest visit, stating that if Ukraine doesn't get the aid, they will lose the war. The information at hand suggests that Ukraine is going to lose the war anyway.
Hawley also revealed that the public is being lied to about the war footing in the region and that Ukraine is definitely 'not winning.' This information confirms what many Americans already suspected, with 55% of the public now in opposition to more aid according to recent polls.
The corporate media blitzkrieg bombarding the populace with tales of imminent Ukrainian victory against Russian forces has lost its momentum and reality is starting to set in. Though, this did not stop journalists from trying to insert their list of debunked talking points into the interview as they seemed to debate Hawley more than ask him questions.
These debate points have long been a part of the media's narrative but none of them have held water so far. Assertions of an inevitable "domino effect" leading to a Russian invasion of Europe should Ukraine fall are reminiscent of the same false claims made during the Vietnam War. There is no evidence to indicate Russia has plans to attack Poland or any other NATO member, with Putin obviously aware of the danger of nuclear conflict. As Hawley points out, the warhawks can't have it both ways – They can't claim that arming Ukraine has led to the degradation of Russian forces "on the cheap", and at the same time claim that Russia is strong enough to then overrun Europe should Ukraine lose.
Another disturbing takeaway from this argument is the notion that Ukrainian citizens need to be used as cost effective human shields to prevent a wider war between Russia and NATO. It is the same claim that Zelensky has been making for the past year in order to frighten the western populace into throwing billions more dollars into Ukrainian coffers – "$100 billion and hundreds of thousands of Ukrainian lives will buy you the deaths of hundreds of thousands of Russians. A proxy war is lot cheaper than engaging in a direct war with them…"
But why entertain a war with Russia at all? A false choice has been presented – Either Americans support a proxy war against Russia, or be forced to fight a direct war.
So far, there has been no quantifiable benefits for the western public. It is clear, however, that there are elements of the establishment that desire an ongoing conflict with Russia. The anti-Russian rhetoric began in 2016 well before the war in Ukraine. Propaganda surrounding Donald Trump and "Russiagate" has been thoroughly debunked. Most of the "evidence" presented to prove that the 2016 election was manipulated by Russia was in fact fabricated by groups under the watch of Democrat operatives and some Neo-cons. Of course, the aftermath of the propaganda convinced a large portion of the public (most of them on the political left) that Russia was a predator lurking at their door waiting to strike.
Hawley also notes that while public attentions have been directed at Russia, China is a much more viable threat and any effort to prevent them from invading Taiwan would at this stage be futile. The truth is, neither war is a winnable prospect for the US or NATO given the economic instability at play; a conflagration between East and West would be disastrous for both sides, but western populations have the furthest to fall. Clearly there are people within our government that see this as a good thing as they continue to press geopolitical tensions closer and closer to WWIII.
This post was originally published at Zero Hedge