Putin Tells Allies 'No Hurry' In Ukraine, Warns Of "More Serious" Action To Come
In Friday remarks before the Uzbek-hosted Shanghai Cooperation Organization (SCO) summit, Russian President Vladimir Putin was pressed by reporters over Ukraine's reportedly successful counteroffensive going on in northeast Ukraine.
Putin responded by saying Russian's military is in 'no hurry' to finish its campaign in Ukraine, perhaps to the surprise of the audience, stressing "The plan is not subject to adjustment" – while not denying the difficulty the counteroffensive has posed for his forces. "Our offensive operations in Donbas itself do not stop. They are going at a slow pace… the Russian army is occupying newer and newer territories," Putin said, and added, "We are not in a hurry … there are no changes."
There's been widespread speculation from Western governments and officials that Russia's armed forces have taken on immense casualties, with the Pentagon last month putting the figure at 80,000 Russian troops injured or killed – including the deaths of senior officers and generals. Other independent monitors have tended to offer far lower figures, but still significant losses. This has served to put pressure on the Kremlin to issue a full declaration of war against Ukraine and thus national military mobilization, something this week an official Kremlin statement said wasn't as yet under consideration.
President Putin in the Friday remarks in Samarkand addressed the fact that the Russian "special operation" is not yet happening with the full strength of the military:
Putin said Russia was "not fighting with a full army" but only contract soldiers, and said the main goal of the campaign remained "the liberation of the entire territory of Donbas".

He accused Ukrainian forces of attempts to carry out "terrorist acts" and damage Russian civilian infrastructure.
That's when he offered some his toughest words of late, coming in the context of the US and NATO appearing to deepen their role even further in support of Kiev forces, saying a more "serious" response is being readied.
"We are really quite restrained in our response to this, for the time being," Putin said. "If the situation continues to develop in this way, the response will be more serious."
Importantly, during a meeting with India's Prime Minister Narendra Modi on the sidelines of the summit on the same day, Modi issued a rare criticism, saying now is "not a time for war". Here is how the exchange played out:
"Excellency, I know today's time is not a time for war," PM Modi told Putin in Samarkand as the two leaders began their first face-to-face meeting since Moscow's forces invaded Ukraine.

"I know your position on the conflict in Ukraine, your concerns…. We will do our best to end this as soon as possible," Putin told Mr Modi.

Putin responded: "Unfortunately, just the opposing side, the leadership of Ukraine, announced its rejection of the negotiating process, and stated that it wants to achieve its goals by military means, on the battlefield," Putin said.
Putin laid ultimate blame for the conflict's continuation on Kiev and its Western backers in NATO, who have continued shipping in weapons at unprecedented pace.
Earlier this month the Russian military attacked significant energy infrastructure in and around Kharkiv, Ukraine's second largest city and major population center closest to Russia's border, which plunged many districts into darkness. This was seen at the time as retaliation for Ukrainian forces rapidly rolling back the Russian front lines in the region. Putin took the opportunity to warn Russian forces stand ready to broaden attacks on Ukrainian infrastructure, quipping that "We will see how."
For now, even at a moment new allegations are being widely reported of Ukrainian "mass graves" being left in Izium after Russian forces retreated from there, Putin looks comfortable at the SCO summit while surrounded by "friends"…
Putin in the Friday remarks also addressed Western sanctions, demanding in particular the removal of export restrictions on Belarusian fertilizers. It's a message he's repeated throughout the summer, saying the West would do this if it really cared about global food supply and scarcity.
This post was originally published at Zero Hedge
Sen. J.D. Vance Demands Biden Admin Reveal if American Transgender 'Spokesperson' for Ukraine Military Has U.S. Intelligence Ties After Threats to 'Hunt Down' Russian 'Propagandists'
"Did they ever serve, in any capacity, American intelligence services?"
Senator J.D. Vance (R-OH) has written to top Biden administration officials demanding the White House reveal if Sarah Ashton-Cirillo, a transgender individual claiming to be a spokesperson for the Ukrainian military, has ties to American intelligence services and if U.S. funds are currently subsidising Ashton-Cirillo's apparent role in Ukraine after the personality went viral vowing that Russian "propagandists will be hunted down".
In a letter, seen by Breitbart News, to Secretary of State Antony Blinken, Secretary of Defense Lloyd Austin, and Director of National Intelligence Avril Haines, Ohio Senator J.D. Vance has requested any information the U.S. government has on apparently American-born former freelance journalist Sarah Ashton-Cirillo — born Michael John Cirillo — who reportedly became a spokesperson for the Ukrainian military earlier this year.
Appearing before a backdrop featuring the logo for the Territorial Defence of Ukraine (TDF) — a branch of Kyiv's military — Ashton-Cirillo posted a video message earlier this week on social media declaring that Ukraine will "hunt down" alleged allies of the Kremlin operating in Ukraine as "propagandists".
"Next week, the teeth of the Russian devils will gnash ever harder, and their rabid mouths will foam an uncontrollable frenzy as the world will see a favourite Kremlin propagandist pay for their crimes. And this puppet of Putin is only the first. Russia's war criminal propagandists will all be hunted down, and justice will be served as we in Ukraine are led on this mission by faith in God, liberty and complete liberation," the apparent Ukrainian spokesman warned.
Since there are several people asking for this video and many discussing it on Telegram and across social media channels, here is my latest episode of Russia Hates the Truth.

The russians and their supporters are gnashing their teeth as predicted.

pic.twitter.com/Bdr1yddFN3

— Sarah Ashton-Cirillo (Ukrainian TDF Media) (@SarahAshtonLV) September 13, 2023
The ominous message, which quickly went viral, has sparked many questions about Ashton-Cirillo's background and alleged current role with the Ukrainian military, including from Sen. Vance.
"In recent days, a video has circulated of an individual who claims to be an English-speaking spokesperson for the Ukrainian military. In the video, this individual, Sarah Ashton-Cirillo, looks directly into the camera and threatens physical violence to anyone who circulates 'Russian propaganda'," he wrote in a letter to Sec. Blinken, Sec Austin, and Director Haines.
"A number of reports purport to offer additional information, much of it unconfirmed, regarding Ashton-Cirillo. I've seen claims this individual is an American, a former intelligence operative in the United States, and an employee of the Ukrainian government. Others have argued Ashton-Cirillo is pulling an elaborate prank. If so, kudos for the delivery of high quality humor," Vance continued in an apparent reference to Ashton-Cirillo's reported direct lobbying of the U.S. Congress for military aid to Ukraine last December.
The Ohio freshman Senator went on to request information from the White House, questioning:
"Is this individual employed by the Ukrainian military, and do we have reason to believe the are compensated using American resources?
Is this individual an American citizen? Did they ever serve, in any capacity, American intelligence services?
Do we have reason to believe Ukrainian forces or intelligence services are planning to commit acts of violence against those who engage in 'Russian propaganda'?"
The Republican lawmaker went on to express concerns that U.S. taxpayer dollars are supporting violence or the threat of violence against people for speaking their minds, noting that American journalists and even current presidential candidates have been "slandered" as propagandists for Russia.
'Weaponized Govt Agencies' "Don't Wish Good Things For Me" – Musk Blames Biden Admin For Ukraine-Starlink Block
"Interests aligned with President Biden probably do not wish good things for me."
"I don't know really what their issue is."
That's how the world's richest man describes the apparent 'beef' that the Biden administration has with him (apart from him calling them on their bullshit and enabling a free-speech platform for others to discuss non-approved narratives).
Specifically, Elon Musk told the panel on the 'All-In' Podcast Summit yesterday:
"…there does seem to be some significant increase in the weaponization of government and really sort of misuse of prosecutorial discretion in many areas… I think this is really a dangerous thing for there to be partisan politics with government agencies."
"Elon, does the Biden administration have it out for you, and why?" All-In host entrepreneur David Sacks asked Musk.
"Ha. What ever gave you that idea?" Musk joked.
"I don't think the whole administration has it out for me," he added.

"But I think there's probably aspects of the administration… or aspects of interests aligned with President Biden who probably do not wish good things for me."
As a reminder, DOJ and SEC are currently investigating Tesla for allegedly allocating funds to a secret project to build Musk a house – which Musk has denied (and Walter Isaacson's biography also confirms has been dropped). Additionally SpaceX is being investigated by DOJ for not hiring illegal immigrants (no, seriously). Then there's the FAA nitpicking over SpaceX approval:
"The only thing holding back the second planned Starship at this point is regulatory approval," signifying that they are only waiting for FAA for their next launch.
Regarding Tesla, Musk focused on the company's operations in China.
He expressed concerns about China's military capabilities, noting, "there will come a point in the not too distant future where China's military strength in that region far exceeds America's."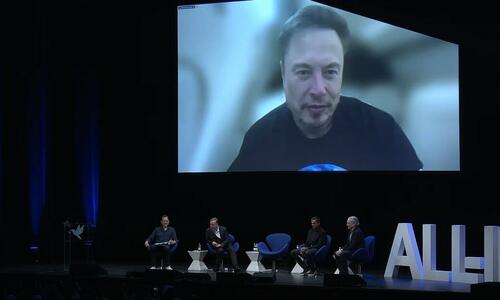 This point underlined the broader geopolitical considerations he takes into account in his business ventures, which brings us back to Starlink and the recent controversy over Ukraine demanding him enable the satellite web service for an attack on Crimea.
Musk made it clear that Walter Isaacson – his biographer – had misunderstood the situation and that the initial decision to not allow access to Starlink around the Crimean border was due to sanctions from the Biden administration.
"Starlink have provided connectivity to Ukraine since the beginning of the war and as the Ukrainian government has said, Starlink was instrumental in the defense of Ukraine – although the media forgets to mention that."
Musk explains that "at the time [the attack] happened, the region around Crimea was turned off… and the reason it was turned off was because the United States has sanctions against Russia, which includes Crimea, and we are not allowed to turn on connectivity to a sanctioned country without explicit permission – which we did not have from the US government."
Starlink was approached with immediate demands in the middle of the night to turn on Crimea, by the Ukrainian government, which Musk explains "was to enable a Pearl-Harbor-type attack on Sevastopol. So they were really asking us to take part proactively in a major act of war."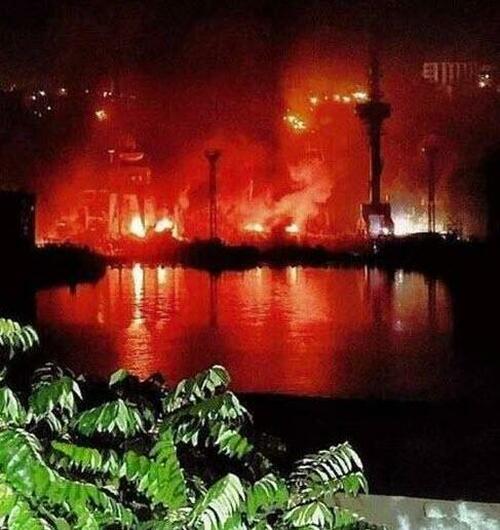 The billionaire continued to note that while we have "huge empathy and support" for the Ukrainian people, Musk notes more seriously, "the Ukrainian government is not in charge of American people or companies."
The audience applauded as he added "that's not how it works."
"While I am not President Biden's biggest fan, if I had received a presidential directive to turn it on, I would have done so because I do regard the president as the chief executive officer of the country, and whether I like him or not, I still respect the office."
But, he concludes, "no such request came through."
Still, not of that matters for CNN's narrative…
They're desperate for ratings. Best to ignore them.

— Elon Musk (@elonmusk) September 13, 2023
And Musk added that "to his credit, Secretary Blinken was quite supportive and did not take Jake Tapper's bait" when the CNN anchor demanded retribution for Musk's refusal to turn on Starlink.
It should not be lost on anyone that during last night's attack on Russia's Crimean port of Sevastopol, Starlink suffered a global outage…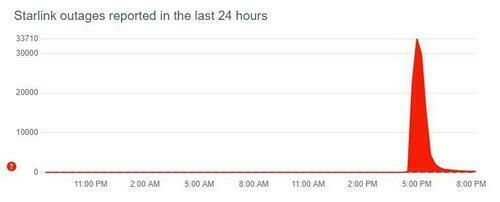 Finally, despite the efforts of ADL and CCDH, Musk highlighted his platform X (formerly known as Twitter) has seen growing appeal to creators and adds that "we've recently seen a significant increase in advertising."
Musk emphasized that the platform aims to become the best home for content creators, opening up another avenue for innovation.
Still, how much of this narrative-busting interview will ever make it to mainstream media is questionable when there's a narrative to be spun and an election to be manipulated.
Watch the full interview below:
(0:00) Besties welcome Elon via Starlink
(05:31) Ukraine and Starlink
(19:10) green shoots of X
(22:24) the creator economy and optimizing the X experience
(26:43) the ADL, free speech, and advocating for peace
(32:41) China
(37:20) AI
(44:30) where are we with self-driving?
Russia's Navy Port At Sevastopol On Fire After Massive Ukraine Missile Attack
A major attack has ensued on Russia's key Black Sea naval port.
In the overnight and morning hours of Wednesday (local time) a major attack has ensued on Russia's key Black Sea naval port of Sevastopol. Multiple social media videos emerged showing massive blazes at the Sevastopol shipyard, with possible deaths, and at least 24 people being reported injured.
Initial reporting in Reuters and CNN strongly points to a missile attack, based on statements by Sevastopol governor Mikhail Razvozhaev, who said "Our enemies attacked Sevastopol" and that "The air defense was at work."
#War At the Sevastopol Shipyard, 24 people were injured from the night attack of the APU, 4 of them in serious condition. pic.twitter.com/qNPvE55MBt

— Capt(N) (@Capt_Navy) September 13, 2023
The precise location of the large fire is the Kilen-Balka area of Sevastopol. Reuters reports that "A Ukrainian air attack early on Wednesday sparked a fire at the Sevastopol Shipyard in Crimea, injuring at least 24 people, the Russia-installed governor of Sevastopol, Mikhail Razvozhayev, said on the Telegram messaging app."
At least four of the injured have been reported as being in "serious condition".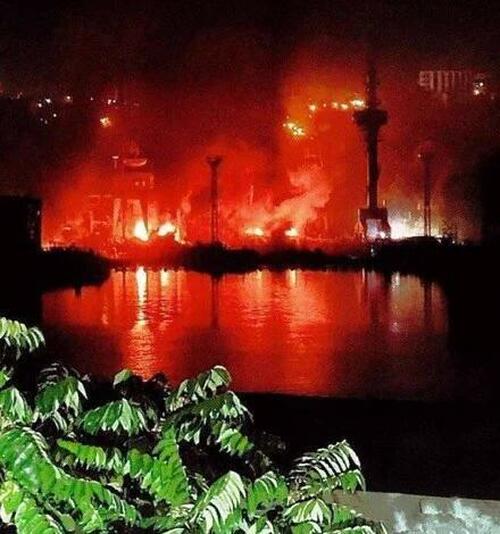 Initial and unconfirmed social media photographs show what appears to be a direct hit on one or more military vessels docked at the naval port.
The aftermath of the attack was captured from multiple angles, appearing to confirm significant damage to ships and port infrastructure…
Fire in #Sevastopol Marine Plant 🔥🔥🔥 pic.twitter.com/lhPHwnOLDy

— Aurora Borealis 🤫 (@aborealis940) September 13, 2023
Open source analysts are already suggesting that at least one docked Russian submarine may have been taken out in the attack.
An assault of this size is indeed likely more than just the work of drones; instead Ukraine probably utilized long-range missiles supplied from Western NATO partners.
Appears that Ukrainian forces have successfully hit the Sevastopol Shipyard drydocks this morning, likely occupied by a Russian Kilo-class sub and Ropucha landing ship. pic.twitter.com/wNJHaVfF3t

— OSINTtechnical (@Osinttechnical) September 13, 2023
Currently, the Biden administration is moving toward supplying Kiev with either ATACMS or GMLRS missiles. These are long-range systems and the administration was previously reluctant to supply them on fear of direct escalation with Russia.
Huge initial fireball captured by local residents…
Huge explosions as a result of a presumed Ukrainian attack in Sevastopol, the HQ of the Black Sea Fleet in Crimea. Russian authorities say the Sevmorzavod shipyard has been targeted. Ships based in Sevastopol frequently fire missiles at Ukrainian cities. pic.twitter.com/dKgb0CEtLr

— Yaroslav Trofimov (@yarotrof) September 13, 2023
But this massive attack on Sevastopol seems another act of desperation. Given the failing counteroffensive, it looks like Kiev is "going big" on attacks against Russian territory, in hopes of sparking a broader conflict that draws NATO in, which Ukraine likely sees as its only hope.
One more item of note, presented with no commentary. On the day Elon Musk's biography drops, amid mainstream media's desperate spin of the SpaceX founder's interference with Starlink in Ukraine, there was a major, global, outage of the satellite internet service…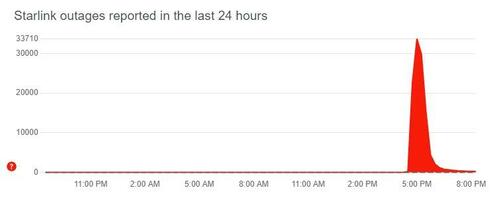 SpaceX acknowledged the Starlink outage on X at 2033ET, and then wrote at 2139ET on X that "The network issue has been fully resolved."