Facebook Spied On Private Messages Of "Conservative Right-Wing Individuals", Then Reported To FBI For Domestic Terrorism
According to DOJ whistleblowers, Facebook has been spying on Americans' private messages and reporting them to the FBI if they express 'anti-government or anti-authority' statements – including questioning the legitimacy of the 2020 US election.
As the New York Post's Miranda Devine writes, "Under the FBI collaboration operation, somebody at Facebook red-flagged these supposedly subversive private messages over the past 19 months and transmitted them in redacted form to the domestic terrorism operational unit at FBI headquarters in Washington, DC, without a subpoena."
"It was done outside the legal process and without probable cause," said one of the whistleblowers, who spoke on condition of anonymity. "Facebook provides the FBI with private conversations which are protected by the First Amendment without any subpoena."
According to one Post source, "They [Facebook and the FBI] were looking for conservative right-wing individuals.None were Antifa types."
The Facebook users whose private communications Facebook had red-flagged as domestic terrorism for the FBI were all "conservative right-wing individuals."

"They were gun-toting, red-blooded Americans [who were] angry after the election and shooting off their mouths and talking about staging protests. There was nothing criminal, nothing about violence or massacring or assassinating anyone.

…

Some of the targeted Americans had posted photos of themselves "shooting guns together and bitching about what's happened [after the 2020 election]. A few were members of a militia but that was protected by the Second Amendment …-NY Post
Once flagged, the private messages were farmed out as "leads" to FBI field offices around the country, which would then reach out to that area's US Attorney's Office to legally obtain the private conversations they had already been shown.
"As soon as a subpoena was requested, within an hour, Facebook sent back gigabytes of data and photos. It was ready to go. They were just waiting for that legal process so they could send it," said one source.
That said, the feds aren't finding much to prosecute.
"It was a waste of our time," said one source familiar with the 19-month 'frenzy' by the FBI to find domestic terrorism cases to match the Biden administration's rhetoric after the Jan. 6 2021, Capitol riot.
Facebook has denied the allegations in two contrasting statements sent one hour apart.
"These claims are false because they reflect a misunderstanding of how our systems protect people from harm and how we engage with law enforcement. We carefully scrutinize all government requests for user information to make sure they're legally valid and narrowly tailored and we often push back. We respond to legal requests for information in accordance with applicable law and our terms and we provide notice to users whenever permitted," said Erica Sackin, a spokesperson at Facebook's parent company, Meta.
Then, in a second "updated statement" sent 64 minutes later, Sackin changed her language to say that the claims were "wrong" and not "false."
"These claims are just wrong. The suggestion we seek out peoples' private messages for anti-government language or questions about the validity of past elections and then proactively supply those to the FBI is plainly inaccurate and there is zero evidence to support it," said Sackin, a DC-based crisis response expert who previously worked for Planned Parenthood and "Obama for America" and now leads Facebook's communications on "counterterrorism and dangerous organizations and individuals." (via NY Post)
The FBI would neither confirm nor deny the allegations, but did acknowledge that the agency has a relationship with social media companies that enable a "quick exchange" of information and an "ongoing dialogue."
"The FBI maintains relationships with U.S. private sector entities, including social media providers. The FBI has provided companies with foreign threat indicators to help them protect their platforms and customers from abuse by foreign malign influence actors. U.S. companies have also referred information to the FBI with investigative value relating to foreign malign influence. The FBI works closely with interagency partners, as well as state and local partners, to ensure we're sharing information as it becomes available. This can include threat information, actionable leads, or indicators.The FBI has also established relationships with a variety of social media and technology companies and maintains an ongoing dialogue to enable a quick exchange of threat information," said the agency in a statement.
Facebook's denial that it proactively provides the FBI with private user data without a subpoena or search warrant, if true, would indicate that the initial transfer has been done by a person (or persons) at the company designated as a "confidential human source" by the FBI, someone with the authority to access and search users' private messages.

In this way, Facebook would have "plausible deniability" if questions arose about misuse of users' data and its employee's confidentiality would be protected by the FBI.

"They had access to searching and they were able to pinpoint it, to identify these conversations from millions of conversations," according to one of the DOJ ­sources.
Recall in late August Meta CEO Mark Zuckerberg revealed to Joe Rogan that the FBI warned the company about "Russian propaganda" right before the Hunter Biden story broke – which the company then censored aggressively.
In the cases of allegedly surveilled DMs, snippets of private messages were passed to the FBI, partially redacted and often without context, and which contained cherry-picked portions of conversations that highlighted the most egregious statements.
"But when you read the full conversation in context [after issuing the subpoena] it didn't sound as bad … There was no plan or orchestration to carry out any kind of violence," said one of the Post's sources.
According to the report, more FBI whistleblowers are ready to expose what's going on within the agency.
"The most frightening thing is the combined power of Big Tech colluding with the enforcement arm of the FBI," said one source. "Google, Facebook and Twitter, these companies are globalist. They don't have our national interest at heart."
This post was originally published at Zero Hedge
"This Is Appalling": Major Tax Filing Services Have Been Sending Financial Information To Facebook
Major tax filing services, including H&R Block, TaxAct and TaxSlayer, have been covertly sending Facebook sensitive financial information when Americans file their taxes online, according to The Markup.
The data includes names, email addresses, income, filing status, refund amounts and college scholarship information – which is sent to Facebook regardless of whether a person even has a Facebook account – or with other platforms owned by Meta. The company can then be used to fine tune advertising algorithms.
It is sent through widely used code called the Meta Pixel.
Of note, Intuit-owned TurboTax does use Meta Pixel, however the company did not send financial information – just usernames and the last time a device signed in. Beyond that, they have kept Pixel entirely off pages beyond sign in.
Each year, the Internal Revenue Service processes about 150 million individual returns filed electronically, and some of the most widely used e-filing services employ the pixel, The Markup found.

When users sign up to file their taxes with the popular service TaxAct, for example, they're asked to provide personal information to calculate their returns, including how much money they make and their investments. A pixel on TaxAct's website then sent some of that data to Facebook, including users' filing status, their adjusted gross income, and the amount of their refund, according to a review by The Markup. Income was rounded to the nearest thousand and refund to the nearest hundred. The pixel also sent the names of dependents in an obfuscated, but generally reversible, format. -The Markup
TaxAct, which services around three million "consumer and professional users," also sends data to Google via the company's analytics tool, however names are not included in the information.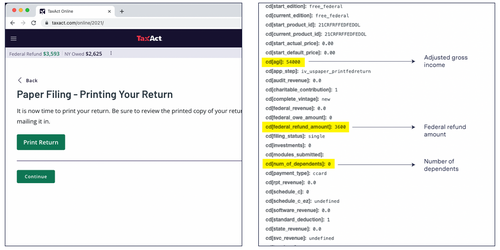 "We take the privacy of our customers' data very seriously," said TaxAct spokeswoman Nicole Coburn. "TaxAct, at all times, endeavors to comply with all IRS regulations."
H&R Block embedded a pixel on its site that included information on filers' health savings account usage, dependents' college tuition grants and expenses. The company similarly claimed in a very boilerplate statement that they "regularly evaluate[s] our practices as part of our ongoing commitment to privacy, and will review the information."
While TaxSlayer – which says it completed 10 million federal and state returns last year – provided Facebook information on filers as part of the social media giant's "advanced matching" system which attempts to link information from people browsing the web to Facebook accounts. The information sent includes phone numbers and the name of the user filling out the form, as well as the names of any dependents added to the return. Specific demographic information was also obscured, but Facebook was still able to link them to existing profiles.
Another tax filing service, Ramsey Solutions, told The Markup that the company "implemented the Meta Pixel to deliver a more personalized customer experience," but that they "did NOT know and were never notified that personal tax information was being collected by Facebook from the Pixel."
"As soon as we found out, we immediately informed TaxSlayer to deactivate the Pixel from Ramsey SmartTax."
Harvard Law School lecturer and tax law specialist Mandi Matlock said the findings showed that taxpayers have been "providing some of the most sensitive information that they own, and it's being exploited."
"This is appalling," she added. "It truly is."
Read more here…
This post was originally published at Zero Hedge
SUBSCRIBE on YouTube:
Follow on Twitter:
Follow @PrisonPlanet
———————————————————————————————————————
Brand new merch now available! Get it at https://www.pjwshop.com/


ALERT! In the age of mass Silicon Valley censorship It is crucial that we stay in touch.

We need you to sign up for our free newsletter here.

Support our sponsor – Turbo Force – a supercharged boost of clean energy without the comedown.

Also, we urgently need your financial support here. ———————————————————————————————————————
Democrat Intel Senator: "Trump Was Right" About TikTok
"All of that data that your child is inputting and receiving is being stored somewhere in Beijing."
The top ranking Democrat on the Senate Intelligence Committee warned Sunday that TikTok is a national security threat and that President Trump was right to want to ban it in 2020.
Committee Chairman Senator Mark Warner told Fox News Sunday "I think Donald Trump was right, I mean, TikTok is an enormous threat, it's a threat on two levels."
"One, it is a massive collector of information, oftentimes of our children. They can visualize even down to your keystrokes. So If you're a parent and you've got a kid on TikTok, I would be very, very concerned," Warner explained.
He added, "All of that data that your child is inputting and receiving is being stored somewhere in Beijing."
"The idea that we can somehow separate out TikTok from the fact the actual engineers writing the code in Beijing I think is a — The Justice Department's trying to come up with a solution. I'm going to take a look at that solution, but they've got a huge mountain to climb," the Senator further noted.
"The second problem is that TikTok in a sense is a broadcasting network." Warner continued, adding "And if the Chinese Communist Party and TikTok at the end of the day has to be reliant on the Communist Party, the Chinese law states that."
"If they suddenly want to dial up the fact that we're going to decrease the content that criticizes Chinese leadership but increase the content that your kids may be seeing saying, hey, you know, Taiwan really is part of China, that is a distribution model that would make RT or Sputnik or some of the Russian propaganda models pale in comparison," he further stated.
Earlier in the broadcast, Republican Senator Tom Cotton warned that China is lying about claims that it stores Americans' TikTok user data in the United States with backups in Singapore.
"There have been reports indicating that that data is accessible in mainland China. That TikTok, a Chinese company, is subject to communist China's laws and that TikTok is one of the most massive surveillance programs ever, especially on America's young people," Cotton stated.
"It's not just the contents you upload to TikTok but all the data on your phone and other apps, all your personal information, even facial imagery, even where your eyes are looking on your phone," Cotton added.
"That's why I've encouraged every American, if they're using TikTok, to delete it from their phone if they can, to get a new phone all together," The Senator further warned.
The Chinese-owned video app, which is notorious as perhaps the most censorious in existence, has previously allowed fake news about Trump resigning to go viral, has censored videos that make fun of Dr. Anthony Fauci, has removed videos that highlighted inconsistencies in Amber Heard's testimony, and has also threatened to censor criticism of Joe Biden.
SUBSCRIBE on YouTube:
Follow on Twitter:
Follow @PrisonPlanet
———————————————————————————————————————
Brand new merch now available! Get it at https://www.pjwshop.com/


ALERT! In the age of mass Silicon Valley censorship It is crucial that we stay in touch.

We need you to sign up for our free newsletter here.

Support our sponsor – Turbo Force – a supercharged boost of clean energy without the comedown.

Also, we urgently need your financial support here. ———————————————————————————————————————
Just Kidding! CBS News Resumes Twitter Posts After 40-Hour Tantrum
It only took 40 hours for CBS News to realize what absolute morons they'd been to stop posting on Twitter over "security concerns" with the platform.
"After pausing for much of the weekend to assess the security concerns, CBS News and Stations is resuming its activity on Twitter as we continue to monitor the situation," the news organization's communications team tweeted Sunday morning.
The outlet announced on Friday that they would be pausing its activity on the social media platform "out of an abundance of caution," which was apparently no longer an issue by Sunday morning. The massive virtue signal marked perhaps the most significant organization to protest the threat of free speech at the Musk-owned social media giant – after multiple advertisers announced that they would be pausing ad spending amid the chaos of locked-out employees and fired executives.
Musk took Twitter private on Oct. 27 – firing the senior management team and appointing himself as CEO, before then firing 50% of the company. On Nov. 17, hundreds of Twitter employees resigned after Musk set a deadline for workers to agree to "extremely hardcore" working conditions.
According to Variety, CBS News was particularly concerned about the security of information on Twitter, as key personnel related to that area had departed.
The news outlet has been closely watching the situation to see if any of Twitter's critical functions break down and whether Twitter is susceptible to hacking attacks.

The mass employee exodus from Twitter — now with a headcount estimated to be less than 2,500, down from 7,500 prior to Musk's $44 billion acquisition — has escalated fears that the platform may start to break down operationally. -Variety
The decision by CBS News comes after Musk reinstated former President Donald Trump's account following a 24-hour poll.
The responses, as expected, have been hilarious.
This post originally appeared at Zero Hedge