Woke Twilio CEO Conducts "Anti-Racist" Mass Layoff
Yesterday saw San Francisco-based tech firm Twilio join the growing ranks of companies that are laying off employees as post-pandemic growth reality falls short of pandemic-pumping hype.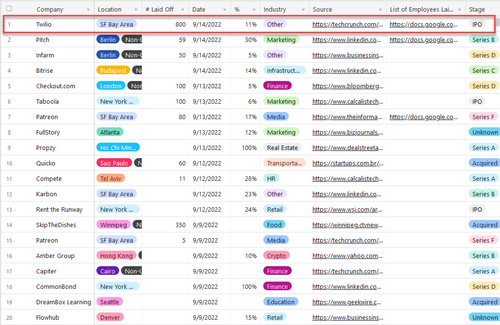 Twilio CEO Jeff Lawson announced plans to cut around 11% of the company's workforce, after admitting that the company had grown too fast:
"Twilio has grown at an astonishing rate over the past couple years. It was too fast, and without enough focus on our most important company priorities. I take responsibility for those decisions, as well as the difficult decision to do this layoff."
But this announcement was different.
For the first time we can remember, the CEO appeared to make the case that race was involved in the decision-making process around who lost their jobs…
"Layoffs like this can have a more pronounced impact on marginalized communities," Lawson wrote in a memo to employees.

"So we were particularly focused on ensuring our layoffs – while a business necessity today – were carried out through an Anti-Racist/Anti-Oppression lens."
Forgive us for our obvious bias, but doesn't that statement infer that if they hadn't considered race then the layoffs would have been 'racist'?
Of course, the liberal media rose up as one to defend Lawson's comments. Fortune reports, that two sources at Twilio told them the anti-racist effort was not controversial inside the company.
"No one at Twilio has made any mention of it," one of the sources said.

"Being an anti racist company is part of our core values."

The employees dismissed claims of "race-based" job cuts.

"I'm sure right wingers think this means firing only white people," one of the employees said, noting that it appeared anecdotally that the laid off employees were "an equal mix" of women, men, and underrepresented minorities.
Well how do they explain his comments then… since Lawson did not provide any details about how the company would ensure that the layoffs did not cut deeper into certain groups of its 7,800 worldwide employees
Are we really at that point?
This post was originally published at Zero Hedge
Video: Dem Rep Lauds Bill To Make It Criminal For White People To Criticise Non White People
Implies Tucker Carlson could be prosecuted for speaking out against legislation
Democratic Representative Sheila Jackson Lee suggested Monday that Tucker Carlson could be the first to be prosecuted under legislation she has introduced that would see any white person talking about 'replacement theory' be criminalized.
As previously noted, the legislation, known as The Leading Against White Supremacy Act of 2023, would categorise any speech that is found to have "inspired" a racially motivated crime as a 'hate crime'.
The draconian law would effectively make an individual responsible for someone else's crime if prosecutors were able to successfully argue that their political rhetoric was a motivating factor.
The bill also targets speech that "vilifies or is otherwise directed against any non-white person or group" on social media.
If such content is "read, heard, or viewed by a person who engaged in the planning, development, preparation or perpetration of a white supremacy inspired hate crime," even if misinterpreted, the creator of such content is guilty of conspiracy.
Appearing on perpetual race baiter Joy Reid's show, Jackson Lee was asked "Does this bill allow potential prosecution of people like Tucker Carlson?"
"Because he is one of the people who promotes white supremacist ideology," Reid further claimed.
"The bill has nothing to do with speech," Lee asserted, adding "I was thinking about the pledge of allegiance and it says justice and equality for all. and I would offer to say that everyone deserves justice and equality."
"It seems that the right wing extremists, the violent extremists, don't want that to happen," she further suggested.
"This does not criminalize speech," she persisted, further claiming "It's a crime bill, a criminal law bill, which means that intent would have to be proved that what generated out of that speech– or your intent was to provoke someone to violence and that a violent act did occur. [If] Mr. Carlson or anyone else chooses to speak in ugly terms, his speech is protected."
Watch:
Lee also claimed that under the legislation, non-white people could also be prosecuted if they advocate for "white supremacy."
"It also is not a guarantee that white supremacy is promoted only by people who happen to be Caucasian," Lee said, further proclaiming that "It is a philosophy, it is a philosophy and a point of view of that [FBI] Director [Chris] Wray has spoken about now for almost three years — that white supremacy is the largest part of domestic terrorism and domestic terrorism is larger than our fears of years back of Al-Qaeda."
While the bill faces certain failure and would never be ratified by the Supreme Court, it's clear that the intent of the legislation is to target and silence people like Tucker Carlson, who has built a massive audience on the back of highlighting how crazy Democratic proposals such as this very one are.
Carlson castigated the legislation last week, noting that "This single bill would do more to criminalize speech … than any other piece of legislation that has been proposed in the entire history of this country."
SUBSCRIBE on YouTube:
Follow on Twitter:
Follow @PrisonPlanet
——————————————————————————————————————— Brand
new merch
now available! Get it at
https://www.pjwshop.com/
ALERT! In the age of mass Silicon Valley censorship It is crucial that we stay in touch. I need you to sign up for my free newsletter
here
. Support my sponsor –
Turbo Force
– a supercharged boost of clean energy without the comedown. Get early access, exclusive content and behind the scenes stuff by following me on
Locals
. ———————————————————————————————————————
Washington Post Corrects OpEd Conflating Lack Of Black Argentinian Footballers With 'History Of Black Erasure'
Author falsely claims that a third of the country used to be black
The Washington Post has been forced to issue a correction to an op-ed that asked 'Why doesn't Argentina have more black players in their World Cup lineup?' after Argentinian people pointed out that the country is overwhelmingly white and not obsessed with virtue signalling about race.
The piece claimed that it is a 'myth' that Argentina is a white nation, with the author Erika Denise Edwards, an associate professor at the University of Texas at El Paso, suggesting her rantings uncover a "history of Black erasure in Argentina."
In the piece Edwards argues that in the 18th century, a third of Argentina's population was black and that since then there has been an agenda to 'whiten' the country.
"They believed that to join the ranks of Germany, France and England, Argentina had to displace its black population — both physically and culturally," she further asserts.
She also points to census figures from 2010, claiming they prove that "roughly one percent" of Argentina's population of 46 million is black.
After people pointed out that this is just not true, The Washington Post issued a correction noting that the actual number was "far less than" one percent.
Others noted that real life isn't a Disney movie where each character is a different race:
Translation: "The stupid note from [Washington Post] about the lack of blacks in the Argentine team left me disgusted. The United States is obsessed with race, Argentina is not. The United States chose to keep them separate, Argentina mixed them. But they insist on exporting their neuroses."
Remarkably, Edwards has doubled down, stating that nothing she wrote is factually incorrect:
The obsession with diversity and race in national sports is purely an American and British phenomenon. People in other countries are not concerned with obsessing about skin colour over skill and talent.
SUBSCRIBE on YouTube:
Follow on Twitter:
Follow @PrisonPlanet
———————————————————————————————————————
Brand new merch now available! Get it at https://www.pjwshop.com/


ALERT! In the age of mass Silicon Valley censorship It is crucial that we stay in touch.

We need you to sign up for our free newsletter here.

Support our sponsor – Turbo Force – a supercharged boost of clean energy without the comedown.

Also, we urgently need your financial support here. ———————————————————————————————————————
WATCH: England Football Team Kneels at World Cup While U.S. Team Remains Standing
And they failed to beat America at "soccer"
As they said they would, the England football team all took a knee prior to kicking off in a World Cup match against the U.S. Men's National Team in Qatar. Several commenters noted that the U.S. team remained standing.
The England management team promised last week that players would get on their knees in a general non-specific "inclusion" gesture, despite the fact that taking the knee is directly related to the Black Lives Matter movement and the death of George Floyd.
England, supposedly one of the favourites to win the tournament, then failed to beat the USA in the match as it ended 0-0.
The England team also intended to wear LGBT 'one love' armbands in protest of both Qatar and Iran's treatment of gay people, but were told no by FIFA, football's governing body.
They became the latest high profile team to not score a victory after choosing to concentrate on virtue signalling, rather than purely on the game:
Related:
SUBSCRIBE on YouTube:
Follow on Twitter:
Follow @PrisonPlanet
———————————————————————————————————————
Brand new merch now available! Get it at https://www.pjwshop.com/


ALERT! In the age of mass Silicon Valley censorship It is crucial that we stay in touch.

We need you to sign up for our free newsletter here.

Support our sponsor – Turbo Force – a supercharged boost of clean energy without the comedown.

Also, we urgently need your financial support here. ———————————————————————————————————————