Dem Mayor Says Spending Taxpayer Money on Luxury Plane Trips Was Necessary Because She's a Black Woman
"Travel accommodations are a matter of safety."
Democratic Mayor of New Orleans LaToya Cantrell asserted that it was necessary to spend tens of thousands of taxpayer dollars on luxury plane trips because as a black woman, she would have been unsafe flying economy.
Yes, really.
Cantrell made the comments in response to criticism over the $30,000 she spent on first class seats traveling to France and Switzerland.
The Mayor is refusing to refund the money, claiming that her "travel accommodations are a matter of safety, not luxury," despite the fact that her security entourage traveled in coach during the trips.
"As the mother of a young child whom I live for, I am going to protect myself by any reasonable means in order to ensure I am there to see her grow into the strong woman I am raising her to be," Cantrell bizarrely argued.
"Anyone who wants to question how I protect myself just doesn't understand the world black women walk in," she added.
Yes, I'm sure the struggle of being a wealthy, powerful politician is real and that Cantrell's very life might be in danger if she isn't lounging in luxury while quaffing champagne in first class at taxpayer expense.
Claiming that she was "doing business on behalf of the city" when she took the luxury trips to Switzerland in July and France earlier this year, the Mayor violated city policy which states that officials "are required to purchase the lowest airfare available" and can only upgrade at their own expense.
However, Cantrell is refusing to pay up.
"All expenses incurred doing business on behalf of the city of New Orleans will not be reimbursed to the city of New Orleans," she said.
Cantrell also spent over $2,800 dollars in March on a first-class trip to Miami for a US Conference of Mayors in addition to $2,300 on a luxury flight to a Conference of Mayors meeting in Washington.
On both occasions, her staff spent significantly less on the flights, meaning Cantrell was enjoying herself in first while they were all packed together in economy.
SUBSCRIBE on YouTube:
Follow on Twitter: Follow @PrisonPlanet
———————————————————————————————————————
Brand new merch now available! Get it at https://www.pjwshop.com/
ALERT!
In the age of mass Silicon Valley censorship It is crucial that we stay in touch.
I need you to sign up for my free newsletter here.
Support my sponsor – Turbo Force – a supercharged boost of clean energy without the comedown.
Get early access, exclusive content and behind the scenes stuff by following me on Locals.
———————————————————————————————————————
GOP Kick Ilhan Omar Off Committee Over Criticisms of Israel, AOC Says Omar Was Actually Targeted For Being A 'Woman Of Color'
House Republicans on Thursday scandalously voted to kick Rep Ilhan Omar (D-MN) off the Foreign Affairs Committee due to her past criticisms of Israel but Rep Alexandria Ocasio-Cortez (D-NY) wants her followers to think they were motivated not by advancing Israel's interests but instead by generic anti-black racism. 
The GOP's resolution to boot Omar off specifically states her criticisms of Israel and AIPAC are the driving force behind their move against her: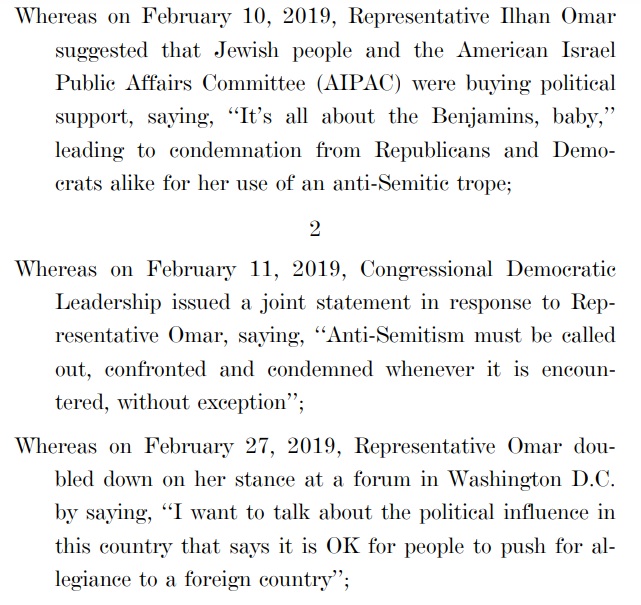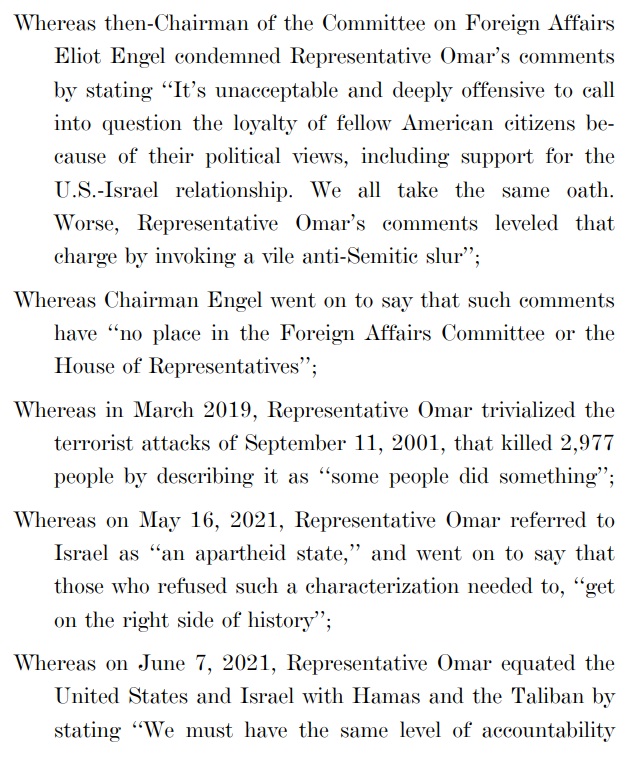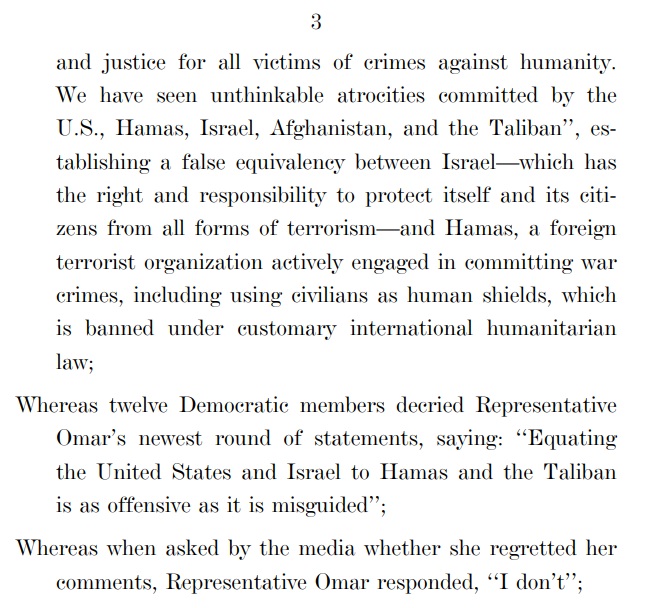 The resolution says far more about her criticisms of Israel than America and doesn't even mention her anti-white comments.
Nonetheless, rather than respond to the GOP's scandalous decision by saying representatives should not be kicked off committees for criticizing a foreign power, AOC said the GOP wasn't actually driven to act due to her criticisms of Israel but instead due to generic racism towards "women of color."
"Don't tell me that this is about a condemnation of anti-Semitic remarks," Cortez said while taking on a bizarre new accent. "This is about targeting women of color in the United States of America!" 
"I had a member of the Republican caucus threaten my life and the Republican caucus rewarded him with one of the most prestigious committee assignments in this Congress," Cortez said, further derailing the issue at hand by referencing a satirical anime meme Rep. Paul Gosar (R-AZ) shared on Twitter a few years ago which triggered the Democrats to kick him off his committees.
Omar was unquestionably kicked off the Foreign Affairs Committee for criticizing Israel.
Nonetheless, AOC, Omar herself and the rest of "The Squad" are too afraid to even say it. 
Despite being a total stooge, even former President Barack Obama said in his 2020 book "A Promised Land" that politicians who "criticize Israel policy too loudly" get smeared as "anti-Israel" and "anti-Semitic" and get "confronted with a well-funded opponent in the next election."
Obama was never canceled for his comments — perhaps because he was already out of office and is too important to the Democratic coalition — but what he described is exactly what happened to Ilhan Omar.
Omar wasn't targeted because she's a "woman of color" — the GOP are doing everything in their power to recruit as many minority candidates as possible even if it means recruiting ex-cons to run for office like Solmon Peña in New Mexico — she was targeted because at one point, years ago, she criticized Israel.
That should be a scandal itself.
This post was originally published at Information Liberation
Prestigious Liberal Watchdog Condemns New York Times' Russiagate Coverage
The Columbia Journalism Review (CJR) has issued a scathing indictment of the New York Times for yellow journalism during the Trump-Russia saga.
In short, the hyper-partisan 'paper of record' was operating in bad faith.
It's wasn't just the Times either. CJR's findings accurately reflect what most objective thinkers have known this whole time – they were all operating in bad faith.
That said, CJR aimed the majority of criticism towards the NYT.
"No narrative did more to shape Trump's relations with the press than Russiagate. The story, which included the Steele dossier and the Mueller report among other totemic moments, resulted in Pulitzer Prizes as well as embarrassing retractions and damaged careers," wrote CJR executive editor Kype Pope in an editor's note.
The findings were published in a lengthy, four-part series. The first section begins with a story about then-New York Times executive editor Dean Baquet's reaction when he found out Special Counsel Robert Mueller didn't plan to pursue Trump's ousting, telling his staff "Holy s—, Bob Mueller is not going to do it." –Fox News
"Baquet, speaking to his colleagues in a town hall meeting soon after the testimony concluded, acknowledged the Times had been caught 'a little tiny bit flat-footed' by the outcome of Mueller's investigation," according to Jeff Gerth – the author of CJR's lengthy retrospective.
"That would prove to be more than an understatement," he continued. "But neither Baquet nor his successor, nor any of the paper's reporters, would offer anything like a postmortem of the paper's Trump-Russia saga, unlike the examination the Times did of its coverage before the Iraq War."
According to Gerth, the Times destroyed its credibility outside of its "own bubble."
What's more, the Times appeared to legitimize former British spy, Christopher Steele, who was indirectly paid by the Clinton campaign to fabricate the infamous 'dossier' that so much of the Russiagate coverage – and the DOJ's sham investigation, was based on.
The Times appeared to legitimize Christopher Steele, the ex-British spy who authored the infamous dossier, claiming he had "a credible track record" while Steele's so-called "primary" source was telling the FBI that Steele "misstated or exaggerated" in his report and that information stemming from Russia was "rumor and speculation."

Part three offered examples of the Times' slight-of-hand coverage against Trump in comparison to other hostile outlets. For example, Trump explained his decision to fire FBI Director James Comey, mentioning the "Russia thing" as being a "made-up story" to NBC's Lester Holt but acknowledged the firing would likely "lengthen out the investigation."

"The media focused on the 'Russia thing' quote; the New York Times did five stories over the next week citing the 'Russia thing' remarks but leaving out the fuller context. The Post and CNN, by comparison, included additional language in their first-day story," Gerth wrote.

In another instance, the Times avoided covering some of the more damning texts from Peter Strzok, who wrote "there's no big there, there" shortly after the appointment of Special Counsel Robert Mueller, something Gerth noted was covered by the Wall Street Journal and the Washington Post. -Fox News
In closing, Gerth concluded that "the erosion of journalistic norms and the media's own lack of transparency about its work" is responsible for the broad distrust in the media.
No kidding.
"In January 2018, for example, the New York Times ignored a publicly available document showing that the FBI's lead investigator didn't think, after ten months of inquiry into possible Trump-Russia ties, that there was much there. This omission disserved Times readers. The paper says its reporting was thorough and 'in line with our editorial standards," wrote Gerth. "Another axiom of journalism that was sometimes neglected in the Trump-Russia coverage was the failure to seek and reflect comment from people who are the subject of serious criticism. The Times guidelines call it a 'special obligation.' Yet in stories by the Times involving such disparate figures as Joseph Mifsud (the Maltese academic who supposedly started the whole FBI inquiry), Christopher Steele (the former British spy who authored the dossier), and Konstantin Kilimnik (the consultant cited by some as the best evidence of collusion between Russia and Trump), the paper's reporters failed to include comment from the person being criticized."
This post was originally published at Zero Hedge
"One Lie After The Next": CNN Ratings Hit 9-Year Lows After Reputational Suicide
Establishment mouthpiece CNN – an integral part of both the Russiagate hoax and the Hunter Biden laptop coverup, has dropped to just 444,000 average primetime viewers between January 16 and January 22, according to Nielsen.
Of those, just 93,000 were in the all-important 25-54 news demographic.
This is the first time since May of 2014 that the network has failed to reach 450,000 viewers, The Wrap reports.
By comparison, during the same period Fox News drew 1.4 million viewers and 176,000 in the demo while MSNBC notched 629,000 total viewers and 69,000 in the demo. In primetime, Fox News had 2 million viewers, 256,000 in the demo and MSNBC had 943,000 viewers and 91,000 in the demo.

Some especially troublesome news out of this week's Nielsen numbers is that Licht's primary programming move, "CNN This Morning," also suffered the lowest week since its launch just three months ago. It averaged just 331,000 viewers while "Fox & Friends" had nearly 1 million and "Morning Joe" drew 760,000. -The Wrap
As Glenn Greenwald notes, CNN's downfall is "so well-deserved and good for the country."
According to CNN insiders, hosts of the network's rebooted morning show, Don Lemon, Poppy Harlow and Kaitlan Collins, "seem to be growing frustrated" over the direction of the network.
"The show can't decide strategically what exactly it is, so it's trying to be everything which can create whiplash for a viewer when segments seem off-brand in tonality," said one insider. "The audience for morning news on network TV is different than the cable news audience and since we're not gaining new viewers we definitely need to retain our legacy ones."
More on the network's reputational suicide from Greenwald:
This post was originally published at Zero Hedge