"Blackouts Imminent" – 75,000 Powerless As Record California Power Usage Sparks 'Demand Response Event'
Update (2030ET): As was expected earlier, California power usage surged to a record high this afternoon raising the emergency status of the state's electrical system to the highest possible level amid a blistering heat wave, which means rolling blackouts are imminent.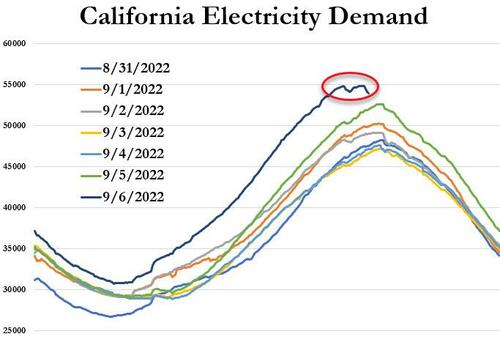 This triggered a "demand response event"…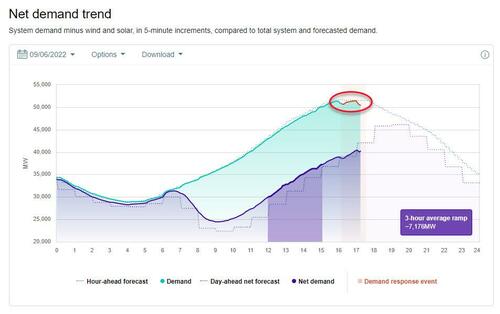 And CA ISO is warning of more "blackouts imminent".
"This is going to be so dicey," Michael Wara, director of Stanford University's climate and energy policy program, said earlier in the day.

"There's a gap for two hours in the evening right now between available supply and projected demand."
This farce for one of the most-taxed states comes just four days after President Biden's Energy Secretary Jennifer Granholm praised the state's green energy policies.
Granholm said that California was leading the nation in green energy development and praised its ability to shape national energy policy, according to an interview conducted by Fox 11 Los Angeles.
"I love the fact that California is unabashedly bold about (green) energy policy," Granholm stated, calling the state as a green "leader" for the rest of the country.

"California's boldness has … shaped our willingness in the federal government to move further and faster," she said of California's green energy policies.
California's energy policy has currently left 75,000 Californians without power already…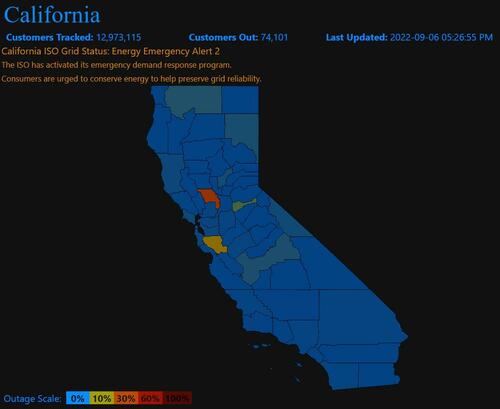 And the state's largest power company, PG&E Corp., said in a statement that it had notified about 525,000 homes and businesses that they could lose power for up to two hours.
So this is what the rest of America can look forward to?
* * *
Update (1700ET): As we warned about earlier, Califiornians are apparently not heeding officials' warnings that they should sacrifice their comfort for the sake of whatever business or social-engineering plan is the new thing.
CAISO shows that usage is up 13% today from yesterday at the same time of day and for a second consecutive day, the state's grid operator issued a level-2 energy emergency alert.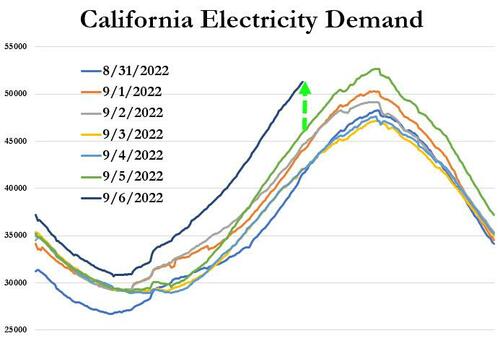 The emergency declaration allows officials to order some large power consumers to shut down in a last-ditch effort to avoid outages.
"We are heading into the worst part of this heat wave, and the risk for outages is real and it's immediate," California Governor Gavin Newsom said in a video posted Tuesday on Twitter. He urged residents and businesses to cut back on energy use during the late afternoon and early evening to help the state avoid outages.
And average day-ahead prices for power on Tuesday in the southern part of the state surged 44% to $300.55 a megawatt-hour, the highest in 18 months.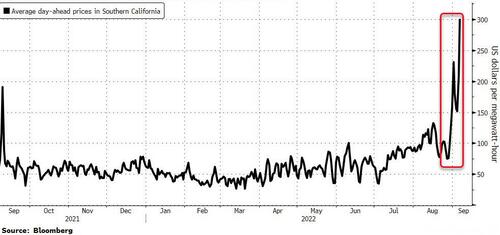 With heat soaring things are only likely to get worse:
"We're looking at a lot of records today," said Bob Oravec, a senior branch forecaster at the US Weather Prediction Center.

"They are having a lot of issues with power out there, and this isn't going to help."
* * *
California narrowly avoided rotating outages on Monday while power grid officials asked customers to conserve electricity amid a record-breaking heatwave.
The prospect of outages did not bother Californians. Many customers continued to use appliances, air conditioning, and at-home electric vehicle chargers despite conservation pleas from California Independent System Operator (CAISO).
Monday was the fifth straight day CAISO warned about a blistering heat wave that pushed its electric system to the brink. Even though no widespread blackouts were reported, electricity demand surged to one of the highest levels (52,646 megawatts), outlining how customers widely ignored conservation calls.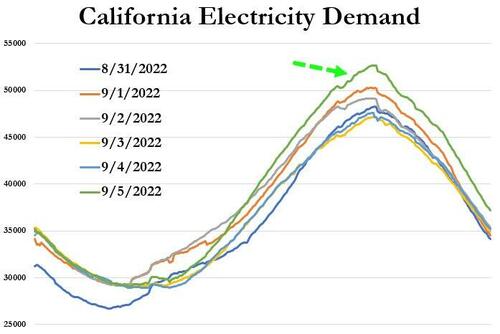 A Reuters report showed soaring demand for electricity sent power prices in the state to the highest levels since August 2020.
Power prices at the Palo Verde hub in Arizona and SP-15 in Southern California rose to $850 and $505 per megawatt hour, respectively. That was their highest levels since hitting record highs of $1,311 in Palo Verde and $698 in SP-15 in August 2020 when the ISO last imposed rotating outages.
CAISO predicts demand could reach all-time high levels today as homes and businesses turn their thermostats down to escape triple-digit temperatures.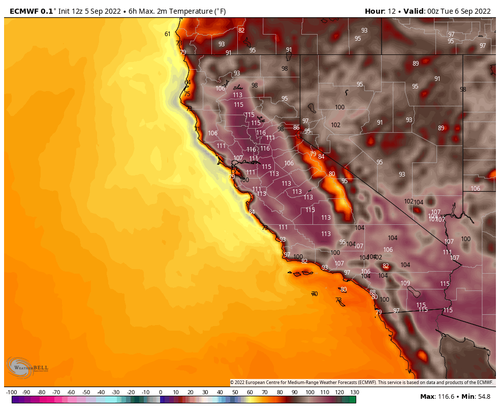 And since Californians aren't conserving electricity as demand steadily rises, this could mean CAISO would instruct utilities to start imposing rotating outages if duress on the grid continued — maybe then, after the fact, customers will get the message to conserve.
Elliot Mainzer, CEO of CASIO, said Monday: "We need a reduction in energy use that is two or three times greater than what we've seen so far as this historic heat wave continues to intensify."
This post was originally published at Zero Hedge
McCarthy: Military Vaccine Mandate Will Be Lifted By Biden
"I've been very clear with the president. The president… worked with me on this."
Republican congressional leader Kevin McCarthy is adamant that the vaccine mandate currently being imposed on the military is going to be lifted very soon by the Biden administration.
Appearing on Fox News Sunday, McCarthy stated "We're working through what is the [National Defense Authorization Act (NDAA)], the national defense bill, we will secure lifting that vaccine mandate on our military. Because what we're finding is, they're kicking out men and women that have been serving."
"That's the first victory of having a Republican majority, and we'd like to have more of those victories, and we should start moving those now," the Republican leader said.
When asked if the mandate will be lifted, McCarthy responded ​​"Yes, it will. Otherwise, the bill will not move," adding "I've been very clear with the president. The president… worked with me on this."
"This is the first sign of having divided government, you got some compromise here. And we've got something that Republicans have been working very hard, and a number of Democrats, too, trying to find success. But one-party rule would never allow that to go forward. And now we're going to have success," McCarthy further noted.
Watch:
Reuters verifies the Republican leader's claims, noting:
"Leader McCarthy raised this with the president and the president told him he would consider it," said White House spokesperson Olivia Dalton. "The secretary of defense has recommended retaining the mandate, and the president supports his position. Discussions about the NDAA are ongoing."
McCarthy's comments follow on from more than 20 Republican governors, led by Rand Paul, penning a letter demanding that Congress revoke the military vaccine mandate either in NDAA or via other legislation.
The Military Times estimates that more than 3,400 troops have been "involuntarily separated from the service" due to non-compliance with the vaccine mandate.
Despite attempts to stop mandatory vaccines for active duty personnel, and to uphold exemption rights, the Biden administration has continually pushed for dishonourable discharges and even court martialing for troops who disobey orders to get the shots.
SUBSCRIBE on YouTube:
Follow on Twitter:
Follow @PrisonPlanet
———————————————————————————————————————
Brand new merch now available! Get it at https://www.pjwshop.com/


ALERT! In the age of mass Silicon Valley censorship It is crucial that we stay in touch.

We need you to sign up for our free newsletter here.

Support our sponsor – Turbo Force – a supercharged boost of clean energy without the comedown.

Also, we urgently need your financial support here. ———————————————————————————————————————
Alameda's Caroline Ellison Spotted In NY Amid Speculation She Is About To Roll On SBF After Hiring Iconic Clinton Lawyer
As Sam Bankman-Fried enters day six of his whirlwind media tour in which he makes one or more daily appearances – against the advice of his lawyers – in hopes of convincing someone that he was too dumb to be a criminal mastermind with billions in crypto in cold storage and in bank accounts in Dubai and Singapore (luckily all his wire transfers can be traced), also known as the Simple Jack defense…
… the weakest link in SBF's defense was just spotted in a New York coffee shop, amid speculation she is preparing to blow up SBF's entire defense strategy.
According to Autism Capital, the former CEO of Alameda Capital (which as a reminder was ground zero of the FTX implosion after it blew up $8 billion in FTX client funds on trades gone horribly wrong), Caroline Ellison, was spotted at 8:15am this morning at the Ground Support Coffee on West Broad in SoHo Manhattan. This, as AC notes, "would mean she is not in Hong Kong and is in NY not in custody."
A statement from a barista at the coffee shop confirmed that it was in fact Caroline.
Why does this matter? Because while the prominent Democrat donor, who reportedly is "responsible for Biden being in office" and who – at least according to Musk – donated over $1 billion to democrats…
… continues his deluded daily media appearances while casually throwing his former alleged lover, co-worker and penthouse-mate, Caroline – and pretty much all other co-workers – under the bus by claiming he has no idea how $8 billion in FTX client funds just vaporized in SBF's personal hedge fund, Alameda (implying that only Alameda's CEO, Ellison, was responsible for the theft and fraud) Caroline is two-steps ahead of SBF and is already cooperating with members of the DOJ, and specifically the SDNY, which we previously reported is probing the collapse of FTX.
Subsequent reports have only reinforced this rumor, and the latest is that Ellison is being represented by DC law firm, WilmerHale…
… best known for its Government Affairs Department Chair, Jamie Gorelick, who was the former No. 2 ranking member in the Clinton Justice Department, and in a recent interview, she referred to Garland as her "wingman."
If indeed Ellison is working the Feds while currying favor with SBF's former closest friends, the days of Bankman-Fried – who may or may not soon commit Epsteincide – outside of a prison cell are numbered.
As for SBF, who is still wasting his time "uhhhm"-ing and "like"-ing across various interviews hoping to demonstrate to the world – and his future jurors – just how bloody stupid he really was…
… and blaming it all on messy accounting, poor risk management, and of course, Caroline Ellison – not his premeditated fraud of course – even the CEO of Coinbase is no longer buying his relentless bullshit, saying earlier that no matter how "messy you accounting is (or how rich you are) – you're definitely going to notice if you find an extra $8B to spend" adding that "even the most gullible person should not believe Sam's claim that this was an accounting error" (here he is referring to Bill Ackman, of course), and correctly concluded that "it's stolen customer money used in his hedge fund, plain and simple."
All that's missing is the definitive proof, and if the above rumors are correct, Caroline Ellison is in the process of, or already has provided it to the Feds. Which incidentally, may explain why SBF's "I am Simple Ja-ja-ja-jack, i'm so-so-so-sorry" tour just came to a crashing halt, when late on Sunday, the commingling masterming told Maxine Waters he won't be voluntarily appearing before Congress – where any lie is a perjury – on the 13th (or ever for that matter).
This post was originally posted at Zero Hedge
Banks Developing Technology To Track Gun Purchases Under Guise Of Flagging Potential Mass Shooters
Banks have been working on technology to "identify potential mass shooters" by tracking gun-related purchases and filing "Suspicious Activity Reports" with the Treasury Department's Financial Crimes Enforcement Network.
According to comments made by Amalgamated Bank Chief Executive Officer Priscilla Sims Brown at the New York Times DealBook conference on Wednesday, the strategy would employ credit card companies to more closely track gun purchases, Bloomberg reports.
"We're at the very early stages of this — this particular code just got approved in October, so those detection scenarios are still being brought together," said Brown, adding "But as this is implemented, those scenarios will be used."
The strategy would mirror ways banks try to identify and stop fraudsters from using customers' funds.

The International Organization for Standardization approved a new merchant category code earlier this year that banks will use when processing transactions for gun and ammunition stores after Amalgamated submitted an application on the matter. Gun-control advocates were quick to celebrate the move, arguing it would help banks flag suspicious activity at these retailers. -Bloomberg
Banks have come under pressure from Congressional Republicans over what they plan to do with the tracking codes, with conservative policymakers expressing concern that lenders will use the data to create unofficial lists of gun owners in the US.
"What I'm hearing from other banks is that they have been honoring this process and this system, filing Suspicious Activity Reports across a myriad of industries to stop a myriad of crimes — or at least alert authorizes of them," said Brown. "And I have every confidence that banks are going to do the same thing here."
This post was originally published at Zero Hedge