"Blackouts Imminent" – 75,000 Powerless As Record California Power Usage Sparks 'Demand Response Event'
Update (2030ET): As was expected earlier, California power usage surged to a record high this afternoon raising the emergency status of the state's electrical system to the highest possible level amid a blistering heat wave, which means rolling blackouts are imminent.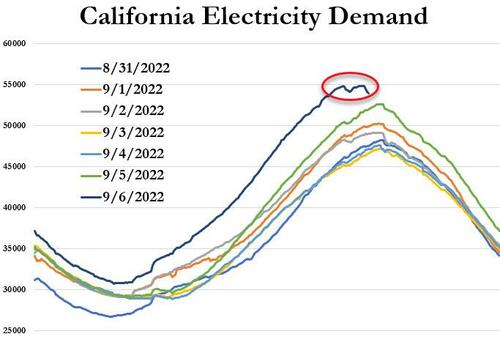 This triggered a "demand response event"…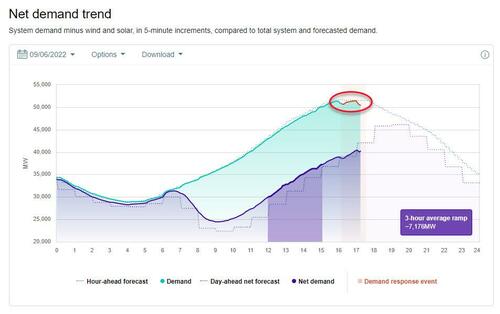 And CA ISO is warning of more "blackouts imminent".
"This is going to be so dicey," Michael Wara, director of Stanford University's climate and energy policy program, said earlier in the day.

"There's a gap for two hours in the evening right now between available supply and projected demand."
This farce for one of the most-taxed states comes just four days after President Biden's Energy Secretary Jennifer Granholm praised the state's green energy policies.
Granholm said that California was leading the nation in green energy development and praised its ability to shape national energy policy, according to an interview conducted by Fox 11 Los Angeles.
"I love the fact that California is unabashedly bold about (green) energy policy," Granholm stated, calling the state as a green "leader" for the rest of the country.

"California's boldness has … shaped our willingness in the federal government to move further and faster," she said of California's green energy policies.
California's energy policy has currently left 75,000 Californians without power already…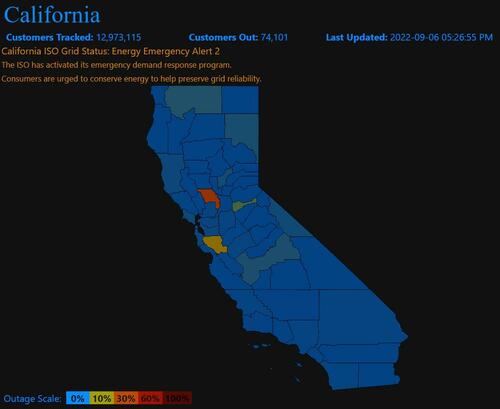 And the state's largest power company, PG&E Corp., said in a statement that it had notified about 525,000 homes and businesses that they could lose power for up to two hours.
So this is what the rest of America can look forward to?
* * *
Update (1700ET): As we warned about earlier, Califiornians are apparently not heeding officials' warnings that they should sacrifice their comfort for the sake of whatever business or social-engineering plan is the new thing.
CAISO shows that usage is up 13% today from yesterday at the same time of day and for a second consecutive day, the state's grid operator issued a level-2 energy emergency alert.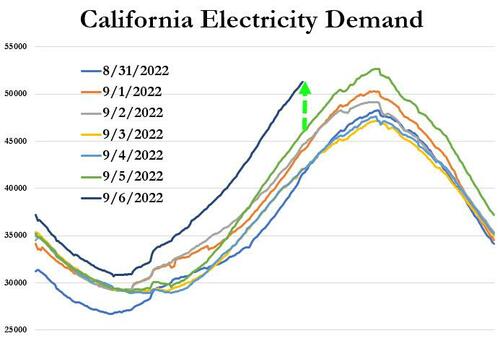 The emergency declaration allows officials to order some large power consumers to shut down in a last-ditch effort to avoid outages.
"We are heading into the worst part of this heat wave, and the risk for outages is real and it's immediate," California Governor Gavin Newsom said in a video posted Tuesday on Twitter. He urged residents and businesses to cut back on energy use during the late afternoon and early evening to help the state avoid outages.
And average day-ahead prices for power on Tuesday in the southern part of the state surged 44% to $300.55 a megawatt-hour, the highest in 18 months.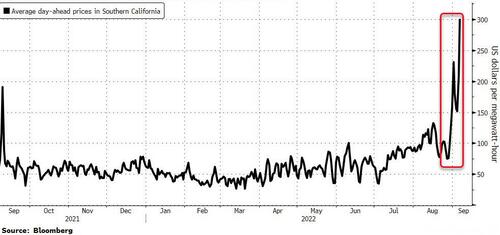 With heat soaring things are only likely to get worse:
"We're looking at a lot of records today," said Bob Oravec, a senior branch forecaster at the US Weather Prediction Center.

"They are having a lot of issues with power out there, and this isn't going to help."
* * *
California narrowly avoided rotating outages on Monday while power grid officials asked customers to conserve electricity amid a record-breaking heatwave.
The prospect of outages did not bother Californians. Many customers continued to use appliances, air conditioning, and at-home electric vehicle chargers despite conservation pleas from California Independent System Operator (CAISO).
Monday was the fifth straight day CAISO warned about a blistering heat wave that pushed its electric system to the brink. Even though no widespread blackouts were reported, electricity demand surged to one of the highest levels (52,646 megawatts), outlining how customers widely ignored conservation calls.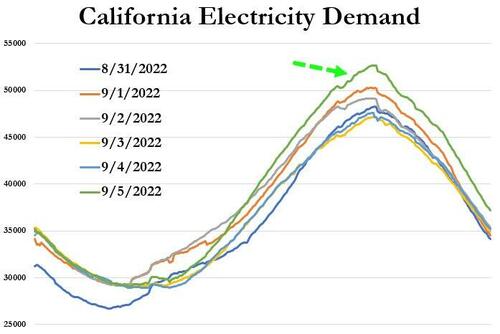 A Reuters report showed soaring demand for electricity sent power prices in the state to the highest levels since August 2020.
Power prices at the Palo Verde hub in Arizona and SP-15 in Southern California rose to $850 and $505 per megawatt hour, respectively. That was their highest levels since hitting record highs of $1,311 in Palo Verde and $698 in SP-15 in August 2020 when the ISO last imposed rotating outages.
CAISO predicts demand could reach all-time high levels today as homes and businesses turn their thermostats down to escape triple-digit temperatures.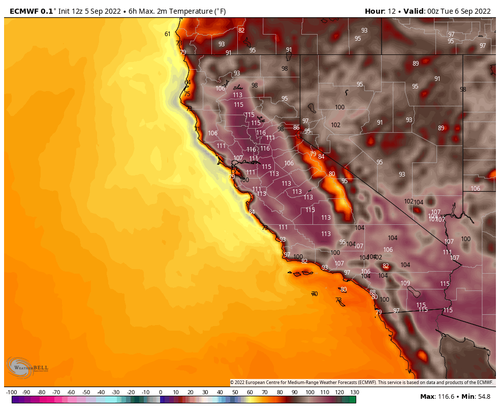 And since Californians aren't conserving electricity as demand steadily rises, this could mean CAISO would instruct utilities to start imposing rotating outages if duress on the grid continued — maybe then, after the fact, customers will get the message to conserve.
Elliot Mainzer, CEO of CASIO, said Monday: "We need a reduction in energy use that is two or three times greater than what we've seen so far as this historic heat wave continues to intensify."
This post was originally published at Zero Hedge
"More Deceit": Gaetz Rages Over McCarthy-Ukraine Side Deal To Pass Stopgap
Update (2155ET): Following the Senate's passage of the Continuing Resolution, Rep. Matt Gaetz took to Twitter, where he was enraged over a side deal made between Speaker Kevin McCarthy and the Democrats for Ukraine funding, which Gaetz says he "didn't tell House Republicans" about until after the vote.
Gaetz was responding to Punchbowl News' Jake Sherman, who related a message from House Democratic leadership.
"When the House returns, we expect Speaker McCarthy to advance a bill to the House Floor for an up-or-down vote that supports Ukraine, consistent with his commitment to making sure that Vladimir Putin, Russia and authoritarianism are defeated. We must stand with the Ukrainian people until victory is won."
Nine Senate Republicans voted against the bill; Marsha Blackburn (R-Tenn.), Mike Braun (R-Ind.), Ted Cruz (R-Texas), Bill Hagerty (R-Tenn.), Mike Lee (R-Utah), Roger Marshall (R-Kan.), Rand Paul (R-Ky.), Eric Schmitt (R-Mo.) and J.D Vance (R-Ohio).
* * *
Update (2109ET): The Senate has voted 88-9 to pass the House's Continuing Resolution stopgap funding bill, which stripped out funds for Ukraine, includes $16 billion for disaster relief, and will keep the US government running for another 45 days.
Among the Senate "Yea" votes was Michael Bennet (D-CO), who was absolutely flipping his lid over the lack of Ukraine funding earlier in the day.
The bill, which passed the House earlier in the day by a bipartisan vote of 335-91, was passed with just three hours to go before a shutdown.
Just before the vote, Sen. Majority Leader Chuck Schumer (D-NY) vowed to keep fighting for more US taxpayer dollars for Ukraine, saying that he and Senate Minority Leader Mitch McConnell (R-KY) have "agreed to continue fighting for more economic and security aid for Ukraine."
"We support Ukraine's efforts to defend its sovereignty against Putin's aggression," said Schumer – to which McConnell said he's "confident" that the Senate can pass more "urgent assistance to Ukraine later this year. But let's be clear," that the "alternative," a shutdown, "would not just pause our progress on these important priorities, it would actually set them back."
* * *
Update (1755ET): After an afternoon of theatrics from Rep. Jamal Bowman (D-NY), it appears that the stopgap legislation to keep the government running through November 17 will now pass at the 11th hour.
According to the Wall Street Journal, the bill to keep the government funded past 12:01 Sunday includes $16 billion in disaster relief, but does not include Ukraine funds.
The House voted 335-91 for the funding measure, which includes $16 billion in disaster relief but omits aid for Ukraine. It also excludes border-security measures sought by Republicans. The margin exceeded the two-thirds majority needed to clear the bill through the House, which considered the legislation under special procedures requiring a supermajority of votes. All but one Democrat voted in favor of the measure, while nearly half of Republicans voted against it. -WSJ
While White House officials say President Biden supports the measure, the Senate has reportedly been lax in quickly taking up the measure late Saturday, raising the possibility of further malarkey.
Developing…
* * *
(Update 1655ET): So let's get this straight. In the home stretch of negotiations over the House's GOP stopgap bill – while Democrats were actively trying to stall the vote so they could actually read it – a widely reported phenomenon, Rep. Jamal Bowman (D-NY) pulls the fire extinguisher.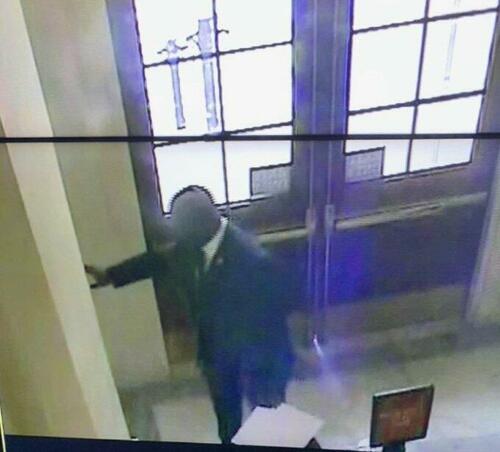 His excuse is that he wasn't actually trying to stall the the vote, and that he's essentially an idiot…
"Congressman Bowman did not realize he would trigger a building alarm as he was rushing to make an urgent vote. The Congressman regrets any confusion," said a spokesperson.
Yes. Because this happens all the time.
MSNBC breathlessly repeats the Simple Jack defense.
House Speaker Kevin McCarthy capitalized on the incident, comparing Bowman to a January 6th insurrectionist.
s we noted below… Bowman used to be a public school principal before he was elected to Congress, who rallied against standardized testing, at a private school he founded that has a 27% literacy rate, so… maybe?
Then again, he would be no stranger to fire drills, no?
* * *
House before the House finally approved a 'clean' stopgap funding bill to avert a government shutdown (which has since been sent to the Senate for consideration before the midnight funding deadline), Socialist Rep. Jamaal Bowman (D-NY) was caught pulling the fire alarm in a House office building Saturday in order to try and delay a vote on ta House GOP stopgap spending bill.
The incident in the Cannon Building was caught on camera and confirmed by several witnesses, Politico reports.
"This is the United States Congress, not a New York City high school. To pull the fire alarm to disrupt proceedings when we are trying to draft legislation to AVERT A SHUTDOWN is pathetic…even for members of the socialist squad," Staten Island GOP Rep. Nicole Malliotakis wrote on X, formerly Twitter.
"Rep Jamaal Bowman pulled a fire alarm in Cannon this morning," House Administration Committee Chairman Bryan Steil wrote on X. "An investigation into why it was pulled is underway."
According to Bowman spox Emma Simon, "Congressman Bowman did not realize he would trigger a building alarm as he was rushing to make an urgent vote. The Congressman regrets any confusion."
In other words, he's claiming to be too stupid to have known what he did – and don't believe your lying eyes!
Granted, Bowman used to be a public school principal before he was elected to Congress, who rallied against standardized testing, at a private school he founded that has a 27% literacy rate, so…
Needless to say, the memes are already flying.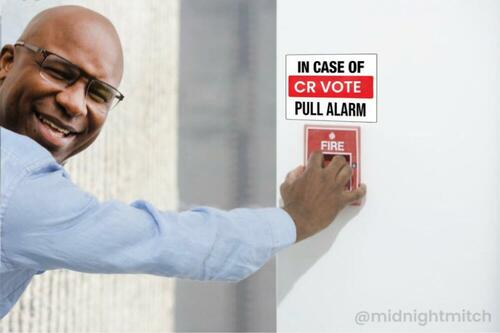 September 30, 2023
Meanwhile, the House cleared the 'clean' stopgap bill without funding for Ukraine or the border, by a vote of 335-91. One Democrat and 90 Republicans voted against the measure.
* * *
Update: (1335ET): With a government shutdown just hours away, House Speaker Kevin McCarthy has turned to Democrats for help passing a temporary bill, after House Freedom Caucus members dug their heels in over no funds for Ukraine.
"What I am asking, Republicans and Democrats alike, put your partisanship away," said McCarthy. "Focus on the American public."
McCarthy needs a two-thirds majority to pass their Continuing Resolution (CR), which would require a significant number of Democrats – who have strongly supported more Ukraine aid – to cross the aisle.
The House GOP bill would be a 'clean' Continuing Resolution, which won't include Ukraine funding or border assistance.
"We will put a clean funding stopgap on the floor to keep government open for 45 days for the House and Senate to get their work done," said McCarthy following a meeting. "We will also, knowing what had transpired through the summer, the disasters in Florida, the horrendous fire in Hawaii, and also the disasters in California and Vermont. We will put the supplemental portion that the president asked for in disaster there too."
"Keeping the government open while we continue to do our work to end the wasteful spending and the wokeism and most important, secure our border," McCarthy said.
If the bill does not pass, Republicans plan to bring up several measures to mitigate the effects of a government shutdown, multiple members said.

Those include bills to continue paying service members and extending authorization of the Federal Aviation Administration and National Flood Insurance Program, both of which are also set to expire at midnight unless Congress takes action. Republicans are also examining measures to continue pay for border patrol agents. –The Hill
The Democrats, meanwhile, have been using parliamentary tactics to slow down the vote so they can more carefully read the GOP proposal.
Rep. Matt Gaetz (R-FL), one of the key holdouts in the House, called McCarthy's bipartisan appeal "disappointing," and said that McCarthy's speakership is "on tenuous ground."
When asked what his next move will be, Gaetz said "I guess we'll have to see how the vote goes."
What's next?
According to Goldman, there's a 90% probability of a shutdown before the Oct. 1 deadline.
That said, there will be three upcoming catalysts in the next few weeks that may result in passage.
1) All members of the US military are due to be paid on Oct. 13, and a missed pay date would have serious political ramifications; there is a good chance the House will vote to reopen before or shortly after that date;

2) A few House Republicans have said they might bring a "motion to vacate" that would remove McCarthy as Speaker unless a majority of the House supports him. Whatever the outcome of such a vote, getting past it could set the stage for a reopening;

3) There are procedural moves (a "discharge petition" is the most frequently discussed) that Democrats can make to pass an extension of spending authority in the House over Speaker McCarthy's objections. However, this would require support from at least 5 House Republicans (assuming that all Democrats sign on). This will not help avoid a shutdown, but could come into play over the next two weeks, as political pressure to reopen grows (particularly when combined with the first point on military pay).
In light of the above, Goldman doesn't expect this to last more than 2-3 weeks, and that the Oct. 13 military pay date will become a focal point in the timeline.
* * *
Update (2157ET): It looks like the Senate isn't willing to strip Ukraine funds from the continuing resolution. In a Friday night tweet, House Speaker Kevin McCarthy (R-CA) said that the "misguided Senate bill has no path forward and is dead on arrival."
Meanwhile, according to Punchbowl News' Jake Sherman and Josh Bresnahan, McCarthy is floating a CR that would last until Nov. 17 at FY2023 funding levels, which would not include border funds or Ukraine funding.
* * *
In an 11th hour Hail Mary in the hopes of averting a government shutdown, House Speaker Kevin McCarthy (R-CA) announced that the only way the House will pass a Continuing Resolution (CR) to fund the government through October is to drop Ukraine funding.
"I think if we had a clean one without Ukraine on it, we could probably be able to move that through," McCarthy toldCNN's Manu Raju.
The comment comes hours after McCarthy lost a game of chicken with the House Freedom Caucus, failing to pass a CR which left McCarthy will few options to try and avert a shutdown in less than 36 hours. McCarthy was hoping that the House bill's border security provisions would win over enough holdouts to pass.
Meanwhile, the White House slammed the failed bill over the 'elimination of 12,000 FBI agents,' and 'almost 1,000 ATF agents.'
Of note, House Republicans on Thursday narrowly passed the annual defense spending bill, but only after they removed $300 million in Ukraine aid from the legislation (which then cleared in a separate vote because a bunch of Democrats then voted).
Speaker Kevin McCarthy, who failed twice last week to advance the bill to the floor, finally locked down enough Republican votes to pass the bill after the House stripped $300 million to arm Ukraine from the text.

The separate bill carved out to allocate those funds for Kyiv passed Thursday in a 311-117 blowout bipartisan vote. Republicans had won a close procedural vote earlier in the day to separate the Ukraine money from the Pentagon bill, a move meant to flip a handful of GOP holdouts. –Politico
Democrats framed the optics as Kremlin-friendly, with House Armed Services ranking Democrat Adam Smith saying "The Russians are good at propaganda… It will be played as America backing off of its commitment for Ukraine."
Republicans responded that by carving Ukraine out of the defense bill, it allows opponents of either measure (Ukraine aid orthe defense bill) to voice their opinions on each independently.
"Why don't we make sure this gets through? I mean, I'm just mystified that this is somehow a problem," said House Rules Chair Tom Cole (R-OK), according to Politico. "We guarantee you something you want is going to pass the House and you're upset about it."
And now, McCarthy says there's no way to avert a government shutdown unless the House, and the Senate, agree to nix Ukraine aid from the 30-day stopgap.
Fire and Brimstone…
On Friday, White House top economic adviser Lael Brainard said that a shutdown would pose an "unnecessary risk" to what he described as a resilient economy with moderating inflation.
Treasury Secretary Janet Yellen then chimed in, warning that all of Bidenomics could be negatively impacted.
"The failure of House Republicans to act responsibly would hurt American families and cause economic headwinds that could undermine the progress we're making," Yellen said from Port of Savannah, Georgia, adding "A shutdown would impact many key government functions from loans to farmers and small businesses, to food and workplace safety inspections, to Head Start programs for children.
"And it could delay major infrastructure improvements."
Goldman has predicted that a shutdown will last 2-3 weeks, and that a 'quick reopening looks unlikely as political positions become more deeply entrenched.' Instead, as political pressure to reopen the government builds, pay dates for active-duty military (Oct. 13 and Nov. 1) will become key dates to pay attention to.
In addition, they think a shutdown could subtract 0.2pp from Q4 GDP growth for each week it lasts (adding the same to 1Q2024, assuming it's over by then).
What's more, all data releases from federal agencies would be postponed until after the government reopens.
More via Goldman:
What are the odds the government shuts down?
A shutdown this year has looked likely for several months, and we now think the odds have risen to 90%. The most likely scenario in our view is that funding will lapse after Sep. 30, leading to a shutdown starting Oct. 1. That said, a short-term extension cannot be entirely ruled out. In the event that Congress avoids a shutdown starting Oct. 1, we would still expect a shutdown at some point later in Q4.
While there is likely sufficient support in both chambers of Congress to pass a short-term extension of funding—this is known as a "continuing resolution" (CR)—that is "clean" with no other provisions attached, the majority of that support would come from Democrats. The Senate is considering a CR that includes aid for disaster relief and Ukraine. House Republican leaders are under political pressure to pass a CR that includes Republican policy priorities that can pass with mainly or exclusively Republican support. At the moment, neither chamber looks likely to pass the other chamber's CR.
The outlook seemed bleak ahead of the debt limit deadline earlier this year, but Congress resolved it in time; why shouldn't we expect a last-minute deal once again?
The smaller economic hit from a shutdown puts less pressure on Republican leaders to override the objections of some in their party to reach a deal. Ahead of the debt limit deadline earlier this year, Republican leaders reached a deal over the objections of some in their party because the potential hit to the economy from an impasse would have been unpredictable and severe, and even lawmakers most strongly opposed to a compromise agreed that the debt limit must be raised. By contrast, the economic hit from a shutdown would be smaller and more predictable, as there have already been two protracted shutdowns over the last decade. While most lawmakers on both sides of the aisle would prefer to avoid a shutdown, both sides appear more willing to take the chance it occurs.
* * *
Stay tuned…
This post was originally published at Zero Hedge
Gingrich: 'No More Pointless GOP Debates; Trump Is Going To Be The Nominee'
"The question now for everybody is do you want to see Joe Biden reelected or do you want to help Donald Trump?"
Former Speaker of the House Newt Gingrich dropped a truth bomb Thursday, noting that there is no use in having more 'debates' among Republican also-ran candidates because Donald Trump is polling so far ahead of them and is certain to be the nominee for 2024.
In a Fox News interview, Gingrich noted "I was talking to our mutual friend, the pollster Matt Towery this afternoon, and Matt said to me, based on what he saw last night, this race is over, Donald Trump will be the nominee, they might as well quit having the various debates because they don't work, they're not helping anybody, and I think that's where we are."
He continued, "I think Trump will be the nominee and the question now for everybody is do you want to see Joe Biden reelected or do you want to help Donald Trump? There's no middle ground here."
Gingrich added, "I think the Republican National Committee should cancel the future debates and say, 'Look, we recognize the objective fact that Trump will be the nominee. We want to work with him."
"In some of these races, some of these polls, Trump is like 43 points ahead of the next person, 43 points. He's gonna be the nominee," Gingrich reasserted.
In regards to other potential candidates, Gingrich noted "I suspect the money is there, but the votes aren't. I'm a big fan of Glenn Youngkin. I think he's doing a great job as governor. I think in 2028, he could be a very impressive, maybe even frontrunner for president, but not this time. Not this year."
Watch:
On the same night as the car crash GOP debate earlier this week, Trump threw every single one of the participants under the bus, stating that he wouldn't pick any of them as a Vice President.
"They are all running for a job," Trump told a crowd in Michigan, adding "They're all job candidates… they will do anything, secretary of something. They even say VP. I don't know. Anybody see any VP in the group? I don't think so."
SUBSCRIBE on YouTube:
Follow on Twitter:
Follow @PrisonPlanet
———————————————————————————————————————
Brand new merch now available! Get it at https://www.pjwshop.com/


ALERT! In the age of mass Silicon Valley censorship It is crucial that we stay in touch.

We need you to sign up for our free newsletter here.

Support my sponsor – Summit Vitamins – super charge your health and well being.

Also, we urgently need your financial support here. ———————————————————————————————————————
"The American People Know The Fix Is In" – O'Reilly Warns Carlson "We Are In The Age Of Disorder Now"
"We're in the age of disorder."
Outspoken conservative media personality Bill O'Reilly joined Tucker Carlson (the man who replaced him in his primetime Fox News slot) for a wide-ranging discussion of the dismal state of the world, and why progressive politicians are to blame.
"America has entered the age of disorder, and it's because of the progressive movement," O'Reilly lamented.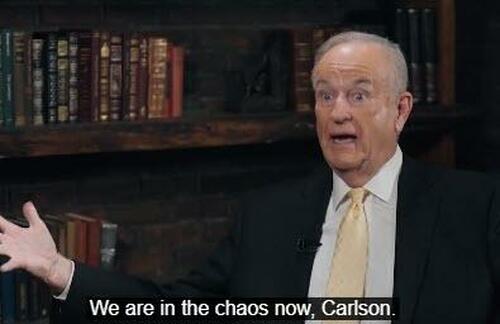 The former Fox News anchor lays out how this has occurred:
"President Biden, in my opinion, is diminished mentally, doesn't know what he's really doing from day-to-day. You can see that in his public statements," O'Reilly remarked, adding that "the progressives like that, because the people who control him inside the White House can tell him anything, and he'll do it."
O'Reilly said that Ron Klain and Susan Rice were the original string-pullers, but since their departure from The White House, their assistants took their place "basically telling Joe what to do and say."
He argued that Biden has harkened in an "age of disorder" which has resulted in the emergence of Black Lives Matter, higher taxes, lax crime laws, and progressive indoctrination of children at young ages.
"The more money you take from people, the less power they have, and the progressives want to run everything, including telling your children what to think when they're five years old," O'Reilly said.

"And most Americans don't get it, because the press is working with the progressive movement and suppresses all this."
However, O'Reilly notes that, given the constant overwhelming bias evident in the Biden admin's judicial actions, it is becoming too hard for media to suppress the reality of political persecution:
"The American people understand what this is… they understand that the documents in Mar A Lago basement parallel the documents in Joe Biden's garage. Yes it's the same thing, but one guy gets raided and charged and the other guy," remains under an opaque investigation.

"Does it really take nine months to figure out why Joe Biden illegally – because he was vice president had no right to take anything – had documents in his garage? Does it take nine months to do that? No. Has Joe Biden been interviewed? No."
"So," O'Reilly concludes, "the American people know the fix is in now."
And "Trump can stop the age of disorder."
Of course, the conversation between the two could not avoid the topic of 'being fired from Fox News' with O'Reilly reflecting on his 2017 removal (amid sexual harrassment claims): "I understood what most television news people don't – that you are expendable." The two candidly remarked on the fact that regardless of one's reputation or history, all television figures are ultimately replaceable.
Watch the full interview below:
This post was originally published at Zero Hedge