China Is Aggressively Reselling Russian Gas To Europe
One month ago, we were surprised to read how, despite a suppressed appetite for energy amid its housing crash and economic downturn (for which "zero covid" has emerged as a convenient scapegoat for emperor Xi), China has been soaking up more Russian natural gas so far this year, while imports from most other sources declined.
In July, the SCMP reported that according to Chinese customs data, in the first six months of the year, China bought a total of 2.35 million tonnes of liquefied natural gas (LNG) – valued at US$2.16 billion. The import volume increased by 28.7% year on year, with the value surging by 182%. It meant Russia has surpassed Indonesia and the United States to become China's fourth-largest supplier of LNG so far this year!
This, of course, is not to be confused with pipeline gas, where Russian producer Gazprom recently announced that its daily supplies to China via the Power of Siberia pipeline had reached a new all-time high (Russia is China's second-largest pipeline natural gas supplier after Turkmenistan), and earlier revealed that the supply of Russian pipeline gas to China had increased by 63.4% in the first half of 2022.
What was behind this bizarre surge in Russian LNG imports, analysts speculated? After all, while China imports over half of the natural gas it consumes, with around two-thirds in the form of LNG, demand this year had fallen sharply amid economic headwinds and widespread shutdowns. In other words, why the surge in Russian LNG when i) domestic demand is just not there and ii) at the expense of everyone else?
"The increase in Russian LNG could be a displacement of cargoes going to Japan or South Korea because of sanctions, or weaker demand there," said Michal Meidan, director of the China Energy Programme at the Oxford Institute for Energy Studies.
One thing that was clear: China wanted to keep its arms-length gas dealing with Russia as unclear as possible, which is why the General Administration of Customs of China stopped publicizing the breakdown in trade volume for pipeline natural gas since the beginning of the year, with spokesman Li Kuiwen confirming that the move was to "protect the legitimate business rights and interests of the relevant importers and exporters".
Well, we now know the answer: China has been quietly reselling that evil, tainted Russian LNG to the one place that desperately needs it more than anything. Europe… and of course, it is charging a kidney's worth of markups in the process.
As the FT reported recently, "Europe's fears of gas shortages heading into winter may have been circumvented, thanks to an unexpected white knight: China." The Nikkei-owned publications further notes that "the world's largest buyer of liquefied natural gas is reselling some of its surplus LNG cargoes due to weak energy demand at home. This has provided the spot market with an ample supply that Europe has tapped, despite the higher prices."
What the FT ignores, perhaps intentionally, is that it's not "surplus" – after all, if it was Chinese imports of Russian LNG would collapse. No – the correct word to describe the LNG that China sells to Europe is Russian.
Going back to the story, the details are intuitive: with Russian pipeline gas to Europe effectively shuttered…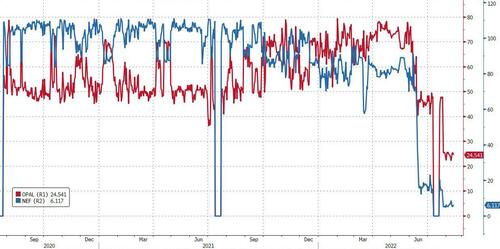 … Europe's imports of LNG have soared 60% year on year in the first six months of 2022, according to research firm Kpler.
Some more details:
China's JOVO Group, a big LNG trader, recently disclosed that it had resold an LNG cargo to a European buyer.

A futures trader in Shanghai told Nikkei that the profit made from such a transaction could be in the tens of millions of dollars or even reach $100mn.

China's biggest oil refiner Sinopec Group also acknowledged on an earnings call in April that it has been channelling excess LNG into the international market.

Local media have said that Sinopec alone has sold 45 cargoes of LNG, or about 3.15mn tonnes. The total amount of Chinese LNG that has been resold is probably more than 4mn tonnes, equivalent to 7 per cent of Europe's gas imports in the half year to the end of June.
Make no mistake: all of this "excess" LNG was soured in part or in whole in Russia, but since it has been "tolled" in China, it is no longer Russian. It is instead – drumroll – Chinese LNG.
The good news is that the 53 million tonnes that the bloc purchased surpasses imports by China and Japan and has brought Europe's gas-storage occupancy rate up to 77%.If this continues, Europe is likely to reach its stated goal of filling 80% of its gas storage facilities by November (at which point it will start draining the reserves at a breakneck pace to keep warm during the winter). But while China's economic slump has brought much-needed relief to Europe, it comes with a major footnote. As soon as economic activity bounces back in China, the situation will quickly reverse, and Beijing will no longer re-export Russia LNG to keep Europe warm.
Hilariously, it also means that instead of being dependent on Russia for gas, Europe is now becoming dependent on Beijing instead for its energy – which is still Russian gas, only this time imported from China – which makes a mockery of US geopolitical ambitions to defend a liberal international order with its own energy exports.
Worse, while Europe could buy Russian LNG for price X, it instead has to pay 2X, 3X or more, just to virtue signal to the world that it won't fund Putin's regime, when in reality is is paying extra to both Xi and to Putin, who is collecting a premium price thanks to the overall market scarcity.
Amusingly, without expressly stating it, the FT does imply that Europe is buying Russian LNG by way of China:
If Russia ends up exporting more gas to China as a means to punish Europe, China will have more capacity to resell its surplus gas to the spot market — indirectly helping Europe.
Why not just admit the obvious – that China is helping Russia skirt sanctions as both countries get very rich in the process? Because then the FT's own judgment – after all, the newspaper is a conduit of the neoliberal thinking that demanded a complete embargo on Russian energy, an embargo which even the WSJ now admits (see "Russia Confounds the West by Recapturing Its Oil Riches") has backfired spectacularly – would be put into question.
FT's flaws aside, the newspaper is correct that the longer this kind of circuitous bypass of Russian sanctions by a hypocritical Europe (which signals its virtue so loudly when the adversary is Russia but doesn't dare say peep when it's China) continues, the bigger China's influence on Europe will be:
The more desperate Europe becomes about its energy supplies, the more China's policy decisions will have the power to affect the bloc. As Europe attempts to wrestle out of its dependence on Russia for energy, the irony is that it is becoming more dependent on China.
In the end, all Europe has done is replace one energy master (as Trump warned in 2018) with another, even though both are joined at the hip and laughing at the stupidity of Brussels which, under the sage advice of a petulant Scandinavian teenager, made all of this possible just in time for China – which together with Putin now determines Europe's daily energy intake – to invade Taiwan without a peep from Europe's virtuous signalers.
This post originally appeared at Zero Hedge
Dem. Intel Chairman: Biden Won't Openly Support Chinese Anti-Lockdown Protesters To Avoid "Western Plot" Charges
Exiled Chinese dissident urges that the uprising is a "watershed moment" in fight against Communism
The Democratic chair of the Senate Intelligence Committee claimed Wednesday that Joe Biden and his administration are trying not to openly support anti-lockdown protesters in China too much in order to avoid the Communist government claiming that it's all a "western plot".
Appearing on CNN, Mark Warner stated that if the CCP is "able to portray this as kind of an anti-Chinese or western plot, that undermines the very protesters that we're trying to stand with."
Warner continued with a word salad, stating "I think there are things that those of us leaders in the Senate and the House have a little bit more flexibility, frankly, than the administration. This — the administration, particularly after the most recent meeting between Xi and Biden, to try to have lower some of the tensions…. we don't want an active conflict to erupt."
"I think those of us in the Congress have a little more freedom. And I think we can push the administration, but as you said, we don't want to feed the propaganda machine that turns these protesters driven by Chinese people into what the overall message would be of the Chinese people," the Democrat further claimed.
Watch:
Warner's comments come as the Biden White House says it "isn't taking a side" on the cause of anti-lockdown protests in China, a 'walking on eggshells' remark seemingly designed to protect the administration from charges of hypocrisy.
Republicans, including Senator Tom Cotton are pushing for Biden to more strongly support the anti-lockdown protests.
"This is not just some protest on a college campus in America or a European capital," Cotton noted, adding "These Chinese are protesting the world's most powerful, dangerous, techno-totalitarian government."
The Senator further urged that "One reason President Biden should speak in his own voice on camera in support of these brave Chinese protesting their communist government is to prevent another Tiananmen Square Massacre. But also by saying if there is another Tiananmen Square Massacre, if the Chinese communists use force against their own people, there would be massive consequences."
"China unleashed this plague on the world, including its own people. They have had the counterproductive 'Zero Covid' policy for a long time and now they have a dilemma," Cotton asserted.
Watch:
Meanwhile, exiled Chinese dissident Xi Van Fleet told FOX News that the uprising is not only about lockdowns, but about the people finally opposing Communism on the whole.
"This is extraordinary. We're witnessing a watershed moment," Van Fleet explained, adding "During the past 75 years, Chinese people put up so much abuse from the totalitarian communist government. But it was the past three years, Xi Jinping's 'Zero Covid' policy that brought people to the breaking point."
Watch:
As we highlighted yesterday, fears of a new Tiananmen Square style crackdown in China have been heightened by footage of tanks being deployed to the streets of major cities as the Communist Party faces massive unrest.
SUBSCRIBE on YouTube:
Follow on Twitter:
Follow @PrisonPlanet
———————————————————————————————————————
Brand new merch now available! Get it at https://www.pjwshop.com/


ALERT! In the age of mass Silicon Valley censorship It is crucial that we stay in touch.

We need you to sign up for our free newsletter here.

Support our sponsor – Turbo Force – a supercharged boost of clean energy without the comedown.

Also, we urgently need your financial support here. ———————————————————————————————————————
Videos: Tanks Deployed On Streets In China Amid Massive Protests
"Somehow nobody in any newsroom in America noticed when Xi Jinping decided to replay Tiananmen Square"
Fears of a new Tiananmen Square style crackdown in China have been heightened by footage of tanks being deployed to the streets of major cities as the Communist Party faces massive unrest.
Video of tanks was captured in the eastern city of Xuzhou on Monday night:
Tucker Carlson pondered why the western media on the whole is ignoring the huge protests, and the tanks.
"Unless you read the Daily Mail, which is an English paper published online, you probably didn't know that Chinese President Xi Jinping sent tanks into a major city last night to put down protests against his rule," Carlson noted.
The host added "Virtually no American media outlets acknowledged that that happened and that's pretty weird if you think about it. Imagine, for example, that Hungarian leader Viktor Orban put tanks into Budapest to crush his political opponents. Would our media notice? Oh yeah, they would. It would be on the front page of 'The New York Times.' Morning Joe would lead with it."
Carlson continued, "China is our main global rival, it's a highly significant place. Yet somehow nobody in any newsroom in America noticed when Xi Jinping decided to replay Tiananmen Square. Didn't see it even though the pictures were on the internet. How is that possible? Could it be the American news media is covering for the government of China? Can't say. We'll let you make the call on that."
When asked by a reporter about what the potential consequences for China of a brutal crackdown on protesters would be, the White House Press Secretary responded "I don't have anything to preview for you at this time."
SUBSCRIBE on YouTube:
Follow on Twitter:
Follow @PrisonPlanet
———————————————————————————————————————
Brand new merch now available! Get it at https://www.pjwshop.com/


ALERT! In the age of mass Silicon Valley censorship It is crucial that we stay in touch.

We need you to sign up for our free newsletter here.

Support our sponsor – Turbo Force – a supercharged boost of clean energy without the comedown.

Also, we urgently need your financial support here. ———————————————————————————————————————
Beijing Police Checking People's Phones For Social Media Apps Amid Mass Protests: Report
Mass protests against China's 'zero-covid' policy have spread to Hong Kong, after demonstrators on the mainland began demanding that President Xi Jinping resign.
Around 50 students at the Chinese University of Hong Kong were pictured chanting "No PCR tests but freedom!" and "Opposed dictatorship, don't be slaves!" while holding up blank pieces of paper – which have become a symbol of protest against China's clampdown on freedom of expression, according to Axios. The blank paper protests were previously seen during the Hong Kong protests in 2020, and earlier this year during demonstrations against the Russian invasion of Ukraine.
Anti-lockdown protests spread throughout several cities over the weekend, including Beijing, Shanghai and Wuhan – which were largely muted on Monday after police moved out in force.
Meanwhile, police in Beijing, Shanghai and Hangzhou have reportedly been checking the phones of random citizens to look for unapproved social media apps. If they found Twitter or Telegram, the personal information would be taken down and the person would receive a warning. Any resistance would be met with a report, according to DW News correspondent William Yang.
On Monday, a BBC reporter who was arrested over the weekend while covering the protests reported that police were checking people's phones for photos, and forcing people to delete them (or have them deleted).
In response to the protests, China's Foreign Ministry says that the country has been "making adjustments" to Covid protocols "based on realities on the ground." This follows a statement out of Beijing earlier in the month in which the CCP said they would "unswervingly adhere" to their zero-Covid policy, but would make it less disruptive.
"We will protect people's lives and health to the greatest extent and minimize the impact of the epidemic on economic and social development," said CCP officials, adding "But recent spikes in Covid cases have prompted cities to tighten protocols."
On Monday Spokesperson Zhao Lijian said that China is actively implementing the 9th version of the pandemic protocols.
"We believe that, with the leadership of China's Communist Party and the cooperation and support of all Chinese people, our fight against COVID-19 will be successful," he told reporters.
Meanwhile, Apple is helping the CCP:
This post was originally published at Zero Hedge