UK "Passed Debt And Death Sentence On Millions" By Increasing Energy Price Cap By 80%
The 80% rise in the U.K.'s cap for consumer electricity and natural gas bills this fall will drive millions of households into energy poverty this winter as the worsening cost-of-living crisis stokes fears of recession.  
All the chatter today among British people is energy regulator Ofgem's rise in the cap on power bills to a record £3,549 ($4,189) beginning Oct. 1 from £1,971 ($2,330) at present. That cap is expected to rise to £5,439 ($6,427) by January and £7,272 ($8,594) by spring — all due to skyrocketing wholesale NatGas and electricity prices caused by declining Russian energy supplies to Europe, made worse by Western sanctions that have backfired.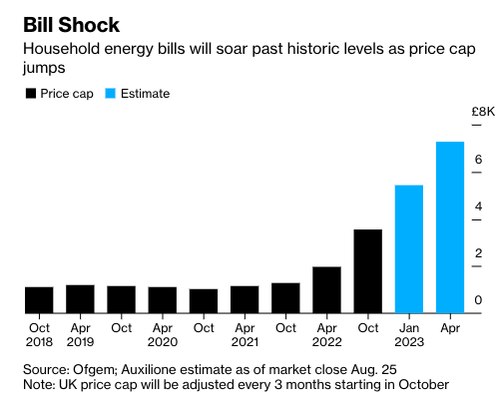 "An increase of this much cannot be budgeted for by households with no wiggle room," said Peter Smith, director of policy and advocacy for the National Energy Action charity. "Come October, low-income households will simply not turn on their heating."
Reuters spoke to one Brit, Philip Keetley, who said:
"The cost of living has increased and yet you're still expected to live on the money provided for when there wasn't a crisis … I either can have my heating on or eat."
Another Brit, Dawn White, who has kidney failure, fears the cost of soaring energy costs means she won't be able to afford life-saving medical treatment:
"Without my (dialysis) machine five times a week, 20 hours, I will die," the 59-year-old woman said.
Soaring energy inflation has crushed real earnings for Brits, forcing many to pull back on spending.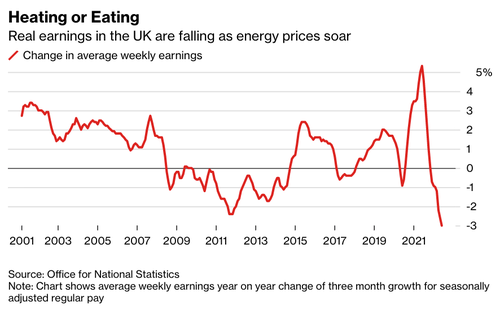 The higher cap rate could push inflation to even more elevated levels as U.K. economists at Citi warned CPI inflation could reach a mindboggling 18.6% print in January due to soaring energy prices.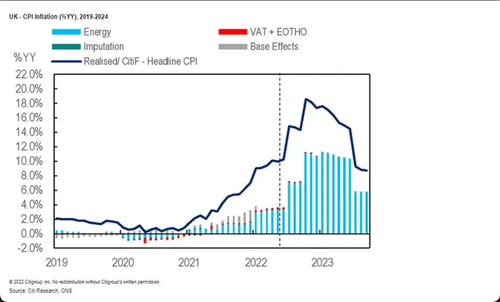 The last time CPI printed above 18% was during the stagflationary years of the mid-1970s (more precisely, 1976) after an oil supply shock led to soaring energy prices worldwide.
Currently, the CPI stands at 10.1% in July for the first time in four decades, primarily driven by skyrocketing food and fuel prices as households crumble under the weight of the cost of living crisis.
Inflation at decades highs has pushed U.K. Misery Index, an economic indicator to gauge how the average person is doing, to three-decade highs, a sign discontent is emerging.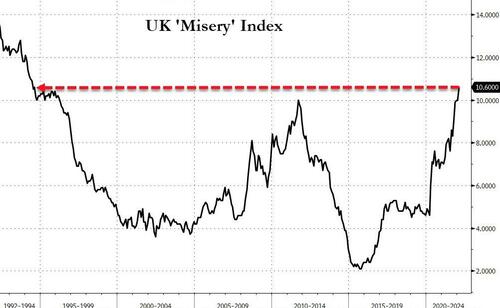 "It's going to be horrendous," said Bill Bullen, chief executive officer of Utilita Energy Ltd., which supplies 810,000 homes in the U.K. "We are going to see a big increase in people struggling to pay for their energy bills."
Last winter's cap was £1,277, but that was before European leaders sanctioned the hell out of Moscow for the invasion of Ukraine. With the cold season just a few short months away, power prices are already at record highs as Russia's Nord Stream 1 NatGas pipeline to the bloc experiences supply disruptions.
UK NatGas prices are also hyperinflating.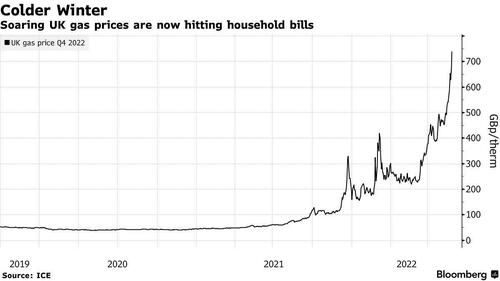 This winter could be one of the darkest in decades for U.K. households. The government has provided billions of pounds to support families, but that may not reduce the growing discontent.
The resistance is growing as more than 116,000 irritated people have pledged not to pay their electricity bill this fall when the new price cap begins, in a movement called "Don't Pay U.K."
"Ofgem just passed a debt and death sentence on millions – we've been left with no options but to refuse to pay,"the anonymous group spearheading the effort to have more than one million Brits boycott paying their power bill by Oct. 1. 
Soaring power bills will have a devastating impact on society, far greater than the GFC over a decade ago, warned James Cooper, a partner at Baringa. He warned:
"We're now moving into territory where a majority of households are placed into debt or a very fragile financial position."
A financial implosion of the households will spur discontent in what could be winter from hell across the U.K.
This post originally appeared at Zero Hedge
WEF Attendee Liz Truss Says British Economy "Needs A Reset" As Market Conditions Worsen
New British PM Elizabeth Truss has been touted by many including the mainstream media as a "far-right" politicianwith wide appeal to British conservatives. 
This is fast becoming a prerequisite ideological position to take in Europe as the open border/socialist policies of leftist political leaders are leaving the EU in economic ruins and as they approach an energy based catastrophe not seen since WWII.
Boris Johnson revealed himself to be nowhere near as conservative as many initially believed with his support of draconian covid mandates, stopping just short of enforcing vaccine passports but still requiring proof of vaccination for major venues. All this while holding lavish parties at his official residence during the lockdowns he helped enforce. Adding to the problem were Johnson's tax increases in the midst of an inflationary crisis, which led to widespread public discontent and his eventual resignation.
When Truss became a potential candidate to replace Johnson some in the alternative media warned that her ongoing associations with the World Economic Forum and attendance at Davos events might be a red flag of another political pretender playing at being conservative while actually serving the interests of globalist institutions. This was, of course, called conspiracy theory by "fact checkers" in the MSM.
It is a concrete reality that the new PM has been a participant in the Davos meetings held by the World Economic Forum, a central hub of globalism that acts as a think tank and propaganda mill where new narratives are born. Specifically, the WEF is most known for its "Great Reset" mantra, which is part of founder Klaus Schwab's "4th Industrial Revolution" concept. A key focus of the Great Reset is something called the "Shared Economy," which is described as the complete erasure of private property and the implementation of communist-like governance over individual economic participation.
The Shared Economy is the source of the phrase "You will own nothing and be happy," which actually comes from an article written by the WEF and published by Forbes Magazine titled 'Welcome To 2030: I Own Nothing, Have No Privacy And Life Has Never Been Better.'
Far from being a "conspiracy theory," the Great Reset is commonly presented by the WEF as the ultimate end game – An agenda, not just an idea.  This has rightly caused concern among the public, because many WEF concepts that are presented at Davos end up being adopted by major governments and instituted into law.  And, many Davos attendees tend to climb the political ladder rather quickly into positions of significant power.
Any legitimate conservative leader or candidate would therefore know about globalist terminology such are the term "Reset" and try to avoid using it at all costs.
No right wing leader would want to be associated with a globalist agenda that the majority of conservatives would rather go to war against.
It could be taken as a limited gaff or mistake, but Truss' recent use of the term raises eyebrows considering her past affiliations with the WEF. She states that:
"We believe in making it easier for our wealth creators, doers and makers to get things done…

Britain's economy needs a reset. We cannot continue on the current trajectory of managed decline. Instead, we must take a new direction. I will lead us down that path to a better future."
This comment was made not long after Truss addressed the plunge of the Pound and the near bankruptcy of the UK pension system.
A key requirement built into any economic "reset" would be the collapse of the old model. Truss might simply be describing what is likely to happen rather than what she wants to happen, but she does present the concept of a reset as a solution, and not as a threat. Meaning, she should be watched carefully by conservatives.
This post was originally published at Zero Hedge
German Government Thinks Russian Gas Pipelines Could Have Been Deliberately Sabotaged
Either Ukrainian attack or a Russian false flag.
Tagesspiegel newspaper reports that a sudden loss of pressure in three natural gas pipelines between Russia and Germany is likely to have been a "targeted attack" carried out by either Russia or Ukraine.
Pressure in the Nord Stream 2 undersea gas pipeline dropped from 300 to 7 bars on Sunday night, followed by a similar occurrence in Nord Stream 1's on Monday afternoon.
The sudden drop of pressure in the Nord Stream 2 pipeline may also have caused a gas leak near the island of Bornholm in the Baltic Sea, a situation being monitored by Danish authorities.
An anonymous source told Tagesspiegel that German authorities "can't imagine a scenario that isn't a targeted attack," and that their assessment has concluded, "Everything speaks against a coincidence."
The attack had to be deliberate because it would have been carried out by special forces, navy divers or a submarine which were able to reach the bottom of the sea.
The German government believes Russia could have sabotaged its own pipelines as a "false flag" attack to blame it on Ukraine and drive EU energy prices even higher, an outcome that would pile more pressure on European governments.
The attack could also have been carried out by "Ukraine-affiliated forces" to weaken Russia's critical infrastructure.
"We are in the process of clarifying the situation here," a government spokeswoman for the federal ministry of economics told the newspaper. "We don't currently know what caused the pressure drop."
Nord Stream 2 was recently completed and was set to "double the volume of gas flowing from Vyborg, Russia, under the Baltic Sea to Germany," the Guardian reports.
Large protests have taken place in major European cities in recent weeks, with demonstrators urging their governments to accept Russian gas to alleviate the cost of living crisis.
"Nord Stream 2 has been literally just sitting there jam-packed with gas ready to be turned on at any moment and deliver billions of dollars worth of dirt cheap Russian gas every year," writes Chris Menahan.
Thousands of people in Gera in Germany against Olaf Scholz's policy and the explosion of energy and gas prices. They demand an end to sanctions on Russia and the reopening of the Nord Stream 2 gas pipeline. Demonstrations also in other German cities but EU media censors them. pic.twitter.com/dmTMLY11jn

— RadioGenova (@RadioGenova) September 26, 2022
SUBSCRIBE on YouTube:
Follow on Twitter: Follow @PrisonPlanet
———————————————————————————————————————
Brand new merch now available! Get it at https://www.pjwshop.com/
ALERT!
In the age of mass Silicon Valley censorship It is crucial that we stay in touch.
I need you to sign up for my free newsletter here.
Support my sponsor – Turbo Force – a supercharged boost of clean energy without the comedown.
Get early access, exclusive content and behind the scenes stuff by following me on Locals.
———————————————————————————————————————
Videos: Biden Celebrates 'Inflation Reduction Act' As Stock Market Tanks Due To Rising Inflation
It doesn't get more Orwellian than this
CNN and other news networks broadcast a split screen of Joe Biden 'celebrating' the passage of his 'Inflation Reduction' Act while the Dow Jones simultaneously tanked to its lowest point for two years on the news that inflation is still at record highs.
Watch:
The Dow Jones fell by over 1,200 points and the S&P 500 fell more than 4% on Tuesday following the August CPI report, which highlighted how inflation rose by 0.1% despite gas prices reducing slightly.
The inflation rate in August was 8.3% according to the report.
The report also found that wages are down 2.8% and energy prices surged 15.8%, the biggest rise in four decades.
Grocery prices are up 13.5% from last year and are at their highest for 43 years.
Some Americans can't even afford to buy food and are turning to 'buy now pay later' desperation:
Yet the White House describes this as "welcome moderation":
The Press Secretary also claims that the inflation report shows "progress in bringing inflation down."
Did someone give her the wrong report?
No, she's just flat out lying again:
SUBSCRIBE on YouTube:
Follow on Twitter:
Follow @PrisonPlanet
———————————————————————————————————————
Brand new merch now available! Get it at https://www.pjwshop.com/


ALERT! In the age of mass Silicon Valley censorship It is crucial that we stay in touch.

We need you to sign up for our free newsletter here.

Support our sponsor – Turbo Force – a supercharged boost of clean energy without the comedown.

Also, we urgently need your financial support here. ———————————————————————————————————————