Biden Energy Secretary Quietly Bullies US Refiners To Reduce European Fuel Exports
Back in June, we reported that overall US Nat Gas exports had exploded thanks to soaring LNG flows to Europe which has grown increasingly desperate for any "friendly" nat gas now that Russia has almost shut off all pipelines toward Europe, in the process pushing US nattie prices sharply higher – if nowhere near where they are in Europe currently.
And while these exports fizzled after the Freeport LNG explosion in June, it was clear that nat gas prices (and to a lesser extent, inventory) in the US would be a factor not only of domestic demand, but increasingly also of European imports from the US.
The same of course, can be said for oil, which is seeing growing demand in Europe – which finds itself increasingly locked out of Russian oil output, which is expected to shrink even more once a Russian oil ban is imposed at the end of the year – as part of gas-to-oil switching which is becoming increasingly prevalent in Europe, and is why US crude sales overseas are also set to hit fresh records through next year as American oil increasingly takes market share in Europe.
Earlier this month, weekly government figures showed an unprecedented 5 million b/d of US crude being exported. Shipments are poised to average over 4 million b/d over the next few months and into next year, according to the most optimistic in the oil industry.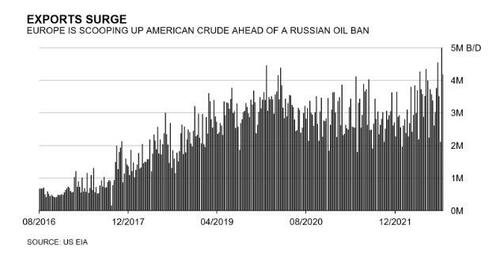 And just like in the case of gas, rising oil exports to Europe mean not only higher US oil and gas prices – as supply/demand dynamics of the two asset classes converge – but also shrinking US inventories which end up in Europe. Which is a problem for US oil because while prices are dropping for now, they are oblivious of the fact that commercial US inventories have slumped to near record lows.
So wouldn't you know the Biden Administration – the same administration that has been draining record amount of oil from the US strategic petroleum reserve in hopes of pushing gas prices lower by the midterms – now wants to limit fuel exports to Europe.
That's the message Energy Secretary Jennifer Granholm sent last week in a letter imploring seven major refiners to limit fuel exports. The WSJ obtained a copy of the letter (see below) which the Administration didn't release publicly, but has since leaked courtesy of Bloomberg's Javier Blas and others.
Granholm warned that gasoline inventories on the East Coast are at a near-decade low, and diesel stocks are nearly 50% below the five-year average across the region. And while she didn't address it – as the SPR drain is hardly something the White House is proud of – total crude oil inventories including the SPR have seen a spectacular collapse since the Ukraine war.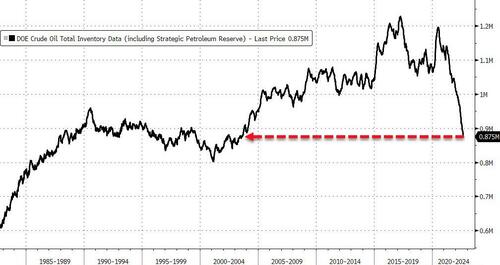 "Given the historic level of U.S. refined product exports, I again urge you to focus in the near term on building inventories in the United States, rather than selling down current stocks and further increasing exports," she writes.
"It is our hope that companies will proactively address this need," she adds. "If that is not the case, the Administration will need to consider additional Federal requirements or other emergency measures." In New Jersey they call that an offer you can't refuse.
This, as the WSJ notes, is a political escalation from President Biden's June command to refiners to immediately lower gasoline prices. As average gasoline prices nationwide have fallen to $3.88 from about $5 in mid-June, he has been taking a media victory tour. However, the drop in prices is largely a function of the market expecting an imminent recession, hardly something worthy of a victory tour, and in any case, Biden can thank Americans for driving less.
Yet fuel storage levels are running low heading into hurricane season when it's not unusual for Gulf Coast refineries to be damaged or shut down. The Administration fears a refinery outage that causes fuel prices to spike in the runup to the November election. Hence, Granholm's threatening letter.
But, as the WSJ editorial board explains, the problem isn't U.S. exports. It's the political and regulatory assault on U.S. production and refining. One culprit is the 2019 closure of the Philadelphia Energy Solutions refinery, which removed about 335,000 barrels a day of refining capacity from the Northeast. This made the region more dependent on Gulf Coast and overseas refineries.
Additionally, fuel storage levels would be much higher in the Northeast if not for New York state's natural gas pipeline blockade, which has made the region more dependent on oil for energy. One-third of New England residents still use oil to heat their homes, and New York this month is generating more electricity from oil than from solar or wind.
Most ironic, however, is that the Granholm export threat is also a slap in the face to European allies trying to diversify energy sources from Russia. Fuel supplies are tight globally amid sanctions on Russia, which had accounted for 40% of Europe's oil imports. Europe has had to look elsewhere for diesel fuel, which some manufacturers and power generators are turning to as a substitute for natural gas. U.S. refiners have recently been exporting more fuel to Europe, but Granholm is now telling them to stop.
Restricting fuel exports is one more counterproductive Biden policy on fossil fuels that would merely drive up global fuel prices, including U.S. imports. As the WSJ concludes, "Granholm's bullying of energy companies shows how little she understands about energy markets."
This post was originally published at Zero Hedge
Banks Developing Technology To Track Gun Purchases Under Guise Of Flagging Potential Mass Shooters
Banks have been working on technology to "identify potential mass shooters" by tracking gun-related purchases and filing "Suspicious Activity Reports" with the Treasury Department's Financial Crimes Enforcement Network.
According to comments made by Amalgamated Bank Chief Executive Officer Priscilla Sims Brown at the New York Times DealBook conference on Wednesday, the strategy would employ credit card companies to more closely track gun purchases, Bloomberg reports.
"We're at the very early stages of this — this particular code just got approved in October, so those detection scenarios are still being brought together," said Brown, adding "But as this is implemented, those scenarios will be used."
The strategy would mirror ways banks try to identify and stop fraudsters from using customers' funds.

The International Organization for Standardization approved a new merchant category code earlier this year that banks will use when processing transactions for gun and ammunition stores after Amalgamated submitted an application on the matter. Gun-control advocates were quick to celebrate the move, arguing it would help banks flag suspicious activity at these retailers. -Bloomberg
Banks have come under pressure from Congressional Republicans over what they plan to do with the tracking codes, with conservative policymakers expressing concern that lenders will use the data to create unofficial lists of gun owners in the US.
"What I'm hearing from other banks is that they have been honoring this process and this system, filing Suspicious Activity Reports across a myriad of industries to stop a myriad of crimes — or at least alert authorizes of them," said Brown. "And I have every confidence that banks are going to do the same thing here."
This post was originally published at Zero Hedge
GOP Senators Say They Will Block Military Funding Unless Vaccine Mandate Scrapped
"The Biden administration is firing soldiers we invested in and trained"
Republicans in the Senate have threatened to block the National Defense Authorization Act unless a vote is held on the current COVID vaccine mandate for military personnel.
The effort is being headed up by Florida Senator Rick Scott and Kentucky Senator Rand Paul, along with 11 other senators, including Ted Cruz and Mike Lee.
Scott told Fox News "I think on the NDAA one thing that's going to be important is that we don't give cloture unless they agree that we're not going to keep kicking people out of the service for their – if they're unvaccinated," adding "I think that we've got to start standing up for people."
In a letter to Senate Minority Leader Mitch McConnell, the Senators state "The Department of Defense COVID-19 vaccine mandate has ruined the livelihoods of men and women who have honorably served our country."
"While the Department of Defense certainly must make decisions that will bolster military readiness, the effects of the mandate are antithetical to readiness of our force, and the policy must be revoked," the letter further states.
During a press conference, Paul stated "The vaccination mandate has forced our nation's young patriotic men and women to choose between their faith, their medical autonomy and their careers."
"At a time when the military is struggling to meet targets for recruitment, the administration is firing soldiers we invested in and trained," Paul further noted.
For five decades now, the NDAA has been viewed as vital legislation for Congress each year, covering spending for the military, including the annual pay raise and new program starts.
Despite attempts to stop mandatory vaccines for active duty personnel, and to uphold exemption rights, the Biden administration has continually pushed for dishonourable discharges and even court martialing for troops who disobey orders to get the shots.
SUBSCRIBE on YouTube:
Follow on Twitter:
Follow @PrisonPlanet
———————————————————————————————————————
Brand new merch now available! Get it at https://www.pjwshop.com/


ALERT! In the age of mass Silicon Valley censorship It is crucial that we stay in touch.

We need you to sign up for our free newsletter here.

Support our sponsor – Turbo Force – a supercharged boost of clean energy without the comedown.

Also, we urgently need your financial support here. ———————————————————————————————————————
McCarthy Says GOP Will Not 'Go After People Simply Because of Their Political Views'
Says Nick Fuentes Must Be Banned From GOP For His Political Views
House GOP Leader Kevin McCarthy (R-CA) said during a press conference on Tuesday that Christian conservative Nick Fuentes "has no place" in the Republican Party and his ideology "has no place in society at all" just minutes before claiming the GOP will not "go after people simply because of their political views" when they take back power.
"I don't think anybody should be spending any time with Nick Fuentes," McCarthy told the press, referencing Trump's dinner with Ye and Fuentes. "He has no place in this Republican Party."
"I condemn his ideology," McCarthy said, "it has no place in society — at all!"
Minutes later, McCarthy was asked: "What do you make of the White House saying they are 'keeping an eye on' Twitter under Elon Musk's ownership and leadership?"
"That is offensive to me," McCarthy responded. "Government's gonna go after someone who wants to have free speech? What do they have to look at Twitter about? Do they want to go more after the American public about whether they can have an opinion on something?"
"I think the American public have spoken on this. I think our First Amendment stands up and I think they should stop picking on Elon Musk," he continued. "You know, Elon Musk has succeeded in many places. I'd bet on him more than government going after him. And I one thing I would say when we talked about accountability, we will no longer let government go after people simply because of their political views."
Just over a week ago, McCarthy vowed to remove Rep. Ilhan Omar (D-MN) from the House Foreign Affairs Committee because she criticized Israel in the past.
In 2019, McCarthy voted to strip Rep. Steve King (R-IA) from all committees over his political views defending white people and Western civilization.
McCarthy is also a champion of anti-BDS laws which punish Americans for boycotting the foreign state of Israel and blatantly violate the First Amendment.
Despite McCarthy's claim that the GOP "will no longer let government go after people simply because of their political views," the truth is he's eager to use state power to punish Americans for their political views, place them on blacklists and ban them from the political process if they dare to criticize Israel!
This post originally appeared at Information Liberation