"Tsunami Of Shutoffs": 1 In 6 US Homes Are Behind On Power Bills
At least 20 million households — or about 1 in 6 American homes — are behind on their power bills as soaring electricity prices spark what is said to be the worst-ever crisis in late utility payments, according to Bloomberg, citing data from the National Energy Assistance Directors Association (Neada).
Neada said electricity prices had increased significantly since 2020 after a decade of stagnation. The steep rise has resulted in billions of dollars in overdue power bills.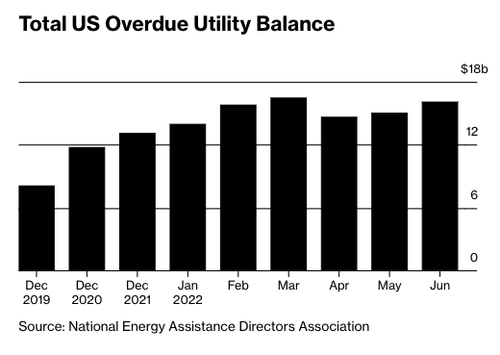 Electricity inflation is being propelled by soaring costs of fossil fuels, such as natural gas, coal, and petroleum.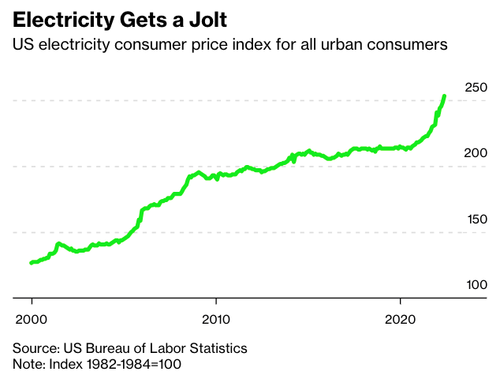 NatGas fuels about 40% of the US power grid and soared to the highest levels since 2008 on Tuesday.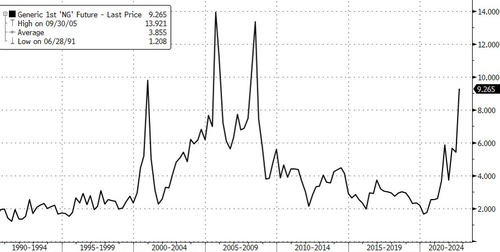 The chart below shows for the two decades, real electricity prices were relatively flat, except for the commodity boom times around the 2008 GFC. Now CPI less energy has peaked, though electricity continues to rise to a blistering 30% year on year.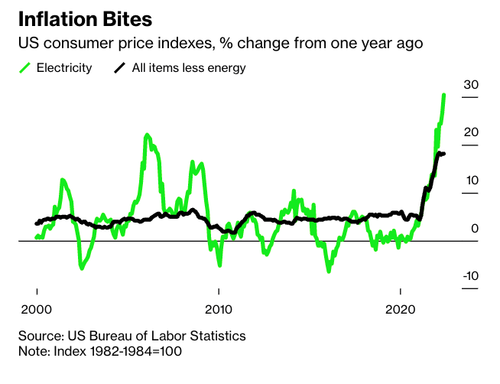 Utility shutoffs have become more common across the US as some lower-tier households are thousands of dollars behind on their power bills.
Jean Su, a senior attorney at the Center for Biological Diversity, which tracks utility disconnections across the US, warned of a "tsunami of shutoff" as the highest inflation in forty years eats away wages and has financially devastated the working poor.
Adrienne Nice is one of those struggling Americans who is more than $3,000 behind on utility bills. Last month, she received a "final notice" from power company Xcel Energy Inc., who turned off the electricity to her studio apartment in Minneapolis as temperatures approached near triple digits.
Nice found it near impossible to save money for utility expenses that have doubled over the past year as food, shelter, and gas prices have also skyrocketed. Her low-paying job as a housecleaner has left her in energy poverty.
"I just don't understand how electricity can be so high," she said.
Across the country, power companies reported a surge in non-payment customers. California's PG&E Corp said there had been a 40% jump in the number of residential customers behind on payments since February 2020. New Jersey's Public Service Enterprise Group said customers at least 90 days late have risen 30% since March.
"People on the bottom, they can't pay" their electricity bills, said Mark Wolfe, Neada's executive director.
Readers know that low-tier consumers are financially tapped out. They've maxed out credit cards, depleted savings, and have seen wage gains wiped out due to inflation. It comes as no surprise the US is becoming more like Europe, where energy poverty has doomed millions of households.
It's only a matter of time before the Biden administration starts handing out stimmy checks for electricity bills.
This post was originally published at Zero Hedge
Elon Musk Responds To Biden's "Pay Your Fair Share" Tax Tweet
"I paid more income tax than anyone ever in the history of Earth"
The world's richest man Elon Musk has responded to a tweet sent out by Joe Biden calling for higher taxes for billionaires, noting that he's paid more tax than any human ever in the history of the planet.
Biden sent out the following tweet calling on rich people to "pay your fair share," along with a claim that the average tax billionaires pay is three percent.
Musk responded, noting that he paid a whopping 53 percent tax on Tesla stock options at both the state and federal level, and that he paid more taxes than any person on Earth in 2021 ($11 billion) and will do so again for the 2022 fiscal year.
Musk also called for a fact check on Biden's three percent claim.
Musk's call led to the following correction from the Tax Foundation being added to Biden's tweet, showing how Biden is either just flat wrong or lying:
Others chimed in on Musk's comments:
While others had some choice responses for Biden:
SUBSCRIBE on YouTube:
Follow on Twitter:
Follow @PrisonPlanet
———————————————————————————————————————
Brand new merch now available! Get it at https://www.pjwshop.com/


ALERT! In the age of mass Silicon Valley censorship It is crucial that we stay in touch.

We need you to sign up for our free newsletter here.

Support our sponsor – Turbo Force – a supercharged boost of clean energy without the comedown.

Also, we urgently need your financial support here. ———————————————————————————————————————
SVB's London Bankers Received Up To $36 Million In Bonuses Days After BoE-Orchestrated Bailout
Bankers at the London branch of Silicon Valley Bank reportedly received tens of millions of dollars in bonuses just days after the Bank of England orchestrated a rescue package that led to Europe's largest lender, HSBC, buying the failed bank's subsidary for just £1, Sky News reports.
Sources described the bonus pool as "modest", and said it totalled between £15m and £20m.

It was unclear on Saturday how much had been awarded to Erin Platts, the UK bank's chief executive or her senior colleagues.

One insider said the bonus payments were a signal of HSBC's confidence in the talent base at its new subsidiary and that the buyer had been keen to honour previously agreed payments in order to help retain key staff. –Sky
What's more, bonuses were reportedly doled out to US staff just hours before the Santa Clara, California-based bank collapsed. The bank was taken into FDIC ownership, while SVB Financial Group has filed for Chapter 11 bankruptcy protection as it looks to find buyers for their remaining assets.
The UK arm of (formerly) SVB employs around 700 people. The London branch's 'guided demolition' was coordinated with UK Prime Minister Rishi Sunak, who played a pivotal role in an emergency auction that drew interest from several challenger banks, including the Bank of London and Oaknorth.
According to insiders, if HSBC hadn't stepped up, the bonuses wouldn't have been paid, while another insider pointed out that stock held by senior executives and other employees had been rendered worthless amid the implosion.
"The UK's tech sector is genuinely world-leading and of huge importance to the British economy, supporting hundreds of thousands of jobs," said chancellor Jeremy Hunt. "We have worked urgently to deliver on that promise and find a solution that will provide SVB UK's customers with confidence."
"[This] ensures customer deposits are protected and can bank as normal, with no taxpayer support."
The government had been lobbied intensively last weekend by hundreds of tech entrepreneurs about the parlous state of SVB UK.

They warned of "an existential threat to the UK tech sector", adding: "The Bank of England's assessment that SVB going into administration would have limited impact on the UK economy displays a dangerous lack of understanding of the sector and the role it plays in the wider economy, both today and in the future."

The founders warned Mr Hunt that the collapse of SVB UK would "cripple the sector and set the ecosystem back 20 years". -Sky
"Many businesses will be sent into involuntary liquidation overnight," were SVB UK not rescued, wrote the entrepreneurs.
This post was originally published at Zero Hedge
Ted Cruz Blasts Biden For Bailouts Of Corrupt 'Bonnie And Clyde' Banks
"They're robbing the bank as they know their customers' deposits are about to get blown up."
Senator Ted Cruz has slammed the Biden Administration for effectively bailing out Silicon Valley Bank, labelling it a 'corrupt Bonnie and Clyde' like operation.
On his "Verdict" podcast, Cruz stated that the failure of SVB has "called into question a lot of the financing for venture capital, and it has potentially imperiled a significant number of mid-sized banks."
"In response to this, the Biden administration rolled out a major bailout, conveniently bailing out the politically connected friends of the Biden White House in a way that will have lasting repercussions for the economy, and will almost certainly incentivize future bad conduct by other banks," Cruz asserted.
The Senator continued, "They were gambling that the Fed would not raise rates even though they'd been screaming from the mountaintops that they were going to raise rates."
"A bank that is being prudent can hedge its investments against interest rates rising by investing also in counterbalancing investments that will go up when interest rates go up. They didn't do that! They were focused on virtue signaling. They were focused on showing just how woke they are," Cruz added referring to the revelation that SVB was obsessed with pushing 'diversity and inclusion' policies:
"These bank officers were bad actors," Cruz continued, adding "Let me let me tell you two data points that have been vastly underreported. Number one, hours before the bank was shut down Silicon Valley Bank gave very substantial bonuses to all of its employees. They just began writing checks to everyone hours before they were shut down. Data point number two: in the two weeks prior to their being shut down, the CEO and the CFO sold large amounts of stock. The CEO ended up making over a $2 million profit from selling stock less than two weeks before the bank was shut down. Both of those indicate corrupt intent."
Cruz also noted that he "had a conference call in the last 48 hours with all 100 Senators were invited to participate and Treasury and the FDIC was on there and I asked I said, 'Look, is it true that they gave bonuses to their employees, number one? If so, I think it is outrageous. And number two, has there been any investigation into clawing back those bonuses?'"
"As far as I'm concerned, this is like Bonnie and Clyde," Cruz charged, urging that "They're robbing the bank as they know their customers' deposits are about to get blown up. And much of the media coverage has ignored the exceptionally bad conduct by the bank's officers."
Related:
SUBSCRIBE on YouTube:
Follow on Twitter:
Follow @PrisonPlanet
———————————————————————————————————————
Brand new merch now available! Get it at https://www.pjwshop.com/


ALERT! In the age of mass Silicon Valley censorship It is crucial that we stay in touch.

We need you to sign up for our free newsletter here.

Support our sponsor – Turbo Force – a supercharged boost of clean energy without the comedown.

Also, we urgently need your financial support here. ———————————————————————————————————————