London Sex Change Clinic For Kids Shut Down And Sued By 1000 Families
Are you a child suffering from gender dysphoria and in need of puberty blocking chemicals?
Well, according to the Tavistock Gender Identity Clinic in London, most little kids need them. And, they operated with impunity from 1983 until this past month. The clinic has recently been shut down by the NHS as investigations mount and public outcry grows over allegations that Tavistock was haphazardly diagnosing children with gender identity disorder even when they were normal.
With the concept of transsexuality being widely promoted by the corporate media, leftist parents, public school teachers and many western governments, it's no wonder so many children are starting to feel like they need to join the trend and signal their virtue. In general, most children want to make the adults around them happy and the pressure to conform to gender identity fads is immense.
Tavistock, the only gender and sex change clinic in Britain, went from treating around 130 child patients per year in 2010 to treating nearly 2400 in 2021. In fact, the clinic was facing overwhelming demand for services by the time it was finally shut down, and numerous proponents of sex change treatment for children argued that MORE clinics like Tavistock would soon be needed.
What changed in the past decade? Not the percentage of people born with gender dysphoria; that would be statistically impossible. The only thing that has changed is that Trans identity politics are now a fad and young people are being specifically targeted with trans propaganda.
The controversy around Tavistock deepened in 2020, when the center was taken to court by Keira Bell, a former patient, who argued she had been too young to consent to the medical treatment overseen by the GIDS that began her female-to-male transition as a teenager. Bell won her initial case but it was overturned on appeal, with the court of appeal reaffirming the principle of Gillick competence that "it was for doctors and not judges to decide on the capacity of a person under 16 to consent to medical treatment."
In other words, it's up to the same doctors that have a political agenda and stand to make considerable money by conning children and teens into believing they are trans. These doctors, with no science whatsoever to back their claims on gender identity, are the people that get to decide if your child needs gender affirmation drugs or surgeries in the UK.
Tavistock's shut down reaffirms the growing concerns among the public about the deceptive nature of gender ideology and the fact that children with no legitimate understanding of sexuality have been mutilated chemically and physically in the name of political cultism rather than personal health. It has been recently revealed that the clinic is also facing a massive lawsuit of at least 1000 families of former patients and the list is expanding daily.
Much like abortion doctors, gender affirmation doctors seem much more preoccupied with political activism than fulfilling the principles and demands of their own profession. Beyond the temptation for such doctors to exploit unwitting and underage patients in order to make large sums of money through government grants and insurance payoffs, there is also the temptation to artificially inflate the demand for sex change services as a way to fabricate "proof" that gender politics are as pervasive as they assert.
In other words, brainwash people when they are young and they will grow up to join the cult when they are adults. It's about manufacturing a destructive political movement by manufacturing consent. Get them to commit to irreversiblegender reassignment as children and maybe they will be trapped within the leftist fold for the rest of their lives. The Tavistock Clinic is now closed, but there are more of these clinics across the western world and the monstrous nature of their mission still has not been adequately addressed.
This post was originally published at Zero Hedge
Beyond the Realms of Absurdity
Welcome to the new crime of not joining in.
UK police telephoned and warned a woman because she refused to accept an LGBT-themed 'Pride' carrier bag after buying something in a shop.
Please share this video! https://youtu.be/bU1VkNZKakk
SUBSCRIBE on YouTube:
Follow on Twitter: Follow @PrisonPlanet
———————————————————————————————————————
Brand new merch now available! Get it at https://www.pjwshop.com/
ALERT!
In the age of mass Silicon Valley censorship It is crucial that we stay in touch.
I need you to sign up for my free newsletter here.
Support my sponsor – Summit Vitamins – super charge your health and well being.
Get early access, exclusive content and behind the scenes stuff by following me on Locals.
———————————————————————————————————————
Author Of 'Gender Queer' Book Found In Schools Says "I Don't Recommend This Book For Kids"
"'Gender Queer' is a comic, and in full color, but that doesn't mean it's for children"
The author of the book titled 'Gender Queer', one of the controversial LGBTQ+ materials featuring explicit images that has cropped up again and again in schools has stated that the book is not meant to be available for young children.
Maia Kobabe, who identifies as non-binary told the Washington Post that her book is aimed at "older teens," not kindergarten aged kids.
"It keeps being called a children's book … but I think that's coming from a misreading of the comic-book form. 'Gender Queer' is a comic, and in full color, but that doesn't mean it's for children," Kobabe stated.
"I originally wrote it for my parents, and then for older teens who were already asking these questions about themselves. I don't recommend this book for kids!" she said in the interview published last week.
The comments come after GOP Senator John Kennedy read aloud graphic excerpts during a Senate Judiciary Committee hearing:
Kennedy read "I got a new strap-on harness today. I can't wait to put it on you. It will fit my favorite dildo perfectly. You're going to look so hot. I can't wait to have your c**k in my mouth. I'm going to give you the blow job of your life. Then I want you inside of me."
"The words you spoke are disturbing, especially coming out of your mouth, it's very disturbing," Illinois Secretary of State Alexander Giannoulias told Kennedy in response.
The book is one of several that have prompted outrage and protests among parents as it features graphic illustrations of sex between two men, use of sex toys, oral sex, and masturbation, among other things.
Passages from the book have been read out by parents during school board meetings, in some cases leading to them being shut down and asked to leave.
The Gender Queer book was also cited by Chelsea Clinton in tweets defending the use of such material in schools:
Related:
SUBSCRIBE on YouTube:
Follow on Twitter:
Follow @PrisonPlanet
———————————————————————————————————————
Brand new merch now available! Get it at https://www.pjwshop.com/


ALERT! In the age of mass Silicon Valley censorship It is crucial that we stay in touch.

We need you to sign up for our free newsletter here.

Support my sponsor – Summit Vitamins – super charge your health and well being.

Also, we urgently need your financial support here. ———————————————————————————————————————
Indeed Out-Wokes Corporate America With $10,000 Relocation Checks For Trans Employees
Austin-based online job search platform, "Indeed," aims to 'out woke' corporate America by offering transgender employees or those with transgender children a $10,000 relocation payment. Both Bloomberg and Axios confirmed the relocation payment program. 
Before we discuss relocation payments, it's important to note that Indeed proudly states on its website that it had the wokest corporate policies in America in 2018. It said its 2018 Corporate Equality Index (CEI), a national benchmarking survey and report on corporate policies and practices related to lesbian, gay, bisexual, transgender, and queer (LGBTQ) workplace equality, score "received a perfect score of 100 percent."
For some context, CEI is administered by the Human Rights Campaign, the largest LGBTQ+ political lobbying group in the world. HRC has received millions of dollars in funding from George Soros' Open Society Foundation.
Indeed's executives appear to have one objective in mind: rank the highest on the CEI index this year (we all remember earlier this year what happened to Bud Light when they tried that on TikTok). One way execs are attempting to achieve a high score is to offer a relocation program to trans workers, cutting them a $10,000 check to cover 'travel-related expenses' out of conservative states (or areas where they don't feel comfortable) to safer grounds.
"While Indeed introduced the program to its employees in July, until now, the company has not discussed it publicly," Bloomberg said.
Indeed provided further details about the program to Axios:
It's for US-based employees and immediate family members who seek gender-affirming care and live in a location where state laws or government-issued directives criminalize or restrict access to such medical care.
It also applies to those who live in places that attempt to restrict support for children who are gender non-conforming, transgender or non-binary.
Eligible employees will receive approval to relocate to a state or jurisdiction where they will be able to access the care and support they need, as well as a $10,000 flat-rate benefit to support their relocation expenses.
None of this comes as a surprise given Indeed's mission since 2018 has been to 'out woke' corporate America in its pursuit of a high CEI score. But why?
Some netizens were confused by Indeed's move considering the Bud Light backlash earlier this year after a white privileged liberal executive believed the brewer was time for a change. However, its customer base thought otherwise, nuking the beer as demand has since crashed.
"Kinda weird that companies never did stuff like this for black people or disabled people," one netizen asked. 
Another asked, "Does Indeed offer any relocation money for women who live in particularly misogynistic states? Of course not. "
Someone else pointed out: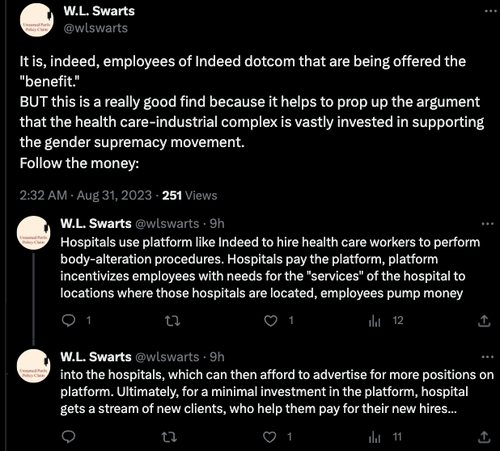 We wonder if Indeed will have an increase in the number of trans workers trying to capitalize on the free money.
This post was originally published at Zero Hedge