FBI Raid on Trump Designed to Stop Him Running in 2024
Charges would prohibit him from holding office.
The FBI raid on Donald Trump's Mar-a-Lago estate is specifically designed to stop him from running for president again in 2024, legal experts have concluded.
Trump's Palm Beach property was raided by the feds last night as part of a supposed investigation into Trump taking classified documents when he left office.
The Biden Regime dubiously claimed it had no advance knowledge of the raid, which has overwhelmingly been characterized by Republicans as politically motivated.
According to legal experts, the raid is clearly intended to be part of an effort to charge Trump with mishandling White House records, which would stop him from being able to run for president in 2024.
"If Trump is convicted under this federal statute, he would be prohibited from holding any office including the office of the president," said former federal prosecutor Neama Rahmani.
"That would be huge," he added.
Trump would face charges under US Code Title 18, Section 2071, which states, anyone who "willfully and unlawfully conceals, removes, mutilates, obliterates, or destroys, or attempts to do so, or, with intent to do so takes and carries away any record," faces a fine and up to three years in prison.
The provision mandates that the person responsible "shall forfeit his office and be disqualified from holding any office under the United States."
This would eliminate Trump from facing off again against Biden, who Democrats have all but abandoned and are seeking to replace given his now notorious cognitive issues.
Although Trump took 15 boxes of documents with him when he left office, these were returned in January this year. Agents were looking to see if Trump had held on to any other presidential documents, although the safe they broke into was reportedly empty.
However, legal observers claim the feds could build a case that Trump deliberately destroyed records. The fact there is no evidence for this seemingly doesn't matter given how lawless the Department of Justice has now become.
"His lawyers told him about the law requiring that he preserve White House documents, so he was on notice and that will bolster the case and help prove intent if prosecutors charge Trump," said Rahmani.
Others have also pointed out that although the raid ostensibly has nothing to do with January 6, the feds, weaponized by the Democrats, could have been on a fishing expedition for information to bolster their founding myth, which is completely without evidence, that Trump "incited" or planned the January 6 riot.
"If evidence comes out from the raid that sheds light on Trump's involvement in the Capitol Riot, then that will absolutely become part of the Jan. 6 investigation," Rahmani noted.
SUBSCRIBE on YouTube:
Follow on Twitter: Follow @PrisonPlanet
———————————————————————————————————————
Brand new merch now available! Get it at https://www.pjwshop.com/
ALERT!
In the age of mass Silicon Valley censorship It is crucial that we stay in touch.
I need you to sign up for my free newsletter here.
Support my sponsor – Turbo Force – a supercharged boost of clean energy without the comedown.
Get early access, exclusive content and behinds the scenes stuff by following me on Locals.
———————————————————————————————————————
Nobody Cares: Trump Approval Rating Remains Stable Despite Multiple Investigations
Despite the best efforts of the January 6th committee and Biden's 'weaponized' DOJ (which took 18 months to stage a public raid on the former President's home), Americans just don't care.
According to the most recent New York Times/Siena College poll – voters held nearly identical views from those earlier in the summer when it comes to a favorable view of Trump, whether they think he committed serious federal crimes, and who they would support in a potential 2024 Trump-Biden rematch.
Also worth noting that the Times poll sampled 49% Biden voters and 42% Trump voters, weighted towards younger Democrats and older Republicans.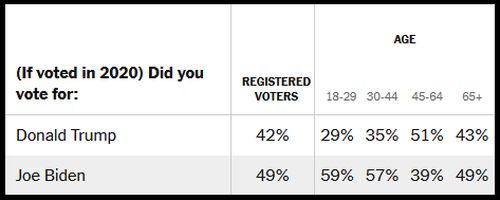 Overall, 44 percent of voters viewed Mr. Trump favorably, and 53 percent viewed him unfavorably. The recent poll was fielded early this month, after news of the Justice Department's inquiry into Mr. Trump's handling of confidential documents but before the New York attorney general announced she was suing Mr. Trump and his family business.
That level of Trump support has effectively been unchanged since the last Times/Siena poll, which was fielded in July amid televised hearings by the House committee investigating the Jan. 6 storming of the Capitol. It was also fundamentally similar to levels of support Times/Siena polls and other surveys found in recent years. –NYT
Approximately half of voters said they thought Trump had committed serious federal crimes, while 38% said they thought he hadn't – which was essentially identical to similar responses from July.
The Times also acknowledges that Trump supporters' loyalty towards the former president "has long been clear in his favorability ratings, which remained stable throughout his time in office, even during moments of peak turmoil, such as his first impeachment trial."
Many of Mr. Trump's signature policy proposals have remained fairly popular among the public, the September poll found. Half of all respondents favored a wall along the U.S.-Mexico border, including more than 15 percent of those who said they would vote for Mr. Biden in 2024. And a majority said they agreed more with the Republican Party than with the Democratic Party when it came to illegal immigration. -NYT
Meanwhile, the poll also found that 49% of registered voters think Democrats "have gone too far in pushing a 'woke' ideology on issues related to race and gender," while 34% think Democrats have not gone far enough in exposing "racism and sexism."
This post was originally published at Zero Hedge
DOJ Denied Access To Trump Raid Docs After Judge Appoints Special Master
A special master has been appointed to act as a firewall between the Justice Department and materials seized during an Aug. 8 raid on former President Trump's Mar-a-Lago residence in Palm Beach, Florida.
In a pair of Thursday orders from federal district Judge Aileen Cannon, the DOJ's motion to access a subset of classified records stored on the Trump property was denied, and a recently retired judge that both the DOJ and Trump's team agreed on – recently retired Judge Raymond Dearie – will serve as special master.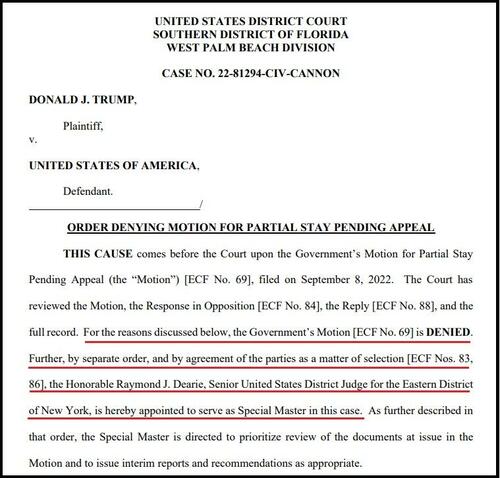 Raymond has until Nov. 30, 2022 to complete his review.
Cannon struck down the DOJ's request for a partial stay of an earlier motion on accessing the seized materials, after lawyers for the government argued that they should be able to review over 100 classified documents taken during the raid – as they are not covered by any claims of personal property or executive privilege.
That said, Cannon sided with a DOJ request for Trump to pay the full cost associated with a special master.
"If the court were willing to accept the government's representations that select portions of the seized materials are—without exception—government property not subject to any privileges, and did not think a special master would serve a meaningful purpose, the court would have denied plaintiff's special master request," wrote Cannon. "The court does not find it appropriate to accept the government's conclusions on these important and disputed issues without further review by a neutral third party in an expedited and orderly fashion."
This post was originally published at Zero Hedge
Trump Slams "Weaponized Police State" After Feds Seize Mike Lindell's Phone
"Our country is a laughing stock."
Donald Trump slammed the "weaponized police state" after the FBI seized a phone belonging to pillow salesman Mike Lindell as part of a witch hunt against Trump's allies.
Lindell said he was at a Hardees in Minnesota when "cars pulled up in front of us, to the side of us and behind us, and I said 'they're either bad guys or the FBI.'"
The entrepreneur said the feds seized his phone on the pretext of him being a witness in the Tina Peters case.
Mike Lindell says the FBI stopped him today at a Hardees in Minnesota:

"Cars pulled up in front of us, to the side of us, and behind us and I said those are either bad guys or the FBI. Well, it turns out they were the FBI." pic.twitter.com/RHADVBUTxW

— Citizen Free Press (@CitizenFreePres) September 13, 2022
"But I'm not a witness, they just want my phone," he asserted.
Donald Trump responded to the development on Truth Social by claiming the phone seizure was part of a broader witch hunt.
"Breaking News: Mike Lindell, "THE Pillow Guy," was just raided by the FBI. We are now officially living in a Weaponized Police State, Rigged Elections, and all. Our Country is a laughing stock all over the World. The majesty of the United States is gone. Can't let this happen. TAKE BACK AMERICA!" wrote Trump.
The seizure occurred amidst a wave of FBI subpoenas targeting Trump allies as part of their investigation into claims that the 2020 election was rigged and the January 6 Capitol riot.
"Interesting how the Biden DOJ waited more than 18 months – right before midterms – to initiate legal action against Trumpworld. And Biden said he wouldn't weaponize the Justice Department," notes Zero Hedge.
Tucker Carlson Reporting That Mike Lindell Has Been Raided By The FBI pic.twitter.com/SSURiey8mH

— The Columbia Bugle 🇺🇸 (@ColumbiaBugle) September 14, 2022
SUBSCRIBE on YouTube:
Follow on Twitter: Follow @PrisonPlanet
———————————————————————————————————————
Brand new merch now available! Get it at https://www.pjwshop.com/
ALERT!
In the age of mass Silicon Valley censorship It is crucial that we stay in touch.
I need you to sign up for my free newsletter here.
Support my sponsor – Turbo Force – a supercharged boost of clean energy without the comedown.
Get early access, exclusive content and behind the scenes stuff by following me on Locals.
———————————————————————————————————————