DeSantis Slams 'Weaponized Federal Agencies' For Raid On Trump's Mar-A-Lago
Update (2053ET): Florida Governor Ron DeSantis (R) came out with a blistering response to the Monday FBI raid on former President Donald Trump's Mar-a-Lago residence, reportedly in connection with materials Trump brought with him after leaving office.
"The raid of MAL is another escalation in the weaponization of federal agencies against the Regime's political opponents, while people like Hunter Biden get treated with kid gloves," said DeSantis. "Now the Regime is getting another 87k IRS agents to wield against its adversaries? Banana Republic."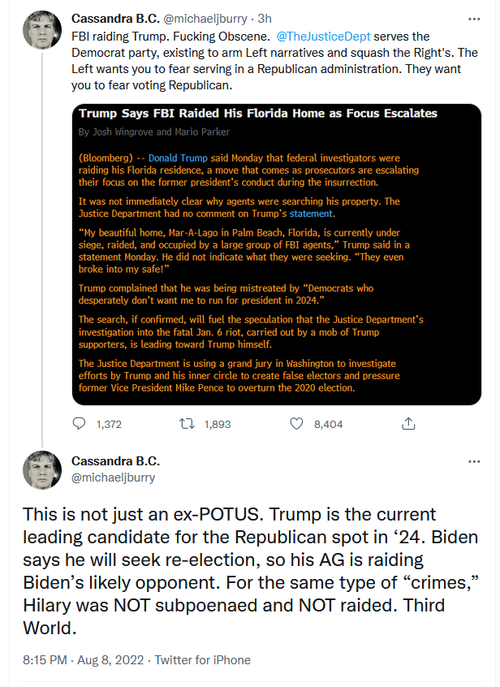 Trump supporters have begun gathering outside Mar-a-Lago.
* * *
Moments ago, Donald Trump – who is still banned by Twitter – published a statement on Truth Social in which he said that his Florida home, Mar A Lago is "currently under siege, raided, and occupied by a large group of FBI agents", an assault which according to Trump "could only take place in broken, Third-World Countries." He is probably right. He also claims the Fed's presence was unannounced and the reason was politically motivated.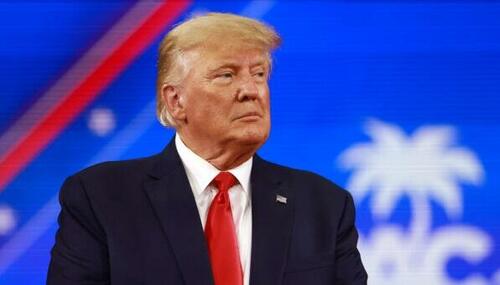 His full statement posted on his Truth Social account is below:
Statement by Donald J. Trump, 45th President of the

United States of America

These are dark times for our Nation, as my beautiful home, Mar-A-Lago in Palm Beach, Florida, is currently under siege, raided, and occupied by a large group of FBI agents. Nothing like this has ever happened to a President of the United States before. After working and cooperating with the relevant Government agencies, this unannounced raid on my home was not necessary or appropriate. It is prosecutorial misconduct, the weaponization of the Justice System, and an attack by Radical Left Democrats who desperately don't want me to run for President in 2024, especially based on recent polls, and who will likewise do anything to stop Republicans and Conservatives in the upcoming Midterm Elections. Such an assault could only take place in broken, Third-World Countries. Sadly, America has now become one of those Countries, corrupt at a level not seen before. They even broke into my safe! What is the difference between this and Watergate, where operatives broke into the Democrat National Committee? Here, in reverse, Democrats broke into the home of the 45th President of the United States.

The political persecution of President Donald J. Trump has been going on for years, with the now fully debunked Russia, Russia, Russia Scam, Impeachment Hoax #1, Impeachment Hoax #2, and so much more, it just never ends. It is political targeting at the highest level!

Hillary Clinton was allowed to delete and acid wash 33,000 E-mails AFTER they were subpoenaed by Congress. Absolutely nothing has happened to hold her accountable. She even took antique furniture, and other items from the White House.

I stood up to America's bureaucratic corruption, I restored power to the people, and truly delivered for our Country, like we have never seen before. The establishment hated it. Now, as they watch my endorsed candidates win big victories, and see my dominance in all polls, they are trying to stop me, and the Republican Party, once more. The lawlessness, political persecution, and Witch Hunt must be exposed and stopped.

I will continue to fight for the Great American People!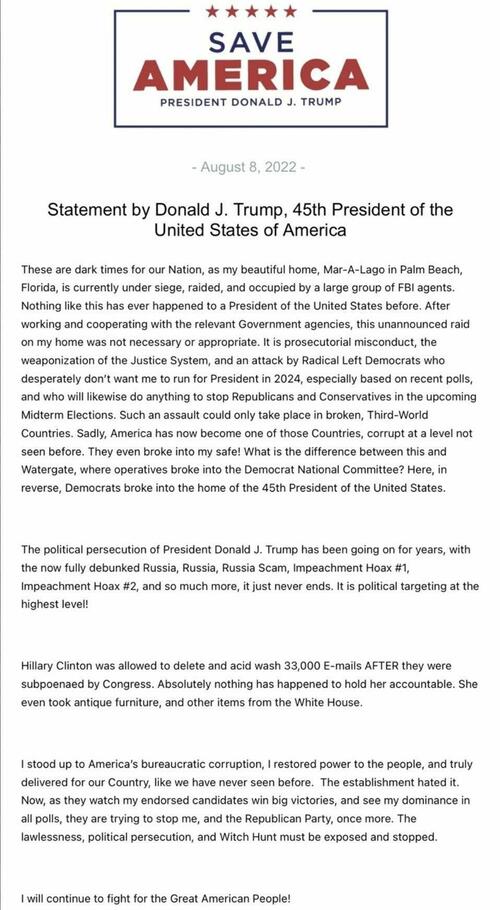 Local reporters confirmed the raid, saying the FBI executed a search warrant at Mar-a-Lago. "They just left," although it isn't clear what the search was about.
Social media was predictably full of kneejerk reactions.
According to the New York Times:
The search, according to two people familiar with the investigation, appeared to be focused on material that Mr. Trump had brought with him to Mar-a-Lago, his private club and residence, after he left the White House. Those boxes contained many pages of classified documents, according to a person familiar with their contents.

Mr. Trump delayed returning 15 boxes of material requested by officials with the National Archives for many months, only doing so when there became a threat of action being taken to retrieve them.
As Techno Fog notes, the politics of the search can't be ignored. If the New York Times is to be believed, Trump's purported crime – the delay of returning materials – could have been resolved in another manner not involving raiding his home and breaking open a personal safe. No doubt the search is an escalation by a desperate Regime confronted by their own failures at home and abroad.
This doesn't necessarily mean there wasn't another reason for the search. Could it have to do with the DOJ's ongoing January 6 probe (although, given the politicization of Biden's DOJ, that is no guarantee)? Maybe not, but it might be too soon to tell. Last week there was reporting that a federal grand jury investigating January 6 had issued subpoenas to the Trump White House Counsel, Pat Cipollone, and his top deputy, Patrick Philbin.
According to the author, it is possible that the roadmap for the DOJ comes from the January 6 Committee, "which has poured out the thin gruel of purported criminal charges against Trump, alleging he and others, including attorney John Eastman, could be charged with":
Obstruction of an Official Proceeding (18 USC 1512(c)(2)); and
Conspiracy to Defraud the United States (18 USC 371).
Each of these counts, as well as the DOJ's pursuit of Trump and his attorneys and advisors, amounts to the criminalization of politics, or as Technofog puts it, "arguments of law that might fail in the courts are now prosecutable offenses. Attempts to delay a vote count based on novel, and not corrupt, interpretations of the law can put you in prison. Issues surrounding the counting of state results or whether the Vice President can refuse to count electoral votes is a matter to be decided through the civil or political process, not through charges brought by vindictive opponents."
Meanwhile, we are still waiting for an official comment:
This post was originally published at Zero Hedge
Man Convicted Of Nonviolent Crime Cannot Be Stripped Of Gun Rights: Appeals Court
A Philadelphia federal appeals court has ruled that a Pennsylvania man convicted of a nonviolent crime cannot be stripped of his 2nd Amendment right to bear arms.
Bryan Range was convicted in 1995 of one count of making a false statement to obtain food stamps amid a dire financial situation. He completed a three-year probation, made $2,500 in restitution, and has committed no crimes aside from minor traffic offenses and fishing without a license since then.
After he pleaded guilty in 1995, it was classified as a misdemeanor punishable by up to five years in jail – a conviction which technically made him ineligible to possess a firearm under federal law, which states that it is "unlawful for any person … who has been convicted in any court, of a crime punishable by imprisonment for a term exceeding one year" to own guns or ammunition.
In 2021, a federal judge ruled against Range's challenge. While his case was pending appeal, the US Supreme Court decided a landmark Second Amendment case which settled on a two-step test for the constitutionality of restrictions on firearms.
The two-step process, set forth by Supreme Court Justice Thomas Clarence, first requires the court to determine whether the Second Amendment's "plain text" covers an individual's conduct. If so, then that conduct is presumptively protected, and the government must prove that its law is "consistent with this Nation's historical tradition of firearm regulation." –Epoch Times
In applying the test to Range's case, a majority of the judges agreed in an 11-4 ruling (pdf) delivered on June 6th that despite his criminal record, he remains one of "the people" protected by the 2nd Amendment, and therefore the burden fell on the US government to prove that disarming Range would conform to "historical tradition" dating to the nation's founding.
"Yet the Government's attempts to analogize those early laws to Range's situation fall short," wrote Circuit Judge Thomas Hardiman in the majority opinion.
The fact that people during the Early Republic era sometimes got executed for committing nonviolent crimes, according to Hardiman, doesn't mean that the state, then or now, could constitutionally strip a felon of his Second Amendment rights if he was not executed, because "the greater does not necessarily include the lesser."

"Because the Government has not shown that our Republic has a longstanding history and tradition of depriving people like Range of their firearms, [the federal law] cannot constitutionally strip him of his Second Amendment rights," Hardiman wrote.

The judges did note that the June 6 decision is limited to Range's individual circumstances: he was banned from owning guns because the nonviolent crime he committed decades ago carried a relatively lengthy maximum prison sentence. -Epoch Times
"Our decision today is a narrow one," read the majority opinion. "Bryan Range challenged the constitutionality of [the federal law] only as applied to him given his violation of [the Pennsylvania law]."
As the Epoch Times notes further;
Other Opinions
Circuit Judge Thomas Ambro, a Bill Clinton appointee, wrote a concurring opinion, saying that even though the government failed to carry its burden in this case, the federal felon-in-possession ban still stands lawful.
"This is so because it fits within our Nation's history and tradition of disarming those persons who legislatures believed would, if armed, pose a threat to the orderly functioning of society. That Range does not conceivably pose such a threat says nothing about those who do," Ambro wrote. "And I join the majority opinion with the understanding that it speaks only to his situation, and not to those of murderers, thieves, sex offenders, domestic abusers, and the like."
Ambro was joined by Judges Joseph Greenaway and Tamika Montgomery-Reeves, who were appointed by Barack Obama and Joe Biden, respectively.
In one of the three dissenting opinions, Circuit Judge Patty Shwartz pointed to now-unconstitutional firearm bans on groups such as Native Americans, African Americans, Catholics, Quakers, and Loyalists. She argued that these restrictions, no matter how repugnant and unlawful they are today, serve as an analogy good enough to justify disarming people such as Range.
"The founders [of the United States] categorically disarmed the members of these groups because the founders viewed them as disloyal to the sovereign. The felon designation similarly serves as a proxy for disloyalty and disrespect for the sovereign and its laws," the Obama appointee wrote. "Such categorization is especially applicable here, where Range's felony involved stealing from the government, a crime that directly undermines the sovereign."
Shwartz also warned that even though her colleagues have clarified that their opinion is "narrow," the analytical framework they have applied to reach the conclusion could render most, if not all, felon firearm bans unconstitutional.
"The ruling is not cabined in any way and, in fact, rejects all historical support for disarming any felon," she wroted. "As a result, the Majority's analytical framework leads to only one conclusion: there will be no, or virtually no, felony or felony-equivalent crime that will bar an individual from possessing a firearm.
"This is a broad ruling and, to me, is contrary to both the sentiments of the Supreme Court and our history."
This post was originally published at Zero Hedge
Report: Fox News Tells Tucker Carlson He Is In Breach Of Contract By Posting Twitter Show
The network is considering suing Carlson, according to a report
According to a report by Axios, Tucker Carlson was contacted by Fox News after posting the first episode of his new show on Twitter, with his former network charging that he is now in breach of contract, and could be sued.
Axios reports:
Fox News Wednesday notified Tucker Carlson's lawyers that the former prime-time anchor violated his contract with the network when he launched his own Twitter show on Tuesday, according to a copy of a letter obtained by Axios.

Why it matters: A breach of contract claim sets Fox News up to explore potential legal action against Carlson, a move that would intensify the already thorny public battle between the two parties.

Carlson's lawyers told Axios that any legal action by Fox would violate his First Amendment rights.
Carlson's lawyer, Bryan Freedman, stated "Fox defends its very existence on freedom of speech grounds. Now they want to take Tucker Carlson's right to speak freely away from him because he took to social media to share his thoughts on current events."
According to the report, Fox News general counsel Bernard Gugar told Carlson's people that "Fox expressly reserves all rights and remedies which are available to it at law or equity."
"This evening we were made aware of Mr. Tucker Carlson's appearance on Twitter in a video that lasted over 10 minutes," Gugar's letter reads.
It further notes that Carlson's "services shall be completely exclusive to Fox," and claims the host is "prohibited from rendering services of any type whatsoever, whether 'over the internet via streaming or similar distribution, or other digital distribution whether now known or hereafter devised.'"
The report suggests that Carlson's representatives are set to argue that Twitter is not a direct competitor of Fox News, and posts on the platform do not constitute a breach of his contract terms with the network.
Here is the epode in question, which now has over 100 MILLION views since it was posted just two days ago:
As we previously highlighted, Carlson doesn't have any deal with Twitter and is posting like any other regular person.
Fox News hasn't technically fired Carlson, it has just taken him off the air, meaning he is still locked into a contract until January 2025.
That means the popular host would be completely frozen out of being able to actively cover the 2024 presidential election.
Carlson's detractors have voiced concern that should he be free to keep producing his own content, he will not be 'policed' or censored at all.
SUBSCRIBE on YouTube:
Follow on Twitter:
Follow @PrisonPlanet
———————————————————————————————————————
Brand new merch now available! Get it at https://www.pjwshop.com/


ALERT! In the age of mass Silicon Valley censorship It is crucial that we stay in touch.

We need you to sign up for our free newsletter here.

Support our sponsor – Turbo Force – a supercharged boost of clean energy without the comedown.

Also, we urgently need your financial support here. ———————————————————————————————————————
Biden Press Secretary Claims Illegal Immigration Is Down 70%, Says Food Prices Have Soared Due To "Poor Weather"
Can her lies get any bigger?
Biden Press Secretary Karine Jean-Pierre claimed Wednesday that Americans are experiencing soaring costs for food because of "poor weather" and bird flu, and also claimed that illegal immigration is down 70 percent.
Americans have seen food prices soar by up to 12 percent on average since last year due to massive inflation, yet the Biden Administration wants you to believe its really because of "supply chain bottlenecks," "avian flu," "war in Ukraine," and "poor weather," basically anything other than their disastrous economic record.
It's basically the same talking point that was laid out in the Wall Street Journal earlier this year when the outlet advised Americans who can't afford food to stop eating meals.
Meanwhile, in another huge lie, the Press Secretary claimed illegal immigration is down 70 percent, despite record numbers having crossed the borders in May, including waves of suspected terrorists.
When asked about the legal parameters of moving illegal immigrants around the country, Jean-Pierre said she "cannot speak to the law."
It's slightly less of a massive lie than last month when she claimed that illegal immigration was down by 90 percent.
How much will she claim it is down by next month?
SUBSCRIBE on YouTube:
Follow on Twitter:
Follow @PrisonPlanet
———————————————————————————————————————
Brand new merch now available! Get it at https://www.pjwshop.com/


ALERT! In the age of mass Silicon Valley censorship It is crucial that we stay in touch.

We need you to sign up for our free newsletter here.

Support our sponsor – Turbo Force – a supercharged boost of clean energy without the comedown.

Also, we urgently need your financial support here. ———————————————————————————————————————