What Is ESG? It's A Leveraging Tool For The Woke Communist Takeover
The corporate dynamic when it comes to politics has been rather bizarre the past five years. 
The general rule for decades in the US was that companies would avoid public sparring over political agendas whenever possible and if they did contribute to election campaigns they would spend money discreetly on candidates in both parties to hedge their bets.  Something changed around 2015-2016, however.  
Was it the surprise election of Donald Trump? Trump was probably incidental. It was more likely the dramatic shift among conservatives away from the controlled Neo-con paradigm and into a more liberty oriented standing. Ron Paul's 2008 and 2012 campaigns had a lot to do with this change among Republican voters. Conservatives and liberty minded independents were returning to their foundations of small government, constitutionalism, independent thought, meritocracy and decentralization. This is when the corporate world decided (or was perhaps guided) to go full bore leftist.
That is to say, the leftist cult couldn't stifle the rise of conservative liberty advocates without consolidating their control in the open, and corporations are a big part of that strategy.
Wall Street, Entertainment Media and Big Tech companies donated FAR more to Democrat candidates in recent years compared to Republican candidates. In the 2020 presidential election, they spent 250% more on Joe Biden's campaign than Donald Trump's. But beyond that, many companies have gone aggressively and openly woke. Social Justice narratives of "equity, diversity and inclusion" are dominating corporate culture, and though leftist bias has always been a problem among Hollywood elitists and the entertainment media, things got a lot worse after 2016.
Part of this aggressive leftism could be attributed to the ESG movement (Environmental, Social and Corporate Governance), a clear appendage or tool for globalist foundations like the Ford Foundation, the Rockefeller Foundation and the World Economic Forum. It is also referred to as "stakeholder capitalism" and "mission related investing." Stakeholder capitalism is just another term for socialism/communism, and ESG is a related control methodology for dictating how businesses behave politically.
The term "ESG" was originally coined by the United Nations Environment Program Initiative in 2005, but the methodology was not fully applied to the corporate world until the past six years when ESG investment skyrocketed.
There are some people that will argue that ESG is not a true "communist" mechanism because communism technically involves the state taking control of the means of production. These people are either ignorant or they are acting deliberately obtuse. Communism is about controlling culture just as much as it is about controlling the economy.
Corporations are at bottom creations of government; they are chartered by governments, receive special legal advantages including corporate personhood, and they often receive special protections from governments including central bank stimulus and a shield from civil litigation. They call it "too big to fail" because the government and the corporate world work hand in hand to keep certain institutions alive.
One could call this an odd mix of communism and fascism; the point is, the lines have blurred beyond all recognition and the ideology of the people in power is specifically leftist/communist/globalist. Corporations already have government incentives to protect the corrupt status quo, but ESG is designed to lure them into supporting vocal political alignment even at the cost of normal profits.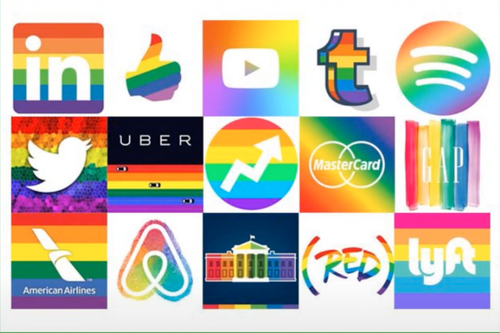 ESG is about money; loans given out by top banks and foundations to companies that meet the guidelines of "stakeholder capitalism." Companies must show that they are actively pursuing a business environment that prioritizes woke virtues and climate change restrictions. These loans are not an all prevailing income source, but ESG loans are highly targeted, they are growing in size (for now) and they are very easy to get as long as a company is willing to preach the social justice gospel as loudly as possible.
Deloitte's Insights studies show that ESG assets compounded at 16% p.a. between 2014 and 2018, now account for 25% of total market assets, and they believe that ESG could account for 50% of market share globally by 2024.
These loans become a form of leverage over the business world – Once they get a taste of that easy money they keep coming back. Many of the loan targets attached to ESG are rarely enforced and penalties are few and far between. Primarily, an ESG funded company must propagandize, that is all. They must propagandize their employees and they must propagandize their customers. As long as they do this, that sweet loan capital keeps flowing.
It's enough to keep corporations addicted, but not enough to keep them satiated. Diversity hiring quotas based on skin color and sexual orientation rather than merit help make the overlords happy. Pushing critical race theory smooths the way for more cash. Carbon controls and climate change narratives really makes them happy. And, promoting trans-trenders and gender fluidity makes them ecstatic. Each participating company gets it's own ESG rating and the more woke they go, the higher their rating climbs and the more money they can get.
The list of companies heavily involved in ESG includes some of the largest in the world, with influence over thousands of smaller businesses. The ESG rating system is much like the social credit scoring system used in communist China to oppress the citizenry. The tactic is pretty straightforward – Banking elites are centralizing control of social narratives by incentivising businesses to embrace social justice and globalist ideals. They control who gets the money and anyone who doesn't play ball will be at a distinct disadvantage compared to companies that do.
They figure, if the corporate world can be pushed to go full woke, then this will trickle down to the general public and influence our behaviors and thinking. Except, it hasn't exactly worked out that way. Resistance to woke propaganda is growing exponentially and many of these companies are losing a huge portion of their customer base. They cannot survive on ESG alone.
The thing is, even ESG money has limits.
With central banks around the world now raising interest rates these kind of loans will become more expensive and will likely start to phase out. This is why the most woke corporations out there are also some of the most desperate for revenues this year, and why many of these companies are edging closer and closer to mass layoffs. The venture capital is gone and the ESG money is going to dry up also unless rates go back to zero and the bailout firehose is turned back on. Getting woke was once a backdoor tactic of gaining easy wealth. Now, getting woke really does mean going broke.
This article was originally published at Zero Hedge
Vanderbilt Pediatric Transgender Clinic Nukes Website After Matt Walsh Exposes 'Big Money Maker' Motive
Vanderbilt University Medical Center (VUMC) has deleted the website of their Transgender Clinic after journalist Matt Walsh detailed a doctor's promotion of transgender surgeries as a "big money maker" for the institution.
Videos obtained by Walsh also show apparent threats made against VUMC medical professionals who objected to the procedures, even for religious reasons.
Walsh posted his findings in a lengthy Twitter thread on Tuesday. In it, Dr. Shayne Taylor can be seen bragging about how she convinced Nashville to get into gender transitions because it's a "big money maker," especially because the surgeries require a lot of "follow ups."
According to Dr. Ellen Clayton, those with "conscientious objections" are "problematic," and anyone who opposes the transgender surgery program will face "consequences."
"If you are going to assert conscientious objection, you have to realize that that is problematic," said Clayton. "You are doing something to another person, and you are not paying the cost for your belief. I think that is a … real issue."
"I just want you to take home that saying that you're not going to do something because of your conscientious — because of your religious beliefs, is not without consequences, and should not be without consequences," she continues. "And I just want to put that out there."
"We are given an enormous — if you don't want to do this kind of work, don't work at Vanderbilt."
Marketing to children
UVMC also makes "Trans Buddies" and other services available to children, "including chemical castration," writes Walsh – who added that they altered their website within the last month, yet forgot to delete a video from Vanderbilt Psychiatry's YouTube channel from 2020 which admits they will give hormones to children as young as 13.
The university will also perform double mastectomies on adolescent girls.
In response to Walsh's reporting, Tennessee Gov. Bill Lee (R) called for an investigation into VUMC.
"The 'pediatric transgender clinic' at Vanderbilt University Medical Center raises serious moral, ethical and legal concerns," Lee told the Daily Wire. "We should not allow permanent, life-altering decisions that hurt children or policies that suppress religious liberties, all for the purpose of financial gain. We have to protect Tennessee children, and this warrants a thorough investigation."
Meanwhile, Vanderbilt nuked their entire Transgender Clinic website.
This post was originally published at Zero Hedge
Poll: Almost A Quarter Of Democrats Believe Men Can Get Pregnant
No, they can't
A poll conducted by WPA Intelligence has found that almost one quarter of Democratic voters believe that "some men can become pregnant."
Twenty-two percent of Democrats overall agreed with the statement.
The poll also found that more women agreed with the statement, and an incredible 36 percent of white, college-educated female Democrats agreed.
WPAi Managing Director Conor Maguire commented that "with 36% of a core Democratic constituency (college-educated white Democratic women) and one out of five Democrat voters believing this, one can see why Democratic leaders coddle the radical gender theory movement."
The findings come following weeks of Democratic witnesses testifying at Judiciary Committee hearings in the House that they believe men can get pregnant and have abortions.
UC Berkley Law Professor Khiara Bridges refused to use the word 'woman' and accused Missouri GOP Senator Josh Hawley of being "transphobic" and "inciting violence" for saying men can't have babies.
Many of them also refused to define what a woman is, with National Women's Law Center president Fatima Goss-Graves telling Republicans that "You're trying to suggest that people who don't identify as women can't get pregnant."
Last month all 50 Democrats in the Senate voted against an amendment that sought to define pregnancy as a uniquely biologically female process.
This lunacy isn't just restricted to woke academics making a scene in Congress, but is translating through to real life with terms including "women" or "mothers" being replaced by doctors in hospitals with "birthing people" or "pregnant people" to appease people with gender dysphoria or just straight up mental illness.
The Academy of Breastfeeding Medicine in the U.S. has issued a new guide, advising hospitals and health carers to change their language to be more "gender-inclusive".
The guide lists "traditional terms" such as 'breast milk' and then suggests woke alternatives including "human milk", "parent's milk", and most ridiculously "father's milk."
As we highlighted back in June, the NHS in the UK caused controversy by erasing all references to women from an online advice section about the menopause, an exclusively female condition. 
During the same month, which by no coincidence was also 'Pride Month', the NHS website altered its guidance pages on ovarian cancer, removing instances of the word "women" in a move that sources said was intended to be more "inclusive" toward trans, non-binary and intersex people.
This trend has reached as far as dictionaries literally changing the definition of the word "female" to include anyone who identifies as one.
We also face a future where if you type the 'wrong' word, Google will correct your language to help you become more 'inclusive'.
SUBSCRIBE on YouTube:
Follow on Twitter:
Follow @PrisonPlanet
———————————————————————————————————————
Brand new merch now available! Get it at https://www.pjwshop.com/


ALERT! In the age of mass Silicon Valley censorship It is crucial that we stay in touch.

We need you to sign up for our free newsletter here.

Support our sponsor – Turbo Force – a supercharged boost of clean energy without the comedown.

Also, we urgently need your financial support here. ———————————————————————————————————————
Kansas School District Pays $95K Settlement After Suspending Teacher For Not Using Preferred Pronouns
A Kansas school district has agreed to pay a settlement of $95,000 in a civil lawsuit brought by a teacher who was suspended for refusing to use the preferred pronouns of a self-declared trans student (a female demanding to be referred to as "he/him").
Pamela Ricard, a math teacher at Fort Riley Middle School, says she was pressured by school officials to placate a trans student in her class by using preferred pronouns. When Ricard asked for a religious exemption to the rule she was allegedly denied. Ricard also claimed that the school district forced teachers to lie to parents about students and their trans status, and even asked teachers to not use student trans names during parent/teacher conferences in order to avoid revealing any sensitive information.
Ricard received a three day suspension after referring to the trans student as "Miss," and for using the student's legal enrolled name. She was warned that any further "misgendering" would lead to more disciplinary actions.
It is important to note that there are no laws in the state of Kansas requiring that anyone use transgender pronouns, and that these rules were being unilaterally enforced by school district officials.  The Fort Riley School District was cornered into settlement when a federal court ruled in May that Pamela Ricard had a religious right to refuse censorship and to refuse to submit to pronoun requirements.  They also ruled that teachers cannot be pressured to keep secrets from the parents of trans students.
The Kansas incident is only one of thousands of exposed events that prove the existence of a concerted widespread social justice agenda within the American school system. Though the political left has consistently claimed that such an agenda does not exist and that parent accusations are nothing more than "conspiracy theory," the evidence is undeniable.
The exposure of transgender indoctrination and policy enforcement in schools led to a national firestorm over Florida's anti-grooming bill, which leftists called the "Don't Say Gay Bill." The bill, now passed into law, prevents teachers from engaging in sexualized discussions or sexualized propaganda lessons with young children, and also demands that teachers share their lesson plans with parents. Teachers that violate the law can be fired.
Multiple states across the country have had to formulate similar pieces of legislation as a means to stop intersectional ideology from being injected into school curriculum. Florida alone found that at least 44% of school textbooks the state reviewed contained multiple instances of social justice propaganda including Critical Race Theory propaganda. Interestingly, the majority of the propaganda was discovered in books for children K-5.
Desantis provided multiple examples of leftist and CRT propaganda implanted in school texts, but to this day leftists claim no examples were given and that CRT is "not real."
Twitter group 'Libs Of TikTok' famously showcased hundreds of video, made mostly by teachers, in which they openly admit to indoctrinating students with LGBT and CRT propaganda in their classrooms. The group has faced multiple suspensions from various social media platforms, and has been accused of "hateful conduct" simply for reposting the videos to their own account.
The trans movement is a movement to control and to dictate speech while pretending it is a movement for civil rights. No one has a right to compel another person by force or coercion to use their preferred pronouns. The entire situation can be bewildering because of the multiple tentacles the extreme left employs in their culture war, but there are some rules that can help to clear the fog and confusion.
The first rule which makes it possible to understand and predict the actions of the social justice left: They ALWAYS lie.
The second rule is: They always double down on the lies.
The third rule is: They always gaslight when they are caught lying.
The fourth rule is: Believe what you see right in front of your eyes, not what they say that you should see.
The Kansas settlement for Pamela Ricard reveals yet another piece of the hidden puzzle that is woke ideology within public schools. It is an indoctrination process that has been ongoing for years and only recently have parents started to notice and become involved.
Interestingly, though, in the case of Fort Riley, it was apparently school district officials that were threatening teachers in order to make them comply with the agenda, rather than specific teachers trying to slip their propaganda under the radar. This shows that leftist teachers grooming children is not the only concern – We must also watch out for School board members and other officials using their power to frighten non-woke teachers into silence.
This post was originally published at Zero Hedge