Christian High School In Manhattan Hosted Mandatory Drag Show In Place Of Church Service
Would leftists actually target a Christian school church service with a sexualized drag show? Of course they would.
Students at Manhattan's Grace Church High School say they were supposed to attend Wednesday church services on April 27th, 2021 when they were greeted with a surprise substitution show featuring a dancing drag queen in orange go-go boots called "Brita Filter" (the symbolism of the stage name is unknown). The event was sponsored by "Spectrum," the school's LGBT support club and members of the school faculty.
The students allege they felt pressured to participate and had to pretend they enjoyed the event. Some Spectrum club members tapped teens on the shoulders and ordered them to stand for the show, while others handed out pride stickers and stated "Take one or you're homophobic." Other kids got involved in the show and began twerking in the chapel.
After the dancing was over, Brita discussed being "pansexual."
Said one student, "It's notable that this person consistently called themselves fabulous and talented and beautiful. Not just once or twice, but over and over this person reassured themselves that way…"
The inherent narcissism of the pride movement is easily observed.
The school website details their pride related programs and Brita Filter's performance.
Beyond the obvious affront to Christian doctrine, the trend of sexualized drag performances for kids sponsored by schools has become an epidemic. Numerous schools over the past year have been caught secretly hosting drag queen shows without asking parents for permission. The wider media exposure of these events has been met with attacks from leftists, claiming that there is no sexualization agenda in schools.
The gaslighting has been rampant and the goal behind trans indoctrination and school drag shows is openly admitted: It's about political activism and normalization.
On TikTok, Brita bragged about the event:
"I literally went to church to teach the children today…A Catholic High School here in NYC invited me to their Pride Chapel. Visibility matters and I'm so honored to have had the chance to talk to you about my work as a LGBTQ+ Drag Queen Activist."
Grace Church Schools plan to introduce pride events to younger middle schoolers as well, with lessons on the "history of the pride flag" and what it symbolizes.
This article was originally published at Zero Hedge
Beyond the Realms of Absurdity
Welcome to the new crime of not joining in.
UK police telephoned and warned a woman because she refused to accept an LGBT-themed 'Pride' carrier bag after buying something in a shop.
Please share this video! https://youtu.be/bU1VkNZKakk
SUBSCRIBE on YouTube:
Follow on Twitter: Follow @PrisonPlanet
———————————————————————————————————————
Brand new merch now available! Get it at https://www.pjwshop.com/
ALERT!
In the age of mass Silicon Valley censorship It is crucial that we stay in touch.
I need you to sign up for my free newsletter here.
Support my sponsor – Summit Vitamins – super charge your health and well being.
Get early access, exclusive content and behind the scenes stuff by following me on Locals.
———————————————————————————————————————
Author Of 'Gender Queer' Book Found In Schools Says "I Don't Recommend This Book For Kids"
"'Gender Queer' is a comic, and in full color, but that doesn't mean it's for children"
The author of the book titled 'Gender Queer', one of the controversial LGBTQ+ materials featuring explicit images that has cropped up again and again in schools has stated that the book is not meant to be available for young children.
Maia Kobabe, who identifies as non-binary told the Washington Post that her book is aimed at "older teens," not kindergarten aged kids.
"It keeps being called a children's book … but I think that's coming from a misreading of the comic-book form. 'Gender Queer' is a comic, and in full color, but that doesn't mean it's for children," Kobabe stated.
"I originally wrote it for my parents, and then for older teens who were already asking these questions about themselves. I don't recommend this book for kids!" she said in the interview published last week.
The comments come after GOP Senator John Kennedy read aloud graphic excerpts during a Senate Judiciary Committee hearing:
Kennedy read "I got a new strap-on harness today. I can't wait to put it on you. It will fit my favorite dildo perfectly. You're going to look so hot. I can't wait to have your c**k in my mouth. I'm going to give you the blow job of your life. Then I want you inside of me."
"The words you spoke are disturbing, especially coming out of your mouth, it's very disturbing," Illinois Secretary of State Alexander Giannoulias told Kennedy in response.
The book is one of several that have prompted outrage and protests among parents as it features graphic illustrations of sex between two men, use of sex toys, oral sex, and masturbation, among other things.
Passages from the book have been read out by parents during school board meetings, in some cases leading to them being shut down and asked to leave.
The Gender Queer book was also cited by Chelsea Clinton in tweets defending the use of such material in schools:
Related:
SUBSCRIBE on YouTube:
Follow on Twitter:
Follow @PrisonPlanet
———————————————————————————————————————
Brand new merch now available! Get it at https://www.pjwshop.com/


ALERT! In the age of mass Silicon Valley censorship It is crucial that we stay in touch.

We need you to sign up for our free newsletter here.

Support my sponsor – Summit Vitamins – super charge your health and well being.

Also, we urgently need your financial support here. ———————————————————————————————————————
Indeed Out-Wokes Corporate America With $10,000 Relocation Checks For Trans Employees
Austin-based online job search platform, "Indeed," aims to 'out woke' corporate America by offering transgender employees or those with transgender children a $10,000 relocation payment. Both Bloomberg and Axios confirmed the relocation payment program. 
Before we discuss relocation payments, it's important to note that Indeed proudly states on its website that it had the wokest corporate policies in America in 2018. It said its 2018 Corporate Equality Index (CEI), a national benchmarking survey and report on corporate policies and practices related to lesbian, gay, bisexual, transgender, and queer (LGBTQ) workplace equality, score "received a perfect score of 100 percent."
For some context, CEI is administered by the Human Rights Campaign, the largest LGBTQ+ political lobbying group in the world. HRC has received millions of dollars in funding from George Soros' Open Society Foundation.
Indeed's executives appear to have one objective in mind: rank the highest on the CEI index this year (we all remember earlier this year what happened to Bud Light when they tried that on TikTok). One way execs are attempting to achieve a high score is to offer a relocation program to trans workers, cutting them a $10,000 check to cover 'travel-related expenses' out of conservative states (or areas where they don't feel comfortable) to safer grounds.
"While Indeed introduced the program to its employees in July, until now, the company has not discussed it publicly," Bloomberg said.
Indeed provided further details about the program to Axios:
It's for US-based employees and immediate family members who seek gender-affirming care and live in a location where state laws or government-issued directives criminalize or restrict access to such medical care.
It also applies to those who live in places that attempt to restrict support for children who are gender non-conforming, transgender or non-binary.
Eligible employees will receive approval to relocate to a state or jurisdiction where they will be able to access the care and support they need, as well as a $10,000 flat-rate benefit to support their relocation expenses.
None of this comes as a surprise given Indeed's mission since 2018 has been to 'out woke' corporate America in its pursuit of a high CEI score. But why?
Some netizens were confused by Indeed's move considering the Bud Light backlash earlier this year after a white privileged liberal executive believed the brewer was time for a change. However, its customer base thought otherwise, nuking the beer as demand has since crashed.
"Kinda weird that companies never did stuff like this for black people or disabled people," one netizen asked. 
Another asked, "Does Indeed offer any relocation money for women who live in particularly misogynistic states? Of course not. "
Someone else pointed out: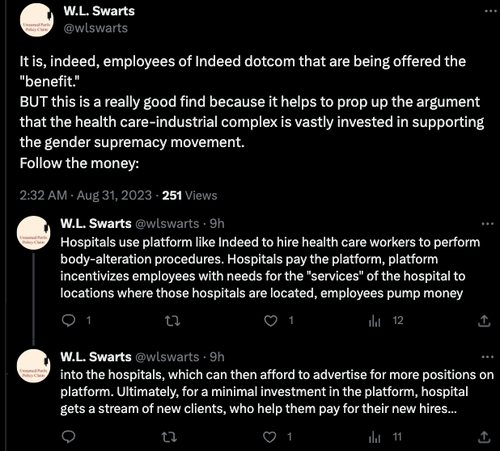 We wonder if Indeed will have an increase in the number of trans workers trying to capitalize on the free money.
This post was originally published at Zero Hedge