Spain Bans Air Conditioning Dropping Below 27°C
And above 19°C during the winter.
Responding to Europe's energy crisis, Spain has controversially banned air conditioning from dropping below 27°C (80.6°F) in the summer.
The new government decree, which applies to a whole host of public buildings as well as shops, hotels and other venues, will also stop heating from being raised above 19°C during the winter.
"The rules will be mandatory in all public and commercial buildings, including bars, cinemas, theatres, airports and train stations," reports EuroNews.
Ominously, the report also notes that the action is "extended as a recommendation to Spanish households," meaning it could one day become mandatory similar to hosepipe bans and be enforced by fines.
The government passed the bill to meet a demand by the European Union to "limit dependency on Russian gas."
🇪🇸 Spain has unveiled a plan to moderate aircon, heating and lighting in public spaces as part of an EU-wide effort to limit Russian gas imports.

Heating will be kept to a maximum of 19 degrees in the winter and a minimum of 27 degrees in the summer, the government said. pic.twitter.com/QINRvxfi2I

— euronews (@euronews) August 2, 2022
The new measures will be enforced by onerous fines that could run to a maximum of €600,000 for "serious violations."
Spaniards responded by complaining that working indoors in 27°C would be too hot.
"Right now, perhaps suggested by the heat wave we are experiencing, I would say that with 27 degrees we will be very hot," said Andrea Castillo, a worker at Castellón university. "Perhaps we could work at 25 degrees, but not at 27."
Aside from the energy crisis, expect to see a push for such measures to be made permanent in the name of pursuing disastrous 'net zero' policies to fight climate change.
As we previously highlighted, Germany's largest residential landlord which owns around 490,000 properties is set to impose energy rationing that will cut heating to tenants at night.
Hamburg's environment minister also warned Germans that hot water could be rationed and limits on maximum room temperatures introduced as a result of the energy crisis.
Earlier this year, Italy also announced it would start rationing energy to 'support Ukraine', with public buildings banned from running air conditioning at lower than 25 degrees or heating higher than 19 degrees.
Meanwhile, in the UK, a majority of Brits think the cost of living crisis will lead to people freezing to death and riots on the streets.
Still, at least everyone got to feel good about themselves for a few weeks by waving Ukrainian flags!
SUBSCRIBE on YouTube:
Follow on Twitter: Follow @PrisonPlanet
———————————————————————————————————————
Brand new merch now available! Get it at https://www.pjwshop.com/
ALERT!
In the age of mass Silicon Valley censorship It is crucial that we stay in touch.
I need you to sign up for my free newsletter here.
Support my sponsor – Turbo Force – a supercharged boost of clean energy without the comedown.
Get early access, exclusive content and behinds the scenes stuff by following me on Locals.
———————————————————————————————————————
Black Friday Chaos: Amazon Warehouse Workers Set To Strike Across 40 Countries
Thousands of workers across approximately 40 countries are planning to take part in 'Black Friday' protests to demand better wages and working conditions in the company's warehouses, as the global cost-of-living crisis increases
The protests will coincide with the largest holiday shopping season of the year, which means Amazon warehouse workers are going to be very busy for the next week as consumers panic buy deeply discounted items, though there might be a huge problem: less than 24 hours before the big sale begins, Bloomberg reported Amazon warehouse workers across 40 countries are about to strike.
We would note that the world's biggest retailer has longstanding ambitions to automate its warehouses – with robots that don't strike.
Amazon workers in the US, UK, India, Japan, Australia, South Africa, and across Europe are set to walk out of warehouses on Friday as they demand higher wages and better working conditions amid the worst inflationary environment the world has seen in decades.
The labor action is called "Make Amazon Pay" and is coordinated by an army of trade unions, with support from civil society and environmental groups.
"For workers and consumers, the price of everything is going up. And for everyone, the global temperature is rising and our planet is under stress. But instead of supporting its workers, communities and the planet, Amazon is squeezing every last drop it can," Make Amazon Pay's website said.
Make Amazon Pay is correct by outlining "real wages are going down"… and as we noted not too long ago, have been negative for 19 months — hence why labor unions have gained so much traction.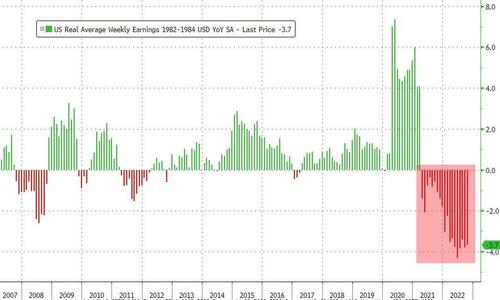 "It's time for the tech giant to cease their awful, unsafe practices immediately, respect the law and negotiate with the workers who want to make their jobs better," said UNI Global Union general secretary, Christy Hoffman.
The group also outlines Amazon's corporate greed, not paying taxes, and polluting the world. It also published a map of all the strike locations.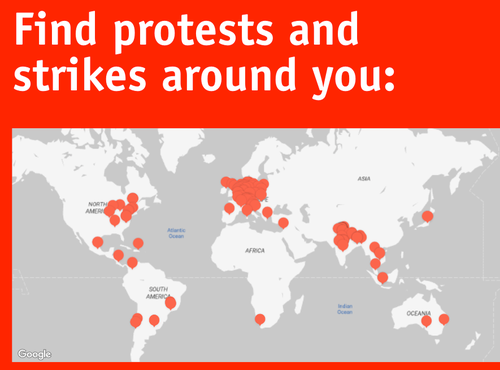 The company replied to the protests, saying "While we are not perfect in any area, if you objectively look at what Amazon is doing on these important matters you'll see that we do take our role and our impact very seriously," pointing to the company's green ambitions to reach net zero status by 2040, which is "continuing to offer competitive wages and great benefits, and inventing new ways to keep our employees safe and healthy."
Ah, that settles it then.
Unions in France and Germany – CGT and Ver.di – are spearheading the latest collective action, with coordinated strikes in 18 major warehouses, intended to disrupt shipments across key European markets.

Monika di Silvestre, head of Ver.di's Amazon committee in Germany, said that workers were particularly concerned about the way their productivity was closely monitored by computers, with algorithms determining targets, for example for the number of packages they need to handle per hour. -Stars & Stripes
"The workers are under a lot of pressure with these algorithms," said di Silvestre, adding "It doesn't differentiate between workers, whether they are old or have limited mobility. Workers stay awake at night thinking only of their productivity stats."
Amazon warehouse employees have been speaking out against working conditions for years – notably complaining of low pay, pressure not to take sick leave when ill, and having to work so many hours they're forced to urinate in bottles.
It's not clear how disruptive the strikes will be for Amazon, but it's just another reason why the world's biggest retailer is full steam ahead in automating warehouse (read: "Amazon Unveils Warehouse Robot To Replace Human Pickers Amid Unionization Threats").
This post was originally published at Zero Hedge
Videos: Biden Economic Advisor Says President Is "Happy" With Inflationary Prices
It's the most expensive thanksgiving ever
Despite this Thanksgiving costing an estimated 20 percent more than usual for the average American family, with record high prices for staple items, a Senior Biden economic advisor declared Wednesday that the President is "happy" with the way things are going.
Speaking on CNBC, Amos Hochstein proclaimed "If you look at where we are today… with the concerns of inflation and prices rising, we've been laser focused on bringing prices down, so I think the President is happy with the trajectory of prices."
He then proceeded to tout the green energy 'transition' again.
Elsewhere during the interview, Hochstein noted that Biden intends to refill the Strategic Petroleum Reserve (SPR) at $70/barrel, despite Democrats blocking efforts by the Trump administration to do so back when a barrel of oil cost just $24 in 2020.
Meanwhile, in the real world…
White House Chief Of Staff Ronald Klain made sure that leftists would be prepared with a 'cheat sheet' of Biden's "top accomplishments," for when those annoying conservative uncles start slating the Administration at the Thanksgiving table.
Biden is "tackling inflation," and "took on big pharma."
Strong points.
Meanwhile, after only having spent 40% of his presidency on holiday, Biden has taken his entire clan on a week long luxury vacation:
SUBSCRIBE on YouTube:
Follow on Twitter:
Follow @PrisonPlanet
———————————————————————————————————————
Brand new merch now available! Get it at https://www.pjwshop.com/


ALERT! In the age of mass Silicon Valley censorship It is crucial that we stay in touch.

We need you to sign up for our free newsletter here.

Support our sponsor – Turbo Force – a supercharged boost of clean energy without the comedown.

Also, we urgently need your financial support here. ———————————————————————————————————————
SBF Issues Another Rambling Apology And "Description Of What Happened", Comes Off As Disturbed Sociopath
He just can't help himself: disgraced sociopath, record-breaking fraudster and prolific Democratic donor – not necessarily in that order – Sam Bankman-Fried, has issued another apology to his staff in a letter that outlined a crash in "collateral" to less than $9 billion from $60 billion.
"I didn't mean for any of this to happen, and I would give anything to be able to go back and do things over again," the corpulent 30-year-old who may or may not be in the Bahamas apologized yet again in the message sent to employees Tuesday, although he really should be apologizing to the millions of clients whom he wiped out. Alas, like the recurrent ramblings of a psychopath, Sam's takeaway was that the implosion at FTX was the side-effect of an unfortunate bank run, and had nothing to do with SBF's actions; that's because SBF still refuses to take any responsibility for what happened and makes zero admission that the factors that led to this historic bankruptcy were in his control all along. Sam claims that he didn't "realize the magnitude of risk." His main remorse – like that of any pathological individual – is that he got caught.
Still don't believe us he was a sociopath? Read this:
I didn't mean for any of this to happen, and I would give anything to be able to go back and do things over again. You were my family. I've lost that, and our old home is an empty warehouse of monitors. When I turn around, there's no one left to talk to. I disappointed all of you, and when things broke down I failed to communicate. I froze up in the face of pressure and leaks and the Binance LOI and said nothing. I lost track of the most important things in the commotion of company growth. I care deeply about you all, and you were my family, and I'm sorry.
No he isn't, and if it wasn't his fault, whose fault was it? Well, as he "describes" the sequence of events, you see it was all the market's fault as a slide in digital-asset markets in spring roughly halved collateral from $60 billion to $30 billion, while liabilities were $2 billion. A combination of a credit squeeze, a further selloff in virtual coins and a "run on the bank" left collateral at $9 billion ahead of FTX's Nov. 11 bankruptcy, he wrote. The estimate for liabilities had reached $8 billion by then. Here is how, in his words, what was initially a $58 billion overcollateralized balance sheet ended up having more liabilities than assets.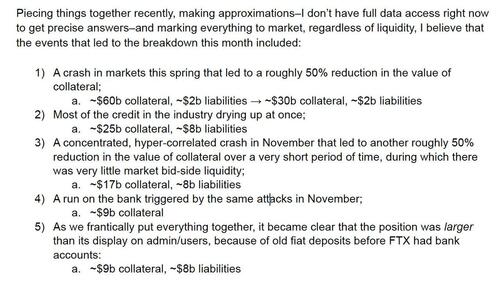 "I did not realize the full extent of the margin position, nor did I realize the magnitude of the risk posed by a hyper-correlated crash," Bankman-Fried said. He didn't give exact details on the makeup of the collateral or the liabilities. If he did, it would look something like this chart from Morgan Stanley: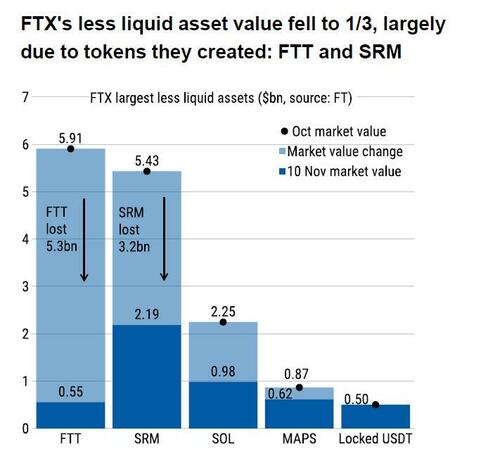 What happens next is what any sniveling sociopath posing as a CEO would say: I had no idea any of this could happen:
I did not realize the full extent of the margin position, nor did I realize the magnitude of the risk posed by a hyper-correlated crash.
And it is here, that we get the first admission that something nefarious happened: i.e., loans – to related parties, such as the $4 billion "given" from FTX to SBF – and the "secondary sales" which we now knows SBF pocketed some $300 million for personal use.
The loans and secondary sales were generally used to reinvest in the business—including buying out Binance—and not for large amounts of personal consumption.
And so, ladies and gents of the jury, would you consider a $40 million penthouse to be a "large amount of personal consumption." And what about a private jet: in this day and age everyone needs one, how can one possibly define that as "large amount of personal consumption." As for the meaning of "generally", we are confident SBF's close buddy Bill Clinton will give him the proper definition of that word.
Prudently, there was zero mention in Sam's meandering word salad that FTX had illegally commingled and sent billions in customer funds to SBF's personal hedge fund, Alameda, which despite frontrunning virtually every crypto transaction still lost $3.7 billion before 2022. That's ok, Sam can discuss that in court.
There was, however, the usual lies, including SBF's increasingly warped representation of reality, which is to be expected: as noted above, he is after all, a sociopath.
We likely could have raised significant funding; potential interest in billions of dollars of funding came in roughly eight minutes after I signed the Chapter 11 docs. Between those funds, the billions of dollars of collateral the company still held, and the interest we'd received from other parties, I think that we probably could have returned large value to customers and saved the business.
Narrator: none of this happened, and none of this will happen either:
Maybe there still is a chance to save the company. I believe that there are billions of dollars of genuine interest from new investors that could go to making customers whole. But I can't promise you that anything will happen, because it's not my choice.
That's right: it is now all in the hands of the person who presided over the Enron bankruptcy and who thinks your fraud is way worse.
And speaking of fraud, there was one sentence in the whole letter where this pathological liar may have told the truth, if inadvertently:
… None of this changes the fact that this all sucks for you guys, and it's not your fault, and I'm really sorry about that. I'm going to do what I can to make it up to you guys—and to the customers—even if that takes the rest of my life. But I'm worried that even then I won't be able to.
No, you won't be able to, but when it comes to "the rest of your life", both the "guys" and the customers who you left with nothing because of your infinite greed, fraud and incompetence, they all have an idea where you can spend it.
Whether or not that happens will depend on just how broken the US legal system is, where a few million in donations to prominent democrats may be all it takes to get a lifetime "get out of jail" card.
SBF's full letter to his now former employees is below

This post was originally published at Zero Hedge