Video: Ted Cruz Says His "Pronoun Is Kiss My Ass"
"What the hell is wrong with you idiots?"
Texas Senator Ted Cruz announced that his pronoun is "kiss my ass" during an appearance at Turning Point USA's Student Action Summit this past weekend.
Cruz took to the stage and declared "I'm Ted Cruz and my pronoun is kiss my ass."
Addressing the conservative students, Cruz stated "Your classmates, even if they're scared to say it, are looking around thinking this stuff is nuts."
The Senator continued, "I talked to a student recently at one of our woke college campuses who said she's required every class to introduce herself and to give her pronouns."
"Here's a radical statement, okay trigger warning, women exist," Cruz went on.
Cruz reminded those in attendance of his interaction with Supreme Court Justice Kentanji Brown Jackson over her refusal to define what a "woman" is.
"What the hell is wrong with you idiots," Cruz said, adding "this stuff ain't complicated and yet the more crazy they get – part of me every time they do something ridiculous – part of me weeps, then part of me celebrates because it is accelerating the country coming back."
Cruz's comments dovetailed with those of President Trump, who also spoke about gender at the Summit, noting that he and the GOP "believe in two genders," adding "there are men, and there are women".
In a jibe toward the Biden administration, Trump added "you can't teach the Bible but you can teach children that […] men can get pregnant."
Elsewhere during his speech, Cruz slammed Democrats, noting "We've got prices skyrocketing. Inflation is out of control," and quipping "It's gotten so bad AOC can't afford fake handcuffs."
Cruz was referencing Dem reps AOC and Ilhan Omar pretending to be in handcuffs while being 'arrested' last week for protesting the SCOTUS decision to overturn Roe vs Wade.
SUBSCRIBE on YouTube:
Follow on Twitter:
Follow @PrisonPlanet
———————————————————————————————————————
Brand new merch now available! Get it at https://www.pjwshop.com/


ALERT! In the age of mass Silicon Valley censorship It is crucial that we stay in touch.

We need you to sign up for our free newsletter here.

Support our sponsor – Turbo Force – a supercharged boost of clean energy without the comedown.

Also, we urgently need your financial support here. ———————————————————————————————————————
Counselor For Sex Offenders Defends "Minor-Attracted Persons"
Suggests pedophilia should be accepted as a normal sexual preference.
A counselor for sex offenders who works with the Pennsylvania Department of Corrections has stoked controversy after defending "minor attracted persons" and comparing pedophilia to a normal sexual preference.
In a video posted to YouTube that has since been clipped and posted to Twitter, Miranda Galbreath describes adults who are sexually attracted to children as "probably the most vilified population of folks in our culture."
"The term pedophile has moved from being a diagnostic label to being a judgmental, hurtful insult that we hurl at people in order to harm them or slander them," Galbreath insisted.
"I also like to use person-first language that recognizes that any label we apply to a person is only part of who they are and doesn't represent everything that they are," she added.
Asserting that "many minor-attracted persons never act on their attraction," Galbreath complained that saying mean things about would-be child molesters is harmful to an "already marginalized population."
🚨 Licensed counselor and sex therapist advocates for "MAPs" (minor attracted persons). She says they are "vilified" and "marginalized" and shouldn't be referred to as pedophiles pic.twitter.com/Fu5PVF7uwY

— Libs of TikTok (@libsoftiktok) August 10, 2022
Galbreath sought to remove agency from pedophiles, suggesting that their sickness isn't their own fault and that their sexual perversions should be accepted on the same level as heterosexuality or homosexuality.
"[Minor-attracted person] simply means that the person has an enduring sexual or romantic attraction to minors. They have not chosen this attraction, just as the rest of us have not chosen whatever our attraction is," Galbreath said.
"You don't get to choose to be heterosexual or to be gay or whatever you are, and you don't get to choose to be a minor-attracted person," she added.
According to Galbreath's website, she has 20 years of experience working in the mental health field and also conducts "evaluation and treatment services in the community and within state prisons to folks who have committed sexual offenses," including for the Pennsylvania Department of Corrections.
The video clip is yet another illustration of the end game of sexual progressivism – the absorption of pedophilia under the LGBTQ+ umbrella.
The exposure of children to this movement is clearly part of a long term plan by perverts and groomers to force society to accept their deranged behavior as normal.
The direction of travel suggests that in the near future, pedophilia will be judged as merely another sexual preference to be tolerated and even promoted by culture and society.
Critics will likely be branded 'pedophobes' and face condemnation, deplatforming and ritual public shaming.
What a wonderful world awaits us all.
SUBSCRIBE on YouTube:
Follow on Twitter: Follow @PrisonPlanet
———————————————————————————————————————
Brand new merch now available! Get it at https://www.pjwshop.com/
ALERT!
In the age of mass Silicon Valley censorship It is crucial that we stay in touch.
I need you to sign up for my free newsletter here.
Support my sponsor – Turbo Force – a supercharged boost of clean energy without the comedown.
Get early access, exclusive content and behinds the scenes stuff by following me on Locals.
———————————————————————————————————————
What Is ESG? It's A Leveraging Tool For The Woke Communist Takeover
The corporate dynamic when it comes to politics has been rather bizarre the past five years. 
The general rule for decades in the US was that companies would avoid public sparring over political agendas whenever possible and if they did contribute to election campaigns they would spend money discreetly on candidates in both parties to hedge their bets.  Something changed around 2015-2016, however.  
Was it the surprise election of Donald Trump? Trump was probably incidental. It was more likely the dramatic shift among conservatives away from the controlled Neo-con paradigm and into a more liberty oriented standing. Ron Paul's 2008 and 2012 campaigns had a lot to do with this change among Republican voters. Conservatives and liberty minded independents were returning to their foundations of small government, constitutionalism, independent thought, meritocracy and decentralization. This is when the corporate world decided (or was perhaps guided) to go full bore leftist.
That is to say, the leftist cult couldn't stifle the rise of conservative liberty advocates without consolidating their control in the open, and corporations are a big part of that strategy.
Wall Street, Entertainment Media and Big Tech companies donated FAR more to Democrat candidates in recent years compared to Republican candidates. In the 2020 presidential election, they spent 250% more on Joe Biden's campaign than Donald Trump's. But beyond that, many companies have gone aggressively and openly woke. Social Justice narratives of "equity, diversity and inclusion" are dominating corporate culture, and though leftist bias has always been a problem among Hollywood elitists and the entertainment media, things got a lot worse after 2016.
Part of this aggressive leftism could be attributed to the ESG movement (Environmental, Social and Corporate Governance), a clear appendage or tool for globalist foundations like the Ford Foundation, the Rockefeller Foundation and the World Economic Forum. It is also referred to as "stakeholder capitalism" and "mission related investing." Stakeholder capitalism is just another term for socialism/communism, and ESG is a related control methodology for dictating how businesses behave politically.
The term "ESG" was originally coined by the United Nations Environment Program Initiative in 2005, but the methodology was not fully applied to the corporate world until the past six years when ESG investment skyrocketed.
There are some people that will argue that ESG is not a true "communist" mechanism because communism technically involves the state taking control of the means of production. These people are either ignorant or they are acting deliberately obtuse. Communism is about controlling culture just as much as it is about controlling the economy.
Corporations are at bottom creations of government; they are chartered by governments, receive special legal advantages including corporate personhood, and they often receive special protections from governments including central bank stimulus and a shield from civil litigation. They call it "too big to fail" because the government and the corporate world work hand in hand to keep certain institutions alive.
One could call this an odd mix of communism and fascism; the point is, the lines have blurred beyond all recognition and the ideology of the people in power is specifically leftist/communist/globalist. Corporations already have government incentives to protect the corrupt status quo, but ESG is designed to lure them into supporting vocal political alignment even at the cost of normal profits.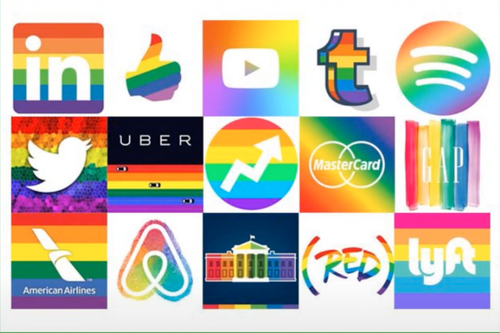 ESG is about money; loans given out by top banks and foundations to companies that meet the guidelines of "stakeholder capitalism." Companies must show that they are actively pursuing a business environment that prioritizes woke virtues and climate change restrictions. These loans are not an all prevailing income source, but ESG loans are highly targeted, they are growing in size (for now) and they are very easy to get as long as a company is willing to preach the social justice gospel as loudly as possible.
Deloitte's Insights studies show that ESG assets compounded at 16% p.a. between 2014 and 2018, now account for 25% of total market assets, and they believe that ESG could account for 50% of market share globally by 2024.
These loans become a form of leverage over the business world – Once they get a taste of that easy money they keep coming back. Many of the loan targets attached to ESG are rarely enforced and penalties are few and far between. Primarily, an ESG funded company must propagandize, that is all. They must propagandize their employees and they must propagandize their customers. As long as they do this, that sweet loan capital keeps flowing.
It's enough to keep corporations addicted, but not enough to keep them satiated. Diversity hiring quotas based on skin color and sexual orientation rather than merit help make the overlords happy. Pushing critical race theory smooths the way for more cash. Carbon controls and climate change narratives really makes them happy. And, promoting trans-trenders and gender fluidity makes them ecstatic. Each participating company gets it's own ESG rating and the more woke they go, the higher their rating climbs and the more money they can get.
The list of companies heavily involved in ESG includes some of the largest in the world, with influence over thousands of smaller businesses. The ESG rating system is much like the social credit scoring system used in communist China to oppress the citizenry. The tactic is pretty straightforward – Banking elites are centralizing control of social narratives by incentivising businesses to embrace social justice and globalist ideals. They control who gets the money and anyone who doesn't play ball will be at a distinct disadvantage compared to companies that do.
They figure, if the corporate world can be pushed to go full woke, then this will trickle down to the general public and influence our behaviors and thinking. Except, it hasn't exactly worked out that way. Resistance to woke propaganda is growing exponentially and many of these companies are losing a huge portion of their customer base. They cannot survive on ESG alone.
The thing is, even ESG money has limits.
With central banks around the world now raising interest rates these kind of loans will become more expensive and will likely start to phase out. This is why the most woke corporations out there are also some of the most desperate for revenues this year, and why many of these companies are edging closer and closer to mass layoffs. The venture capital is gone and the ESG money is going to dry up also unless rates go back to zero and the bailout firehose is turned back on. Getting woke was once a backdoor tactic of gaining easy wealth. Now, getting woke really does mean going broke.
This article was originally published at Zero Hedge
Christian High School In Manhattan Hosted Mandatory Drag Show In Place Of Church Service
Would leftists actually target a Christian school church service with a sexualized drag show? Of course they would.
Students at Manhattan's Grace Church High School say they were supposed to attend Wednesday church services on April 27th, 2021 when they were greeted with a surprise substitution show featuring a dancing drag queen in orange go-go boots called "Brita Filter" (the symbolism of the stage name is unknown). The event was sponsored by "Spectrum," the school's LGBT support club and members of the school faculty.
The students allege they felt pressured to participate and had to pretend they enjoyed the event. Some Spectrum club members tapped teens on the shoulders and ordered them to stand for the show, while others handed out pride stickers and stated "Take one or you're homophobic." Other kids got involved in the show and began twerking in the chapel.
After the dancing was over, Brita discussed being "pansexual."
Said one student, "It's notable that this person consistently called themselves fabulous and talented and beautiful. Not just once or twice, but over and over this person reassured themselves that way…"
The inherent narcissism of the pride movement is easily observed.
The school website details their pride related programs and Brita Filter's performance.
Beyond the obvious affront to Christian doctrine, the trend of sexualized drag performances for kids sponsored by schools has become an epidemic. Numerous schools over the past year have been caught secretly hosting drag queen shows without asking parents for permission. The wider media exposure of these events has been met with attacks from leftists, claiming that there is no sexualization agenda in schools.
The gaslighting has been rampant and the goal behind trans indoctrination and school drag shows is openly admitted: It's about political activism and normalization.
On TikTok, Brita bragged about the event:
"I literally went to church to teach the children today…A Catholic High School here in NYC invited me to their Pride Chapel. Visibility matters and I'm so honored to have had the chance to talk to you about my work as a LGBTQ+ Drag Queen Activist."
Grace Church Schools plan to introduce pride events to younger middle schoolers as well, with lessons on the "history of the pride flag" and what it symbolizes.
This article was originally published at Zero Hedge