Putin Blasts "Globalist" World Order as "Totalitarian"
"Holding back creative pursuit."
Russian President Vladimir Putin asserted earlier today that the "globalist" world order is "totalitarian" and is "holding back creative pursuit."
Putin made the comments during a forum in Moscow.
The notorious leader claimed that the west had only achieved its global preeminence due to the historic plunder of other nations and had no moral right to enforce a unipolar model on the planet.
"The model of the total dominance of the so-called 'golden billion' is unjust. Why should this 'golden billion' among the planet's population dominate others, impose its own rules of conduct?" Putin asked.
"Based on the illusion of 'exclusivity,' this model divides people into first and second class status, and is therefore racist and neo-colonial in its essence," he added.
"And the globalist, supposedly liberal ideology which underlies it is increasingly acquiring the features of totalitarianism, holding back creative pursuit, free historical creation," Putin claimed.
A new world order is coming

From the speech of President Putin at the ASI forum: pic.twitter.com/yR8Rq5Hj83

— Spriteer (@spriteer_774400) July 20, 2022
The Russian President went on to stress his view that the globalist world order was built off the exploitation of other countries.
"Of course, this 'golden billion' did not become 'golden' by accident. It has achieved a lot. But it did not only take up its positions thanks to the realization of some ideas, but to a large extent due to the robbery of other peoples – both in Asia and Africa. That's what happened."
He then proclaimed that western elites are terrified that their global order is being dismantled.
"No matter how much Western and so-called supranational elites strive to preserve the existing order of things, a new era is coming, a new stage in world history. And only truly sovereign states can ensure high dynamics for growth and become an example for others," said Putin.
As we have previously highlighted, Putin has consistently blamed the west for its own downfall.
Back in March, he gave a speech in which he blamed the 'western ruling elite' for creating the economic hardships impacting people in Europe and the United States.
Last year, the controversial strongman blasted the west as "completely insane" for allowing children to be taught there is no biological sex, saying the woke crusade against traditional gender roles was "subverting human nature."
SUBSCRIBE on YouTube:
Follow on Twitter: Follow @PrisonPlanet
———————————————————————————————————————
Brand new merch now available! Get it at https://www.pjwshop.com/
ALERT!
In the age of mass Silicon Valley censorship It is crucial that we stay in touch.
I need you to sign up for my free newsletter here.
Support my sponsor – Turbo Force – a supercharged boost of clean energy without the comedown.
Get early access, exclusive content and behinds the scenes stuff by following me on Locals.
———————————————————————————————————————
Disney Cuts Simpsons Episode In Hong Kong That Mentioned Chinese 'Forced Labour Camps'
"It could be strategic to eliminate any China-offending episodes."
Disney+ has pulled an episode of The Simpsons in Hong Kong because it mentions Chinese 'forced labour camps', according to reports.
It appears that while it is quite content pushing divisional anti-white critical race theory conspiracy theories on children in the U.S., Disney seemingly has a problem with offending the Communinst Chinese government.
The Simpsons episode, "One Angry Lisa," was first broadcast last year and featured a character stating "Behold the wonders of China. Bitcoin mines, forced labor camps where children make smartphones."
Last year, Disney also pulled an old episode of The Simpsons from 2005 that referenced the Tiananmen Square massacre and the subsequent crackdown by the CCP on any documentation of it.
Kenny Ng, associate professor at the Academy of Film at Hong Kong Baptist University noted that Disney pulling the episodes is probably "to do with the company's ties, current and future, in mainland China," adding, "It could be strategic to eliminate any China-offending episodes."
While China has concentration camps, it also has Disney theme parks, so best not to offend them, a policy the Biden administration seems to be fully behind.
SUBSCRIBE on YouTube:
Follow on Twitter:
Follow @PrisonPlanet
———————————————————————————————————————
Brand new merch now available! Get it at https://www.pjwshop.com/


ALERT! In the age of mass Silicon Valley censorship It is crucial that we stay in touch.

We need you to sign up for our free newsletter here.

Support our sponsor – Turbo Force – a supercharged boost of clean energy without the comedown.

Also, we urgently need your financial support here. ———————————————————————————————————————
The Chinese 'Spy Balloon' Story As Manufactured Crisis: An Alternative Reading
Previous constant headlines of the Ukraine-Russia war were put on pause Friday into Saturday as the American public's attention and discourse got temporarily consumed by the bizarre Chinese 'spy balloon' saga, which grew more dramatic by the hour until it was shot down by the Pentagon over the Atlantic Ocean.
But few are currently asking the necessary deeper questions related to the timing. Given the last major balloon crisis to take over 24/7 network news coverage ended up being a complete hoax (remember the "balloon boy" stunt of 2009 which had the world breathless and on edge for a full news cycle?), the current context to the Chinese balloon story and the question of cui bono is worth a deeper dive…
Entrepreneur and geopolitical commentator Arnaud Bertrand, who as a Westerner has spent many years living in China and frequently attempts to correct the often misleading analysis of mainstream press reports, offers an 'alternative view' of what's fast unfolding below [emphasis ZH's)…
* * *
"I took a bit of time to dissect the "spy balloon" story – both how it is portrayed in the US and China's response," Bertrand begins a lengthy thread. As you'll see, the more you think about it, the more stunned you get at the sheer absurdity of the whole thing."
First, the US story.
China sent a "spy balloon" over highly strategic US sites. It chose to spy on these sites with a big visible balloon (reported as being "as big as multiple school buses"), that anyone can see with the naked eye from the ground, to "demonstrate it had the capability", despite having a plethora of other more discreet ways to spy like satellites or stealth drones.
Unclear that anyone doubted China had mastered the technology of *check notes* hot air balloons and why it therefore needed to demonstrate this capability… China chose to do so on the eve of Secretary of States Blinken's visit to China, where he was invited, and hours after signaling Blinken would also be meeting with Xi during his visit, a high-level meeting not granted to any US Secretary of States in years.
The story therefore being that China chose to disrupt a meeting with its own president and to sabotage its own efforts at détente in the US-China conflict… The Pentagon said it had been "tracking the balloon for quite some time" and that it wasn't the first time such an incident occurred, but this time – for unclear reasons – it chose to do a public announcement. As a result, Blinken announced he was postponing his China trip.
Now the story from the Chinese side.
To them this is a fluke accident, the balloon being "a civilian airship used for research, mainly meteorological, purposes" that "deviated far from its planned course" because of strong "Westerlies" (wind that flows west to east) and "limited self-steering capability", the main characteristic of a balloon being of course that it can only go up or down.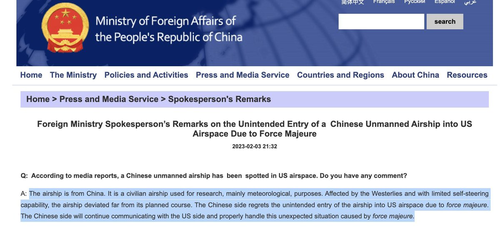 A piece in WaPo seems to confirm this, quoting "experts in national security and aerospace [who] said the craft appears to share characteristics with high-altitude balloons used by developed countries around the world for weather forecasting."
(Source: washingtonpost.com/world/2023/02/… )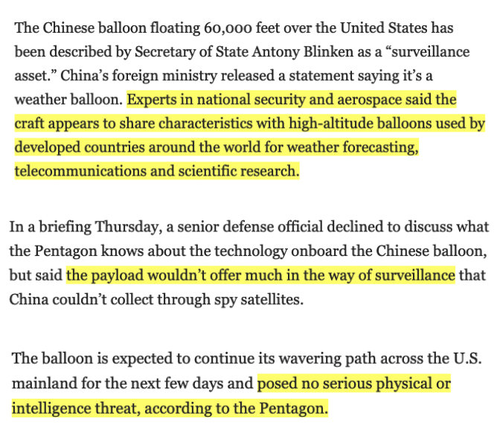 The Pentagon itself said that "the payload wouldn't offer much in the way of surveillance that China couldn't collect through spy satellites" and that "the balloon posed no serious physical or intelligence threat".
I.e. the Pentagon themselves say it would make zero sense for China to use a balloon like this for intelligence purposes when it has satellites. Kind of begs the question why they decided to make a big deal out of it in the first place…
I'll let you decide for yourself which story makes more sense… The sheer ridiculousness of this Nth "red scare" episode is absolutely obvious to anyone with an iota of common sense. Except, sadly, common sense seems to be in critically short supply nowadays.
Also, as often, the real story is probably why this story became a story in the first place.
And the important context here is of course Blinken's visit to China, which could – one can always dream – have been a step towards some form of de-escalation in China-US rapports. It was quite easily foreseeable that a story like this one on the eve of the trip would have made it politically very difficult for Blinken to go.
So a plausible hypothesis is that this whole episode is an attempt by internal US forces to prevent any US-China détente. One alternative hypothesis, much less likely, is that it's internal Chinese forces trying to do the same thing by sending this big balloon.
Unlikely because:
a) China has time on its side so it gains from reduced tensions with the US and there isn't any obvious "faction" in China who believe the contrary

b) it'd be immensely risky for anyone in China to do something like this as it'd undoubtedly be seen as an act of high treason with grave consequences for themselves

c) again, balloons like this particular one basically can't be steered so…
To plan sending a balloon like this from China to a place over US land isn't even doable in the first place. The last hypothesis, which I guess is also somewhat likely, is that this is a series of unfortunate events without any malice on either side.
1) Balloon deviates from course and gets in US airspace,

2) people see it and Pentagon feels it has to communicate about it

3) the media, wearing their usual "China bad" hat, decide to go all-in on the scare-mongering,

4) political opposition and China hawks jump on the bandwagon,

5) administration feels it has no other choice than to cancel the trip and doesn't have the political courage to say "this is just a balloon that drifted off course".
Well I guess in this scenario there is in fact malice on the media's part and that of politicians and wider members of the blob but it's "organic malice", so to speak, jumping at a golden opportunity to scare-monger.
Conclusion: however you see it, this story is absolutely shameful and a sad reflection of the insane times we live in, when rather than take the time to carefully consider facts, apply reason and common sense, we instead choose as a society to incite fear and hostility.
This post was originally published at Zero Hedge
Second Chinese "Surveillance Balloon" Flying Over Latin America
Update (2215ET):
The US government says another Chinese spy balloon is traveling over Latin America.
"We are seeing reports of a balloon transiting Latin America," Brig. Gen. Pat Ryder, a Pentagon spokesperson, told Fox News Friday night. "We now assess it is another Chinese surveillance balloon."
Ryder said during a briefing Thursday the U.S. government detected a high-altitude surveillance balloon over the continental U.S. A senior defense official said during the briefing the U.S. government is "confident" the surveillance balloon is from the People's Republic of China.
The balloon was recently over Montana, and the official said the government considered shooting it down but decided against using military force because of the potential risks. A spokesperson for the Chinese Foreign Ministry said Friday the balloon is a "civilian airship" being used for meteorological purposes and deviated from its planned course.
When President Biden was briefed on the situation, he asked for military options, the official said.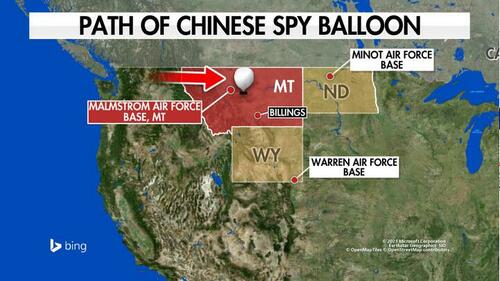 "You did see reports yesterday of a ground stop at Billings Airport and the mobilization of a number of assets, including F-22," the official said. "The context for that was that we put some things on station in the event that a decision was made to bring this down while it was over Montana."
* * *
Update (2143ET): The City of Billings is aware of a video circulating social media of what appears to be an explosion in the sky. However, city officials confirmed with the Montana Disaster and Emergency Services and Governor Greg Gianforte there have been no explosions in Montana airspace.
"They are aware of the video, and it can not be substantiated," the City said.
* * *
Update (2006ET):
Here's the clearest picture of the suspected Chinese spy balloon. 
* * *
Update (1415ET):
A suspected Chinese spy balloon flying over the US was spotted in the skies of north Kansas City on Friday afternoon.
The question people are asking: Where is the balloon headed?
To answer that, Capital Weather Gang said:
"Forward trajectory based on atmospheric steering currents would bring it close to St. Louis tonight & into North Carolina Saturday."
A map of the balloon's trajectory.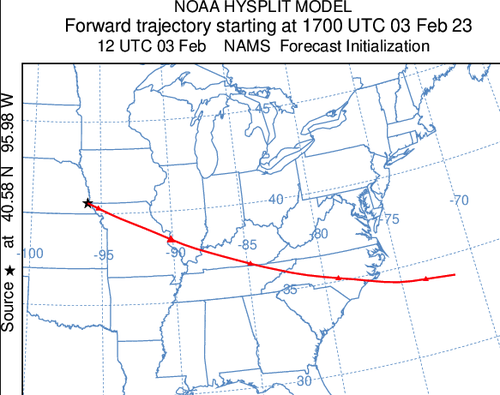 Others say the balloon could take a different path:
* * *
Update (1012ET):
Bloomberg confirmed US Secretary of State Antony Blinken would postpone his trip to Beijing amid spy balloon allegations.
The two-day trip was set to begin on Sunday. Even before Blinken postponed his trip, expectations were low to reset deteriorating Sino-US ties. 
* * *
Update (0932ET):
In response to some US officials accusing China of sending a spy balloon near ICBM fields in Montana, the Chinese foreign ministry said the balloon was for monitoring the 'weather' and veered off course and entered into US airspace due to force majeure.
The ministry "regrets the unintended entry" and said Chinese officials would continue communicating with the US about the balloon. They added the balloon is for meteorological and 'other scientific research.'
Earlier, foreign ministry spokeswoman Mao Ning urged the US to act "calmly and prudently" after some US officials accused China of sending a spy balloon.
"I want to emphasize that before the facts are clear, any speculation and hype are not conducive to the solution of the problem," Ning said.
So China states the balloon is for weather purposes only, while some US officials declare it a spy balloon. One thing is certain. The balloon mysteriously ended up near a highly sensitive area in Montana that is home to ICBM fields.
* * *
US military commanders have advised President Biden against shooting down a Chinese spy balloon flying over the US.
Reuters said the US military took "custody" of the "high-altitude surveillance balloon" and deployed military aircraft, including stealth fighter jets, to observe it.
Such balloons operate at an altitude of 15-22 miles, well above commercial air traffic. The balloon's size is estimated to be equivalent to three buses. 
"The United States government has detected and is tracking a high-altitude surveillance balloon that is over the continental United States right now," Pentagon spokesperson Brigadier General Patrick Ryder told reporters Thursday.
"The balloon is currently traveling at an altitude well above commercial air traffic and does not present a military or physical threat to people on the ground," Ryder continued.
Right now, the spy balloon appears to be occupying Montana airspace. This alarmed the state's Republican Senator Steve Daines, who sent an alarming letter to the Department of Defense (DOD). He said the spy balloon is a "concerning event": because Montana airspace includes "Malmstrom Air Force Base (AFB) and the United State's intercontinental ballistic missile (ICBM) fields." 
Daines wrote that given "the serious nature of the event," he is "requesting a full security briefing from the administration on this situation."
"It is vital to establish the flight path of this balloon, any compromised US national security assets, and all telecom or IT infrastructure on the ground within the US that this spy balloon was utilizing," he continued.
"As you know, Montana plays a vital national security role by housing nuclear missile silos at Malmstrom AFB," the senator said.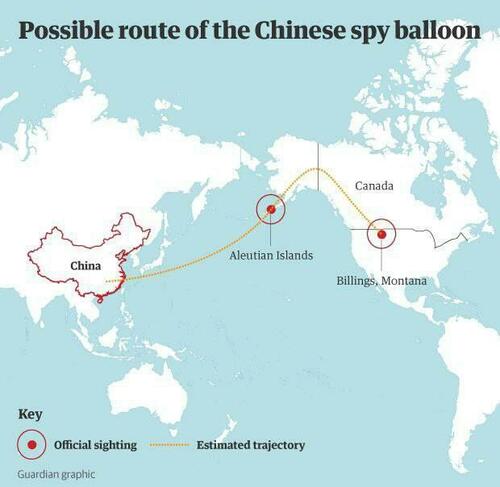 Separately, Canada's defense ministry is monitoring a "potential second incident" but declined to give further details.
News of the spy balloon followed CIA Director William Burns' speech at a Georgetown University event, where he called China the "biggest geopolitical challenge" facing the West.
This post was originally published at Zero Hedge