Ghoulish Battle Over Possible Political Motivation of July 4 Shooter Begins
Gunman expressed both pro-Trump and anti-Trump sentiment.
The ghoulish battle over which political side to blame the Highland Park shooting on has begun, with some claiming he is a Trump supporter and others pointing to the gunman's anti-Trump sentiment expressed online.
22-year-old Robert E Crimo III was arrested by police after a manhunt following the mass shooting which targeted a July 4 parade in Chicago, leaving 6 dead and 30 people seriously injured.
Aside from the usual push for gun control, others have desperately sought clues as to a potential political motive behind the attack.
A struggling rapper, Crimo posted creepy YouTube videos in which he repeated that he was "like a sleepwalker" that "can't be stopped."
Recovered: Haunting YouTube video featuring Highland Park suspect appears to warn of mass shooting attackhttps://t.co/lS4Fem9zCo

— Jack Posobiec 🇺🇸 (@JackPosobiec) July 4, 2022
The suspect in the Highland Park shooting, Robert Crimo III, posted multiple disturbing videos on YouTube with violent imagery.

"Like a sleepwalker unable to stop and think, my actions will be valiant. And my thought is unnecessary. I know what I have to do." pic.twitter.com/CROskei1Vh

— steven monacelli (@stevanzetti) July 4, 2022
Another bizarre clip from a low budget rap video shows the shooter in a school classroom.
Another disturbing video of the Highland Park shooter Robert "Bobby" Crimo #HighlandPark https://t.co/uxHEJorczg pic.twitter.com/rp0sQ9DTV5

— Catalaya Heisenberg (@catalayahere) July 4, 2022
Some pointed to the shooter being pictured attending a Trump rally, although as Mike Cernovich points out, his dressing like the 'Where's Waldo' character suggests he was trolling the event.
You're too young to remember "Where's Waldo."

He's mocking Trump supporters.

However maybe one or more people gage video from this day? If you recognize this event, or know someone who does, please check. https://t.co/w4wbg8HCDl

— Cernovich (@Cernovich) July 5, 2022
Other Twitter posts showed that Crimo liked numerous tweets that called for the arrest of "every Congressmember who helped organize January 6th."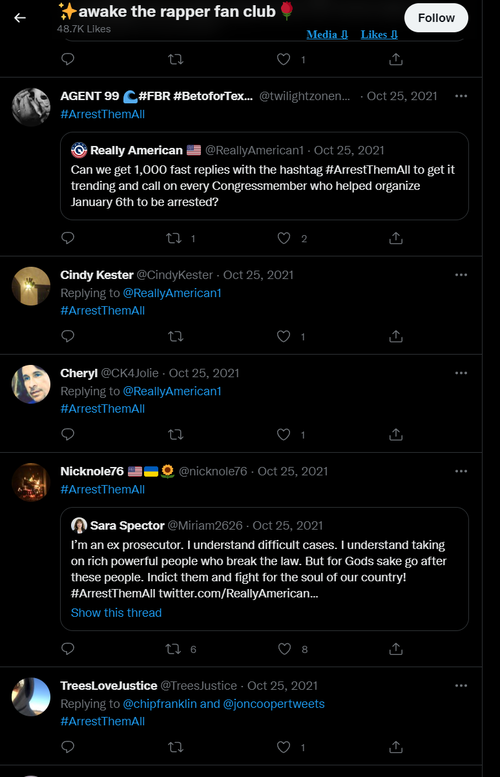 However, another photo shows Crimo wrapped in a Trump flag.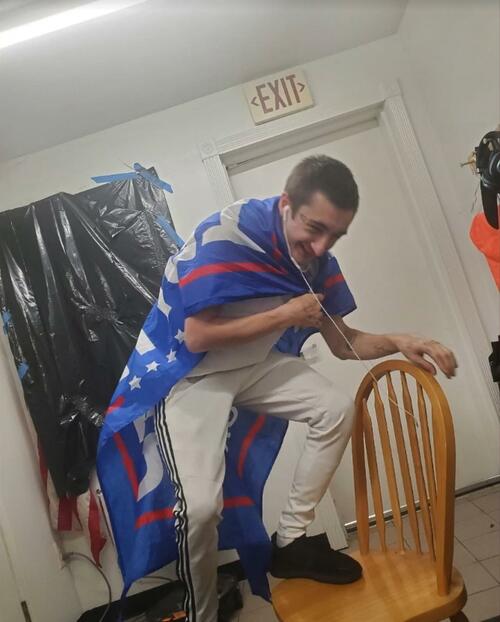 Antifa supporters appear to be a little nervous about the prospect of Crimo being one of them.
lol Jason knows something pic.twitter.com/rUfAjjSQ76

— Bennett's Phylactery (@extradeadjcb) July 5, 2022
What's pretty certain is that the shooter's physiognomy certainly isn't stereotypically that of a Trump supporter or a conservative.
Dishonest people are claiming the Highland Park shooter is "right wing"

How many conservatives have you met that look like this 👇 pic.twitter.com/3uzXsMNy2A

— BowTiedRanger (@BowTiedRanger) July 4, 2022
Young people with gaunt appearances, face tattoos and multi-colored hair normally don't consider themselves to be very conservative.
However, as Ian Miles Cheong points out, the shooter is likely just another psycho looking for attention who sought to throw in political ideology from all across the spectrum simply to get people talking about him.
I think Robert Crimo is a psycho. Planned it all out to look like he's both a Trump supporter and a Biden supporter. Perhaps a true accelerationist. He's got everyone squabbling over his politics but at the end of the day he killed innocents and represents no one but himself.

— Ian Miles Cheong (@stillgray) July 5, 2022
Beyond any political motivation, is clearly another product of the sickness that currently envelops America as a result of the decline on Christianity, and its replacement with atomization and moral relativism.
It's also virtually guaranteed that Crimo was on psychiatric drugs, which have become a macabre hallmark of mass shootings.
SUBSCRIBE on YouTube:
Follow on Twitter: Follow @PrisonPlanet
———————————————————————————————————————
Brand new merch now available! Get it at https://www.pjwshop.com/
ALERT!
In the age of mass Silicon Valley censorship It is crucial that we stay in touch.
I need you to sign up for my free newsletter here.
Support my sponsor – Turbo Force – a supercharged boost of clean energy without the comedown.
Get early access, exclusive content and behinds the scenes stuff by following me on Locals.
———————————————————————————————————————
Poll: Only 37% Of Democrats Want Biden To Run In 2024
Americans have had enough
Close to two thirds of Democrats don't want to see a second Joe Biden term, a massive decline of 15 percent in just three months, according to a new poll.
The survey by Associated Press and the NORC Center for Public Affairs Research found that just 37 percent of Democrats want Biden to run again, a figure that is down from 52 percent since the midterms.
Among Democrats under the age of 45 just 23 percent want another Biden term.
In total, 78 percent of voters don't want Biden in office beyond 2024, with many citing his old age and deteriorating mental health.
An NBC News poll registered similar results, noting that only a third of voters are comfortable with Biden running again:
Meanwhile, a Washington Post/ABC News poll found that almost two thirds believe Biden has accomplished "little or nothing" so far:
A CNN poll found that a record number of voters say they are worse off under Biden:
A CBS News/YouGov poll found that 61 percent think the state of the economy is "bad," with 76 percent calling for lowering runaway inflation:
As we highlighted a week ago, a recent Harvard/ Harris survey revealed that six in ten Americans have reservations over Joe Biden's mentally capacity to run again in 2024, with 65 percent agreeing that at 80-years-old, Biden is "too old" to continue as President.
Enough is enough.
SUBSCRIBE on YouTube:
Follow on Twitter:
Follow @PrisonPlanet
———————————————————————————————————————
Brand new merch now available! Get it at https://www.pjwshop.com/


ALERT! In the age of mass Silicon Valley censorship It is crucial that we stay in touch.

We need you to sign up for our free newsletter here.

Support our sponsor – Turbo Force – a supercharged boost of clean energy without the comedown.

Also, we urgently need your financial support here. ———————————————————————————————————————
Videos: GOP Senators Slam "Paralyzed" Biden For "Telegraphing Weakness" To China
"It's not just the balloon. It's the message… we can do whatever we want, and America can't stop us."
Republican Senators Tom Cotton, Marco Rubio and Ted Cruz all blasted the Biden administration Sunday over its weakness in responding to China's brazen efforts to encroach into U.S. airspace.
"I think the only reason they shot [the balloon] down is because it made it into the news, and they felt it forced to as a matter of politics rather than national security," Cruz told CBS News, adding "That's a bad message for the Chinese government to hear."
Cruz accused Biden of having "telegraphed weakness":
Senator Cotton slammed Biden for being "paralyzed for entire week by a balloon," noting that "What began as spy balloon has become a trial balloon, testing President Biden's strength and resolve. And unfortunately, the president failed that test. And that's dangerous for the American people."
Cotton further criticised "the president's reluctance to take any action that will be viewed as provocative or confrontational towards the Chinese communists," adding "I would say what's provocative and confrontation is sending spy balloon all across America."
Senator Rubio declared "I think what's embedded here is a clear message," adding "The Chinese knew that this was going to be spotted. They knew that we were going to have to react to it. They flew it over military installations and sensitive sites across — right across the middle. I mean, look at the flight path of this thing. It's a diagonal shot right through the middle of the continental United States."
"And the message embedded in this to the world is, we can fly a balloon over airspace of the United States of America, and you won't be able to do anything about it to stop us," Rubio further urged, noting "They calculated this carefully."
Earlier, Senator Rand Paul slammed Biden's "dithering" and "ineptitude" over the balloon:
Meanwhile, the leftist media has amplified claims by Biden officials that several of the same Chinese balloons flew over the U.S. under Donald Trump's presidency.
Former Director of National Intelligence John Ratcliffe dismissed the reports Sunday.
"Do you remember during the Trump administration, when photographers on the ground and commercial airline pilots were talking about a spy balloon over the United States that people could look up and see even with the naked eye, and that a media that hated Donald Trump wasn't reporting?" Ratcliffe noted during a Fox News interview, adding "I don't remember that either, because it didn't happen."
Watch:
SUBSCRIBE on YouTube:
Follow on Twitter:
Follow @PrisonPlanet
———————————————————————————————————————
Brand new merch now available! Get it at https://www.pjwshop.com/


ALERT! In the age of mass Silicon Valley censorship It is crucial that we stay in touch.

We need you to sign up for our free newsletter here.

Support our sponsor – Turbo Force – a supercharged boost of clean energy without the comedown.

Also, we urgently need your financial support here. ———————————————————————————————————————
Video: Rand Paul Slams "Very Very Weak" Biden For "Dithering For Days" Over Chinese Balloon
Senator warns "ineptitude" of administration is a major threat to national security
Senator Rand Paul tore into the Biden administration Sunday for "dithering for days" over the Chinese balloon and allowing it float the entire width of the country before shooting it down.
Appearing on Fox News, Paul urged that "This looks very, very weak in the eyes of our enemy, and I think it was a huge mistake."
"We need a commander in chief and a national defense who is able to respond within seconds to minutes to penetration of our airspace," Paul further asserted.
"This is probing our defenses even if there was no surveillance on board. They've gotten a great deal of information as to how sluggish the Biden administration is in their response," the Senator added.
Paul continued, "I think more damaging than any surveillance is assessing our response. Since we've entered into a nuclear age, there are responses that have to occur in seconds to minutes, and the fact that this administration would dither for days over a balloon I think gives pause to us about how well we're protected and whether or not they have the ability to make decisions that would have to be made in seconds or minutes."
"Moving forward, what they [the Biden administration] need to do is they need to demand a full apology and explanation. If it was supposedly civilian, they should feed us all the data they took in and show us what the balloon was absorbing," Paul further noted, calling for the Chinese ambassador to be grilled by the State Department.
Watch:
Paul stated that the balloon could have been dealt with days earlier over a remote area such as Alaska.
The same point was made earlier by Retired four-star Army General Jack Keane, who said "Remember, this was approaching the United States over water. It was approaching the Aleutian Islands over water. And we had plenty of opportunity to take it down then. And that's when it should have happened."
"We had to be tracking it from mainland China across the Pacific Ocean, and we had plenty of warning to put together an operation that we are conducting now on the east coast that should have been done there," Keane added.
Watch:
Biden has claimed that he ordered the balloon to be downed "days ago" but that the Pentagon waited til it had flown over the country.
SUBSCRIBE on YouTube:
Follow on Twitter:
Follow @PrisonPlanet
———————————————————————————————————————
Brand new merch now available! Get it at https://www.pjwshop.com/


ALERT! In the age of mass Silicon Valley censorship It is crucial that we stay in touch.

We need you to sign up for our free newsletter here.

Support our sponsor – Turbo Force – a supercharged boost of clean energy without the comedown.

Also, we urgently need your financial support here. ———————————————————————————————————————