Michigan Attorney General Wants a "Drag Queen in Every School"
"That is what would be fun for the kids."
Michigan Attorney General Dana Nessel has called for there to be a "drag queen in every school."
Yes, really.
Nessel made the comments during a civil rights conference in Lansing after she has falsely claimed that critical race theory being taught in schools is a hoax.
"You know what's not a problem for kids who are seeking a good education? Drag queens," said Nessel.
"Drag queens make everything better. Drag queens are fun," Michigan Attorney General Dana Nessel says at a civil rights conference in Lansing while speaking out against what she describes as efforts to divide people.

"A drag queen for every school," she adds.

— Craig Mauger (@CraigDMauger) June 15, 2022
"Not only are they not hurting our kids, drag queens make everything better!" she added.
"Drag queens are fun! Drag queens are entertainment! And you know what else I'll say that was totally not poll tested? A drag queen for every school!" Nessel said as the crowd cheered and applauded. "That is what would be fun for the kids and lift them up when they are having emotional issues!"
Nessel made the comments after House Speaker Nancy Pelosi insisted that "drag is what America is all about."
The connection between drag queen shows and sex offenders using them to get close to children is long established.
As we previously highlighted, Texas Governor Greg Abbott ordered an investigation into an allegation by a parent that a teacher took his son to a drag queen show which was attended by a convicted sex offender.
The former head of the Cream City Foundation, which sponsors Drag Queen Story Hour in Milwaukee, was arrested on charges of possessing child pornography.
In 2019, it was revealed that the Houston Public Library allowed a registered sex offender to read to children as part of Drag Queen Story Hour.
One of the program's drag queens, 32-year-old Alberto Garza, was convicted of sexually assaulting an 8-year-old boy in 2008.
Yesterday, Congresswoman Marjorie Taylor Greene announced she would be introducing a bill that would make it illegal to take children to drag queen shows.
I'm introducing a bill to make it illegal for children to be exposed to Drag Queen performances.

— Rep. Marjorie Taylor Greene🇺🇸 (@RepMTG) June 15, 2022
SUBSCRIBE on YouTube:
Follow on Twitter: Follow @PrisonPlanet
———————————————————————————————————————
Brand new merch now available! Get it at https://www.pjwshop.com/
ALERT!
In the age of mass Silicon Valley censorship It is crucial that we stay in touch.
I need you to sign up for my free newsletter here.
Support my sponsor – Turbo Force – a supercharged boost of clean energy without the comedown.
Get early access, exclusive content and behinds the scenes stuff by following me on Locals.
———————————————————————————————————————
AP Called Out For Claim That Target Staff Were Subject To "Violent Confrontations" Over Trans/Pride Products
AP stealth edits article after making claim that conservatives were responsible for violence against store staff
The Associated Press has been forced into quietly editing an article that repeated a statement from Target claiming that the company's staff have been threatened, with the newswire adding a baseless claim that there have been "violent confrontations" over huge collections of 'Pride' and transgender themed apparel in stores, including some with Satanist imagery.
It's been the story of the week. Here's the backdrop…
As we highlighted yesterday, Target was clear in pointing out that it isn't removing the stuff because it's Satanist and pushing sexualisation and gender ideology on kids, but rather because they have "experienced threats impacting our team members' sense of safety and well-being."
The AP took it further, however, claiming that Target has seen "intense backlash from some customers including violent confrontations with its workers."
The report was altered without notification after it was challenged by Katrina Trinko, the editor-in-chief of the Daily Signal. While the confrontations claim remains, the word "violent" has been removed.
It now reads "Target said that customers knocked down Pride displays at some stores, angrily approached workers and posted threatening videos on social media from inside the stores."
Pointing out the deception, Trinko writes "Again, what are the specifics? What is a threatening video?" further demanding to know "What constitutes angrily approaching a worker? How many customers at how many stores knocked down Pride displays?"
It appears that one video surfaced of one person taking a part of a pride display and throwing it on the ground, which prompted gay Democratic California State Senator Scott Wiener to label it "terrorism":
Trinko comments that it is not acceptable "for Target and the media to imply violence if there in fact isn't violence," adding "That's not a light accusation."
Trinko also notes "Asked about why the word 'violent' was removed and no correction or editor's note appended, and whether The Associated Press still believed the word 'violent' was accurate, Lauren Easton, vice president of communications, replied by email: 'As AP continued to report out the story, we were able to provide more specific examples of the incidents that took place and we updated the story accordingly.'"
In other words, 'our bullshit was called out and we tried to quietly memory hole it.'
 Trinko continues, "insinuating conservatives are dangerous and a genuine threat to the safety of others is merely a new tactic for companies and ideologues impacted by conservative boycotts."
"This is the Left testing out a new playbook. They're frightened by what's happening to Bud Light, which continues to grapple with massive declines in sales. Leftist activists know that having corporations side with them and promote leftist values is crucial to their long-term success," Trinko further urges.
Meanwhile, a real (non-terroristic) boycott is impacting Target, with the company seeing a $9.3 billion decrease in market capitalization, as the value of its shares fell more than 12.6% in one week.
Conservative commentator Greg Price obtained an internal Target email that indicates the company is now desperately trying to shift away from one woke campaign, instead replacing it with another.
The email states "Yesterday was a very hard day for Target, and as CEO Brian Cornell said, thank you for the care you've shown each other, our frontline teams, and the LGBTQIA+ community."
It goes on to state "Today brings more reflection, pain and the need for continued care as our team, hometown and world remember the murder of George Floyd."
The rest of the email betrays how infested with woke culture the company has become:
"As you make space to take care of yourself and each other, know that you can always tap into these tools from Team Member LIfe Resources, and as Mental Health Awareness Month continues, turn to Take Five to Take Care hub for more wellbeing support," it states.
Republican Senator Tom Cotton noted how Target initially doubled down on it's Pride/trans/satanist merch, then attacked its own customers while quickly back peddling and pulling or scaling back the stuff.
SUBSCRIBE on YouTube:
Follow on Twitter:
Follow @PrisonPlanet
———————————————————————————————————————
Brand new merch now available! Get it at https://www.pjwshop.com/


ALERT! In the age of mass Silicon Valley censorship It is crucial that we stay in touch.

We need you to sign up for our free newsletter here.

Support our sponsor – Turbo Force – a supercharged boost of clean energy without the comedown.

Also, we urgently need your financial support here. ———————————————————————————————————————
Cycling Governing Body Bans Trans Competitors
UK National governing body will not let biological men compete in women's races
The national governing body of cycling in the UK has announced a ban on transgender competitors taking part in women's races in the country.
British Cycling says that the ban will come into effect by the end of the year, with a new separate 'open category' being introduced that anyone of any gender can compete in.
Chief Jon Dutton told reporters "We have taken a view that this is absolutely about being inclusive for all," adding "We've created a new open category that anyone has the ability to ride in and also a non-competitive policy that is absolutely inclusive and accessible."
"We will not tolerate any form of discrimination in moving forward with this policy," Dutton added, further noting "it's really important that we support, we empathise, we are compassionate to the riders that are affected by this policy change."
The move comes following several trans cyclists dominating women's events in recent months.
After biological male Austin Killips, won the women's category of the Tour of the Gila bicycle race in New Mexico earlier this month, the world cycling governing body Union Cycliste Internationale defended its transgender policy, stating "The UCI acknowledges that transgender athletes may wish to compete in accordance with their gender identity," and adding "The UCI rules are based on the latest scientific knowledge and have been applied in a consistent manner."
Commenting on the move by British Cycling, trans competitor Emily Bridges called it a "violent act" and "furthering a genocide" against trans people:
Bridges has drawn criticism after setting records in men's cycling before coming out as a transgender woman in October 2020 and beginning to compete in women's events.
As we have documented (see links below), other sports have placed bans on trans competitors in women's events, with legendary sportswomen including Martina Navratilova and Sharron Davies speaking out in support.
Navratilova and Davies both responded to today's news:
SUBSCRIBE on YouTube:
Follow on Twitter:
Follow @PrisonPlanet
———————————————————————————————————————
Brand new merch now available! Get it at https://www.pjwshop.com/


ALERT! In the age of mass Silicon Valley censorship It is crucial that we stay in touch.

We need you to sign up for our free newsletter here.

Support our sponsor – Turbo Force – a supercharged boost of clean energy without the comedown.

Also, we urgently need your financial support here. ———————————————————————————————————————
Backlash & Boycott-Calls Hit North Face After Ad Featuring Drag Queen Inviting Everyone To 'Come Out'
A North Face advertisement featuring a drag queen in rainbow-themed outdoor sports gear has sparked backlash after going viral online. The popular outdoor apparel company has learned nothing from mounting customer boycotts against Bud Light and Target in recent weeks. 
"Hi, it's me, Pattie Gonia, a real-life homosexual," drag queen and self-described environmentalist and community organizer Pattie Gonia said in The North Face ad, adding, "Today I'm here with the North Face. We are here to invite you to come out … in nature with us!"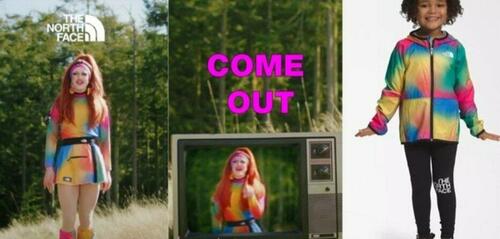 "We like to call this little tour, the Summer of Pride. This tour has everything: hiking, community, art, lesbians, lesbians making art. Last year we gay sashayed across the nation and celebrated pride," the drag queen continued.
Commenters on the video were mixed. One person said, "Did you learn nothing from Budweiser?"
"Sexual preference doesn't need to be showcased in every single brand to sell stuff," another user wrote.
"Y'all gonna learn reallllll quick. You push an agenda that goes against THE MAJORITY OF your customers values, you gonna lose customers. You're digging your own grave that's what doesn't make sense to me," someone else said. 
The North Face has attached its brand to the drag queen for the second consecutive year. Here are a few posts from Gonia's own Instagram page: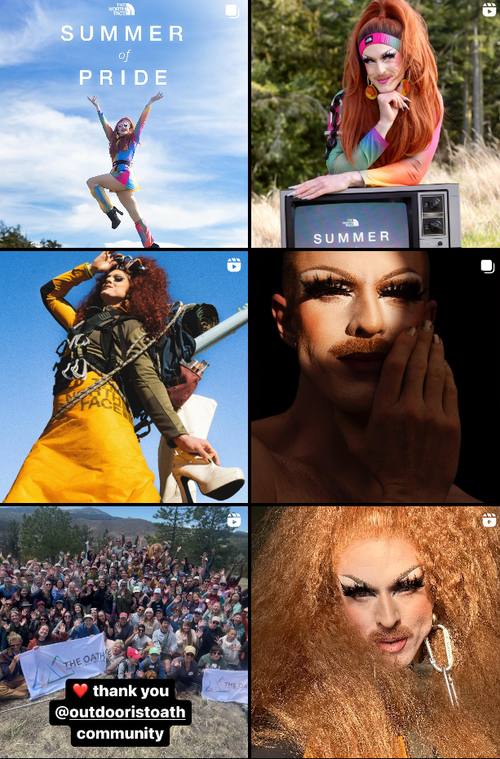 A seemingly endless stream of Twitter users are boycotting the brand. 
And this all comes as consumers are boycotting Bud Light, Target, and other brands. As we've noted, corporations have freedom of speech under the First Amendment but have to understand if their political ideologies don't align with consumers, then the people also have freedom of speech to voice their opinion. That's why corporations should stay out of identity politics or face boycotts. 
This post was originally published at Zero Hedge