Ukrainian Official Admits She Lied About Russians Committing Mass Rape to Convince Countries to Send More Weapons
And it worked.
The top Ukrainian official who was fired for spreading misinformation has admitted that she lied about Russians committing mass rape in order to convince western countries to send more weapons to Ukraine.
Lyudmila Denisova, the former Ukrainian Parliamentary Commissioner for Human Rights, was removed from her position following a vote of no confidence in the Ukrainian parliament which passed by a margin of 234-to-9.
Parliament member Pavlo Frolov specifically accused Denisova of pushing misinformation that "only harmed Ukraine" in relation to "the numerous details of 'unnatural sexual offenses' and child sexual abuses in the occupied territories, which were unsupported by evidence."
In an interview published by a Ukrainian news outlet, Denisova admitted that her falsehoods had achieved their intended goal.
"When, for example, I spoke in the Italian parliament at the Committee on International Affairs, I heard and saw such fatigue from Ukraine, you know? I talked about terrible things in order to somehow push them to make the decisions that Ukraine and the Ukrainian people need," she said.
Denisova noted that Italy's Five Star Movement was originally "against the provision of weapons to us, but after [her] speech, one of the party leaders… said that they will support [us], including by the provision of weapons."
Despite the fact that her claims about mass rape were false, they were repeatedly amplified by legacy media outlets like CNN and the Washington Post.
"The media was quick to put this woman's BS claims out but couldn't care less about correcting the record," writes Chris Menahan.
Indeed, there have been innumerable outright hoaxes and falsehoods throughout the war where so-called 'fact checkers' have been noticeable by their absence.
These include radiation leaks at besieged nuclear plants which turned out not to have occurred, the media's complete misinformation about what happened on Snake Island, the 'Ghost of Kiev Hoax, as well as the 'attack' on a Holocaust memorial that never happened.
SUBSCRIBE on YouTube:
Follow on Twitter: Follow @PrisonPlanet
———————————————————————————————————————
Brand new merch now available! Get it at https://www.pjwshop.com/
ALERT!
In the age of mass Silicon Valley censorship It is crucial that we stay in touch.
I need you to sign up for my free newsletter here.
Support my sponsor – Turbo Force – a supercharged boost of clean energy without the comedown.
Get early access, exclusive content and behinds the scenes stuff by following me on Locals.
———————————————————————————————————————
NATO Fractures: In U-Turn, Poland Announces It Will No Longer Arm Ukraine
The dam is breaking on unified Western support for Ukraine.
The dam is breaking on unified Western support for Ukraine, and the timing couldn't be worse for Zelensky, given tomorrow he's expected to meet with President Biden at the White House. On Wednesday evening there is monumental news out of Poland which could potentially change the entire course of the war.
"Poland will no longer arm Ukraine to focus on its own defense," Polish prime minister Mateusz Morawiecki announced just hours after Warsaw summoned Ukraine's ambassador related to a fresh war of words and spat over blocked grain, according to the AFP. Warsaw has throughout more than a year-and-a-half of the Ukraine-Russia war been Kiev's staunchest and most outspoken supporter.
Will this massive and hugely significant about-face mark the beginning of the end? Are peace negotiations and ceding of territory in the Donbas inevitable at this point?
Within the last 48 hours relations between Poland and Ukraine quickly spiraled to their lowest point since the Russian invasion, and it is directly related to Warsaw leading a handful of EU countries to extend a grain export ban on Ukraine, amid continuing anger and outrage from Polish farmers who are suffering due to their country being flooded with cheap Ukrainian wheat.
Crucially, Poland will hold parliamentary elections on Oct.15. The prior atmosphere of enthusiastic pro-Kiev rhetoric has drastically changed, now with comparisons likening Ukraine to a "drowning man". As The Associated Press explains:
Polish leaders have compared Ukraine to a drowning person hurting his helper and threatened to expand a ban on food products from the war-torn country. Meanwhile, Ukrainian President Volodymyr Zelenskyy suggested that EU allies that are prohibiting imports of his nation's grain are helping Russia.

Now, Polish officials, who are trying to win parliamentary elections next month with help from farmers' votes, are expressing dismay over some of Ukraine's latest moves, including a World Trade Organization complaint over bans on Ukrainian grain from Poland and two other EU countries.
Poland's elections are Oct. 15… https://t.co/DRwG37xGut

— Mark MacKinnon (@markmackinnon) September 20, 2023
In surprisingly blunt and terse words given to reporters on the sidelines of the UN General Assembly, Polish President Andrzej Duda said on Tuesday: "Ukraine is behaving like a drowning person clinging to anything available."
He then said, "A drowning person is extremely dangerous, capable of pulling you down to the depths … simply drown the rescuer." Given Ukraine's battlefield losses and as it's currently bogged down in a failing counteroffensive, the words no doubt stung. But as The Hill notes further of the domestic political context in Poland:
Public sentiment around the issue, however, has started to deteriorate, putting the ruling party in a difficult position ahead of a close October election. The far-right Confederation party is hoping to capitalize on the waning support in the country.

Reuters reported that a recent poll showed support for Ukrainian refugees fell from 91 percent when the war started to just 69 percent recently. The same survey showed a quarter of Poles are against supporting refugees, compared to 4 percent in early 2022.
In response to the grain ban, Zelensky during his UN speech had condemned the "alarming" behavior of allies regarding the import ban, but without naming Poland specifically. Further, Kiev has announced plans to sue Warsaw in the World Trade Organization while also holding out the possibility of its own embargo on Polish foodstuffs, including onions, tomatoes, cabbage, and apples. Again, all of this amounts to a full-blown diplomatic crisis for Zelensky which couldn't come at a worse time, as he's in D.C.
To review, these are some of the major developments and setbacks in only the last few days:
Zelensky fired at least 6 top-ranking defense officials over corruption, after recently firing longtime Defense Minister Oleksii Reznikov amid a graft probe.
American transgender spokesperson for Ukraine's Territorial Defense Forces Sarah Ashton-Cirillo was suspended indefinitely by the Ukrainian military in an embarrassing debacle.
The New York Times ran an article which said a missile fired by Ukraine –not Russia – struck a busy civilian market …marking an unexpected establishment media about-face.
Biden has yet to pledge any new weapons for Ukraine as Zelensky is in the US, and there are reports that ATACMS long-range missiles will not be approved.
And most importantly, there's this per Politico…
New: Senators are bracing to give Zelenskyy some tough news tomorrow

That in the face of GOP opposition to aid — and a guv shutdown — they might be sending him home empty handed

W/ @burgessev https://t.co/tBolo3TcMX

— Ursula Perano (@UrsulaPerano) September 20, 2023
According to the fresh Wednesday report:
Delivering any new aid to help defend against Russia, even later this year, is looking tougher than ever.

The obstacles are piling up: House Republicans are skeptical of any new money at all. What's more, their dysfunction threatens to push the government into a shutdown — a move that certainly gets Zelenskyy no closer to getting the billions requested by the Biden administration. Senate Republicans, meanwhile, are divided over whether to continue providing humanitarian aid, arguing the rest of Europe needs to step up.
As if fully aware that the tap at the expense of the US taxpayer may run dry, Zelensky has been meeting in New York with a who's who of leading banks, hedge funds, and private investors. Fox Business, which broke the story, says the ongoing meetings are part of broader efforts to secure investment for rebuilding Ukraine and fixing destroyed infrastructure:
The meeting was put together by JPMorgan, the big bank serving as Zelenskyy's financial adviser to attract private capital for a new investment fund to rebuild Ukraine's infrastructure destroyed in its war with Russia, according to people with knowledge of the matter.

Earlier in the afternoon, Zelenskyy met privately with BlackRock CEO Larry Fink, the sources say. BlackRock is the world's largest asset manager and has also been advising Zelenskyy on how to attract U.S. private sector money for the rebuilding effort.

The list of invitees, according to sources, includes William Ackman, the head of hedge fund Pershing Square Capital; Ken Griffin of the Citadel investment empire; Jonathan Gray, president and chief operating officer of private equity powerhouse Blackstone; Philipp Hildebrand, a vice chairman at BlackRock; Michael Bloomberg, former New York City mayor and founder of Bloomberg LP; and Eric Schmidt, the former CEO of Google and now head of the Schmidt Futures, a philanthropic organization.
Ken Griffin and Bill Ackman meeting with Zelensky to ensure they get first dibs on the juiciest deals in the rebuilding of #Ukraine post war.

— CEO Technician (@CEOTechnician) September 20, 2023
Tomorrow's White House visit, and Zelensky's planned meeting with Republican House Speaker Kevin McCarthy will surely be interesting.
Meanwhile, for a foretaste and indicator of how much the tide is turning – and the very different, subdued optics – especially compared to Zelensky's last trip to Washington (in Dec. 2022) when he was received with rockstar status, there's this…
Speaker Kevin McCarthy, facing a right-wing rebellion in his ranks and mounting GOP resistance to aiding Ukraine, has declined to convene a forum for President Volodymyr Zelensky to address members of the House on Thursday during a visit to Capitol Hill. https://t.co/mDEH1yGpJS

— The New York Times (@nytimes) September 20, 2023
Ukraine Suspends Trans Spox Sarah Ashton-Cirillo Over Threat to Assassinate 'Russian Propagandists'
The decision followed a public spat between Ashton-Cirillo and Ohio Senator JD Vance.
Ukraine's Territorial Defense Forces' transgender spokesman "Sarah" Ashton-Cirillo was suspended on Wednesday effective immediately over his threat to assassinate "Russian propagandists."
"The statements of JSgt Ashton-Cirillo in recent days were not approved by the command of the TDF or the command of the AFU," the TDF said in a statement. "When conducting military operations against the aggressor, the defense forces of Ukraine strictly observe the norms of international humanitarian law."
"The command of the TDF will conduct an official investigation into the circumstances of these statements," they continued. "Sergeant Sarah Ashton-Cirillo will be suspended immediately pending the investigation."
1/3 Statement of the Command of the Territorial Defense Forces of the Armed Forces of Ukraine regarding some statements of the spokesperson of the TDF, Junior Sergeant Sarah Ashton-Cirillo

— Ukraine Territorial Defense Forces (@TDF_UA) September 20, 2023
3/3 The command of the TDF will conduct an official investigation into the circumstances of these statements. Appropriate decisions would be taken.
Sergeant Sarah Ashton-Cirillo will be suspended immediately pending the investigation.

— Ukraine Territorial Defense Forces (@TDF_UA) September 20, 2023
The decision followed a public spat between Ashton-Cirillo and Ohio Senator JD Vance. Vance on Friday asked the Biden regime whether Ashton-Cirillo was connected to US intelligence or is being funded by US taxpayer dollars.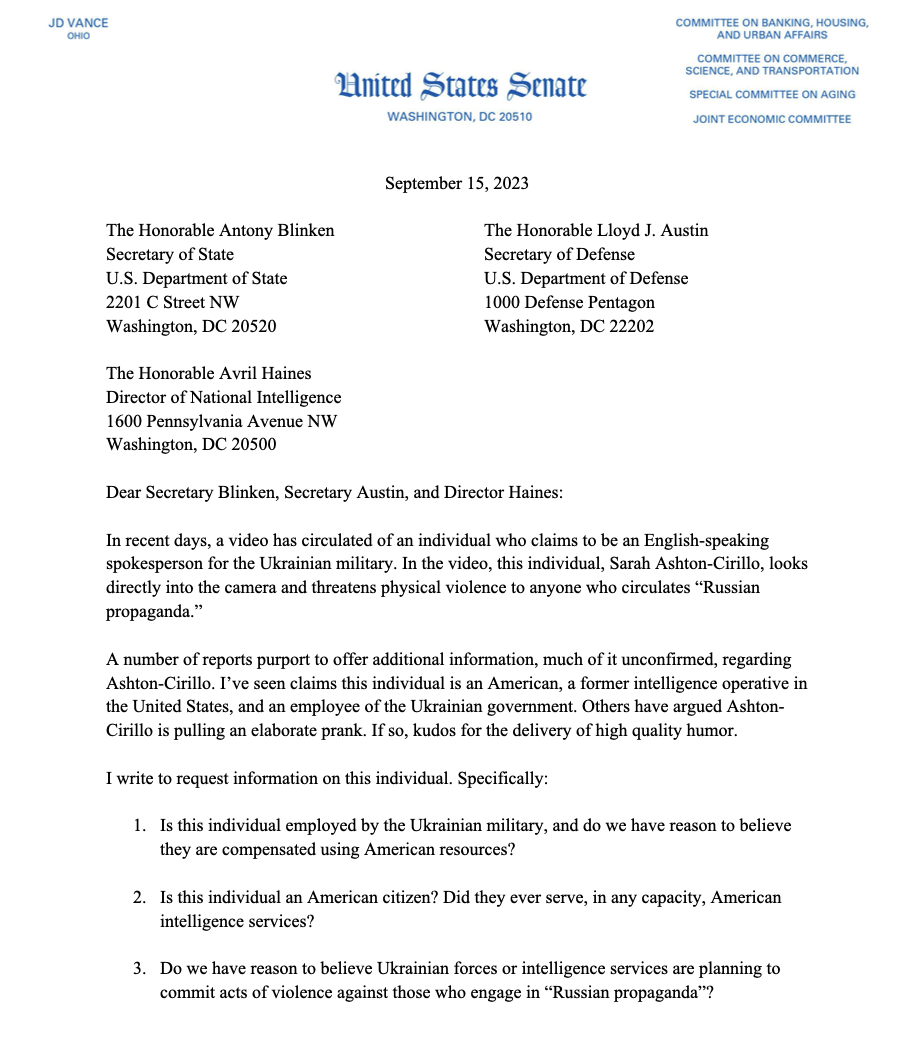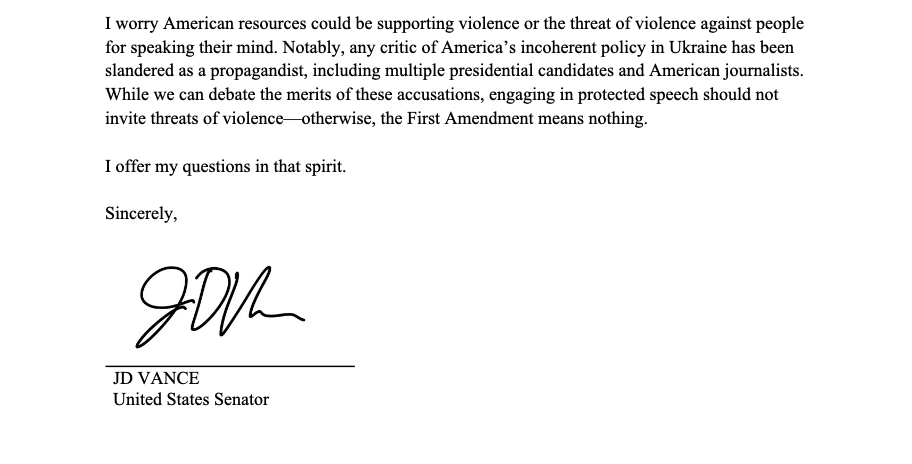 I'd like like the Biden administration to explain who this crazy Ukrainian spokesperson is, and whether they stand by Ukraine's clear attack on free speech: https://t.co/bsGZ7U8iJN

— J.D. Vance (@JDVance1) September 18, 2023
Since I've got your attention, are you/Ukraine still planning to kill people who engage in speech you don't like? And are there any American citizens on the kill list? https://t.co/x2H8nrChXH

— J.D. Vance (@JDVance1) September 18, 2023
To everyone asking: Yes, this is real.

This is the English language spokesman for the Ukrainian armed forces.

This same person posted a video last week threatening violence against anyone who engaged in speech the Ukrainians deemed bad propaganda. Disgusting. https://t.co/X9Y3hHZoVe

— J.D. Vance (@JDVance1) September 18, 2023
🔥Senator @JDVance1 SLAMS taxpayer-funded Ukrainian spokesperson for issuing death threats:

"Are we really funding a military that is threatening the free speech rights of people who disagree with the Ukraine war? Why are our paid guns threatening the rights of Americans?" pic.twitter.com/IkGVxZHTa9

— Senator Vance Press Office (@SenVancePress) September 20, 2023
Vance also spoke out against the Zelensky regime's imprisonment of American citizen Gonzalo Lira for being a "Russian propagandist."
Ukraine is holding an American journalist hostage. This is a disgrace. And why is the Biden admin opening up the checkbook without any accountability? https://t.co/sYwAZfzkVM

— J.D. Vance (@JDVance1) September 19, 2023
Before the war, Zelensky closed opposition media. Under martial law, they now abducted a US citizen/journalist critical of Zelensky: Gonzalo Lira, who this person helped arrest.

Kudos to @JDVance1 for denouncing this repression against Americans:https://t.co/kloniXtpwH

— Glenn Greenwald (@ggreenwald) September 20, 2023
Sen. Mike Lee of Utah joined Vance is questioning why the US is sending billions to Ukraine while Lira is being held captive:
Is there anything Zelenskyy could do that would cause Biden to second-guess his blank-check approach to Ukraine assistance? If not, shouldn't that worry us? https://t.co/aRUZKDtJg1

— Mike Lee (@BasedMikeLee) September 20, 2023
Ashton-Cirillo has yet to comment on his suspension and the Biden regime has yet to answer whether he's on their payroll.
Follow InformationLiberation on Twitter, Facebook, Gab, Minds and Telegram.
Sen. J.D. Vance Demands Biden Admin Reveal if American Transgender 'Spokesperson' for Ukraine Military Has U.S. Intelligence Ties After Threats to 'Hunt Down' Russian 'Propagandists'
"Did they ever serve, in any capacity, American intelligence services?"
Senator J.D. Vance (R-OH) has written to top Biden administration officials demanding the White House reveal if Sarah Ashton-Cirillo, a transgender individual claiming to be a spokesperson for the Ukrainian military, has ties to American intelligence services and if U.S. funds are currently subsidising Ashton-Cirillo's apparent role in Ukraine after the personality went viral vowing that Russian "propagandists will be hunted down".
In a letter, seen by Breitbart News, to Secretary of State Antony Blinken, Secretary of Defense Lloyd Austin, and Director of National Intelligence Avril Haines, Ohio Senator J.D. Vance has requested any information the U.S. government has on apparently American-born former freelance journalist Sarah Ashton-Cirillo — born Michael John Cirillo — who reportedly became a spokesperson for the Ukrainian military earlier this year.
Appearing before a backdrop featuring the logo for the Territorial Defence of Ukraine (TDF) — a branch of Kyiv's military — Ashton-Cirillo posted a video message earlier this week on social media declaring that Ukraine will "hunt down" alleged allies of the Kremlin operating in Ukraine as "propagandists".
"Next week, the teeth of the Russian devils will gnash ever harder, and their rabid mouths will foam an uncontrollable frenzy as the world will see a favourite Kremlin propagandist pay for their crimes. And this puppet of Putin is only the first. Russia's war criminal propagandists will all be hunted down, and justice will be served as we in Ukraine are led on this mission by faith in God, liberty and complete liberation," the apparent Ukrainian spokesman warned.
Since there are several people asking for this video and many discussing it on Telegram and across social media channels, here is my latest episode of Russia Hates the Truth.

The russians and their supporters are gnashing their teeth as predicted.

pic.twitter.com/Bdr1yddFN3

— Sarah Ashton-Cirillo (Ukrainian TDF Media) (@SarahAshtonLV) September 13, 2023
The ominous message, which quickly went viral, has sparked many questions about Ashton-Cirillo's background and alleged current role with the Ukrainian military, including from Sen. Vance.
"In recent days, a video has circulated of an individual who claims to be an English-speaking spokesperson for the Ukrainian military. In the video, this individual, Sarah Ashton-Cirillo, looks directly into the camera and threatens physical violence to anyone who circulates 'Russian propaganda'," he wrote in a letter to Sec. Blinken, Sec Austin, and Director Haines.
"A number of reports purport to offer additional information, much of it unconfirmed, regarding Ashton-Cirillo. I've seen claims this individual is an American, a former intelligence operative in the United States, and an employee of the Ukrainian government. Others have argued Ashton-Cirillo is pulling an elaborate prank. If so, kudos for the delivery of high quality humor," Vance continued in an apparent reference to Ashton-Cirillo's reported direct lobbying of the U.S. Congress for military aid to Ukraine last December.
The Ohio freshman Senator went on to request information from the White House, questioning:
"Is this individual employed by the Ukrainian military, and do we have reason to believe the are compensated using American resources?
Is this individual an American citizen? Did they ever serve, in any capacity, American intelligence services?
Do we have reason to believe Ukrainian forces or intelligence services are planning to commit acts of violence against those who engage in 'Russian propaganda'?"
The Republican lawmaker went on to express concerns that U.S. taxpayer dollars are supporting violence or the threat of violence against people for speaking their minds, noting that American journalists and even current presidential candidates have been "slandered" as propagandists for Russia.