'Pride in the Park' Event Targeted at Children Features Drag Queens and Satanists
Hans, are we the baddies?
A 'Pride in the Park' event in Idaho to mark gay pride month which is geared towards children will include the participation of drag queens as well as satanists who have vowed to perform "unbaptisms."
What could possibly go wrong?
The event, set to take place in Coeur d'Alene this coming Saturday, is billed as a "family friendly celebration of LGBTQ+ diversity."
According to the North Idaho Pride Alliance website, The Satanic Temple will be in attendance handing out material and talking to children and others present.
"@TSTIdaho will be at Coeur D'Alene's "Pride in the Park" event next Saturday, June 11th from 10am-3pm!" tweeted one member. "We will have merchandise and performing unbaptisms for those interested! Just know, Satan loves you for you! Hail Satan!"
As the Idaho Tribune's Johnston Meadows documents, "Among the satanists, there will be a plethora of LGBT speakers and performers, many of who are drag queens."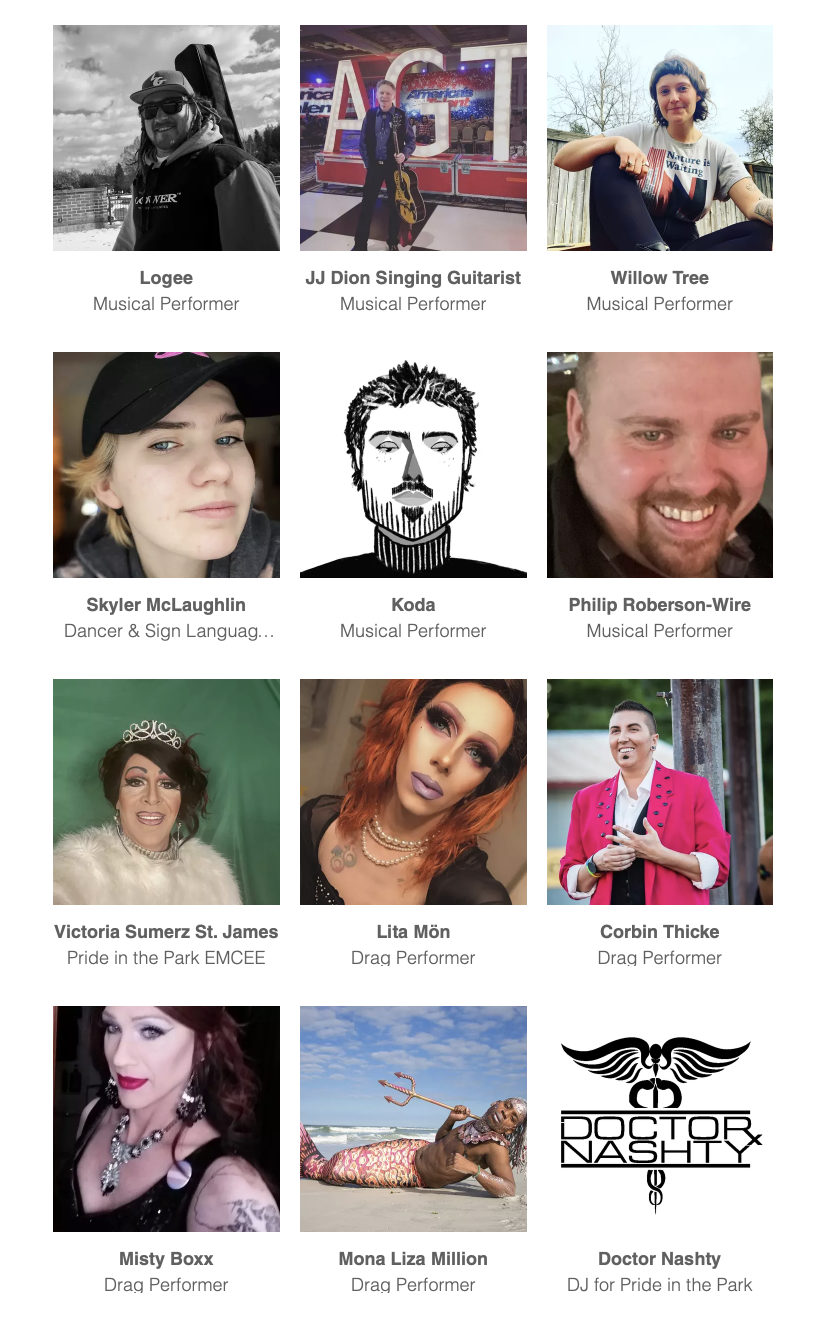 "Among the sponsors, there will be an Idaho HIV, STD & Hepatitis prevention and care booth, for children to learn about how gay people are at a much greater risk of contracting such diseases, due to their poor life choices," he adds.
Members of Antifa are also planning to turn up to "protect" members of the LGBT community from protesters and anyone who might have a problem with their kids being around satanists or drag queens.
Leftists get irate at conservatives for calling them "groomers" when they advocate exposing kids to drag queens, whose entire act is based on sexualized fetishes.
However, at least for the satanists who will attend the event, they have openly stated their intention to groom children for membership.
The issue of kids being exposed to drag queens has once again been raging following outrage over footage from a Texas drag queen show which included children being made to perform catwalks and hand dollar bills to men dressed as women who performed sexualized dance routines.
Footage from inside the gay bar in Dallas, Texas (Mr. Misster) that hosted the drag show for children as part of #PrideMonth. Video by @TaylerUSA. pic.twitter.com/JX1jkxkX13

— Andy Ngô 🏳️‍🌈 (@MrAndyNgo) June 4, 2022
SUBSCRIBE on YouTube:
Follow on Twitter: Follow @PrisonPlanet
———————————————————————————————————————
Brand new merch now available! Get it at https://www.pjwshop.com/
ALERT!
In the age of mass Silicon Valley censorship It is crucial that we stay in touch.
I need you to sign up for my free newsletter here.
Support my sponsor – Turbo Force – a supercharged boost of clean energy without the comedown.
Get early access, exclusive content and behinds the scenes stuff by following me on Locals.
———————————————————————————————————————
California Senator Accused Of Faking Anti-LGBTQ Threat
California state Senator Scott Weiner – who in June suggested "Offering Drag Queen 101 as part of the K-12 curriculum," for which "Attending Drag Queen Story Time will satisfy the requirement," has been accused of a hate crime hoax.
On Tuesday, conservative pundit Charlie Kirk made a Twitter thread pointing the finger at Weiner for contributing to the release of "thousands of pedophiles" in California "after just a few months in jail."
Click the tweet below to read the entire thread:
In response, Weiner tweeted what he claimed to be a hateful, anti-LGBTQ message he received in response to Kirk's thread.
"Not even 24 hours after MAGA grifter Charlie Kirk tweeted homophobic lies about me, I received this thread repeating one of his lies."
Except, there's a cursor at the bottom of the message, and grammar suggestions are underlined – leading many to accuse the California lawmaker of faking the entire thing.
How long until Weiner says he copied the message into a text editor?
This post was originally published at Zero Hedge
Video: New Disney CEO Wants To "Quiet Things Down" After Company Exec Previously Revealed Open LGBTQ Agenda
"Do I like the company being embroiled in controversy? Of course not"
The new CEO of Disney, Bob Iger, announced Tuesday that he will seek to "quiet things down" at the company following several high profile controversies, most notably the admission of an executive producer under his predecessor declaring that Disney is operating an open LGBT agenda.
Iger was filmed at a town hall meeting with Disney employees, and the footage was posted to social media by Manhattan Institute senior fellow Christopher Rufo.
"Do I like the company being embroiled in controversy? Of course not," Iger asserted.
"It can be distracting, and it can have a negative impact on the company. And to the extent that I can work to quiet things down, I'm going to do that," Iger vowed.
Iger, who is returning to the company for a second spell as CEO after the unscheduled exit of his appointed successor, Bob Chapek, also noted that he was "sorry to see us [Disney] dragged into that battle" with Florida governor Ron DeSantis following Disney's public rebuke of his "Parents Rights in Education" bill which prevents children as young as kindergarten age being taught about transgender and gay sex issues in schools.
In an interview with Tucker Carlson, DeSantis and the host charged that Disney has a "fixation on the sexuality of children" pointing to recent reports that four employees of the media giant were charged with human trafficking in Florida, with one having allegedly sent sexually explicit texts to an law enforcement agent posing as a teenage child.
During the town hall, Iger further stated that "One of the core values of our storytelling is inclusion, and acceptance, and tolerance. And we can't lose that, we just can't lose that."
He continued, "How we actually change the world for the good must continue… We're not going to make everybody happy all the time, and we're not [going to] try to. We're certainly not going to lessen our core values in order to make everybody happy all the time."
Iger's comments come as the company faces a $100 million loss from a production called "Strange World," which features an open gay teen romance.
Recall that back in March, leaked video footage revealed Disney executive producer Latoya Raveneau asserting that her team had implemented a "not-at-all-secret gay agenda" that would be "adding queerness" to programmes and films for children.
Disney has indeed been prominently featuring transgender and LGBT characters in productions:
Disney also angered many parents earlier this year by throwing its weight and funding behind gender reassignment procedures, even for kids:
As we noted yesterday, a new Disney Christmas show features a group of children holding up signs that spell out "WE LOVE YOU SATAN," prompting more backlash.
SUBSCRIBE on YouTube:
Follow on Twitter:
Follow @PrisonPlanet
———————————————————————————————————————
Brand new merch now available! Get it at https://www.pjwshop.com/


ALERT! In the age of mass Silicon Valley censorship It is crucial that we stay in touch.

We need you to sign up for our free newsletter here.

Support our sponsor – Turbo Force – a supercharged boost of clean energy without the comedown.

Also, we urgently need your financial support here. ———————————————————————————————————————
Biden's Gender-Fluid Nuclear Official Charged With Felony Theft After Lying To Cops
A senior Department of Energy official was charged with felony theft after stealing a piece of luggage from the Minneapolis airport in September – shortly before taking a leave of absence.
Sam Brinton, a gender-fluid nuclear expert who in 2015 defended underage gay prostitution website "Rentboy.com," allegedly took a Vera Bradley suitcase worth $2,325 from the luggage carousel at the Minneapolis St. Paul Airport (MSP) on September 16, Fox News reports, citing a criminal complaint filed Oct. 16 in Minnesota state court.
According to court filings, surveillance footage showed Brinton taking the luggage, then removing its tag identifying the owner, before leaving the airport. Brinton was observed using the luggage during at least two other trips to Washington DC – on Sept. 18 and Oct. 9.
When a police officer called Brinton on Oct. 9 for questioning, Brinton confirmed that he still possessed the suitcase, but then claimed it was his.
"If I had taken the wrong bag, I am happy to return it, but I don't have any clothes for another individual," Brinton told the officer, adding "That was my clothes when I opened the bag."
Two hours later, Brinton called back and apologized for not being "completely honest," adding that taking the wrong bag was a mistake because ht was tired.
"DEFENDANT said when they opened the bag at the hotel, they realized it was not theirs," reads the court filing. "DEFENDANT got nervous people would think they stole the bag and did not know what to do. DEFENDANT stated they left the clothes from the bag inside the drawers in the hotel room."
Brinton was ultimately charged with felony theft of a movable property without consent, a charge that could result in a five-year sentence, $10,000 fine or both.

Minnesota-based outlet Alpha News first reported the charges against Brinton on Monday.

Brinton was placed on leave about a month ago and another official was named as a replacement in the interim earlier this month, according to the Exchange Monitor which tracks government hires. The DOE didn't explain why Brinton took leave at the time. -Fox News
Sounds like Brinton can add 'klepto' to their resume.
This post was originally published at Zero Hedge