Report: Wuhan Bio Lab Carried Out Gain Of Function Research On Monkeypox Virus
Here we go again…
The Wuhan bio lab that was the centre of controversy surrounding gain of function research on coronaviruses appears to have been carrying out the same kind of research on monkeypox, to make it more lethal to humans, according to a report citing the peer reviewed journal Virologica Sinica which published the lab's findings in February.
The National Pulse reports:
The Wuhan Institute of Virology assembled a monkeypox virus genome, allowing the virus to be identified through PCR tests, using a method researchers flagged for potentially creating a "contagious pathogen."
The report continues:
The study was first published in February 2022, just months before the latest international outbreak of monkeypox cases which appear to have now reached the United States.

Researchers appeared to identify a portion of the monkeypox virus genome, enabling PCR tests to identify the virus, in the paper: "Efficient Assembly of a Large Fragment of Monkeypox Virus Genome as a qPCR Template Using Dual-Selection Based Transformation-Associated Recombination".
The paper acknowledged that this Transformation-Associated Recombination (TAR) "applied in virological research could also raise potential security concerns, especially when the assembled product contains a full set of genetic material that can be recovered into a contagious pathogen."
The full paper can be read below:
The revelations follow on from suggestions from a source within the European Centers For Disease Control that the current strain of monkeypox rapidly spreading across the globe appears to be "a third lab strain with unknown characteristics, and that there is chatter about this being somehow related to Moscow's charges against U.S. biological activities in Ukraine."
This information, along with several other reports indicating that drills and 'war game' scenarios by the WHO and the Gates Foundation involving monkeypox will once again serve to stoke fears that the outbreak could have originated from a bio lab.
Just as news of the first monkeypox case found in the U.S. broke, the Biden administration ordered 13 million doses of a vaccine that protects against both monkeypox and smallpox.
The World Health Organisation is warning that summer festivals and mass gatherings could accelerate the spread of monkeypox in the first indication that health technocrats may once again attempt to impose restrictions in the name of stopping the spread of a virus.
"As we enter the summer season in the European region, with mass gatherings, festivals and parties, I am concerned that transmission could accelerate, as the cases currently being detected are among those engaging in sexual activity, and the symptoms are unfamiliar to many," said Dr Hans Kluge, WHO regional director for Europe.
This weekend, Belgium became the first country to begin imposing quarantine measures for the virus, as Joe Biden also stated that the developments were 'concerning'.
Sky News reported that "Exactly what is driving the UK's largest outbreak is a mystery," especially as health experts previously asserted that monkeypox wasn't very transmissible amongst humans, with some speculating it has mutated.
The virus is also spreading at the same time the WHO is preparing to vote on an international pandemic treaty and amendments to the International Health Regulations (2005).
According to critics, the treaty would, "give the unelected WHO greater control of national emergency healthcare decisions and new powers to push vaccine passports, global surveillance, and "global coordinated actions" that address "misinformation" whenever it declares a "health emergency."
SUBSCRIBE on YouTube:
Follow on Twitter:
Follow @PrisonPlanet
———————————————————————————————————————
Brand new merch now available! Get it at https://www.pjwshop.com/


ALERT! In the age of mass Silicon Valley censorship It is crucial that we stay in touch.

We need you to sign up for our free newsletter here.

Support our sponsor – Turbo Force – a supercharged boost of clean energy without the comedown.

Also, we urgently need your financial support here. ———————————————————————————————————————
Highly-Cited 'Hamilton 68' Russiagate Tracker Is Total Hoax: Taibbi
Out of the caterwaul of cries proclaiming that Russian collusion, and Russian influence operations, were the only reason Donald Trump won the 2016 US election (a hoax funded and promoted by his opponent, Hillary Clinton), a website which claimed to track said Kremlin efforts sprung forth, and was used to justify baseless allegations;
Hamilton 68: a widely-cited, (indirectly) state-sponsored propaganda tool.
The website claims to monitor a secret list of Twitter accounts which they accused of Kremlin control, however it's impossible to verify their claims as the group has never disclosed their methodology.
As Matt Taibbi notes via Racket:
Hamilton 68 was and is a computerized "dashboard" designed to be used by reporters and academics to measure "Russian disinformation". It was the brainchild of former FBI agent (and current MSNBC "disinformation expert") Clint Watts, and backed by the German Marshall Fund and the Alliance for Securing Democracy, a bipartisan think-tank. The latter's advisory panel includes former acting CIA chief Michael Morell, former Ambassador to Russia Michael McFaul, former Hillary for America chair John Podesta, and onetime Weekly Standard editor Bill Kristol. –Racket
And now, Taibbi has torn Hamilton 68's 'black box' asunder after reviewing the latest batch of "Twitter Files."
s Taibbi notes via Racket:
Ambitious media frauds Stephen Glass and Jayson Blair crippled the reputations of the New Republic and New York Times, respectively, by slipping years of invented news stories into their pages. Thanks to the Twitter Files, we can welcome a new member to their infamous club: Hamilton 68.
If one goes by volume alone, this oft-cited neoliberal think-tank that spawned hundreds of fraudulent headlines and TV news segments may go down as the single greatest case of media fabulism in American history. Virtually every major news organization in America is implicated, including NBC, CBS, ABC, PBS, CNN, MSNBC, The New York Times and the Washington Post. Mother Jones alone did at least 14 stories pegged to the group's "research." Even fact-checking sites like Politifact and Snopes cited Hamilton 68 as sources.
Twitter thought they were full of shit
Taibbi reveals that Twitter was concerned enough about Hamilton 68's claims that they ordered a forensic analysis which found that of 644 accounts, just 36 were registered in Russia – many of which were associated with news outlet RT.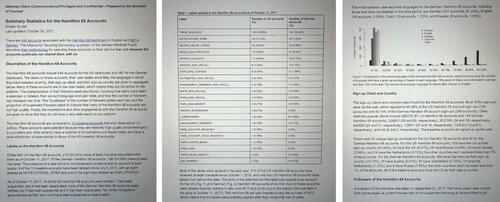 As Taibbi further notes (emphasis ours):
Examining further, Twitter execs were shocked. The accounts Hamilton 68 claimed were linked to "Russian influence activities online" were not only overwhelmingly English-language (86%), but mostly "legitimate people," largely in the U.S., Canada, and Britain. Grasping right away that Twitter might be implicated in a moral outrage, they wrote that these account-holders "need to know they've been unilaterally labeled Russian stooges without evidence or recourse."
Other comments in internal company emails:
"These accounts are neither strongly Russian nor strongly bots."

"No evidence to support the statement that the dashboard is a finger on the pulse of Russian information ops."

"Hardly evidence of a massive influence campaign."
Declared Trust and Safety chief Yoel Roth: "I think we need to just call this out on the bullshit it is."
The two founders of Hamilton 68, the blue-and-red team of former counselor to Marco Rubio Jamie Fly and Hillary for America Foreign Policy Advisor Laura Rosenberger, told Politico they couldn't reveal the names of the accounts because "the Russians will simply shut them down." Tchya, right. One look at the list reveals the real reason they couldn't make it public.
This was not faulty science. It was a scam. Instead of tracking how "Russia" influenced American attitudes, Hamilton 68 simply collected a handful of mostly real, mostly American accounts, and described their organic conversations as Russian scheming. As Roth put it, "Virtually any conclusion drawn from [the dashboard] will take conversations in conservative circles on Twitter and accuse them of being Russian."
Twitter execs wanted to out Hamilton 68!?
"Why can't we say we've investigated… and citing Hamilton 68 is being wrong, irresponsible, and biased?" one exec asked, after Russians were blamed for hyping the #ParklandShooting hashtag.
Trust and Safety head Yoel Roth even wanted to confront Hamilton 68 – writing in one email "My recommendation at this stage is an ultimatum: you release the list or we do."
"I also have been very frustrated in not calling out Hamilton 68 more publicly, but understand we have to play a longer game here," said Carlos Monje, the future senior advisor to Transportation Secretary Pete Buttigieg.
But Future White House and NSC spokesperson Emily Horne advised against it.
As Taibbi further notes:
"So the "legitimate people," as one Twitter exec called them, never found out they'd been used as fodder for mountains of news stories about "Russian influence." Because the #TwitterFiles contain the list, they've begun finding out."
Hamilton's victims speak out
"I'm shocked," said Sonia Monsour, who as a child lived through civil war in Lebanon. "Supposedly in a free world, we are being watched at many levels, by what we say online."
Another person alleged by Hamilton to be a Russian is Chicago-based lawyer David Shestokas.
"I've written a book about the U.S. Constitution," he said, adding "How I made a list like this is incredible to me."
Continued:
The Hamilton 68 story shows how the illusion of ongoing "Russian interference" worked. The magic trick was generated via a confluence of interests, between think-tanks, media, and government. Before, we could only speculate. Now we know: the "Russian threat" was, in this case at least, just a bunch of ordinary Americans, dressed up to look like a Red Menace. Jayson Blair had a hell of an imagination, but even he couldn't have come up with a scheme this obscene. Shame on every news outlet that hasn't renounced these tales. -Matt Taibbi
And Elon with the last word:
This post was originally published at Zero Hedge
"Flaming Dumpster": Musk May Need To 'Tear Down' Twitter Code And 'Start From Scratch'
Journalist Dave Rubin was allowed into Twitter's San Francisco headquarters recently, where owner Elon Musk opened the kimono and allowed him vast access to the company's operations.
When asked what he could share, Musk replied "anything that's true."
Below is Rubin's Twitter thread detailing his findings:
Continued…Accounts aren't just hit with labels that are obvious to insiders. They now found more "secret" labels which are causing shadowbans. My account was hit with all three; "Recent abuse strike," "Recent misinformation strike", "Recent suspension strike." It's unclear so far what these strikes actually do, but for sure they suppress views and recommendations, they are trying to figure out to what extent. I also had many innocuous tweets labeled NSFW or NSFA (not safe for ads) which affect visibility in the timeline. Also, there's an entire KeyWord database so that machine learning makes sure not to promote violence, porn etc., but it's a mess of overreaching words. Literally the word "gay" was on the KeyWord list which would make you not advertiser friendly and harm the tweet in the algo.  Backing up for a sec, they found the "recent suspension strike" on my account most interesting because it was fro July 2022, when I was suspended for calling out @jordanbpeterson's unjust suspension. So though suspension was reversed the action on the account remained.
So I assure you they are aware of the problems and Elon and engineers are there all night trying to untie this crazy knot. Some changes they've made, like the "For You" tab, have confused people and hurt engagement for accounts who have gotten the NSFA label without knowing.
They also don't know for sure why things got so much better once Elon made the acquisition and why it seems far worse now. Some is probably related to excitement around Elon himself, which also coincided with World Cup, but that doesn't explain why it feels so off right now.
Will share more in bit but have to catch a flight.
Closing remarks
On a personal note Elon is funny as hell, laughs a ton and it's just really obvious he cares about Twitter because he cares about free speech and the bigger problems facing the world. He doesn't need this headache, he chose it.
Also huge shout out to @DavidSacks who is helping Elon clean up this mess because he believes in the fight for free speech as much as Elon does. And massive thanks to the engineers who opened up their computers, showed me literally everything I asked for, and were total pros.
Oh, one either thing for now…
Elon really lit up when we talked about the shifting political landscape and how anyone non-woke is now "far right."
That notion is deeply connected to how screwy thing got at Twitter and he's working to fix it despite the huge challenges ahead.
And frankly they gotta get that company out of SF…
What's also really crazy now having seen under the hood is that Jack Dorsey repeatedly said they don't shadowban.The entire machine behind Twitter is designed to shadowban. It's almost as if that was the primary goal rather than the product itself.
Perfect illustration of how crazy things are. A friend just sent the to me, watch the RT's go up and then suddenly go down. And as Musk himself says, this is an:
This post was originally published at Zero Hedge
Defense Department official says troops need training about online misinformation
"The war on disinformation."
The US authorities and many other governments around the world – including "trans-national" groups like the WEF – have been beating the drum regarding the serious danger of misinformation and disinformation for some time now, and that noise is getting louder and louder.
On the one hand, there is no doubt that disinformation can be harmful – but there is also no doubt that it has not only just appeared in the last couple of years, so the fierce insistence on finding new ways to "combat" it seems curious.
Unfortunately, there is also no doubt that this "war on disinformation" is often used as a convenient excuse to curtail free speech or engage in open acts of censorship.
And the rather sudden and outsized reaction to possible harm is often justified by the "rise of social media" (despite the fact this is another thing that hardly only just started happening.)
With all this in mind, it's no surprise the "misinformation panic" has reached the Defense Department.
According to assistant secretary of defense for special operations and low-intensity conflict, Christopher Maier, the threat from misinformation and disinformation is "serious" and relates to "all levels of armed forces."
Maier's explanation for this kind of reaction to possible harm is "the growth of social media," according to National Defense Magazine.
This defense official does acknowledge that disinformation campaigns have existed in the past, but, apparently, social media now give them some "super powers."
Addressing a panel organized at the National Defense Industrial Association Special Operations/Low Intensity Conflict Symposium, Maier spoke about "adversaries" who are, according to him, realizing that their disinformation works well when targeting lower levels of the military and security apparatus rather than their leaderships.
And so the Defense Department has started "educating" troops about these threats, including by releasing a document dubbed, "Official Use of Social Media For Public Affairs Purposes," that, among other things, provides instructions on how to report what is seen as a fake or imposter account.
There's another guide – one about "spotting disinformation actors" that comes from Army Training and Readiness Command.
"An important piece of building awareness and resilience is training newly enlisted personnel, as the Defense Department can't presume recruits have the required 'level of awareness'," Maier said.
And this effort to educate should not stop with members of the military, he revealed, but should also include their families, "and other people in their lives."
This post was originally published at Reclaim The Net