US to Accept 100,000 Ukrainian Refugees
To protect LGBTQ community.
Bloomberg reports that Joe Biden is set to announce a plan that will see the United States accept as many as 100,000 Ukrainian refugees.
What could possibly go wrong?
Please share this video! https://youtu.be/4xSwzXoM4XA
SUBSCRIBE on YouTube:
Follow on Twitter: Follow @PrisonPlanet
———————————————————————————————————————
Brand new merch now available! Get it at https://www.pjwshop.com/
ALERT!
In the age of mass Silicon Valley censorship It is crucial that we stay in touch.
I need you to sign up for my free newsletter here.
Support my sponsor – Turbo Force – a supercharged boost of clean energy without the comedown.
Get early access, exclusive content and behinds the scenes stuff by following me on Locals.
———————————————————————————————————————
EU Threatens To Suspend €7.5BN In Hungary Funding Amid Charges Of 'Cozying Up' To Putin
The EU's patience with Viktor Orban's Hungary is running extremely thin after years of wrangling and threats from Brussels of triggering the "rule of law" mechanism, despite recently announced efforts of Budapest to establish an anti-graft agency. 
It seems Russia's war in Ukraine is hastening a confrontational and fractured ending to the standoff, with the EU on Sunday threatening to freeze 7.5 billion euros which had been earmarked for Hungary, citing persisting corruption and fraud.
It's been no secret that Orban has been a thorn in the side of European efforts to punish and isolate Putin's Russia. While Hungary has demanded exemptions from EU energy sanctions on Russia, and has meanwhile enjoyed cheap gasoline and other energy at a moment prices in the rest of Europe have gone steadily up over the course of the war – and into what's sure to be a tough winter – the belief among leading EU states is that joint bloc anti-Russia actions have been largely blunted. The timing of the fresh EU threats is not going unnoticed.
Bloomberg in a fresh report has put the dilemma as follows: "But while most member states have been engaged in a desperate scramble to secure alternative gas supplies ahead of the winter, Orban has deepened his country's ties to the Kremlin, exploiting the exemptions he demanded from EU sanctions to secure increased imports of gas from Russia."
Poland has remained a powerful impediment thus far to Brussels triggering any significant rule of law penalties, despite Warsaw remaining at the forefront of denunciations of Russia's invasion.
"During years of frustration at the Hungarian government, Orban has been shielded from the EU's main disciplinary machinery, known as the article 7 procedure, by the support of the nationalist government in Warsaw — because that mechanism too requires the endorsement of all the other members," Bloomberg recounts. "The war in Ukraine has soured Orban's relationship with the Polish government, which has been among the most ardent supporters of firm action against Putin, but for now the Poles are standing by Orban."
Orban has cast efforts to "punish" his country in terms of a war on traditional values. For now, Poland seems to agree… the vast divergence in rhetoric on the Russia-Ukraine conflict notwithstanding.
Prime Minister Mateusz Morawiecki said Sunday, "Poland will strongly oppose any action of European institutions that intend to unduly deprive any member states of funds, in this case Hungary."
Interestingly (given the timing of the EU's threat to freeze funds), just days ago PM Orban reportedly told a closed-door meeting of officials from his ruling Fidesz party that he would fight efforts to extend EU sanctions on Russia:
Hungarian Prime Minister Viktor Orban expects European Union leaders to start talks on extending sanctions on Russia in the autumn but Budapest would try to block the move, Radio Free Europe/Radio Liberty reported, citing unidentified sources.

Orban, a harsh critic of EU sanctions on Moscow over its invasion of neighbouring Ukraine, made the remarks at a closed meeting to party members in the western village of Kotcse last week, RFE/RL said on its Hungarian website on Friday.
He also appeared to once again blame the West for the Ukraine conflict spiraling out of control, and continued his theme of anti-Russia sanctions ultimately blowing back on populations at home, or shooting the European economy in the foot.
Russian media too has been featuring recent quotes of Orban's lambasting collective Western policy: "The Hungarian leader allegedly told his supporters that he believed Ukraine may end up losing between one third and one half of its territory due to the conflict with Russia, RFE/RL reported on Friday, citing participants of the meeting in the village of Kotcse."
Budapest has meanwhile lashed out at the European Parliament's (EP) recent move to approve a resolution stating that Hungary is no longer a "full democracy." That nonbinding EP vote from last week cited Hungary's failures to uphold "respect for human dignity, freedom, democracy, equality, the rule of law, and respect for human rights, including the rights of persons belonging to minorities" – as the text reads, in repetition of prior EP statements.
A Fidesz statement said in response: "It is unforgivable that, while people are suffering from the severe economic effects of wartime inflation and misguided sanctions, the European Parliament is attacking Hungary again."
This post was originally published at Zero Hedge
Slava Raytheon: Zelensky To Headline Conference Of US Defense Companies
Ukrainian President Volodymyr Zelensky has throughout much of the six-month long Ukraine war been busy rallying support to his side by addressing dozens of Western countries' parliaments, for which Ukraine has since been rewarded with billions of dollars in foreign defense and humanitarian aid.
His foremost theme has been a constant refrain of his military urgently needing more, more and more weapons. He's even requested advanced fighter jets, months ago asking Congress to "close the skies" (or in essence a No Fly Zone).
Now for the first time it seems he'll go straight to the source, as he's set to be the keynote speaker, via video link, to a major meeting of American defense contractors later this month. The Hill is confirming that "he headlines the annual Future Force Capabilities Conference and Exhibition hosted by the National Defense Industrial Association (NDIA)" in Austin, Texas on September 21.
Ukraine's defense minister Oleksii Reznikov is also scheduled to address the conference. Naturally, both are expected to emphasize a message that more and heavier arms are needed if Ukrainian forces hope to sustain their eastern and southern counteroffensive, which in the last days has been widely reported as successful – at least so far.
Russian Defense Ministry spokesman Igor Konashenkov has on Saturday admitted his army has had to "regroup" troopsfrom Balakliya and Izyum in Kharkiv Oblast. This is being taken as a sign Ukraine's military is being pushed back from Kharkiv and could be taking heavy losses, with the day prior Zelensky announcing Ukraine has taken back over 30 settlements in the region.
"We are gradually taking control over more settlements, returning the Ukrainian flag and protection for our people." Zelenskiy said. "Our army, intelligence, the Security Service of Ukraine continue active actions in several operational directions. They continue successfully."
This is the message he's expected to stress in addressing the major arms expo in August. In the audience will be representatives from the leading military weapons manufacturers in the US:
News of the Ukrainian president's speech to the NDIA — whose membership includes defense industry giants like Raytheon Technologies, Lockheed Martin and General Dynamics — comes as Kyiv looks to fend off Russia's invasion as it drags through its sixth month.

Eight defense contractors — including Raytheon, Lockheed and General Dynamics — attended a meeting at the Pentagon in April to discuss how the U.S. could speed up production to help Ukraine fend off Moscow's war.

The U.S. has committed $15.2 billion in security assistance to Ukraine since the beginning of the Biden administration, including $14.5 billion since Russia invaded Ukraine on Feb. 24.
A number of independent observers are noting just how obviously this brings to the fore one of the key motives of US hawks, especially officials tied closely to the military-industrial complex, who have shown no interest in pushing both warring sides to the negotiating table. In fact, evidence has recently emerged strongly pointing to Washington and London playing the role of behind-the-scenes saboteurs to prior ceasefire talks.
Instead the past months have seen these officials by and large argue for Congress to sign off on essentially a "blank check" bonanza of Ukraine arms procurement. Like other recent conflicts, for example in the Middle East, they see the Russia-Ukraine war as fundamentally an opportunity.
Journalist Max Blumenthal sums up the unspoken reality nicely: "Fresh off his appearance at Wall Street, where he pitched corporations on the plunder of his country's assets, Zelensky will appear at a conference of arms makers in Texas to present his country's war as a fantastic business opportunity."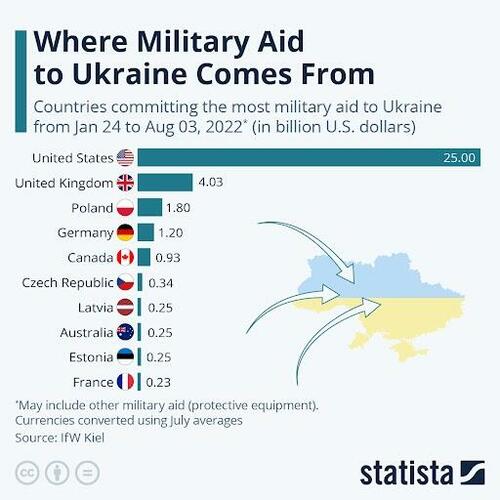 You will find more infographics at Statista
And Zelensky will without doubt continue to get the red carpet rolled out for him by the world's wealthiest defense firms, given he singularly remains the arms contractors' #1 foreign client – and all at the expense of the common US taxpayer to boot.
This post was originally published at Zero Hedge
UN Food Official Warns Fertilizer Affordability Crisis Could Slash Global Grain Production By 40%
More than six months into the Russian invasion of Ukraine, the global fertilizer crunch threatens to starve a planet as prices are too high for some farmers ahead of the next planting season. 
That's the view of Maximo Torero, chief economist from the Food & Agriculture Organization (FAO) of the United Nations (UN), who told Bloomberg TV that elevated fertilizer prices could decrease global grain production by upwards of 40% in the next planting season.
Combine food supply chain disruptions due to the war in Ukraine and crop failures worldwide due to extreme weather — ramping up food production with reduced fertilizer next planting season via key exporting countries could be challenging.
High fertilizer prices are expected to shrink the world's rice production. The grain feeds half of humanity and is vital for political and economic stability across Asia and Sub-Saharan Africa. Supply disruptions could spark social instabilities in those areas of the world. We outlined the risk of unrest is high over the next six months.
Other UN officials in recent weeks have stepped up warnings about the affordability crisis of fertilizer. Prices in North America have come off the highs but remain 220% above levels in early 2020.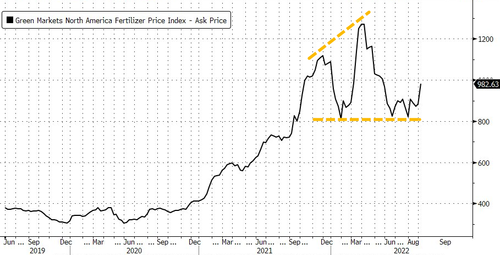 The African Development Bank warned the continent lacks 2 million metric tons of fertilizer.
"We are really starting to yell from every tower that there's a fertilizer crisis … and the fertilizer crisis is enormous," one UN official who spoke on the condition of anonymity told Politico.
Artificial fertilizers contain three primary ingredients: nitrogen, phosphorus, and potassium. Farmers use the final product to boost crop yields — if prices remain elevated because of shortages, fewer fertilizers will be used, and harvests next season will shrink, continuing a multi-year food crisis that might only worsen.
This post was originally published at Zero Hedge