YouTube Flags Tulsi Gabbard's Criticism of "War Machine" as "Offensive" Content
Military industrial complex get their feelings hurt.
YouTube flagged a Fox News interview in which former Congresswoman Tulsi Gabbard said war in Ukraine was good for the military industrial complex as "offensive" content.
Yes, really.
Apparently, upsetting war profiteering defense contractors is now grounds for censorship.
During the interview, host Laura Ingraham asked Gabbard why people were still demanding no fly zones, something that would likely cause World War III, when President Zelensky was "stepping back from his earlier NATO wishes and even demands?"
Gabbard responded by pointing out that Zelensky has said he's willing to negotiate with Putin and "set this NATO membership thing aside."
According to YouTube, such advocacy for peace is borderline content and needs to be hidden behind a warning screen. The video is also age-restricted.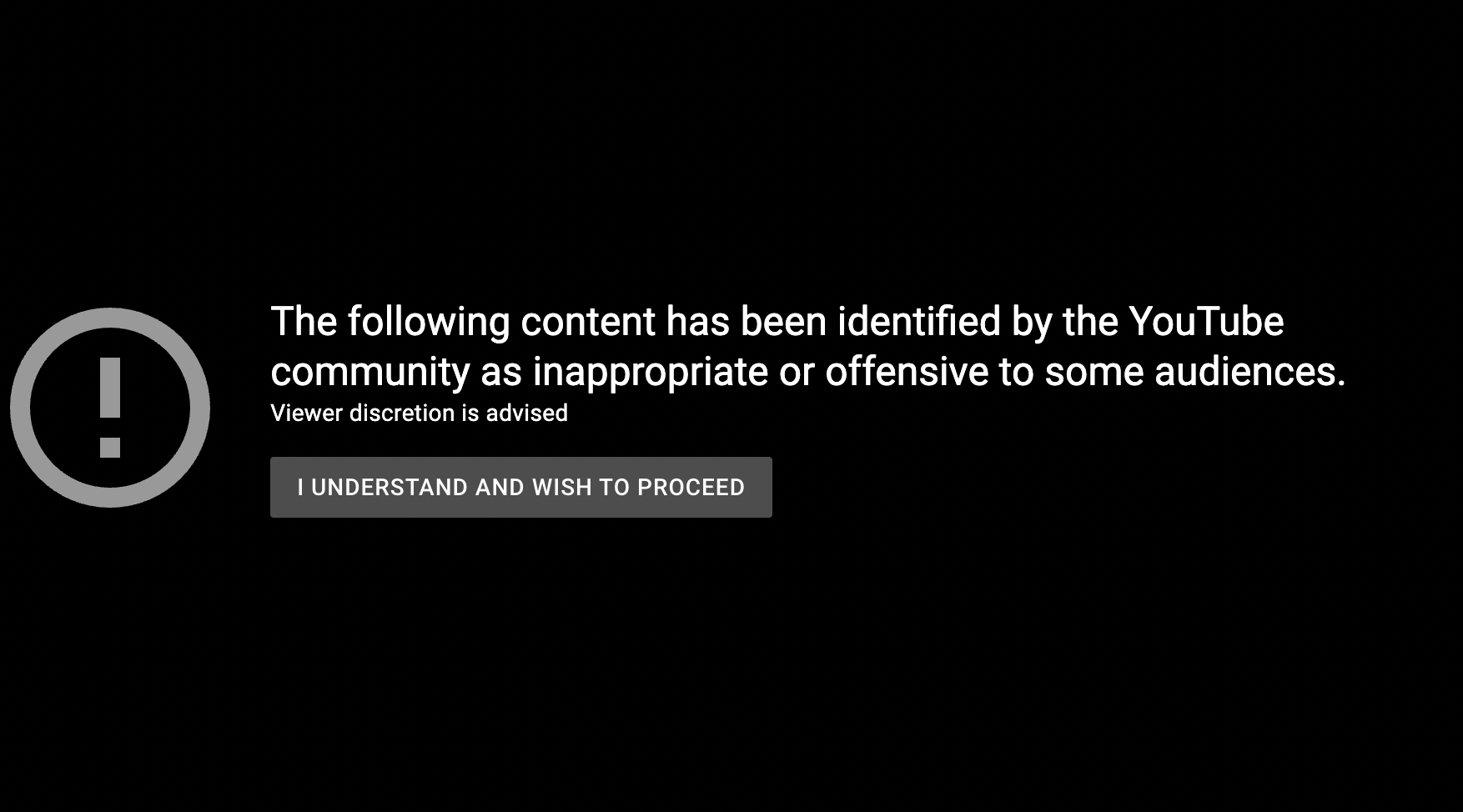 Elsewhere in the interview, Gabbard dared to suggest that "it's good for the military industrial complex" to prolong the war in Ukraine and to "have this proxy war with Russia, something that Hillary Clinton laid out just recently."
"This war machine, this power elite in Washington, want to turn Ukraine into another Afghanistan, turn into killing fields where this long-term insurgency is supported. And they bleed out and cripple, kill as many Russians as possible for who knows how long, and they're really showing their real aim in the fact that they're not taking action right now to end this conflict," said Gabbard.
According to YouTube, not wanting Ukraine to turn into Afghanistan is " inappropriate or offensive to some audiences."
Gabbard has been under scrutiny since Mitt Romney ludicrously suggested the former United States Army Reserve officer was "treasonous" for wanting US biological research labs in Ukraine secured to prevent outbreaks of deadly pathogens.
MSNBC intelligence analyst Malcolm Nance also accused Gabbard of being a "collaborator," while The View's Ana Navarro demanded she be investigated by the Justice Department for spreading "Russian propaganda."
.@MittRomney and others say that I'm treasonous because I called for a ceasefire around the 25+ biolabs in Ukraine to prevent the breach of such facilities & escape of pathogens, and prevent more pandemics. Romney should resign. pic.twitter.com/nNhmM74xo1

— Tulsi Gabbard 🌺 (@TulsiGabbard) March 14, 2022
SUBSCRIBE on YouTube:
Follow on Twitter: Follow @PrisonPlanet
———————————————————————————————————————
Brand new merch now available! Get it at https://www.pjwshop.com/
ALERT!
In the age of mass Silicon Valley censorship It is crucial that we stay in touch.
I need you to sign up for my free newsletter here.
Support my sponsor – Turbo Force – a supercharged boost of clean energy without the comedown.
Get early access, exclusive content and behinds the scenes stuff by following me on Locals.
———————————————————————————————————————
Musk Slams NY Times As "An Unregistered Lobbying Firm" For Complete Lack Of Coverage Of Twitter Files
Republicans want to investigate Facebook, Google for acting as "arms of the Democratic Party"
Twitter owner Elon Musk accused the New York Times of being a lobbying firm rather than a serious news organisation after it failed to cover in any depth the revelations that Twitter engaged in mass censorship, particularly with regards to the Hunter Biden laptop fiasco.
Musk revealed that he has increased his personal security in response to concerns over his safety following the release of the first dump of files:
However, when a tweeter pointed out that there wasn't a single piece on the New York Times' website covering the release of Twitter files, with analysis by investigative journalist Matt Taibbi, Musk responded "That is because The New York Times has become, for all intents and purposes, an unregistered lobbying firm for far left politicians."
Musk also pointed to a Reuters article about his "public fight with Apple," noting that it takes the legacy media days to catch up with what is happening.
"The delayed reaction of regular news is like nonstop déjà vu," Musk commented.
Meanwhile, MSNBC and NBC News are working overtime to distract, downplay and distort the Twitter files revelations, even suggesting that Musk revealing Twitter engaged in mass censorship makes the company look good.
Republican congressional leader Kevin McCarthy commented Sunday on Musk's efforts to uncover censorship, noting "What Elon Musk has been able to do, now we know why the White House wanted to fight so strongly against him owning Twitter."
"All he's done is put out the truth," McCarthy continued, adding "Now we need to start looking at Facebook, at Google. These now have become arms of the Democratic Party, arms of the Biden administration."
"They go after each and every person that questions them. Look at what they're doing to Elon Musk and the successes that he's had. He's not doing anything but putting out papers that he has found," the minority Congressional leader further asserted.
McCarthy noted that under the previous regime Twitter was assuming "control [of] what we could find out, what we can say, what — whether we could even forward or retweet." 
"How is this different than what's happening in China today, where they try to control every single person?" McCarthy urged, adding "Where is the uprising in this?"
"They used every arm, not only just of the government, but they have taken over businesses to lie to the American public," McCarthy charged, warning "This is just the beginning."
Watch:
SUBSCRIBE on YouTube:
Follow on Twitter:
Follow @PrisonPlanet
———————————————————————————————————————
Brand new merch now available! Get it at https://www.pjwshop.com/


ALERT! In the age of mass Silicon Valley censorship It is crucial that we stay in touch.

We need you to sign up for our free newsletter here.

Support our sponsor – Turbo Force – a supercharged boost of clean energy without the comedown.

Also, we urgently need your financial support here. ———————————————————————————————————————
"Not Funny," "Dangerous": Former Twitter Censor Justifies Banning Babylon Bee
Says jokes about gender put people at physical risk.
Former Twitter censor Yoel Roth justified the site in its pre-Elon Musk incarnation banning satirical website The Babylon Bee, asserting that its content was "not funny" and "dangerous."
Twitter's former head of trust and safety made the remarks during an appearance on a Knight Foundation panel.
The Babylon Bee was suspended, or more accurately locked out of their account, for "misgendering" Assistant Secretary of Health Rachel Levine, a biological male who now identifies as a woman.
Their crime was to bestow upon Levine a "man of the year" award.
Despite Yoel Roth admitting that Twitter had made a mistake in banning a story about the Hunter Biden laptop scandal, he said the censorship of the Babylon Bee was perfectly reasonable.
"You can like the policies or you can dislike the policies, but it's the same rules for everyone," said Roth.
"When you repeatedly tweet violations of a policy there are consequences, including account timeouts, and ultimately, they can lead to suspension. And they did," he added.
Yoel Roth, who no longer works at Twitter, claims that satire is dangerous and that Libs of TikTok and The Babylon Bee are dangerous. I'm glad he's gone. He was bad for Twitter. pic.twitter.com/OTapsho3GO

— Ian Miles Cheong (@stillgray) December 4, 2022
Commenting specifically on the Babylon Bee issue, Roth asserted, "I want to start by acknowledging that the targeting and the victimization of the trans community on Twitter is very real, very life-threatening, and extraordinarily serious."
"We have seen from a number of Twitter accounts, including Libs of TikTok notably, that there are orchestrated campaigns that particularly are singling out a group that is already particularly vulnerable within society," he added.
"Not only is it not funny, but it is dangerous, and it does contribute to an environment that makes people unsafe in the world. So, let's start from the premise that it's fucked up," said Roth.
That's right, apparently, joking about the fact that there are only two genders makes people physically "unsafe."
The Babylon Bee's account was reinstated after Elon Musk took charge of Twitter, while Roth quit his position in early November.
As we highlight in the video below, the release of the Twitter files, data dumps proving targeted, political censorship of dissident voices and factual information, have left some fearing for Musk's safety.
SUBSCRIBE on YouTube:
Follow on Twitter: Follow @PrisonPlanet
———————————————————————————————————————
Brand new merch now available! Get it at https://www.pjwshop.com/
ALERT!
In the age of mass Silicon Valley censorship It is crucial that we stay in touch.
I need you to sign up for my free newsletter here.
Support my sponsor – Turbo Force – a supercharged boost of clean energy without the comedown.
Get early access, exclusive content and behind the scenes stuff by following me on Locals.
———————————————————————————————————————
FBI Held 'Weekly Meetings' With Big Tech Ahead of 2020 Election, 'Sent Lists of URLs and Accounts' to be Censored
The FBI held "weekly meetings" with social media giants ahead of the 2020 election and sent in "lists of URLs and accounts" for them to take down in the name of fighting "foreign influence operations," an FBI agent revealed Tuesday while under oath.
This is what real "election interference" looks like.
From Fox News:
On Tuesday, lawyers from the offices of Attorneys General Eric Schmitt of Missouri and Jeff Landry of Louisiana deposed FBI Supervisory Special Agent Elvis Chan as part of their lawsuit against the Biden administration. That suit accuses high-ranking government officials of working with giant social media companies "under the guise of combating misinformation" to achieve greater censorship.

Chan, who serves in the FBI's San Francisco bureau, was questioned under oath by court order about his alleged "critical role" in "coordinating with social-media platforms relating to censorship and suppression of speech on their platforms."

During the deposition, Chan said that he, along with the FBI's Foreign Influence Task Force and senior Cybersecurity and Infrastructure Security Agency officials, had weekly meetings with major social media companies to warn against Russian disinformation attempts ahead of the 2020 election, according to a source in the Missouri attorney general's office.

Those meetings were initially quarterly, then monthly, then weekly heading into the presidential election between former President Donald Trump and now President Biden. According to a source, Chan testified that in those multiple, separate meetings, the FBI warned the social media companies that there could be potentially Russian "hack and dump" or "hack and leak" operations.

In their complaint, the GOP AGs noted an Aug. 26 podcast episode of "The Joe Rogan Experience," in which Meta CEO Mark Zuckerberg stated that "the FBI basically came to us" and told Facebook to be "on high alert" relating to "a lot of Russian propaganda." Zuckerberg added that the FBI said "there's about to be some kind of dump… that's similar to that, so just be vigilant."
[…] "Since filing our lawsuit, we've uncovered troves of discovery that show a massive 'censorship enterprise,'" Attorney General Eric Schmitt told Fox News Digital. "Now, we're deposing top government officials, and we're one of the first to get a look under the hood — the information we've uncovered through those depositions has been shocking to say the least. It's clear from Tuesday's deposition that the FBI has an extremely close role in working to censor freedom of speech."
Elon Musk released internal documents from Twitter last week showing the "Biden team" sent in requests for URLs to be taken down ahead of the election. 
As we saw with Zuckerberg's comments on Rogan, the FBI's "warnings" were a way to pressure Big Tech to censor content the regime viewed negatively. 
The FBI not only directed the censorship of the internet ahead of the 2020 election but also manufactured a fake terror plot in the swing state of Michigan to hype the phony threat of "right-wing extremism."
This post was originally posted at Information Liberation