Canadian Government Mulling Using Military Against Freedom Convoy Protesters
Trudeau worried about confrontation between troops and citizens.
The Canadian government is still mulling over whether to the military against Freedom Convoy protesters, although Prime Minister Justin Trudeau said the decision wouldn't be taken "lightly."
Thousands of demonstrators arrived in downtown Ottawa last week to protest against vaccine mandates that dictate truckers returning to Canada from the U.S. quarantine once they arrive at home.
With the city still gridlocked, Police Chief Peter Sloly says the numbers could swell again this weekend.
"There may not be a policing solution," to resolve the impasse, he warned, adding that authorities are "looking at every single option, including military aid."
MP @LeslynLewis at the Freedom Convoy: The people have been lied to, and they want answers

READ MORE from @EzraLevant: https://t.co/uYuQhc7x9R pic.twitter.com/6qcGy65tTs

— Rebel News (@RebelNewsOnline) February 3, 2022
That has prompted some to speculate that the Canadian military could be called in to shut down the protest, sparking a potential confrontation that could dangerously escalate.
Prime Minister Justin Trudeau said he had received no formal request to authorize military action, but would "of course, look at any formal requests [the city of Ottawa] sent us."
"One has to be very, very cautious before deploying the military in situations engaging Canadians," Trudeau said during a press conference. "It is not something that anyone should enter into lightly."
Supporters of the Freedom Convoy, including a disabled vet, talk about why they were shoveling snow off the National War Memorial.

Footage by @PuffinsPictures pic.twitter.com/5WTXoO4dX0

— The Post Millennial (@TPostMillennial) February 3, 2022
Canadian Defense Minister Anita Anand said there were "no plans for the Canadian Armed Forces to be involved in the current situation in Ottawa in a law enforcement capacity," noting that the military is "not a police force."
Trudeau, who has repeatedly smeared the protesters as racists and extremists, said, "Our preoccupation remains being there for the citizens of Ottawa, the neighborhoods that have been significantly disrupted by these protests."
Given how vehemently the protesters have been monstered and dehumanized by the media, don't be surprised if outright brutality is used to try to remove them.
As we previously highlighted, in terms of public support, the protest appears to have been a massive success, with the trucker revolt coinciding with a huge 15 point swing in sentiment, meaning that a majority of Canadians now want all COVID rules to end.
SUBSCRIBE on YouTube:
Follow on Twitter: Follow @PrisonPlanet
———————————————————————————————————————
Brand new merch now available! Get it at https://www.pjwshop.com/
ALERT!
In the age of mass Silicon Valley censorship It is crucial that we stay in touch.
I need you to sign up for my free newsletter here.
Support my sponsor – Turbo Force – a supercharged boost of clean energy without the comedown.
Get early access, exclusive content and behinds the scenes stuff by following me on Locals.
———————————————————————————————————————
Sweden Turns To Military For Help Amid Daily Shootings, Bombings In Migrant Gangland Chaos
Last year Sweden witnessed its highest death toll from shootings on record, at more than 60 killed, with this year on track to possibly surpass that as the country's gang violence continues spiraling out of control.
At a moment scenes of illegal migrants flooding southern Europe from across the Mediterranean continue unabated, even mainstream publications like FT haven't hesitated to identify what's fueling the crime and turning Sweden's streets into war zones: "Police chiefs have said that Sweden is facing its most serious domestic security situation since the second world war as immigrant drug gangs engage in a bloody conflict," FT writes.
And there's even "child soldiers" in the heart of Scandinavian Europe: "Police believe the gangs are increasingly using children to commit the crimes, as those under 18 often go unpunished or receive low sentences from the courts."
Headlines like this one days ago from the Associated Press have tragically become almost commonplace: A 13-year-old boy found shot in the woods was a victim of Sweden's gang violence. Gangs also regularly commit bombings and arson, sometimes destroying whole city blocks and districts.
Sweden has for much of the last decade been the leading bastion of liberal immigration policies in Europe, having welcomed hundreds of thousands of migrants and asylum-seekers from the Middle East and Africa. Simultaneously its third-largest city, Malmö, has for years been widely seen as Europe's gun homicide capital.
And yet, the European Left tends to only emphasize talking points of "failure to integrate" and "racism" and "rightwing extremism" – which has led to "parallel societies", serving to periodically unleash riots in places with large immigrant concentrations.
Now, after a dozen more lives were lost this month, which has included innocent bystanders and young gang members alike, government leaders are talking about 'getting tough' by calling in the military:
Sweden's prime minister on Thursday said that he's summoned the head of the military to discuss how the armed forces can help police deal with an unprecedented crime wave that has shocked the country with almost daily shootings and bombings.
Prime Minister Ulf Kristersson is meeting with both the armed forces' supreme commander and the national police commissioner on Friday to consider "how the armed forces can help police in their work against the criminal gangs."
"Sweden has never before seen anything like this," Kristersson said of soaring violent crime during a Thursday televised speech to the nation. "No other country in Europe is seeing anything like this."
According to more from the AP:
Sweden has grappled with gang violence for years, but the surge in shootings and bombings in September has been exceptional. Three people were killed overnight in separate attacks with suspected links to criminal gangs, which often recruit teenagers in socially disadvantaged immigrant neighborhoods to carry out hits.

One of the victims was a woman in her 20s who died in an explosion in Uppsala, north of Stockholm. Swedish media said she was likely not the intended target of the attack.
Addressing this week's tragic bombing, Kristersson described that "A 25-year-old woman went to bed last night on a completely ordinary evening but never got to wake up."
He added: "We will hunt the gangs, we will defeat the gangs." The aforementioned powerful blast in a residential area had ripped the facades off multiple houses.
Below: Gang-related shootings and killings have been the bulk of overall confirmed homicides in the country…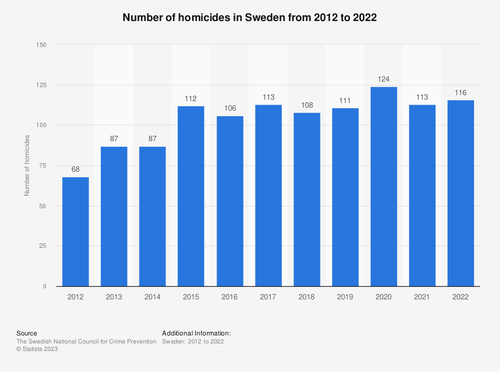 You will find more infographics at Statista
Kristersson's center-right government rose power last year largely on a platform of getting tough on crime. Kristersson has done a rare thing for a Swedish politician, placing blame squarely on "irresponsible migration policies and failed integration" under the previous government and years of failed policies.
This post was originally published at Zero Hedge
Russian Mystery Plane That Landed In Pyongyang Making Washington Nervous
A Russian 'mystery plane' spotted in North Korea is making Washington nervous, after Kim Jong Un visited Russia to meet with President Vladimir Putin this moth. The two leaders, deemed 'rogue' actors by the West, are believed to have discussed and possibly inked a weapons deal at a moment Moscow needs more ammunition for military operations in Ukraine.
Citing aviation tracking site FlightRadar24, Bloomberg described it as an an unscheduled Russian military VIP plane that landed in Pyongyang earlier this week.
The aircraft was in the North Korean capital for two days, however, both countries have kept mum as to its purpose. It could have been transporting another high-level Russian defense delegation.
"The tail number on the plane indicates it was the same aircraft Russia sent to North Korea in August, just days after Defense Minister Sergei Shoigu traveled to Pyongyang and was guided by Kim through a collection of his country's latest weaponry," Bloomberg noted.
The West fears that that this was part of furthering agreements for technology and weapons transfers between the two countries, which are both heavily sanctioned by the US, also amid efforts to isolate them on the world stage.
Russian planes landing in the broader region might not normally be significant, but is very noticeable in the case of flights to North Korea in particular, given that—
North Korea has had almost no international air traffic since it closed its borders at the start of the pandemic in early 2020. The arrival of two flights in the space of less than two months highlights cooperation between the two countries, which have drawn closer as the US and its partners tried to isolate them with international sanctions.
Kim's trip in Russia, which wrapped up only very recently, lasted two weeks. It included tours of Russian military technology plants, including an aircraft factory in the Russian city of Komsomolsk-na-Amure.
Washington has over the course of the Ukraine conflict at various points accused North Korea of supplying the Russian military with additional artillery ammo. US intelligence has in the recent past alleged that train shipments between the two countries included covert ammo supplies, but something which has not been proven.
The two countries actually share a small border. More recently, there have been accusations that Wagner Group, which is now on the outs with Moscow in the wake of the mutiny in June and after Yevgeny Prigozhin's death, purchased large quantities of arms and equipment from the Kim Jong-Un government.
This post was originally published at Zero Hedge
Canadian Speaker Of The House QUITS Following Nazi Scandal
Anthony Rota falls on his sword as Trudeau refused to take any responsibility
The Canadian Speaker of the House has resigned following the incident where a 98-year-old SS solider was cheered and honoured in Parliament, with Prime Minter Justin Trudeau refusing to take any responsibility, despite meeting with the Ukrainian Nazi beforehand.
As we noted earlier this week, Anthony Rota apologised for the scandal, but it wasn't enough.
Trudeau through Rota under the bus:
Opposition leader Pierre Poilievre told parliament that "Canadians are sick and tired of a prime minister who never takes responsibility for things that happen under his watch," adding "he always finds someone else to throw under the bus," and asking the Speaker of the House "are you that person?"
Turns out he is:
"It's with a heavy heart that I rise to inform members of my resignation as Speaker for the House of Commons," Rota stated, adding "I reiterate my profound regret for my error in recognizing an individual in the House during the joint address to Parliament of President Zelensky."
Rota further stated "that public recognition has caused pain to individuals and communities including the Jewish community in Canada and around the world, in addition to survivors of Nazi atrocities in Poland, among other nations."
It seemingly didn't matter that Trudeau personally met with the Nazi before the celebration in Parliament:
Trudeau didn't show up in Parliament and his underlings attempted, but failed, to get all records of the Nazi scandal erased from history:
Spectator writer Brendan O'Neill notes that "This is the same Trudeau who fantasises that Nazism lurks everywhere. Who gleefully brands his critics as 'far right'. Who has damned everyone from parents worried about LGBTQ education to truckers concerned about vaccine mandates as footsoldiers of a 1930s-style populism."
"Welcome to Woke Canada, where moms and pops who would rather their kid wasn't transitioned behind their backs are far right, while a literal former SS fighter gets a fulsome round of applause," he adds.
O'Neill continues, "you don't need a PhD in European history to think that a Ukrainian military man who fought against the Ruskies in the 1940s was probably linked with the Nazis," adding "The cluelessness is off the scale."
He concludes that "The Hunka scandal is a perfect snapshot of the liberal elite's weird and delirious obsession with the far right. They marshall the horrors of the 1940s to condemn their critics in the here and now, as if every trucker protest and parental uprising were a harbinger of a new Fourth Reich. Yet when face to face with someone who was involved in the horrors of the 1940s, they smile and fawn."
SUBSCRIBE on YouTube:
Follow on Twitter:
Follow @PrisonPlanet
———————————————————————————————————————
Brand new merch now available! Get it at https://www.pjwshop.com/


ALERT! In the age of mass Silicon Valley censorship It is crucial that we stay in touch.

We need you to sign up for our free newsletter here.

Support my sponsor – Summit Vitamins – super charge your health and well being.

Also, we urgently need your financial support here. ———————————————————————————————————————