Black Analyst: MSNBC Race Baiters Are Engaging In "Satanism"
"This is satanic. When there is an attack on truth, it's an attack on God."
Analyst Jason Whitlock slammed leftist race baiters at MSNBC, arguing that they are promoting "satanism" by forcing a false reality on the world.
Appearing with Mark Levin, Whitlock targeted Joy Reid and her recent guests for equating practically everything with white nationalism.
"I don't want to diminish racism, I don't want to diminish anti-Semitism, those are real issues and real problems," Whitlock clarified.
He continued, "But what we're really seeing here from Joy Reid, from Michael Eric Dyson, from Jonathan Capehart, this is satanism."
"This is satanic," Whitlock urged, adding "When there is an attack on truth, it's an attack on God. It's an attack on Jesus."
"The truth is what sets us free. The truth is what Jesus, God, faith, are about," the analyst explained.
Watch:
As noted multiple times recently, Reid and her guests have relentlessly attacked Winsome Sears, Virginia's first black Lt. Governor, declaring her to be a "ventriloquist" for white supremacists.
Reid has also suggested that Kyle Rittenhouse's trial in Kenosha, Wisconsin is biased and represents "white privilege on steroids," and is proof of "why critical race theory exists" and is necessary in America.
The MSNBC host and her guests on a daily basis defend the teaching of CRT in classrooms, while simultaneously claiming it doesn't exist, and have even lumped in parents who are campaigning against pornography literature in schools with white supremacists.
Reid is the mouthpiece of this false narrative, but academia is rife with CRT enthusiasts who believe that everything is an example of white supremacy, even when conservatives vote for black candidates.
Another MSNBC race baiter, Tiffany Cross, spent the weekend claiming that the trucking industry is made up of 'racist' white men.
In a segment on supply chain problems, Cross declared "most of these truck drivers are people of color. And they talked about hearing some of the racism over the CB. This is again, an industry populated by a lot of white men over the age of 55. This group of people overwhelmingly voted for Trump." 
She continued, "Some people have talked about, you know, aggressive truck drivers, cutting them off or not being helpful. So obviously, the more populated is with people of color, I think you'll see less of that."
Cross' guest, Pamela Day, owner and president of the Crosscountry Truck Driving School, was brought on solely to make the claim that the trucking industry is racist.
"I think just what you're doing, getting myself as a black female out there and letting people know, I drove for almost eight years. And yes, ran into lots of racism," she claimed.
Watch:
MSNBC continues to relentlessly pump out more race bating, more segregationism, more division, more… satanism?
SUBSCRIBE on YouTube:
Follow on Twitter:
Follow @PrisonPlanet
———————————————————————————————————————
Brand new merch now available! Get it at https://www.pjwshop.com/


ALERT! In the age of mass Silicon Valley censorship It is crucial that we stay in touch.

We need you to sign up for our free newsletter here.

Support our sponsor – Turbo Force – a supercharged boost of clean energy without the comedown.

Also, we urgently need your financial support here. ———————————————————————————————————————
Woke Twilio CEO Conducts "Anti-Racist" Mass Layoff
Yesterday saw San Francisco-based tech firm Twilio join the growing ranks of companies that are laying off employees as post-pandemic growth reality falls short of pandemic-pumping hype.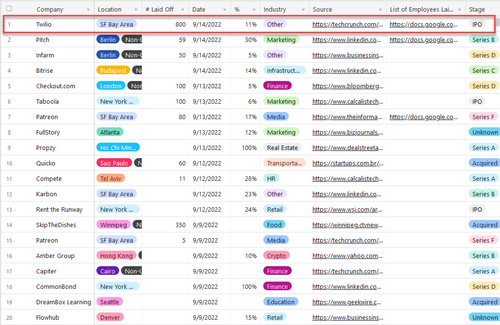 Twilio CEO Jeff Lawson announced plans to cut around 11% of the company's workforce, after admitting that the company had grown too fast:
"Twilio has grown at an astonishing rate over the past couple years. It was too fast, and without enough focus on our most important company priorities. I take responsibility for those decisions, as well as the difficult decision to do this layoff."
But this announcement was different.
For the first time we can remember, the CEO appeared to make the case that race was involved in the decision-making process around who lost their jobs…
"Layoffs like this can have a more pronounced impact on marginalized communities," Lawson wrote in a memo to employees.

"So we were particularly focused on ensuring our layoffs – while a business necessity today – were carried out through an Anti-Racist/Anti-Oppression lens."
Forgive us for our obvious bias, but doesn't that statement infer that if they hadn't considered race then the layoffs would have been 'racist'?
Of course, the liberal media rose up as one to defend Lawson's comments. Fortune reports, that two sources at Twilio told them the anti-racist effort was not controversial inside the company.
"No one at Twilio has made any mention of it," one of the sources said.

"Being an anti racist company is part of our core values."

The employees dismissed claims of "race-based" job cuts.

"I'm sure right wingers think this means firing only white people," one of the employees said, noting that it appeared anecdotally that the laid off employees were "an equal mix" of women, men, and underrepresented minorities.
Well how do they explain his comments then… since Lawson did not provide any details about how the company would ensure that the layoffs did not cut deeper into certain groups of its 7,800 worldwide employees
Are we really at that point?
This post was originally published at Zero Hedge
BLM Chapters Accuse Parent Organization's Leader Of Millions In Fraud: Lawsuit
A lawsuit filed on Thursday in Los Angeles Superior Court accuses Black Lives Matter (BLM) and its leader, Shalomyah Bowers, of using foundation funds as his "personal piggy bank" and acting as a "rogue administrator" and a "middle man turned usurper."
Bowers, who became head of the Black Lives Matter Global Network Foundation in April, and is accused of paying millions to his own Bowers Consulting Firm, as well as diverting funds from a new group called Black Lives Matter Grassroots, Inc. – a coalition of BLM chapters.
In total, over $10 million of donors' money was siphoned by Bowers, including $2,167,894 paid to Bower's firm in 2021, the lawsuit alleges.
The lawsuit seeks damages and restitution, as well as a temporary restraining order to block the foundation from using BLM accounts, or its website.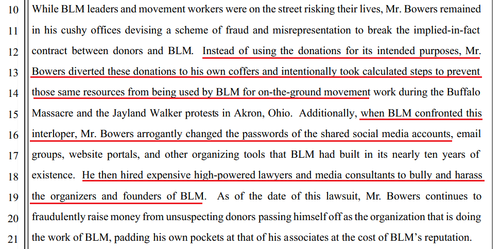 Bowers told the NY Post that the lawsuit is nothing more than a power grab by disgruntled activists who want to wrest control of the movement, including California State University Pan-African Studies professor Melina Abdullah.
"The assets that we built, the financial resources, the social media platforms and the name 'Black Lives Matter' have been taken from us and are under the control of consultants," said Abdullah, BLM Grassroots director and a co-founder of the BLM Los Angeles chapter.
BLM Grassroots was launched three months ago, records show. It claims to represent BLM chapters across the country.

The new group was founded in California in May by Walter Mosley, the lawyer who also drafted the lawsuit against Bowers, according to court papers. Mosley formerly represented Black Chyna in a law suit against Kim Kardashian in 2018. -NY Post
In court papers, Abdullah is described as having been "engaged in intuitive protest simultaneous to the online activism of the three co-founders," whatever that means.
"It's the most insane thing I've read in a court pleading, and it's signed under penalty of perjury when they know it's a lie," said Bowers, who told the Post that the Foundation has recently undergone audits which don't show $10 million going to him or his firm.
"We are in the process of correcting things, of fixing things and dealing with disgruntled people who want to take over the group," he continued.
The lawsuit comes months after BLM founder Patrice Cullors stepped down amid reports of extensive real estate purchases, as well as internal criticism over the foundation's operations. She named two organizers as interim executives – however months later both individuals said they never actually acted in those roles due to an inability to reach an agreement over the scope of their positions.
According to the BLM Grassroots lawsuit, Bowers – who had been handling the administration under Cullors, took control of the operation, shutting out the grassroots chapters.
"We're asking for accountability," said BLM Grassroots director of operations, Angela Austin, who added that the local chapter was locked out of its social media accounts after the killing of Patrick Lyoya in Grand Rapids, and that they had been given no commitment from BLM for continuing funding.

"We're fighting for the soul of Black Lives Matter," said Abdullah. "Black Lives Matter belongs to the people who birthed and built it."
As American Thinker's Rajan Laad notes:
While Bowers is claiming innocence, it would not be surprising if he did indeed profit from BLM. Despite their claims, BLM seems to me founded for solely pecuniary gains.
BLM is a perfect instance of how modern liberalism functions as an extremely lucrative business model. BLM merely expanded on the extortion business model of veteran race hustler Al Sharpton, which is 'give us your money else we'll brand you racist,' but did it on a much larger scale. Al Sharpton must feel like a worn-out pair of shoes in the bottom drawer of a shoe case.
"Black Lives Matter" began as a trend on social media, in 2013 following Trayvon Martin's death. Soon it evolved into a slogan used by 'protestors' across the US.
In the death of George Floyd in 2020, BLM saw their biggest opportunity to take the 'movement' to the next level and become the sole arbiters in matters of race. In parallel, BLM carried out 'protests', which were actually riots all over America.
Dozens of people were killed and numerous others injured and thousands of businesses and properties, many minority-owned, were looted, torched, or otherwise vandalized.
Axios revealed that the total insured property losses incurred during the riots are between $1 to $2 billion dollars. The actual number including losses of uninsured property must be considerably higher.
That must not have mattered to BLM. For BLM, the riots were a promotional event that caused their coffers to be overflowing.
BLM was supported by the Democrats and their propagandists in the media because they could blame the riots on Trump and benefit from it politically. The Democrats, too, saw this as an opportunity to raise funds.
The noise created such a frenzy that anybody who was anybody began donating to BLM
Hollywood stars such as Angelina Jolie, Steve Carell, Seth Rogen, Kate Beckinsale, Jennifer Lopez, Ryan Reynolds, etc. donated to BLM.
Some stars even bailed out BLM rioters who were taken into custody.
Big tech firms such as Google committed $12 million. Facebook and Amazon donated $10 million. Apple pledged $100 million, and so did Walmart. Target pledged $10 million while Home Depot announced $1 million.
BLM didn't make any verifiable promises; their goal was unstated, esoteric, and symbolic which ensured they could keep collecting without any oversight.
Rich donors didn't verify how their donations were spent. Their sole purpose of donating was to be regarded as among 'the good ones'. It was also like protection money to prevent BLM thugs from banging at their doors.
In the end, BLM managed to make $90m in just one year over the death of George Floyd.
Read the filing below:
This post was originally published at Zero Hedge
UC Berkeley Student Housing Co-Op Bans White People From Common Areas
A UC Berkeley off-campus housing co-op has banned white people from entering common spaces in order to protect people of color (POC) from so-called "white violence."
As first reported by The College Fix and confirmed elsewhere, house rules for the 30-room "Person of Color Theme House" leaked to Reddit read: "Many POC moved here to be able to avoid white violence and presence, so respect their decision of avoidance if you bring white guests."
"White guests are not allowed in common spaces," reads the rule under "Guests in Common Spaces."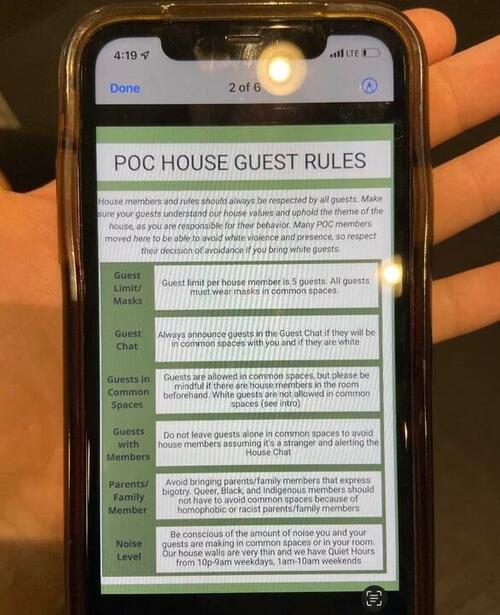 The top comments in the notoriously liberal subreddit noted the obvious racism:
"In order to beat racism we must first become racists ourselves!" wrote one user, /u/Educational-Net303.

Also banned from the POC House:
"Avoid bringing parents/family members that express bigotry," adding "Queer, Black, and Indigenous members should not have to avoid common spaces because of homophobic or racist parents/family members."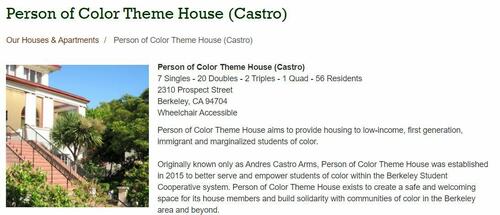 Of note, the facility is not run by UC Berkeley, as Assistant Director of Media Relations Adam Ratliff told the outlet, adding that it's "not the role of the campus" to comment on what they do.
"As this involves an off-campus non-affiliated landlord, the campus has no ability under the Code of Student Conduct to discipline the landlord," said Ratliff.
The Person of Color Theme House, a five-story, 30-room home that can accommodate up to 56 students, exists to serve "low-income, first generation, immigrant and marginalized students of color."

It's part of the Berkeley Student Cooperative, a nonprofit housing cooperative established to provide affordable housing to Bay-area college students.

Since it was established in 2016, the POC house has faced its share of internal problems.

One former member wrote in a Medium article that the house has become known for its "call-out culture" perpetuated by "the lack of intersectionality."

"Several members have been criticized for being white/white passing, aligning themselves with whiteness, or allowing white violence in the house," she wrote.

Stephen Ross, cooperative experience manager for the Berkeley Student Cooperative, told The College Fix that "neither the BSC nor the POC house has an official policy" excluding white guests from common spaces. -The College Fix
"White people can and do live in POC house, but the focus for POC house is providing a safe and supportive living environment for people of color," said Ross – though he added that each of the 20 BSC houses "have their own culture and practices" that develop ovver time, adding that members actively work toward "not making Whiteness central to the experience for members living in the house."
This post was originally published at Zero Hedge