Black Analyst: MSNBC Race Baiters Are Engaging In "Satanism"
"This is satanic. When there is an attack on truth, it's an attack on God."
Analyst Jason Whitlock slammed leftist race baiters at MSNBC, arguing that they are promoting "satanism" by forcing a false reality on the world.
Appearing with Mark Levin, Whitlock targeted Joy Reid and her recent guests for equating practically everything with white nationalism.
"I don't want to diminish racism, I don't want to diminish anti-Semitism, those are real issues and real problems," Whitlock clarified.
He continued, "But what we're really seeing here from Joy Reid, from Michael Eric Dyson, from Jonathan Capehart, this is satanism."
"This is satanic," Whitlock urged, adding "When there is an attack on truth, it's an attack on God. It's an attack on Jesus."
"The truth is what sets us free. The truth is what Jesus, God, faith, are about," the analyst explained.
Watch:
As noted multiple times recently, Reid and her guests have relentlessly attacked Winsome Sears, Virginia's first black Lt. Governor, declaring her to be a "ventriloquist" for white supremacists.
Reid has also suggested that Kyle Rittenhouse's trial in Kenosha, Wisconsin is biased and represents "white privilege on steroids," and is proof of "why critical race theory exists" and is necessary in America.
The MSNBC host and her guests on a daily basis defend the teaching of CRT in classrooms, while simultaneously claiming it doesn't exist, and have even lumped in parents who are campaigning against pornography literature in schools with white supremacists.
Reid is the mouthpiece of this false narrative, but academia is rife with CRT enthusiasts who believe that everything is an example of white supremacy, even when conservatives vote for black candidates.
Another MSNBC race baiter, Tiffany Cross, spent the weekend claiming that the trucking industry is made up of 'racist' white men.
In a segment on supply chain problems, Cross declared "most of these truck drivers are people of color. And they talked about hearing some of the racism over the CB. This is again, an industry populated by a lot of white men over the age of 55. This group of people overwhelmingly voted for Trump." 
She continued, "Some people have talked about, you know, aggressive truck drivers, cutting them off or not being helpful. So obviously, the more populated is with people of color, I think you'll see less of that."
Cross' guest, Pamela Day, owner and president of the Crosscountry Truck Driving School, was brought on solely to make the claim that the trucking industry is racist.
"I think just what you're doing, getting myself as a black female out there and letting people know, I drove for almost eight years. And yes, ran into lots of racism," she claimed.
Watch:
MSNBC continues to relentlessly pump out more race bating, more segregationism, more division, more… satanism?
SUBSCRIBE on YouTube:
Follow on Twitter:
Follow @PrisonPlanet
———————————————————————————————————————
Brand new merch now available! Get it at https://www.pjwshop.com/


ALERT! In the age of mass Silicon Valley censorship It is crucial that we stay in touch.

We need you to sign up for our free newsletter here.

Support our sponsor – Turbo Force – a supercharged boost of clean energy without the comedown.

Also, we urgently need your financial support here. ———————————————————————————————————————
Report: 94% of 323,094 New Jobs Among S&P 100 Went to Non-Whites in Year After BLM Protests
Corporate America reacted to the 2020 Black Lives Matter riots by embracing systemic discrimination against whites, according to a new study from Bloomberg. 
From Bloomberg:
Corporate America Promised to Hire a Lot More People of Color. It Actually Did.

The year after Black Lives Matter protests, the S&P 100 added more than 300,000 jobs — 94% went to people of color.

[…] The US Equal Employment Opportunity Commission requires companies with 100 or more employees to report their workforce demographics every year. Bloomberg obtained 2020 and 2021 data for 88 S&P 100 companies and calculated overall US job growth at those firms.

In total, they increased their US workforces by 323,094 people in 2021, the first year after the Black Lives Matter protests — and the most recent year for which this data exists.

The overall job growth included 20,524 White workers. The other 302,570 jobs — or 94% of the headcount increase — went to people of color.
The only way to achieve these numbers is through proactive discrimination.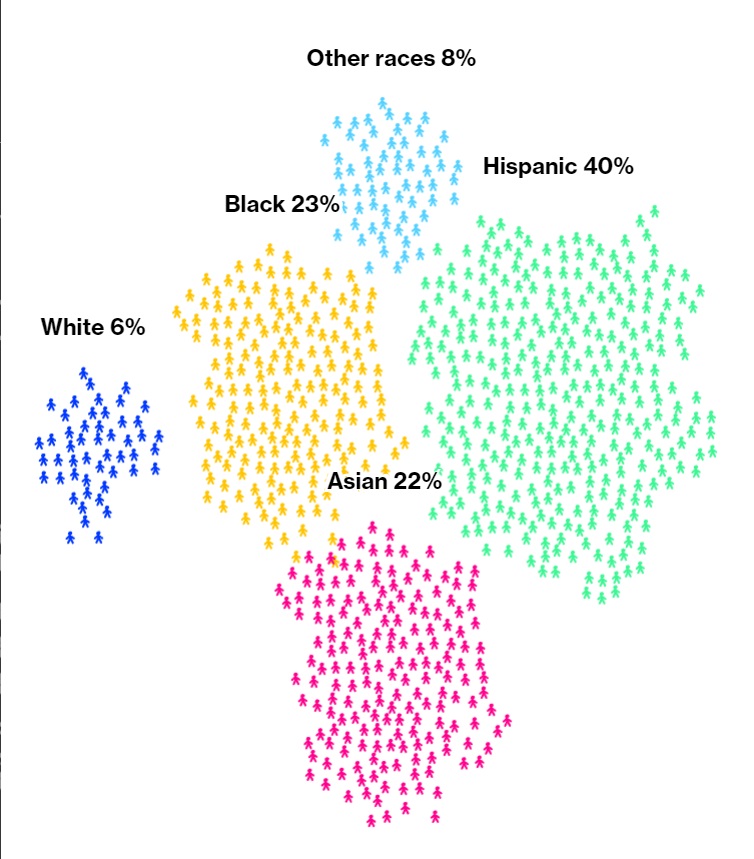 Nike in particular showed the most dramatic shift: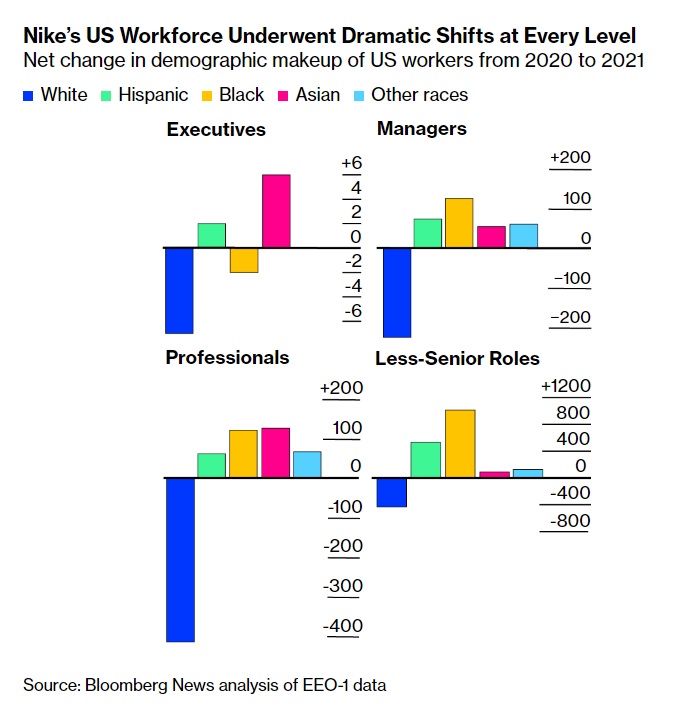 As I highlighted on Monday, the CEO of British Telecom giant BT is reportedly firing white employees en masse with the intention of replacing them with non-whites to "boost diversity" and potentially pocket a £220,000 bonus for hitting "diversity targets."
When Elon Musk bought Twitter in 2022, Twitter execs reportedly told him to fire white employees to avoid legal troubles and advance "diversity" (Musk blew off their recommendations).
The DOJ last month also sued Musk for choosing to hire Americans over refugees and asylum seekers.
In the wake of the BLM riots, Walmart began training employees that "white is not right,"Coca-Cola trained employees to "try to be less white" and AT&T trained employees, "white people, you are the problem."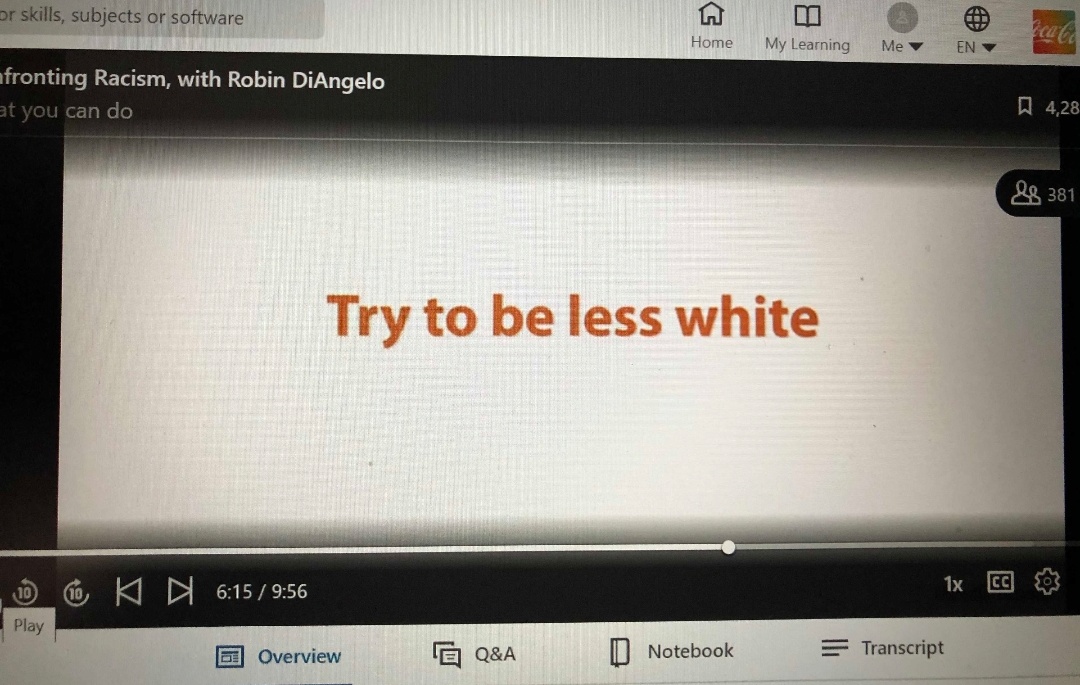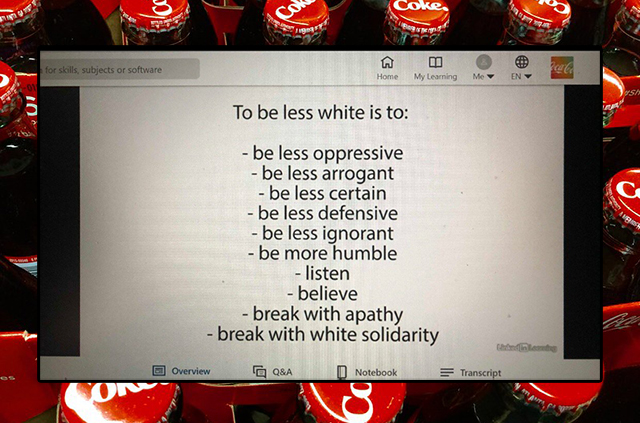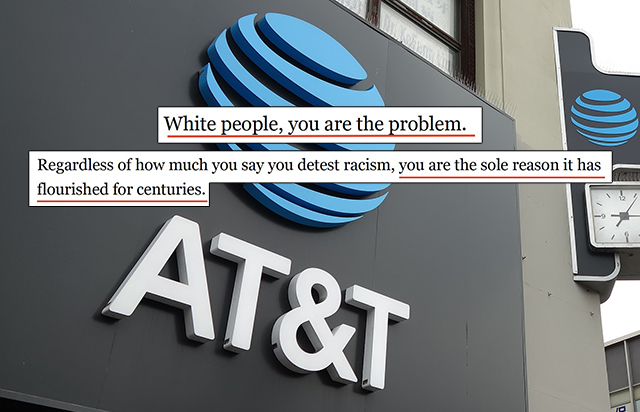 Bloomberg said in their report above that no companies were willing to talk about the "progress" they made with their race-based hiring practices, possibly due to fear of being sued for discrimination.
Many chief executive officers are wondering if the scope of the Supreme Court's June ruling on race-based admissions could apply to their own hiring goals.

"We've seen three years later how quickly DEI is becoming deprioritized," said LaJoie-Lubin, who no longer works in-house at a company, but still consults. "And now it's like, 'oh well, the business isn't doing well, so where are we going to cut resources and investments?' DEI and people teams."

Companies are reticent to talk about progress that several years ago they might have been keen to acknowledge, according to Esther Silver-Parker, an independent consultant whose previous roles included helping Walmart develop its diversity, equity and inclusion program. Mentions of diversity, equity and inclusion on earnings calls and at conferences among Russell 3,000 Index companies fell by 54% in the third quarter, according to data compiled by Bloomberg. None of the half-dozen companies with the most notable diversity gains wanted to discuss them in detail.

"The stance is just do what we need to do and not talk about it," Silver-Parker said. "'Let's fly under the radar. Let's not call attention to ourselves. But we know we have a moral obligation and a marketplace obligation.'"
If you were turned down for a job or fired from any of these companies for being white you have a moral and marketplace obligation to sue these companies into oblivion.
Multiple whites have won giant settlements in recent years from suing their employers for anti-white discrimination.
Just three months ago, Starbucks was ordered by a jury to pay over $25 million in damages to a former regional manager they fired for being white as a sacrificial offering to BLM.
Bloomberg's valuable research can go straight into your lawsuit.
This post was originally published at Information Liberation
"Black Lives Don't Seem To Matter When Taken By Black Lives": Maher, Rogan Go Off
Joe Rogan and 'old school Democrat' Bill Maher have had it with progressive policies towards crime and policing, and the hypocrisy over 'black lives' when blacks are killing each other.
"Murders have been happening way out of control in Chicago among the African-American Community for far too long and not really reported in the same way they should be," lamented Maher in an episode of the Joe Rogan Experience which aired on Saturday, adding "It's amazing how black lives don't seem to matter when they're taken by black lives," pointing to the MSM's asymmetric reporting.
"Their idea was like go in arrest the big kingpins and then we'll clean up the city. It didn't work at all."
Maher then asks 'where are the leaders of the community? The people who have such cache among those young African American men, to say 'cut it out! What the fuck are you doing to each other?'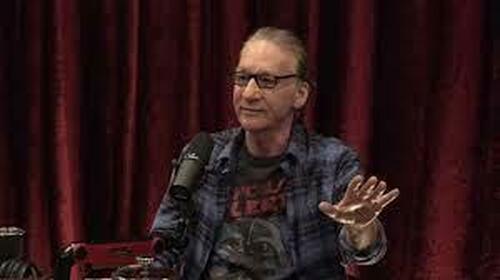 (Yes Bill, it would be nice if everything was an episode of the A-Team where ex-gangsters are high-fiving each other over paint rollers as they clean up the graffiti they just made & drug dealers flush their stashes because kingpins finally spoke out).
According to Rogan, "Austin defunded the police and refunded it far more than they defunded it because they course corrected," adding "They realized this was not working, and we have to do something to fix it. Which makes me happy because there's a lot of crime." (via KanekoaTheGreat).
"Liberalism was never 'shoplifting is progressive,'" Maher responded. "And we weren't interested in legalizing shoplifting, but after the George Floyd murder and riots, there was a movement to disband a lot of the police… And what happened was, of course, crime went up in certain areas, and a lot of the officers who were fired or let go, were hired as private security by the rich people, and their neighborhoods stayed safe. That wasn't exactly a victory for Liberalism."
Watch:
Bonus: Rogan goes off on the anti-Ivermectin crowd…
This post was originally published at Zero Hedge
Parent Slams California School For Holding 'No Whites Allowed' Kids Playdate
Hosted by the school 'equity & inclusion committee'.
A parent at a California elementary school has slammed officials for sanctioning a playdate for kids that essentially segregated them by race, and excluded white children.
A flyer for the event at Anthony Chabot Elementary School in Oakland, CA notes that it is "for black, brown and API families."
"If your family identifies as Black, Brown, or API or are [sic] a parent/caregiver of a Black, Brown, or API student. Come hang out while we get a chance to know each other and build our community as we kick off this schoolyear [sic]," reads the invite to the event.
Ironically it was hosted by the school 'equity & inclusion committee'.
Taking to social media, the parent noted "I dunno about others, but I'm genuinely upset about what ultimately boils down to a "No whites allowed" playdate."
"We'll look back and cringe so hard that we tried to beat racism by segregating kids of color from white kids," the parent added.
"How is this productive? Why are we continuing to segregate people, let alone KIDS," the parent also noted.
Related:
SUBSCRIBE on YouTube:
Follow on Twitter:
Follow @PrisonPlanet
———————————————————————————————————————
Brand new merch now available! Get it at https://www.pjwshop.com/


ALERT! In the age of mass Silicon Valley censorship It is crucial that we stay in touch.

We need you to sign up for our free newsletter here.

Support my sponsor – Summit Vitamins – super charge your health and well being.

Also, we urgently need your financial support here. ———————————————————————————————————————