Gavin Newsom Reappears, Claims He Skipped Climate Conference to go 'Trick-or-Treating'
Dubious explanation for two week absence.
California Gov. Gavin Newsom has reappeared in public for the first time since October 27th, claiming he missed the Cop26 climate conference to go 'trick-or-treating' with his children.
Newsom spoke at the California Economic Summit, where he complained about the "treadmill" of work he had to plough through.
Fox News reports that Newsom's children held an "intervention" during a family dinner because they "couldn't believe I was going to miss Halloween."
"He ultimately decided to stay home because the "knot" in his stomach was too much to bear," according to the report.
Breitbart's Joel Pollak wondered why Newsom had to miss the climate summit given that it is still ongoing and Halloween was 10 days ago.
"In addition to family, Newsom claims he has devoted the past two weeks to work — though he spent Saturday at the lavish wedding of billionaire oil heiress Ivy Getty, with Speaker of the House Nancy Pelosi (D-CA) officiating the nuptial vows," he writes.
Speculation had been raging as to why Newsom hadn't appeared in the public eye for two weeks after receiving his COVID-19 booster shot.
Journalist Steve Kirsch previously claimed that Newsom had been out of sight since October 27 because he had a bad reaction to the jab.
"The explanation Gavin gave in the video (that he had a change of heart and wanted to spend Halloween with his kids) seems a bit odd since his press office said he was working in the Capitol," writes Kirsch.
"I have a good friend who is politically well connected who spoke with Newsom's former staffers and they all thought it was a really weird explanation," he added.
Kirsch says he showed the before and after videos of Newsom to a neurologist, who claims the Governor is "100%" recovering from Bell's palsy due to lingering "telltale" signs.
"She had a dermatologist review as well who said the same thing," claims Kirsch. "She said most people wouldn't be able to tell, but this is her "bread and butter" so she knows exactly what to look for."
SUBSCRIBE on YouTube:
Follow on Twitter: Follow @PrisonPlanet
———————————————————————————————————————
Brand new merch now available! Get it at https://www.pjwshop.com/
ALERT!
In the age of mass Silicon Valley censorship It is crucial that we stay in touch.
I need you to sign up for my free newsletter here.
Support my sponsor – Turbo Force – a supercharged boost of clean energy without the comedown.
Get early access, exclusive content and behinds the scenes stuff by following me on Locals.
———————————————————————————————————————
Seattle Reverses Course, Makes Public Drug Use Arrestable Crime
The Seattle City Council on Tuesday ruled that public drug use will soon be illegal in the city.
Imagine that!
According to KIRO7, public drug use can now end in arrest – though there remains a large effort to funnel drug users into treatment programs.
CB 120645 adds the crimes of using a controlled substance in public space and knowing possession of a controlled substance to the statute's list of crimes. The move follows a Sept. 12 proposed ordinance passed by the Seattle City Council's Public Safety and Human Services Committee by a vote of 4-1.
Residents were sharply divided over the plan.
"There is no budget to support this and there is no plan, no care, compassion or commitment to do anything other than imprison our most vulnerable citizens," said one woman during the public comment section during a committee meeting.
Others were for it.
"Restoring a safe and welcoming environment downtown will bring back residents, workers and visitors, increase the momentum needed to get downtown on a sustained path to recovery," said one man.
The dissenting councilmember, Teresa Mosqueda, said the ordinance lacked attention to diversion efforts.
"I want people to get access to public health services just as much as the people who testified in support of this legislation say they want. But that is not what this legislation does. And without the funding that is purported to come with this bill, we have no assurances that there will be alternative structures and programs and diversion strategies to prevent people from going to jail. We do not have to pass this legislation," she said.
This post was originally published at Zero Hedge
Biden Stumbles on Flag, Fiddles with Earpiece in Awkward Press Conference with Brazil's President Lula
The press conference featured multiple awkward moments.
President Joe Biden met with fellow socialist chief executive Luiz Inácio Lula da Silva of Brazil on Wednesday to announce a joint initiative on "workers' rights" intended to promote the restructuring of their economies to fight alleged climate change.
The press conference following their engagement, the second of the year, featured multiple awkward moments between the two leaders, including an instance in which Lula appeared to expect a handshake from Biden, who turned his back and walked offstage (Biden had shaken Lula's hand earlier during the press conference).
The beginning of the press conference also featured a moment in which Biden walked out without Lula and stumbled into a Brazilian flag.
Biden walks on stage without the Brazilian president, almost knocks down a flag, then does a little jog pic.twitter.com/JbrV7LBMpc

— RNC Research (@RNCResearch) September 20, 2023
Biden delivered his remarks without incident, proclaiming his "the most pro-union administration in American history" and promising that the elimination of fossil fuels, gas-powered vehicles, and other staples of daily life in the name of combatting climate change would create more jobs and benefit workers.
"We will advance a worker-centric clean — a worker-centered clean energy transition. Folks, as I've told labor from the very beginning: When I think of climate change, I think of jobs," Biden declared. "Jobs."
Biden's call to eliminate established conventional energy-based industries comes less than a week after the United Auto Workers (UAW) union launched a strike to demand fairer wages and worker contracts. The nearly 13,000 American automobile industry workers currently on strike are demanding significant wage increases of up to 40 percent, the return of contract provisions that ensure wages are adjusted according to inflation, and changes in the system that would allow new workers to make as much as workers serving longer but doing the same job, among other demands.
Pivotally, the workers seek protection in the face of Biden's government dumping massive amounts of taxpayers' money into electric vehicles and other "green" technology.
The demands for protection from inflation and "green" industrial reform are related: the $1.9-trillion "Inflation Reduction Act" provided millions in subsidies and offered preferential treatment for "green" energy projects, and, in spending so much money, significantly worsened America's ongoing inflation woes.
UAW representatives have cited the subsidies and extensive bailout payments to major automobile companies as a reason they do not feel compelled to negotiate fairly with workers.
General Motors and Stellantis, two of the companies most directly affected by the strike, announced they would lay off over 2,000 workers on Wednesday as a result of the strike.
"Whether it's your autoworkers or any other union worker, record corporation profits should mean record contracts for union workers," Biden said alongside Lula on the same day.
When Lula took the podium to speak, Biden appeared to struggle to untangle his earpiece, meant for live translation of Lula's comments from Portuguese to English.
🚨 | Tristes imágenes: Biden lucha durante un minuto para intentar ponerse unos audífonos, mientras comparte escenario con el socialista y enemigo declarado de EEUU, Lula da Silva: pic.twitter.com/6v7aMdpQJ2

— Emmanuel Rincón (@EmmaRincon) September 20, 2023
The official White House transcript of their conversation shows Lula interrupting his opening statement and repeatedly asking Biden if he could hear his remarks:
PRESIDENT LULA: (As interpreted.) Well, first of all, I would like to greet President Biden and to say to President Biden —

Can you hear me, President Biden?

This is a historical moment for Brazil and for the U.S.

President Biden, can you hear me?

(President Biden nods.)

I — you can? Yes, good.
Technical difficulties ultimately solved, Lula used his remarks to condemn "neoliberal politics" for hurting the global labor movement and to enforce Biden's claim that the elimination of entire core industries to resolve alleged climate change would result in a thriving economy for workers.
AG Garland Invokes Holocaust to 'Defend His Policies of Persecuting, Indicting and Imprisoning His Political Opponents'
Argued his Jewish "family background" means he's immune to wrongdoing.
Attorney General Merrick Garland on Wednesday invoked the Holocaust during testimony before Congress to defend his policies of prosecuting and persecuting his political opponents and argued his Jewish "family background" means he's immune to wrongdoing.
From The Gateway Pundit, "SICK! Lawless AG Merrick Garland Lectures on Holocaust to Defend His Policies of Persecuting, Indicting and Imprisoning His Political Opponents (VIDEO)":
After indicting the leading presidential candidate in America on bogus, manufactured, partisan charges Merrick Garland had the nerve on Wednesday to compare his ancestors fleeing Eastern Europe during the Holocaust to his lawless targeting, indicting and imprisoning of conservative Americans.

[…] On Tuesday Merrick Garland choked up while talking about his ancestors as he destroys American democracy.

Merrick Garland: All of us recognize that with this work comes public scrutiny, criticism, and legitimate oversight. These are appropriate and important given the matters and the gravity of the matters that are before the Department. But singling out individual career public servants who are just doing their jobs is dangerous, particularly at a time of increased threats to the safety of public servants and their families. We will not be intimidated.

We will do our jobs free from outside influence, and we will not back down from defending our democracy. Third, I want to explain why we approach our job in this way. The Justice Department was founded in the wake of the Civil War and in the midst of Reconstruction, with the first principal task of bringing to justice white supremacists and others who terrorize black Americans to prevent them from exercising their civil rights. The Justice Department's job, then and now, is to fulfill the promise that it is at the foundation of our democracy that the law will treat each of us alike. That promise is also why I am here.

My family fled religious persecution in Eastern Europe at the start of the 20th century. My grandmother, who is one of five children born in what is now Belarus, made it to the United States, as did two of her siblings. The other two did not. Those two were killed in the Holocaust, and there is little doubt that. But for America, the same thing would have happened to my grandmother.
WATCH:
Garland also invoked the Holocaust to dodge a question from New Jersey Rep. Jeff Van Drew on his FBI/DOJ targeting traditional Catholics as "violent extremists" and suggested his Jewish heritage means he's incapable of wrongdoing.
"The idea that someone with my family background would discriminate against any religion is so outrageous — so absurd," Garland scoffed.
"Mr. Attorney General, it was your FBI that did this," Drew shot back. "It was your FBI that was sending — and we have the memos and we have the emails — that was sending undercover agents into Catholic Churches!"
.@Congressman_JVD EXPLODES on AG Garland For The 'Anti-Catholic' FBI Memo

VAN DREW: "Yes or no…Do you agree that Traditional Catholics are domestic extremists?"

GARLAND: "The idea that someone with my family background would discriminate against any religion is so outrageous… pic.twitter.com/zqwAHbuYNj

— Daily Caller (@DailyCaller) September 20, 2023
Garland's goons did target Traditional Catholics and infiltrate their perishes and only backed off the program after they were exposed.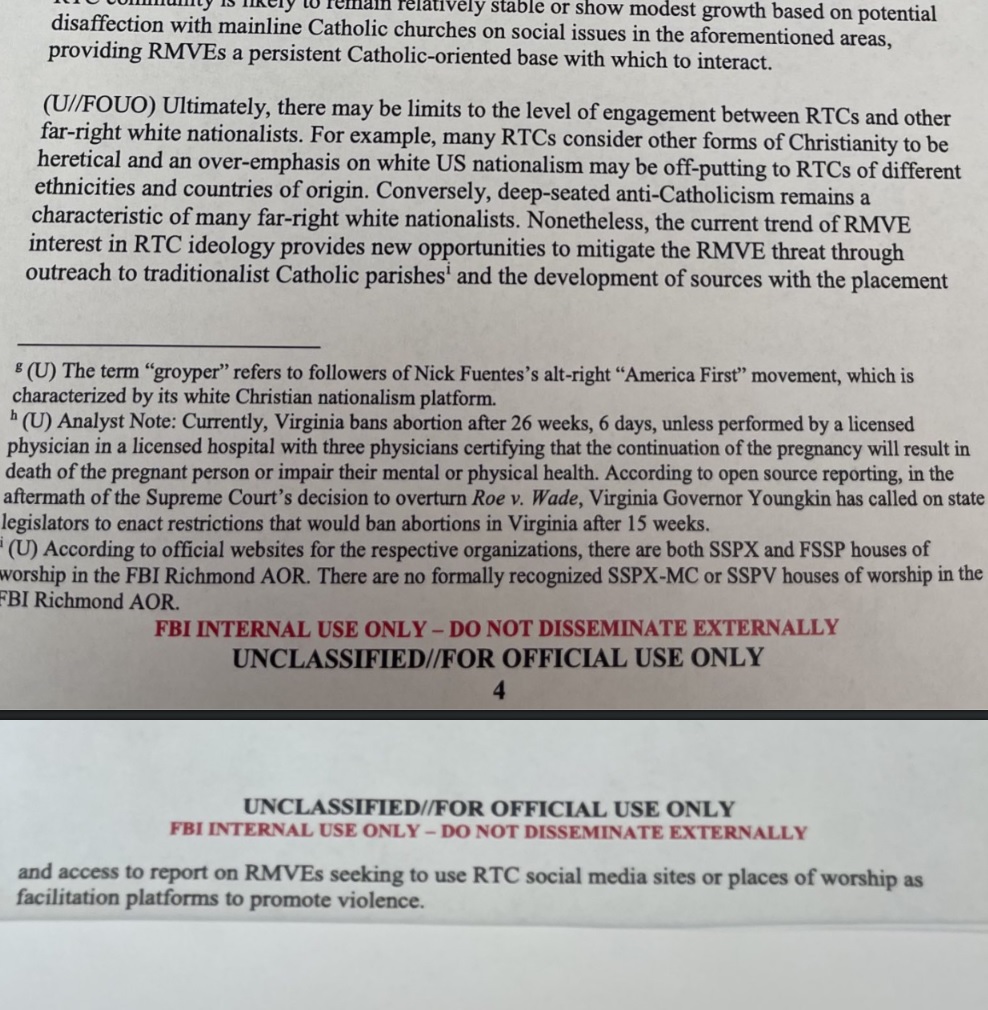 Though Garland claimed his Jewishness means he's immune from wrongdoing and said he's "appalled" by the memo, he told Drew he doesn't even know if anyone was fired for drafting the memo.
Garland is the most extreme Attorney General in American history and has made a mockery of our justice system.
In a sane country, Garland would have been ousted from power a year ago and referred for criminal prosecution.
Follow InformationLiberation on Twitter, Facebook, Gab, Minds and Telegram.