CNN Refuses to Apologize to Joe Rogan Over Ivermectin Smear
Time to sue?
CNN has refused to apologize to Joe Rogan after falsely claiming the podcast host took "horse dewormer," claiming that its erroneous reporting did nothing more than 'bruise' Rogan's ego.
After Rogan became ill with COVID last month, "multiple doctors" told him to take Ivermectin, which is FDA-approved as an antiparasitic agent.
When Rogan recovered within three days, CNN launched a smear campaign claiming he took "horse dewormer" and that he was spreading dangerous misinformation about COVID.
"They keep saying I'm taking horse dewormer. I literally got it from a doctor. But CNN keeps saying I'm taking horse dewormer. They must know that that's a lie," Rogan said at the time.
He then had CNN's Dr. Sanjay Gupta on as a guest and was successful in convincing a flailing Gupta to admit CNN had got it wrong.
"It's a lie on a news network … that's a lie that they're conscious of. It's not a mistake," said Rogan.
"They shouldn't have said it was horse" dewormer," acknowledged Gupta.
Joe Rogan asks Sanjay Gupta if it bothers him that CNN outright lied about Rogan taking horse dewormer to recover from covid. This is fantastic: pic.twitter.com/PEgJqIXhSD

— Clay Travis (@ClayTravis) October 14, 2021
However, despite admitting its error, CNN has doubled down and lashed out at Rogan once again.
"The only thing CNN did wrong here was bruise the ego of a popular podcaster who pushed dangerous conspiracy theories and risked the lives of millions of people in doing so," CNN said in a statement.
Other news agencies have been forced to apologize after putting out misinformation concerning Ivermectin, but CNN isn't following suit.
As we previously highlighted, the Associated Press was forced to issue a correction after it falsely claimed that 70 per cent of calls to the Mississippi Poison Control Center were about people ingesting ivermectin to treat COVID-19.
This outright lie was repeated by innumerable news networks as well as talk show host Jimmy Kimmel.
Given that CNN refuses to correct the record, Rogan should make good on his threat and sue the network for a lot of money.
SUBSCRIBE on YouTube:
Follow on Twitter: Follow @PrisonPlanet
———————————————————————————————————————
Brand new merch now available! Get it at https://www.pjwshop.com/
ALERT!
In the age of mass Silicon Valley censorship It is crucial that we stay in touch.
I need you to sign up for my free newsletter here.
Support my sponsor – Turbo Force – a supercharged boost of clean energy without the comedown.
Get early access, exclusive content and behinds the scenes stuff by following me on Locals.
———————————————————————————————————————
Videos: Biden Gets Lost, Looks For Dead Person, Rambles Incoherently and Yells "Don't Jump"
White House says it's just another day
Within the space of the past 24 hours Joe Biden displayed several more signs of severe cognitive decline as he asked where a dead Congresswoman was, got lost again on a stage, rambled incoherently during a speech and yelled "don't jump" at a random audience member at a health conference.
Is any of this normal?
Yep, according to The White House Press Secretary, there's nothing to worry about:
There are too many incidents to keep track of now:
SUBSCRIBE on YouTube:
Follow on Twitter:
Follow @PrisonPlanet
———————————————————————————————————————
Brand new merch now available! Get it at https://www.pjwshop.com/


ALERT! In the age of mass Silicon Valley censorship It is crucial that we stay in touch.

We need you to sign up for our free newsletter here.

Support our sponsor – Turbo Force – a supercharged boost of clean energy without the comedown.

Also, we urgently need your financial support here. ———————————————————————————————————————
Ian Makes Landfall As "Catastrophic" Category 4 Hurricane On Southwest Florida
Update (1510ET):
Accuweather has declared Hurricane Ian made landfall around 1420 ET on North Captiva Island, a barrier island just west of Fort Myers, Florida. The storm came ashore with maximum sustained winds of 155 mph.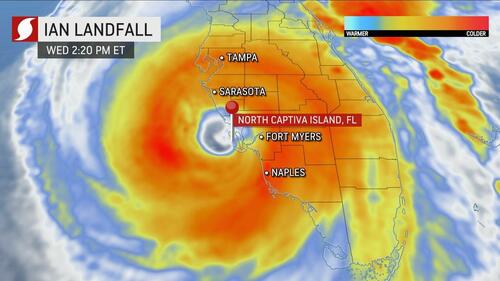 This is absolutely shocking… 
Sharknado?
* * *
Update (1247ET):
The National Weather Service reports powerful Hurricane Ian is nearing landfall on the southwest coast of Florida. NWS expects "catastrophic storm surge and wind damage" will occur across Charlotte County, just north of Fort Myers.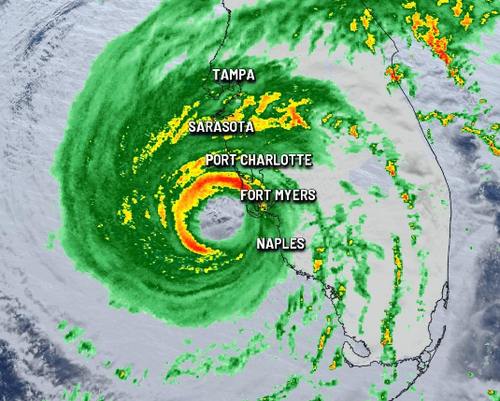 Recent readings showed Ian had sustained winds of 155 mph, only 2 mph shy of a Category 5 storm. As of 1144 ET, the storm's "outer eyewall" was about 20 miles from land, according to meteorologist Jason Boyer. 
NWS provided satellite footage of Ian encompassing nearly the whole state of Florida.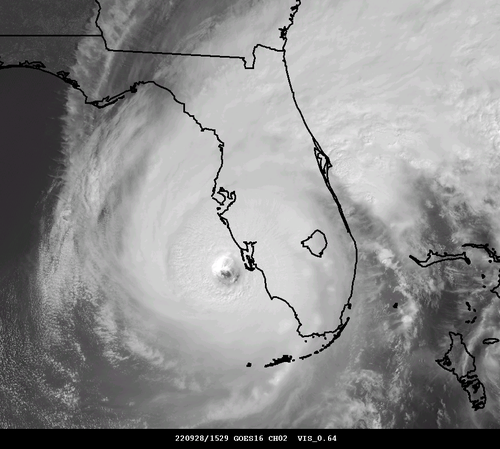 NWS shows a 12-18 feet storm surge forecasted for Charlotte County.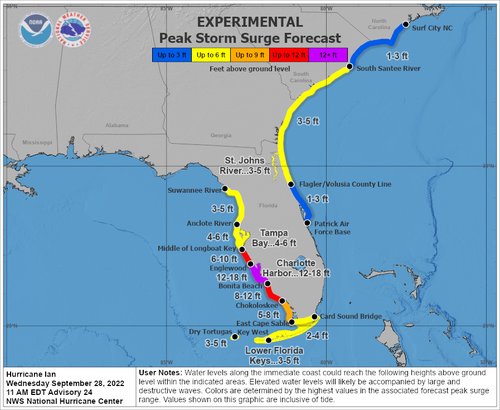 Horrifying videos have been posted on social media showing Ian's wrath ahead of landfall expected this afternoon. 
* * *
Update (0739ET):
Hurricane Ian continues to strengthen ahead of landfall. As of 0733 ET, the National Hurricane Center said Ian's sustained maximum winds were 155 mph, just 2 mph shy of a Cat. 5 storm.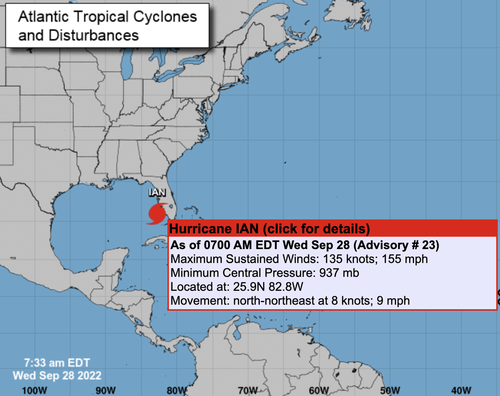 * * *
Hurricane Ian strengthened into a powerful Category 4 storm expected to make landfall on Florida's southwest coast today and then traverse central Florida and emerge in the Atlantic by Thursday.
At 0500 ET, the National Hurricane Center said Ian sustained maximum winds of 140 mph and gusts up to 165 mph. The storm's center was about 75 miles west-southwest of Naples and 105 miles south-southwest of Punta Gorda, moving north-northeast at 10 mph.
"Ian is forecast to approach the west coast of Florida as an extremely dangerous major hurricane, weakening is expected after landfall.

"On the forecast track, the center of Ian is expected to approach the west coast of Florida within the hurricane warning area this morning, and move onshore later today. The center of Ian is forecast to move over central Florida tonight and Thursday morning and emerge over the western Atlantic by late Thursday," NHC senior hurricane specialist Daniel Brown told Orlando Sentinel.
Ian's path has shifted south of Tampa Bay, and landfall is now expected between Fort Myers and Sarasota on Wednesday morning or early afternoon before moving across the central part of the state.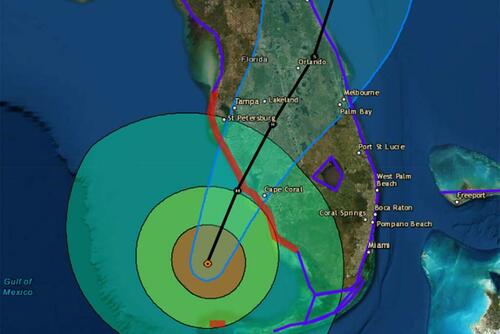 NHC warned a "life-threatening storm surge is expected along the Florida west coast and the Lower Florida Keys," with "devastating wind damage" expected near Ian's center.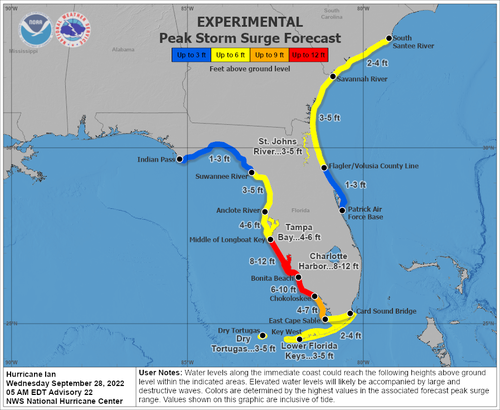 "Catastrophic flooding is expected across portions of central Florida with considerable flooding in southern Florida, northern Florida, southeastern Georgia and coastal South Carolina," the weather agency continued.
"It's going to be historic," National Weather Service Melbourne meteorologist Kole Fehling in Melbourne, referring to the storm's landfall impacts.
Fehling said Central Florida could be swamped with 15 to 20 inches of rainfall, with some areas receiving upwards of 24 inches.
"The normal value for the amount of rainfall over the entire year is about 52 inches," he said. "So if we were to see those higher- end totals, we could be experiencing half of our total annual rainfall in a very short period of time."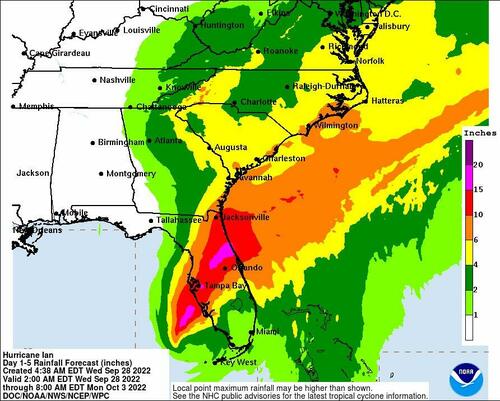 On Tuesday night, Florida Governor Ron DeSantis told residents:
"You need to evacuate now. You're going to start feeling major impacts of this storm relatively soon."
Millions of Floridians are under evacuation orders or advisories as DeSantis activated the National Guard earlier this week before the storm's arrival.
There are notable economic impacts due to adverse weather conditions in the region. On Tuesday evening, US energy companies idled 190,000 barrels of daily crude production, some 11% of US Gulf of Mexico output.
Bloomberg pointed out that the "nation's production of phosphate fertilizer" is in the storm's path.
Chuck Watson, a disaster modeler with Enki Research, said Mosaic's New Wales plant is "right in the middle of the damage swath," adding the facility "could be out for weeks."
Bloomberg said Ian could cause $45 billion in damage, which would make it one of the most costly storms in the country's history.
By late Tuesday, over 2,000 flights to and from Florida were canceled. Flight delays and cancelations could spill over to the rest of the country.
This post was originally published at Zero Hedge
Video: Ted Cruz Points Out Democrats Have Objected To Election Results Multiple Times
"Democrats have a long history of going up and objecting to electors"
GOP Senator Ted Cruz noted Tuesday that while repeatedly accusing Republicans of being a threat to Democracy for questioning election results, The Democratic Party has done that exact thing on multiple occasions.
Speaking at a hearing exploring potential reform of the presidential Electoral Count Act, Cruz noted "This bill is all about Donald J. Trump. Nobody in our lifetime has driven Democrats in this body out of their minds more than President Trump."
"We know that Democrats aren't opposed to objecting to elections and presidential electors," Cruz continued.
"We know that because Democrats objected in 1969. And then they objected again in 2001. Then they objected again in 2005. And then they objected again in 2017," the Senator explained.
"So Democrats have a long history of going up and objecting to electors. And by the way, in two of those times, 1969 and 2005, it wasn't just a Democrat House member who objected — a Democrat Senator joined in that objection and triggered the debate and vote," Cruz further noted.
The Senator continued, "We also know the brazen hypocrisy that the Democratic rage at Trump has priduced, where we have a kangaroo circus of a January 6 committee literally chaired by a House Democrat who made one of those objections. Insisting that it is now utterly unimaginable to object to a presidential election and the outcome thereof."
Watch:
Earlier this week, left leaning 'fact checkers' Politifact admitted that Democrats have routinely challenged election outcomes.
Meanwhile, Joe Biden, who along with his underlings has spent the past weeks labelling Republicans and Trump supporting conservatives as threats to the soul of the nation, announced Tuesday that "we need to find a way to come together."
SUBSCRIBE on YouTube:
Follow on Twitter:
Follow @PrisonPlanet
———————————————————————————————————————
Brand new merch now available! Get it at https://www.pjwshop.com/


ALERT! In the age of mass Silicon Valley censorship It is crucial that we stay in touch.

We need you to sign up for our free newsletter here.

Support our sponsor – Turbo Force – a supercharged boost of clean energy without the comedown.

Also, we urgently need your financial support here. ———————————————————————————————————————