Video: School Board Attempts To Silence Parent Reading Out Pedo Porn Books From Its Own Library
Parents jeer at school officials who don't want to hear disgusting gay pedo porn being given to children
A school board in Virginia attempted to cut off a mother who read out loud from disgusting pedophilia porn books stocked in the school's own library as part of a "diversity and inclusion" drive.
Stacy Langton addressed Fairfax High School officials on the matter, reading from two books she discovered at the institution.
Langton said "After seeing a September 9th school board meeting in Texas on pornography in schools, I decided to check the titles at my child's high school, Fairfax High School. The books were available, and we checked them out. Both of these books include pedophilia, sex between men and boys."
She added that "The illustrations include fellatio, sex toys, masturbation, and violent nudity."
Langton then read the following passages out loud from the material:
"I can't wait to have your c*** in my mouth. I am going to give you the blowjob of your life, and then I want you inside me."
"What if I told you I touched another guy's d***? What if I told you I sucked it? I was ten years old, but it's true. I sucked Doug Goble's d***, the real estate guy, and he sucked mine too."
"This is not an oversight at Fairfax High School—" Langton stated before being interrupted by one official who announced "I'm sorry, there are children in the audience here."
Well duh. That's the entire point.
Ms Langton roared back at the board "Do not interrupt my time! I will stand here until my time is restored and my time is finished. These books are in stock and available in the libraries."
The crowd of parents gathered behind Langton jeered at the school officials as they attempted to shut the mother down.
Watch:
In reaction to Ms Langton's address, a school official seemed to defend the material, claiming it is part of a "commitment" to "LGBTQIA+ students":
The latest exchange comes after the Mayor of Hudson, Ohio demanded that school board members either resign or face charges after it was revealed that material which amounts to "child pornography" was part of the curriculum for high school students.
In Florida, a lawsuit has also recently been filed against Broward County Public Schools (BCPS) after two public records requests were denied, relating to a list of 42 books the requestor claims contain "very pornographic" material that was made available to children as young as four years old.
SUBSCRIBE on YouTube:
Follow on Twitter:
Follow @PrisonPlanet
———————————————————————————————————————
Brand new merch now available! Get it at https://www.pjwshop.com/


ALERT! In the age of mass Silicon Valley censorship It is crucial that we stay in touch.

We need you to sign up for our free newsletter here.

Support our sponsor – Turbo Force – a supercharged boost of clean energy without the comedown.

Also, we urgently need your financial support here. ———————————————————————————————————————
Indeed Out-Wokes Corporate America With $10,000 Relocation Checks For Trans Employees
Austin-based online job search platform, "Indeed," aims to 'out woke' corporate America by offering transgender employees or those with transgender children a $10,000 relocation payment. Both Bloomberg and Axios confirmed the relocation payment program. 
Before we discuss relocation payments, it's important to note that Indeed proudly states on its website that it had the wokest corporate policies in America in 2018. It said its 2018 Corporate Equality Index (CEI), a national benchmarking survey and report on corporate policies and practices related to lesbian, gay, bisexual, transgender, and queer (LGBTQ) workplace equality, score "received a perfect score of 100 percent."
For some context, CEI is administered by the Human Rights Campaign, the largest LGBTQ+ political lobbying group in the world. HRC has received millions of dollars in funding from George Soros' Open Society Foundation.
Indeed's executives appear to have one objective in mind: rank the highest on the CEI index this year (we all remember earlier this year what happened to Bud Light when they tried that on TikTok). One way execs are attempting to achieve a high score is to offer a relocation program to trans workers, cutting them a $10,000 check to cover 'travel-related expenses' out of conservative states (or areas where they don't feel comfortable) to safer grounds.
"While Indeed introduced the program to its employees in July, until now, the company has not discussed it publicly," Bloomberg said.
Indeed provided further details about the program to Axios:
It's for US-based employees and immediate family members who seek gender-affirming care and live in a location where state laws or government-issued directives criminalize or restrict access to such medical care.
It also applies to those who live in places that attempt to restrict support for children who are gender non-conforming, transgender or non-binary.
Eligible employees will receive approval to relocate to a state or jurisdiction where they will be able to access the care and support they need, as well as a $10,000 flat-rate benefit to support their relocation expenses.
None of this comes as a surprise given Indeed's mission since 2018 has been to 'out woke' corporate America in its pursuit of a high CEI score. But why?
Some netizens were confused by Indeed's move considering the Bud Light backlash earlier this year after a white privileged liberal executive believed the brewer was time for a change. However, its customer base thought otherwise, nuking the beer as demand has since crashed.
"Kinda weird that companies never did stuff like this for black people or disabled people," one netizen asked. 
Another asked, "Does Indeed offer any relocation money for women who live in particularly misogynistic states? Of course not. "
Someone else pointed out: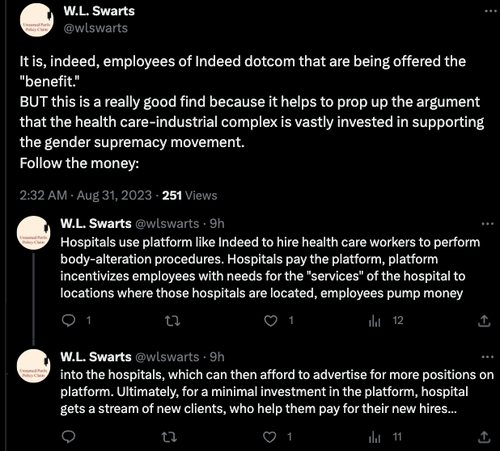 We wonder if Indeed will have an increase in the number of trans workers trying to capitalize on the free money.
This post was originally published at Zero Hedge
Tucker Carlson: Media Didn't Care When Obama Was Having Gay Sex And Smoking Crack
"Barack Obama likes dudes, I think this was well-known"
While discussing the corporate media's leftist agenda, Tucker Carlson noted that a prominent associate of Barack Obama claimed to have smoked crack with the former President and had gay sex with him prior to his campaign in 2008, but the media didn't bother reporting on it.
Appearing on Adam Carolla's podcast, Carlson noted "A guy came forward, Larry Sinclair, and said 'I'll sign an affidavit' and he did, 'I'll do a lie detector' and he did."
Carlson added that Sinclair claimed "'I smoked crack with Barack Obama and had sex with him.'" adding "Well, that was obviously true." 
"I talked to Larry Sinclair about it. Definitely it happened," Carlson contused, adding that Sinclair "has a record of deception but this story if you listen to it in detail, is clearly true."
Carlson added that the media dutifully kept quiet about the claims after "the Obama campaign said anyone who reports on this gets no access to the Obama campaign." 
"It's not going to change the world that Barack Obama likes dudes, I think this was well-known," Carlson further asserted, adding that Obama himself acknowledged his own gay impulses in a past letter to a former girlfriend. 
Watch:
Related:
SUBSCRIBE on YouTube:
Follow on Twitter:
Follow @PrisonPlanet
———————————————————————————————————————
Brand new merch now available! Get it at https://www.pjwshop.com/


ALERT! In the age of mass Silicon Valley censorship It is crucial that we stay in touch.

We need you to sign up for our free newsletter here.

Support my sponsor – Summit Vitamins – super charge your health and well being.

Also, we urgently need your financial support here. ———————————————————————————————————————
Video: School Board Fires Satan Worshipping Non-Binary Teacher
It only happened after Libs of Tiktok exposed the person, who admitted to being violent and driven by 'mania and psychosis'
A teacher at an Illinois elementary school was fired by the board after conservative influencer Libs of TikTok pointed out that the 'non-binary' person was also a Satan worshipper and had a history of bipolar disorder with mania and psychosis.
The Homer Community Consolidated School District 33C took action after the teacher Kris Martin's online posts promoting Satanism, as well as anti-police rhetoric were exposed.
District Superintendent Craig Schoppe wrote in an August 17 statement "As you may have heard or seen online, there has been some question and concern with regards to 33C hiring protocol and details surrounding the conditions of hire for new employees," before announcing an investigation was underway.
Now Martin has been terminated, much to the delight of parents in attendance at the latest board meeting:
The question remains, why did this person get hired as an elementary school teacher in the first place?
And how many more are out there?
SUBSCRIBE on YouTube:
Follow on Twitter:
Follow @PrisonPlanet
———————————————————————————————————————
Brand new merch now available! Get it at https://www.pjwshop.com/


ALERT! In the age of mass Silicon Valley censorship It is crucial that we stay in touch.

We need you to sign up for our free newsletter here.

Support my sponsor – Summit Vitamins – super charge your health and well being.

Also, we urgently need your financial support here. ———————————————————————————————————————