WTH? Canadian PM Spoke With HILLARY CLINTON About Afghanistan Because Biden And Harris Were AWOL
Biden IGNORED calls from world leaders
Canadian Prime Minister Justin Trudeau revealed earlier this week that after the Taliban took Kabul, he spoke not with Joe Biden or even Kamala Harris, but with Hillary Clinton instead.
Trudeau said "I also spoke last night with former U.S. Secretary of State, Hillary Clinton, who shares our concern for Afghan women and girls."
He continued, "She welcomed our efforts and urged Canada to continue our work. Governments, international organizations, and civil society must continue to work together to support women and girls in Afghanistan. The Afghan people need the world to stand with them. And that is what Canada will continue to do."
Watch:
Hillary Clinton is not a member of the Biden Administration, and does not even hold a position within the US government.
Yet, chillingly, as a major world event unfolded it was her that America's allies reached out to in the total absence of leadership.
Where Kamala Harris has gone is anyone's guess at this point.
Biden was hiding at Camp David, and as National Security Advisor Jake Sullivan confirmed, he did not take any calls from world leaders until later in the week.
Biden actually IGNORED calls from UK Prime Minister Boris Johnson:
Dereliction of duty is grounds for impeachment.
But I guess whatever, THAT WAS FOUR, FIVE DAYS AGO.
SUBSCRIBE on YouTube:
Follow on Twitter:
Follow @PrisonPlanet
———————————————————————————————————————
Brand new merch now available! Get it at https://www.pjwshop.com/


ALERT! In the age of mass Silicon Valley censorship It is crucial that we stay in touch.

We need you to sign up for our free newsletter here.

Support our sponsor – Turbo Force – a supercharged boost of clean energy without the comedown.

Also, we urgently need your financial support here. ———————————————————————————————————————
Second Chinese "Surveillance Balloon" Flying Over Latin America
Update (2215ET):
The US government says another Chinese spy balloon is traveling over Latin America.
"We are seeing reports of a balloon transiting Latin America," Brig. Gen. Pat Ryder, a Pentagon spokesperson, told Fox News Friday night. "We now assess it is another Chinese surveillance balloon."
Ryder said during a briefing Thursday the U.S. government detected a high-altitude surveillance balloon over the continental U.S. A senior defense official said during the briefing the U.S. government is "confident" the surveillance balloon is from the People's Republic of China.
The balloon was recently over Montana, and the official said the government considered shooting it down but decided against using military force because of the potential risks. A spokesperson for the Chinese Foreign Ministry said Friday the balloon is a "civilian airship" being used for meteorological purposes and deviated from its planned course.
When President Biden was briefed on the situation, he asked for military options, the official said.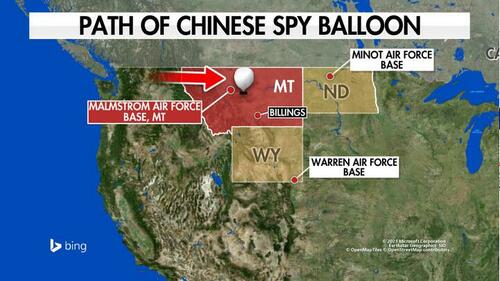 "You did see reports yesterday of a ground stop at Billings Airport and the mobilization of a number of assets, including F-22," the official said. "The context for that was that we put some things on station in the event that a decision was made to bring this down while it was over Montana."
* * *
Update (2143ET): The City of Billings is aware of a video circulating social media of what appears to be an explosion in the sky. However, city officials confirmed with the Montana Disaster and Emergency Services and Governor Greg Gianforte there have been no explosions in Montana airspace.
"They are aware of the video, and it can not be substantiated," the City said.
* * *
Update (2006ET):
Here's the clearest picture of the suspected Chinese spy balloon. 
* * *
Update (1415ET):
A suspected Chinese spy balloon flying over the US was spotted in the skies of north Kansas City on Friday afternoon.
The question people are asking: Where is the balloon headed?
To answer that, Capital Weather Gang said:
"Forward trajectory based on atmospheric steering currents would bring it close to St. Louis tonight & into North Carolina Saturday."
A map of the balloon's trajectory.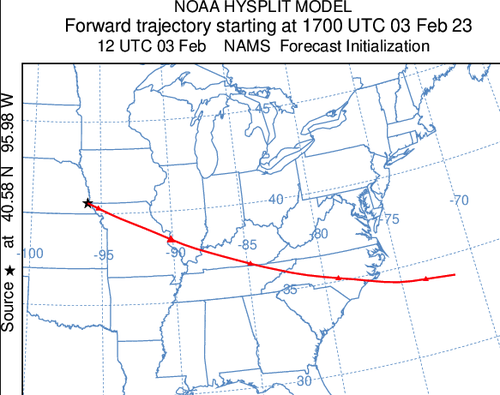 Others say the balloon could take a different path:
* * *
Update (1012ET):
Bloomberg confirmed US Secretary of State Antony Blinken would postpone his trip to Beijing amid spy balloon allegations.
The two-day trip was set to begin on Sunday. Even before Blinken postponed his trip, expectations were low to reset deteriorating Sino-US ties. 
* * *
Update (0932ET):
In response to some US officials accusing China of sending a spy balloon near ICBM fields in Montana, the Chinese foreign ministry said the balloon was for monitoring the 'weather' and veered off course and entered into US airspace due to force majeure.
The ministry "regrets the unintended entry" and said Chinese officials would continue communicating with the US about the balloon. They added the balloon is for meteorological and 'other scientific research.'
Earlier, foreign ministry spokeswoman Mao Ning urged the US to act "calmly and prudently" after some US officials accused China of sending a spy balloon.
"I want to emphasize that before the facts are clear, any speculation and hype are not conducive to the solution of the problem," Ning said.
So China states the balloon is for weather purposes only, while some US officials declare it a spy balloon. One thing is certain. The balloon mysteriously ended up near a highly sensitive area in Montana that is home to ICBM fields.
* * *
US military commanders have advised President Biden against shooting down a Chinese spy balloon flying over the US.
Reuters said the US military took "custody" of the "high-altitude surveillance balloon" and deployed military aircraft, including stealth fighter jets, to observe it.
Such balloons operate at an altitude of 15-22 miles, well above commercial air traffic. The balloon's size is estimated to be equivalent to three buses. 
"The United States government has detected and is tracking a high-altitude surveillance balloon that is over the continental United States right now," Pentagon spokesperson Brigadier General Patrick Ryder told reporters Thursday.
"The balloon is currently traveling at an altitude well above commercial air traffic and does not present a military or physical threat to people on the ground," Ryder continued.
Right now, the spy balloon appears to be occupying Montana airspace. This alarmed the state's Republican Senator Steve Daines, who sent an alarming letter to the Department of Defense (DOD). He said the spy balloon is a "concerning event": because Montana airspace includes "Malmstrom Air Force Base (AFB) and the United State's intercontinental ballistic missile (ICBM) fields." 
Daines wrote that given "the serious nature of the event," he is "requesting a full security briefing from the administration on this situation."
"It is vital to establish the flight path of this balloon, any compromised US national security assets, and all telecom or IT infrastructure on the ground within the US that this spy balloon was utilizing," he continued.
"As you know, Montana plays a vital national security role by housing nuclear missile silos at Malmstrom AFB," the senator said.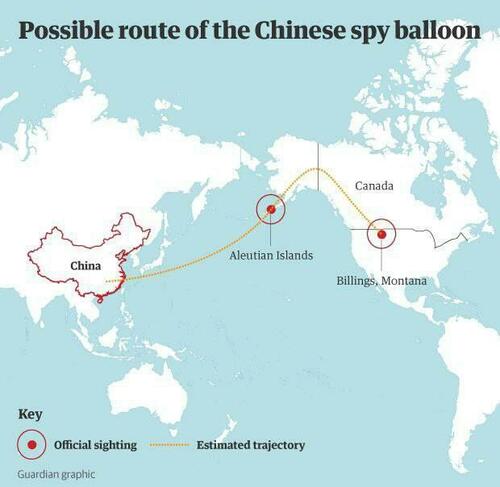 Separately, Canada's defense ministry is monitoring a "potential second incident" but declined to give further details.
News of the spy balloon followed CIA Director William Burns' speech at a Georgetown University event, where he called China the "biggest geopolitical challenge" facing the West.
This post was originally published at Zero Hedge
Aussie Cops Ask Neighbors To Rat Out 'Anti-Government, Anti-Police, Or COVID-Vaccine Conspiracy Theorists'
Australian police are using a brutal ambush on two cops to encourage residents to rat out neighbors who are skeptical of the Covid-10 vaccine, or harbor anti-government views.
On December 12, two Brisbane police officers were gunned down by a family of rural Australians, who opened fire as the two officers approached their home. Constables Rachel McCrow, 29, and Matthew Arnold, 26 died in the attack, while a third officer, Constable Randall Kirk, was shot in the leg but managed to escape. A fourth officer, Keely Brough, fled to safety in the bushes.
Later that evening, members of the rural family were killed in a shootout with tactical police.
In response to the incident, Deputy Commissioner Tracy Linford suggested that neighbors need to assume anyone who harbors non-mainstream views is clearly a threat.
"As I said before, if there's anybody out there that knows of someone that might be showing concerning behavior around conspiracy theories, anti-government, anti-police, conspiracy theories around COVID-19 vaccination as what we're seeing with [shooting perpetrators] the Train family, we'd want to know about it. We want to know about that. And you can either contact the police directly or go through Crime Stoppers," she said.
In response, Rebel News' Avi Yemini replied: "Queensland Police appealing to the public to dob in their neighbours who "are anti-government or believe Covid-19 vaccine conspiracy theories.""
This has not sat well with many:
This post was originally published at Zero Hedge
Was Video Of Brittney Griner Release Edited To Remove Handshake With Russian 'Merchant Of Death'?
The optics wouldn't go down well as even Democrats are slating the 'only deal on the table'
A video of the Brittney Griner prisoner exchange between Russian and U.S. officials was mysteriously edited, prompting speculation that the State Department edited out a handshake between the athlete and the Russian terrorist she was traded for.
Internet sleuths are suggesting the weird cut in the footage comes right as Griner was posturing herself to shake the hand of arms dealer Viktor Bout, known as the 'Merchant of Death'.
Bout was convicted on terrorism charges over a decade ago for attempting to sell missiles worth tens of millions of dollars to the Revolutionary Armed Forces of Colombia (FARC), specifically for the purpose of shooting down U.S. Military helicopters.
The optics of Griner shaking Bout's hand wouldn't play too well for the Biden administration, which is already being heavily criticised for making such a horrible deal, and leaving behind other U.S. prisoners including Marine veteran Paul Whelan.
Even Democrats are slating the administration's actions:
Fox News reporter Peter Doocy asked the White House Press Secretary "Why did Russia get such a better deal?" to which she replied, it was that deal or nothing.
"In bringing home a professional athlete, we gave up a prolific arms dealer who was convicted of trying to kill Americans who's called the 'Merchant of Death,'" Doocy bluntly noted.
Another reporter asked how on earth this doesn't send a message to Russia and other authoritarian regimes that all they have to do is kidnap Americans in order to broker a deal to get their criminal scum back.
Of course, she had no answer.
But hey, lets not miss an opportunity to alphabet and race virtue signal:
SUBSCRIBE on YouTube:
Follow on Twitter:
Follow @PrisonPlanet
———————————————————————————————————————
Brand new merch now available! Get it at https://www.pjwshop.com/


ALERT! In the age of mass Silicon Valley censorship It is crucial that we stay in touch.

We need you to sign up for our free newsletter here.

Support our sponsor – Turbo Force – a supercharged boost of clean energy without the comedown.

Also, we urgently need your financial support here. ———————————————————————————————————————