Billionaires Segregate Themselves on Luxury Private Islands as Ordinary People Told They Can't Travel
Neo-feudalism: The elite is hiding out from the devastation their policies have caused.
News that billionaire Google co-founder Larry Page has been hiding out on and buying isolated private islands in Fiji to avoid tourists who aren't allowed in once again underscores how the elite is using the fallout from the pandemic to segregate themselves from the general public.
Page has been living off grid for over a year and forced a state-owned news website to remove an article about his activities that was also de-listed by Google in an apparent effort to conceal his location.
"He has spent months in Fiji during the coronavirus pandemic – mostly on the island of Tavarua – and it has been rumored the billionaire has bought at least one island in the country's Mamanuca archipelago," reports the Daily Mail.
"Page has also been spotted an a smaller island called Namotu – which a sailor named Lorenzo Cipriani claimed Page bought in a blog post in August."
Page, who has a net worth of $117 billion, making him the sixth-wealthiest person in the world, was able to take advantage of Fiji's 'Blue Lane' program, which "lets the super wealthy visit the archipelago on their superyachts and private jets, even when other travelers were banned."
So while Page gets to enjoy a sumptuous view of the South Pacific while being attended to on his luxury private island by 30 staff waiting on him, ordinary people who have lost their jobs, businesses and homes due to the lockdown aren't even allowed to travel there.
Google co-founder Larry Page 'has been living off-grid and hiding out on isolated Fijian island for most of the pandemic'
via https://t.co/4BICcpeuDD https://t.co/w2p7Kk7ALp

— Sarah (@brontesarah) July 23, 2021
Page's story is just a microcosm of how wealthy elitists have rapaciously exploited the lockdowns that they have vehemently supported and facilitated to further expand the economic inequality gap and segregate themselves from the peasants.
While Page has his staff prepare him cocktails and the finest cuisine after a day of surfboarding in paradise, children in his home country are either permanently traumatized and afraid to go outside or literally committing suicide out of loneliness caused by lockdown.
Meanwhile, the World Economic Forum – architects of 'the Great Reset' that has been rapidly advanced thanks to lockdown policies – tells people that they'll "own nothing and be happy."
It tells them to look forward to their rental servitude under a system of neo-feudalism that will make home ownership completely unaffordable.
Meanwhile, Davos billionaires like Bill Gates are buying up huge swathes of property, with Gates recently becoming the largest owner of farmland in America.
In terms of individual land owners, Gates is still far behind media mogul John C. Malone, who is in top spot with 2.2 million acres of ranches and forests and CNN founder Ted Turner, who owns 2 million acres of ranch land.
Amazon's Jeff Bezos is also "investing in land on a large scale," according to Forbes.
America's biggest owner of farmland is now Bill Gates https://t.co/j9gW4zQ0Yh pic.twitter.com/0tZLJcGXfg

— Forbes (@Forbes) January 14, 2021
While billionaire philanthropists and technocrats are acquiring land at an accelerating speed, they appear to be telling the general public that in the future private property will virtually cease to exist.
The WEF also celebrates the notion that "lockdowns are quietly improving cities," greasing the skids for climate lockdowns and regulated air travel even as the likes of Page and his ilk jet off for luxury holidays whenever they please, absent the nuisance of those pesky tourists who might spoil their tranquility.
While our quality of life is eroded, while we have to take vaccines and jump through 100 flaming hoops to be allowed to travel internationally, they're all completely exempt – exempt from the same rules they onerously impose on us.
Tourists are flushed out and banned from entering countries so Page and his rich friends can enjoy their days of pampered, opulent leisure in total seclusion.
Indeed, many elitists have expressed delight at how global lockdowns have left roads, airports and luxury resorts in Caribbean countries virtually empty, allowing them to avoid any interaction whatsoever with the unwashed masses.
This then has the knock-on impact of forcing low income workers to flood to western countries in search of work, exacerbating tensions caused by mass uncontrolled immigration.
This is the tweet the @wef deleted, saying "lockdowns are quietly improving cities"

Lockdowns have destroyed cities, lives & economies. Yet climate change zealots see them as tools of control

These unelected cranks must NEVER be allowed near policy

— Martin Daubney (@MartinDaubney) February 27, 2021
Billionaires also exploited the pandemic to snuff out their remaining competition and create even more centralized monopolies.
Worldwide, the combined wealth of the world's 10 richest men rose by $540bn during the first year of the pandemic, including Amazon founder Jeff Bezos who saw his personal wealth grow by $86 billion as Amazon shares soared.
According to an Oxfam report, billionaires exploited the the impact of lockdown to create a "rigged economy," causing expanding wealth inequality during the "worst economic downturn in a century."
A record number of billionaires were also created in the UK during the pandemic even as millions of ordinary people lost their jobs and saw their businesses go under.
Meanwhile, lockdowns caused 150 million people globally to be pushed into extreme poverty.
'Wealth increase of 10 men during pandemic could buy vaccines for all'

Never mind hungry people. Never mind those without shoes. Never mind.

It will trickle down…. https://t.co/3wQ1cpjvIk

— Some Fella (@BusterPell) June 23, 2021
But for those lucky enough to hold onto their jobs, they're kept at arms length by 'stay at home' orders, remote working and Zoom calls, even as globalists continue to enjoy maskless BBQ parties at the G7 and socially un-distanced black tie dinners at Davos.
They still get to meet each other in person (while avoiding the worker drones), but you don't.
None of this is anything new.
Since humanity began to divide into class systems, entrenched elites have always sought to aggressively separate themselves from the public, prevent the creation of a strong middle class, and maintain a poor service class that is only good for attending to their needs.
The major difference now is that the elite have built a giant technocracy which enables them to maintain total surveillance of the populations under their control, while they get to enjoy total exclusivity and privacy.
As Larry Page's successful effort to get the article about his whereabouts removed from the news media proves, they get to conceal everything about their activities while demanding to know everything about yours.
They get to avoid attention and they get to avoid people knowing their location.
Meanwhile, your government health app knows your every locations and 'pings' you back under quarantine at the drop of a hat.
'Pingdemic' Triggers Widespread Panic Hoarding At UK Supermarkets  https://t.co/65AncfvZEV

— zerohedge (@zerohedge) July 23, 2021
The advancement of robotics and artificial intelligence will also ensure that even much of the elite's servant class will become obsolete in the near future.
This agenda will all be facilitated through puppet governments and private corporations, allowing Page, Gates, Zuckerberg and other billionaires to fade into the background and hide their role in the managed decline of civilization.
While they continue to inflict all of this upon humanity, we continue to bicker over identity politics, racism and all manner of relative trivialities that keep us divided and asleep.
And if you're naive enough to think that this is all coming to an end as the coronavirus pandemic winds down, rest assured that there are many more 'variants' to be discovered and innumerable more reasons to put you back under lockdown.
Don't worry though, because none of these restrictions will apply to Larry Page and his billionaire friends, who will remain totally isolated on their luxury private islands as the rest of the world goes to hell in a hand basket thanks to the economic warfare they declared on us.
SUBSCRIBE on YouTube:
Follow on Twitter: Follow @PrisonPlanet
———————————————————————————————————————
Brand new merch now available! Get it at https://www.pjwshop.com/
ALERT!
In the age of mass Silicon Valley censorship It is crucial that we stay in touch.
I need you to sign up for my free newsletter here.
Support my sponsor – Turbo Force – a supercharged boost of clean energy without the comedown.
Get early access, exclusive content and behinds the scenes stuff by following me on Locals.
———————————————————————————————————————
Investigation Into Unusual Spike in Newborn Baby Deaths in Scotland
5 months after the first investigation was promised.
Health authorities in Scotland are set to launch an investigation after an "unusual" spike in deaths of newborn babies was recorded on two separate occasions.
We previously highlighted the spike in deaths back in May, when it was reported that an inquiry was set to be announced into the "very unusual" phenomenon, with the alarm being raised after 18 infants died within four weeks of birth in March.
That same control limit was also breached in September last year, when 21 neonatal deaths were reported, the first time this had occurred since records began.
Despite an "investigation" being promised nearly 6 months ago, one didn't appear to take place, but the media is again reporting that the strange deaths will be scrutinized.
"The Scottish government has ordered the review of neonatal death rates after two spikes over a six-month period. Both increases were larger than what would normally be expected," reports BBC News.
"The review will be carried out by Healthcare Improvement Scotland. It is expected to last six to nine months and cover all reported baby deaths between April 2021 and March 2022."
"The Scottish government has ordered the review of neonatal death rates after two spikes over a six-month period. Both increases were larger than what would normally be expected."https://t.co/IdZQSuR8P4 https://t.co/P47wlVzOHf pic.twitter.com/I0iop5Zb2v

— Prodigal (@ProdigalThe3rd) October 2, 2022
The death rate for babies in Scotland under the age of 1 is at its highest level for a decade.
The Herald newspaper previously reported, "The neonatal mortality rate was 5.1 per 1,000 live births in September and 4.6 per 1,000 in March, against an average of 1.49 per 1000 in 2019."
Health authorities have said that the deaths are not linked to COVID and could not be put down to chance.
Edinburgh University's Dr. Sarah Stock previously said, "The numbers are really troubling," but that the cause of the deaths remained a mystery.
Indeed, it remains a complete enigma as to what medical circumstances relating to pregnant women could have changed from 2021 onwards.
I have full confidence that our esteemed health authorities will totally get to the bottom of this without any possibility whatsoever of hiding the true cause.
SUBSCRIBE on YouTube:
Follow on Twitter: Follow @PrisonPlanet
———————————————————————————————————————
Brand new merch now available! Get it at https://www.pjwshop.com/
ALERT!
In the age of mass Silicon Valley censorship It is crucial that we stay in touch.
I need you to sign up for my free newsletter here.
Support my sponsor – Turbo Force – a supercharged boost of clean energy without the comedown.
Get early access, exclusive content and behind the scenes stuff by following me on Locals.
———————————————————————————————————————
Canadian Actress Reveals She Has Bell's Palsy Two Weeks After Vax, Says She Would Take It Again
July 2021 clip goes viral on Twitter.
In a video originally posted to her Instagram that went viral on Twitter over a year later, Canadian actress Jennifer Gibson revealed that she was suffering from Bell's palsy two weeks after taking the vaccine, before going on to say she would take the shot again.
Gibson first posted the video to Instagram in July 2021 and it was actually filmed on May 11, but it received little attention until going viral on Twitter last night, and has already received millions of views on different versions of the clip.
"This is not a video that I wanted to make, and it's kinda hard to make, cause as I'm watching myself, I see what I'm gonna say," a a visibly upset Gibson says on camera.
The left side of Gibson's face is clearly paralyzed, a condition she subsequently revealed to be Bell's palsy.
Canadian actress Jennifer Gibson. pic.twitter.com/4FsC5ndfAp

— D. Scott @eclipsethis2003 (@eclipsethis2003) September 29, 2022
"So I got it about two weeks after getting my vaccine and I had a rough go with the vaccine, and I guess still am," Gibson remarked.
"But I have to say that I would do it again because it's what we have to do to see people," she said.
"I don't know why I'm making this video but here's my worse smile," Gibson said before ending the video smiling with half of her face paralyzed.
In a message posted to her Instagram page accompanying the video, Gibson wrote, "I've had many people follow this page after their own #diagnosis, so I'm sharing this video hoping it gives them optimism. My symptoms got worse after this video, I was considered a severe case, and I am almost back to 'normal'. (Whatever that is…) I didn't see any improvement for about a month and I got really discouraged, so I hope this can help someone."
The actress posted numerous other photos to her Instagram page urging people to wear masks and take vaccines.
Gibson saying she would take the vaccine again despite it almost certainly causing her condition is a familiar refrain for vaccine enthusiasts who often thank the "100 per cent safe and effective" jab after going public to reveal they have caught COVID.
Studies have shown that the COVID-19 vaccinations can cause rare cases of Bell's palsy.
Back in June, pop star Justin Bieber revealed that he was also suffering from facial paralysis, which was subsequently explained to be caused by Ramsay Hunt syndrome.
Claims that Bieber was suffering from the condition as a result of a COVID-19 vaccine were subsequently denied by fact checkers as "false," despite rampant speculation.
SUBSCRIBE on YouTube:
Follow on Twitter: Follow @PrisonPlanet
———————————————————————————————————————
Brand new merch now available! Get it at https://www.pjwshop.com/
ALERT!
In the age of mass Silicon Valley censorship It is crucial that we stay in touch.
I need you to sign up for my free newsletter here.
Support my sponsor – Turbo Force – a supercharged boost of clean energy without the comedown.
Get early access, exclusive content and behind the scenes stuff by following me on Locals.
———————————————————————————————————————
Fauci Net Worth Soared 66% During Pandemic
The net worth of Dr. Anthony Fauci's household soared a whopping 66% over the course of the pandemic, according to new financial disclosures obtained by OpenTheBooks.com. Fauci reported a Jan 1, 2019 net worth of $7,523,634. By Jan 1, 2022, it had grown to $12,677,513.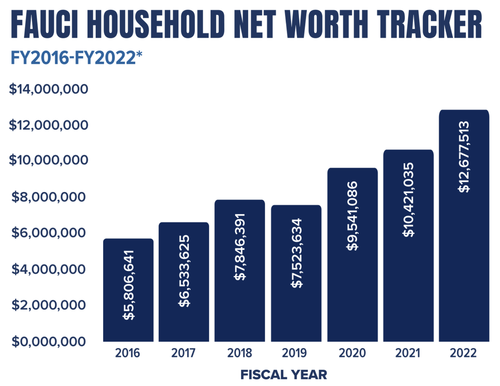 As director of the National Institute of Allergy and Infectious Diseases, Fauci was paid a 2021 salary of $456,028, making him the highest-paid employee in the entire federal government. His wife, Christine Grady, is chief bio-ethicist for the National Institutes of Health, does very well too, raking in a $238,970 salary last year.
Fauci is famously paid more than the president, and his wife collects more than the vice president. However, those hefty federal salaries aren't the only driver of the Fauci household's pandemic-era enrichment.
In 2021, Fauci was awarded the Tel Aviv University-affiliated Dan David Prize, which came with a $1 million check. The prize committee said Fauci "has been widely praised for his courage in speaking truth to power" during the Covid-19 pandemic.
The committee was apparently oblivious that Fauci was the power and routinely spoke falsehoods about everything from the usefulness of masking to herd immunity, the efficacy of vaccines, and NIH funding of gain of function research at the Wuhan Institute.
As is customary, Fauci donated some of his prize money back to be awarded as student scholarships, but still pocketed $901,400, according to the financial statements reviewed by OpenTheBooks.com.
Though it's chump change compared to the Dan David Prize, Fauci also scored $12,500 from both the Elliot Richardson Prize in Public Service and the Abelson Prize from the American Association for the Advancement of Science, and got $5,198 when he was named Federal Employee of the Year at the 2020 Samuel J. Heyman Service to America Medals ceremony.
Fauci even did some moonlighting as an editor for McGraw Hill, taking home $100,000 for his work in 2021.
There's no indication Fauci made any "shrewd" investments a la Nancy and Paul Pelosi. According to the financial disclosures, Fauci's portfolio comprises broad mutual funds with no individual stocks:
"These funds were held in a mix of trust, retirement, and college education accounts. Fauci has an IRA worth $706,219 (up $67,700); a defined benefit brokerage account totaling $2,551,210 (up $147,688); and a revocable trust worth $7,014,197 (up $1,718,299). His wife's revocable trust is worth $2,269,225 (up $306,406) and an IRA totaling $136,662 (up $16,385)," reports OpenTheBooks.com.
OpenTheBooks.com has filed four federal lawsuits against NIH to pry loose additional details not only about Fauci but also about royalties received by other NIH employees.
Though Fauci has announced he'll retire by the end of the year, the wheelbarrows full of taxpayer money will keep on rolling his way. When you're the highest-paid employee in federal government history and you've been on the federal payroll for more than 55 years, that'll make for an astounding pension of some $375,000 a year.
It's emblematic of the whole miserable Covid-19 spectacle: Bureaucrats wallow in government money while ordinary people suffer the ever-mushrooming destruction caused by public health's catastrophic lockdown and mandate regime.
This post was originally published at Zero Hedge