Report: 9/11 Families Sick Of Democrats Saying Capitol Infiltration Was Worse
"They just dehumanize our families for political gain."; "It's a deliberate ploy."
Families of those who died in the 9/11 attacks have slammed Democrats for repeatedly comparing the worst terrorist atrocity in U.S. history to the January 6th Capitol building infiltration, saying that the rhetoric is "inflated and ridiculous".
Fox News reports that some families of 9/11 victims are 'outraged' over the likes of Nancy Pelosi and Joe Biden claiming that. Jan 6 was "the worst attack on our democracy since the Civil War," or that there should be a "9/11-style" commission.
Retired New York Deputy Fire Chief Jim Riches who lost his son, also a firefighter, told reporters "They're comparing it to score points politically."
"Are they kidding me? 3,000 people died, plus we have more people dying from the air that was down there," Riches continued, adding "The families are really [angry]. When I talk to them, when they compare it to that, they find that outrageous."
Debra Burlingame, whose brother was murdered aboard American Airlines Flight 77 before it crashed at the Pentagon, urged "There are a lot of young people who have no living memory of 9/11 … When you have all these comparisons and analogies, which are inflated and ridiculous, it minimizes what actually happened, and that's what's happening here. It's a deliberate ploy."
Joe Connor, who lost a cousin in the World Trade Center, noted "They just dehumanize our families for political gain. I guess they call it gaslighting."
Connor continued, "They can say these things that will make people believe that these riots were worse than the worst thing that happened on American soil. Either they're ignorant or they're just really devious and clever, and you can put nothing past them, because if you're willing to lie to that degree … It's a disturbing trend to me."
Don Arias, who lost a brother in the South Tower told Fox that "Clear thinking people see these inflammatory statements as the bulls–t they are. There's no comparison."
Another American, nicknamed "Grizzly Joe" lost four friends on 9/11 and told reporters "It strikes me that if folks need to compare January 6 to 9/11, they have no faith in their ability to portray January 6 as the unfortunate criminal act that it was."
The report also notes that leftist "journalists" are mimicking the Democrat ploy:
Some among the Capitol Hill press corps have also complained that they are traumatised by the event that they "survived", and refuse to go back into the building.
Democrats have used the Capitol breach to consolidate power and initiate a stasi-like security crackdown, beefing up the Capitol police.
Those arrested after the breach have been treated like terrorists.
SUBSCRIBE on YouTube:
Follow on Twitter:
Follow @PrisonPlanet
———————————————————————————————————————
Brand new merch now available! Get it at https://www.pjwshop.com/


ALERT! In the age of mass Silicon Valley censorship It is crucial that we stay in touch.

We need you to sign up for our free newsletter here.

Support our sponsor – Turbo Force – a supercharged boost of clean energy without the comedown.

Also, we urgently need your financial support here. ———————————————————————————————————————
Biden Stumbles on Flag, Fiddles with Earpiece in Awkward Press Conference with Brazil's President Lula
The press conference featured multiple awkward moments.
President Joe Biden met with fellow socialist chief executive Luiz Inácio Lula da Silva of Brazil on Wednesday to announce a joint initiative on "workers' rights" intended to promote the restructuring of their economies to fight alleged climate change.
The press conference following their engagement, the second of the year, featured multiple awkward moments between the two leaders, including an instance in which Lula appeared to expect a handshake from Biden, who turned his back and walked offstage (Biden had shaken Lula's hand earlier during the press conference).
The beginning of the press conference also featured a moment in which Biden walked out without Lula and stumbled into a Brazilian flag.
Biden walks on stage without the Brazilian president, almost knocks down a flag, then does a little jog pic.twitter.com/JbrV7LBMpc

— RNC Research (@RNCResearch) September 20, 2023
Biden delivered his remarks without incident, proclaiming his "the most pro-union administration in American history" and promising that the elimination of fossil fuels, gas-powered vehicles, and other staples of daily life in the name of combatting climate change would create more jobs and benefit workers.
"We will advance a worker-centric clean — a worker-centered clean energy transition. Folks, as I've told labor from the very beginning: When I think of climate change, I think of jobs," Biden declared. "Jobs."
Biden's call to eliminate established conventional energy-based industries comes less than a week after the United Auto Workers (UAW) union launched a strike to demand fairer wages and worker contracts. The nearly 13,000 American automobile industry workers currently on strike are demanding significant wage increases of up to 40 percent, the return of contract provisions that ensure wages are adjusted according to inflation, and changes in the system that would allow new workers to make as much as workers serving longer but doing the same job, among other demands.
Pivotally, the workers seek protection in the face of Biden's government dumping massive amounts of taxpayers' money into electric vehicles and other "green" technology.
The demands for protection from inflation and "green" industrial reform are related: the $1.9-trillion "Inflation Reduction Act" provided millions in subsidies and offered preferential treatment for "green" energy projects, and, in spending so much money, significantly worsened America's ongoing inflation woes.
UAW representatives have cited the subsidies and extensive bailout payments to major automobile companies as a reason they do not feel compelled to negotiate fairly with workers.
General Motors and Stellantis, two of the companies most directly affected by the strike, announced they would lay off over 2,000 workers on Wednesday as a result of the strike.
"Whether it's your autoworkers or any other union worker, record corporation profits should mean record contracts for union workers," Biden said alongside Lula on the same day.
When Lula took the podium to speak, Biden appeared to struggle to untangle his earpiece, meant for live translation of Lula's comments from Portuguese to English.
🚨 | Tristes imágenes: Biden lucha durante un minuto para intentar ponerse unos audífonos, mientras comparte escenario con el socialista y enemigo declarado de EEUU, Lula da Silva: pic.twitter.com/6v7aMdpQJ2

— Emmanuel Rincón (@EmmaRincon) September 20, 2023
The official White House transcript of their conversation shows Lula interrupting his opening statement and repeatedly asking Biden if he could hear his remarks:
PRESIDENT LULA: (As interpreted.) Well, first of all, I would like to greet President Biden and to say to President Biden —

Can you hear me, President Biden?

This is a historical moment for Brazil and for the U.S.

President Biden, can you hear me?

(President Biden nods.)

I — you can? Yes, good.
Technical difficulties ultimately solved, Lula used his remarks to condemn "neoliberal politics" for hurting the global labor movement and to enforce Biden's claim that the elimination of entire core industries to resolve alleged climate change would result in a thriving economy for workers.
AG Garland Invokes Holocaust to 'Defend His Policies of Persecuting, Indicting and Imprisoning His Political Opponents'
Argued his Jewish "family background" means he's immune to wrongdoing.
Attorney General Merrick Garland on Wednesday invoked the Holocaust during testimony before Congress to defend his policies of prosecuting and persecuting his political opponents and argued his Jewish "family background" means he's immune to wrongdoing.
From The Gateway Pundit, "SICK! Lawless AG Merrick Garland Lectures on Holocaust to Defend His Policies of Persecuting, Indicting and Imprisoning His Political Opponents (VIDEO)":
After indicting the leading presidential candidate in America on bogus, manufactured, partisan charges Merrick Garland had the nerve on Wednesday to compare his ancestors fleeing Eastern Europe during the Holocaust to his lawless targeting, indicting and imprisoning of conservative Americans.

[…] On Tuesday Merrick Garland choked up while talking about his ancestors as he destroys American democracy.

Merrick Garland: All of us recognize that with this work comes public scrutiny, criticism, and legitimate oversight. These are appropriate and important given the matters and the gravity of the matters that are before the Department. But singling out individual career public servants who are just doing their jobs is dangerous, particularly at a time of increased threats to the safety of public servants and their families. We will not be intimidated.

We will do our jobs free from outside influence, and we will not back down from defending our democracy. Third, I want to explain why we approach our job in this way. The Justice Department was founded in the wake of the Civil War and in the midst of Reconstruction, with the first principal task of bringing to justice white supremacists and others who terrorize black Americans to prevent them from exercising their civil rights. The Justice Department's job, then and now, is to fulfill the promise that it is at the foundation of our democracy that the law will treat each of us alike. That promise is also why I am here.

My family fled religious persecution in Eastern Europe at the start of the 20th century. My grandmother, who is one of five children born in what is now Belarus, made it to the United States, as did two of her siblings. The other two did not. Those two were killed in the Holocaust, and there is little doubt that. But for America, the same thing would have happened to my grandmother.
WATCH:
Garland also invoked the Holocaust to dodge a question from New Jersey Rep. Jeff Van Drew on his FBI/DOJ targeting traditional Catholics as "violent extremists" and suggested his Jewish heritage means he's incapable of wrongdoing.
"The idea that someone with my family background would discriminate against any religion is so outrageous — so absurd," Garland scoffed.
"Mr. Attorney General, it was your FBI that did this," Drew shot back. "It was your FBI that was sending — and we have the memos and we have the emails — that was sending undercover agents into Catholic Churches!"
.@Congressman_JVD EXPLODES on AG Garland For The 'Anti-Catholic' FBI Memo

VAN DREW: "Yes or no…Do you agree that Traditional Catholics are domestic extremists?"

GARLAND: "The idea that someone with my family background would discriminate against any religion is so outrageous… pic.twitter.com/zqwAHbuYNj

— Daily Caller (@DailyCaller) September 20, 2023
Garland's goons did target Traditional Catholics and infiltrate their perishes and only backed off the program after they were exposed.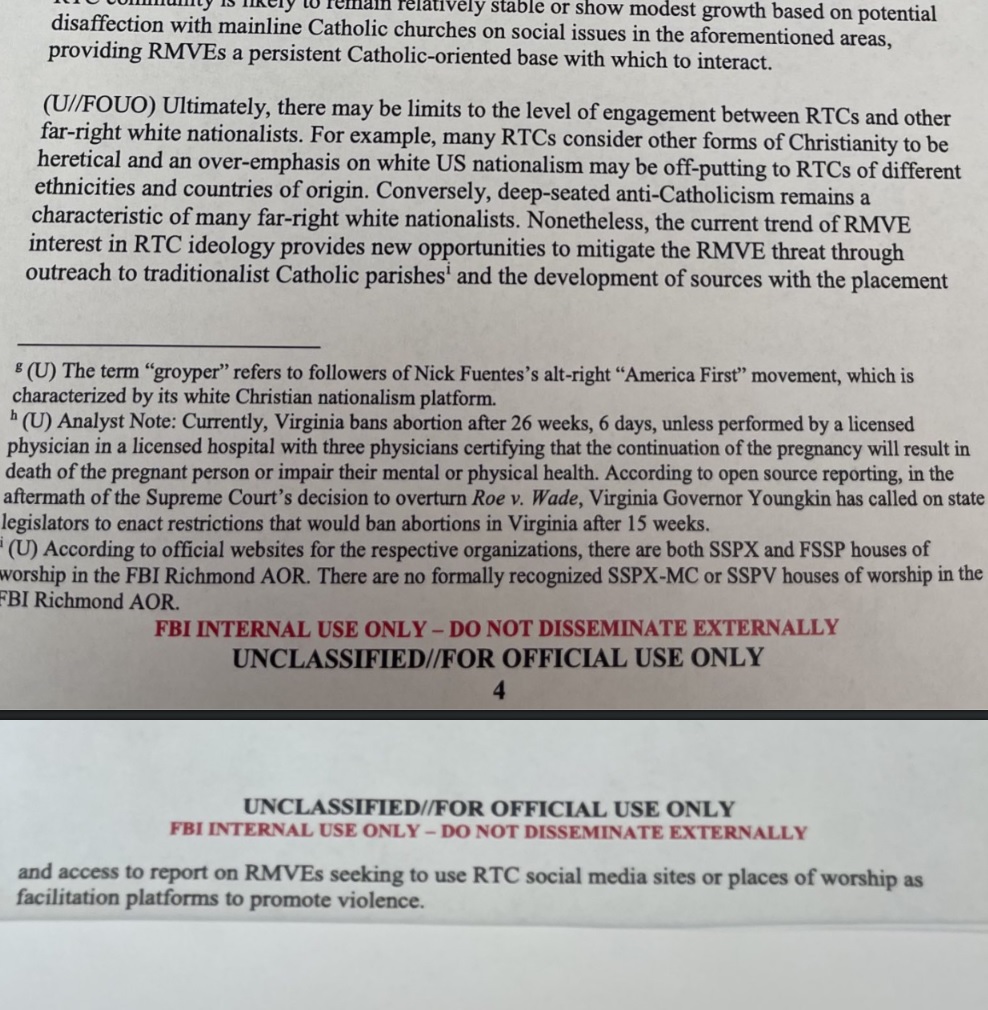 Though Garland claimed his Jewishness means he's immune from wrongdoing and said he's "appalled" by the memo, he told Drew he doesn't even know if anyone was fired for drafting the memo.
Garland is the most extreme Attorney General in American history and has made a mockery of our justice system.
In a sane country, Garland would have been ousted from power a year ago and referred for criminal prosecution.
Follow InformationLiberation on Twitter, Facebook, Gab, Minds and Telegram.
New York City Considering Removing Statues of George Washington, Others
All while facing a migrant crisis costing taxpayers billions.
New York City is considering a measure that would essentially remove statues of Founding Fathers such as George Washington, all while facing a migrant crisis costing taxpayers billions.
According to a list found in New York City's council agenda for Tuesday, September 19, officials will consider a bill that would:
…require the Public Design Commission (PDC) to publish a plan to remove works of art on City property that depict a person who owned enslaved persons or directly benefitted economically from slavery, or who participated in systemic crimes against indigenous peoples or other crimes against humanity.
Under this criteria, the Father of the Nation's depictions could get the boot, including the famous statue in Union Square Park.
Other statues, including that of Christopher Columbus, would also be subjected to this measure.
According to the bill, if the PDC opts not to remove a work of art of an individual who fits the criteria, it would be required to "include in the plan steps it will take to install an explanatory plaque next to the work of art."
"This bill would also require the Department of Transportation to consult with the Department of Education to install plaques on sidewalks or other public space adjacent to schools that are named after a person that fits the criteria," a summary of the measure adds.
Other items on the agenda include bills to "require the Commission on Racial Equity to establish a Truth, Healing, and Reconciliation process in connection with the City's historic involvement in slavery" and "require the Chief Equity Officer to create an anti-racism training for employees of human services contractors."
Years ago, former President Donald Trump predicted that the far-left would eventually turn on the Founding Fathers.
"This week, it's Robert E. Lee. I noticed that Stonewall Jackson is coming down. I wonder, is George Washington next week, and is it Thomas Jefferson the week after? You really do have to ask yourself: 'Where does it stop?'" Trump asked during a press conference as the far-left kicked off the trend of removing Confederate statues.