Florida Man Hit With Felony Charges For Leaving Tire Tracks on LGBT Crosswalk
Activists pressure police to elevate charges to "defacing a memorial."
A Florida man was hit with felony charges after leaving tire tracks on an LGBT crosswalk, with activists attempting to get authorities to elevate the charges to include "defacing a memorial."
"Alexander Jerich, 20, turned himself in to police in Delray Beach, Florida, on Thursday," reports RT. "Jerich was seen on Monday allegedly pulling onto the intersection in a pickup truck and spinning his rear tires for around 15 seconds, leaving black streaks across the rainbow stripes and sending clouds of smoke into the air."
The charges against Jerich were elevated from misdemeanor to felony after authorities said there was "evidence of prejudice" in his actions.
However, this isn't enough for LGBT activists, who are trying to make police hit Jerich with charges of "defacing a memorial" under a law passed by Governor Ron DeSantis in April that was intended to protect actual statues and memorials from being torn down by left-wing hate mobs.
WATCH: A man was arrested after he was caught on camera doing what appeared to be an intentional "burnout" with his vehicle over the LGBTQ pride crosswalk in Delray Beach, causing significant damage to the streetscape painting. Read more: https://t.co/yuBY86LOXR pic.twitter.com/PrmKmOJjKS

— WPEC CBS12 News (@CBS12) June 18, 2021
If Jerich is found to have violated the law, which applies if someone "willfully and maliciously defaces, injures, or otherwise damages by any means a memorial or historic property," he faces even more severe felony charges.
Of course, the idea that a gay flag painted on a road represents a "memorial" is absurd, but don't expect authorities to see it that way having been pressured by the mob.
Despite the seriousness of the charges against him, Jerich may be thankful that the incident didn't occur in Canada.
As we highlighted last year, another man who left tire marks on a rainbow crosswalk was the subject of a manhunt by West Vancouver Police, who treated the incident, which may even have been accidental, as a "hate gesture."
This once again underscores how the LGBT movement, far from being "oppressed," can in reality rely on the routine support of the state to throw the book at anyone who dares oppose it.
Meanwhile, the LGBT flag continues to fly above American embassies across the western world (because they're so oppressed and everything).
SUBSCRIBE on YouTube:
Follow on Twitter: Follow @PrisonPlanet
———————————————————————————————————————
Brand new merch now available! Get it at https://www.pjwshop.com/
ALERT!
In the age of mass Silicon Valley censorship It is crucial that we stay in touch.
I need you to sign up for my free newsletter here.
Support my sponsor – Turbo Force – a supercharged boost of clean energy without the comedown.
Also, I urgently need your financial support here.
———————————————————————————————————————
It Happened Again
The unintended consequences of utopian thinking.
The banal horror of reality catches up to progressive ideals in a way that sends shivers down your spine.
Please share this video! https://youtu.be/pzWVkHlAXhQ
SUBSCRIBE on YouTube:
Follow on Twitter: Follow @PrisonPlanet
———————————————————————————————————————
Brand new merch now available! Get it at https://www.pjwshop.com/
ALERT!
In the age of mass Silicon Valley censorship It is crucial that we stay in touch.
I need you to sign up for my free newsletter here.
Support my sponsor – Summit Vitamins – super charge your health and well being.
Get early access, exclusive content and behind the scenes stuff by following me on Locals.
———————————————————————————————————————
Philadelphia Journalist Who Mocked Concern Over Violent Crime In Democrat Cities Shot Dead In Home
A left-wing Philadelphia journalist who mocked concern over rising crime in Democrat-run cities was shot to death in his home.
Josh Kruger was shot seven times after someone entered his home, shot him at the base of his stairs, and then fled. Kruger ran outside seeking help from his neighbors and collapsed, where police found them after responding to call just before 1:30 a.m. on the 2300 block of Watkins Street.
Kruger, 39, was rushed to the Penn Presbyterian Medical Center, where he died just before 2:15 a.m.
No arrests have been made, and there was no sign of forced entry into the home, according to Deputy Police Commissioner Frank Vanore.
"Either the door was open, or the offender knew how to get the door open," he said. "We just don't know yet."
Detectives believe his death may have been the result of a domestic dispute or may have been drug-related, according to three law enforcement sources with knowledge of the case. The sources, who spoke on the condition of anonymity to discuss an ongoing investigation, said police investigators recovered troubling text messages between Kruger and a former partner. Investigators also recovered methamphetamine inside Kruger's bedroom, the sources said. -Inquirer
In April, Kruger – who had struggled with addiction and homelessness – said that an ex-partner had broken into his home.
"The door was locked, so he had somehow obtained a copy of my keys," he wrote.
Around two weeks ago, Kruger wrote on Facebook that someone came to his house looking for their boyfriend, calling themselves "Lady Diabla, the She-Devil of the streets."
Kruger frequently mocked conservatives on X, ironically calling Dilbert creator Scott Adams "Nostradamus" on Saturday for predicting that people would be dead "within the year" of Biden's election.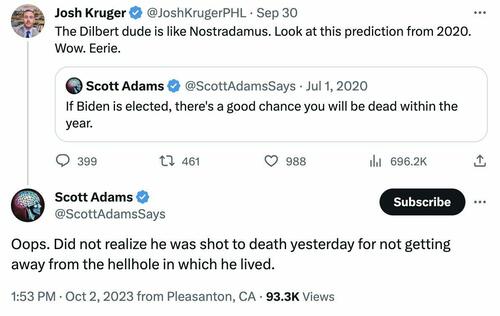 Kruger also mocked conservatives concerned over the city's shootings, which he said were "dropping to levels not seen in years."
And he said it was "fine to rejoice in the death of people who facilitated injustice."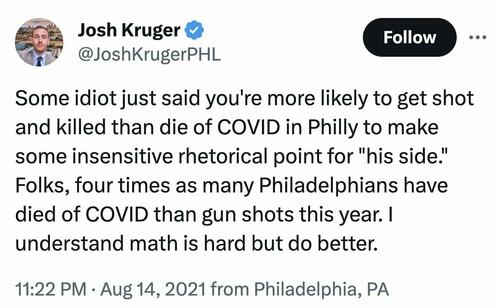 Kruger also wanted to 'punch Nazis,' and accused people of 'not knowing how to properly read' crime statistics.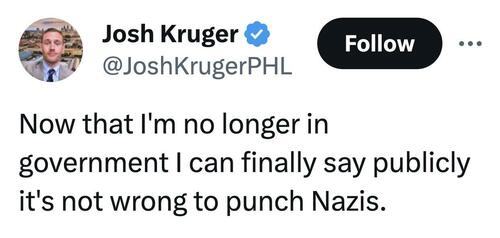 And then there's this…
He also repeatedly defended drug addicts and their right to steal to "survive."
Read more on Kruger's life and death here…
This post was originally published at Zero Hedge
Murder Crisis Plagues DC As Mayor Begs For More Officers After 'Defunding Police'
How it started.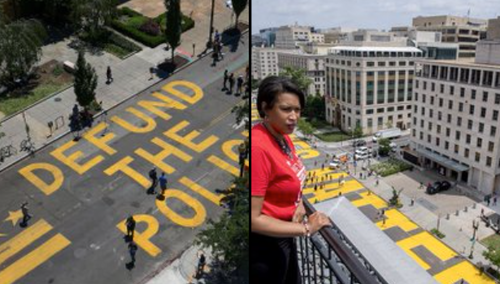 How it's going? 
D.C. Mayor Muriel Bowser, a former supporter of the 'defund the police' movement, urgently calls for increased policing as the nation's capital faces an out-of-control murder crisis.
"What I can say is this: To me, numbers are just numbers. When we lose one person — whether it's one or 200 — that's too many," Bowser said at a press conference earlier this week.
Of course, Bowser, like many Democrat mayors, blames firearms as the issue, deflecting any possibility her disastrous social justice reforms only embolden criminals – while punishing law-abiding taxpayers -across the imploding Washington, DC metro area.
Even the Washington Post can't ignore the murder crisis:
For the first time in a quarter-century, the year's homicide toll in Washington has surpassed 200 before October — a mark of surging violence that has angered and distressed local leaders, drawn scrutiny from Congress and made some residents question whether they can safely live in the nation's capital.
WaPo added:
The last time D.C. logged its 200th homicide before October was Aug. 12, 1997, in a year that ended with 303 people slain, according to police data. After that, annual totals generally trended downward, staying below 200 from 2004 to 2020, with a low of 88 in 2012. But the killing pace has picked up again, reaching 226 in 2021.
Heading into the 2024 presidential election cycle, Democrats will never admit their social justice reforms have failed. They conveniently blame guns.
Directly north of D.C. lies another crime-ridden metro area: Baltimore City. And this week, mass looting was seen in Philadelphia. And just north of Baltimore and Philadelphia, New York City's progressive mayor recently warned of financial ruins due to a migrant crisis.
Democrats have transformed cities into absolute messes.
This post was originally published at Zero Hedge