New York Times Highlights "Paradigm Shift" of Declining Global Fertility Rates
Fails to mention potential environmental causes.
The New York Times has published a lengthy article revealing how the world is undergoing a "paradigm shift" of rapidly declining fertility rates, but fails to mention the possibility that environmental pollutants such as plastic chemicals are playing any role in the decline.
In an article entitled 'Long Slide Looms for World Population, With Sweeping Ramifications', the NYT reveals how there is a global "fertility bust" which represents "a dizzying reversal unmatched in recorded history that will make first-birthday parties a rarer sight than funerals, and empty homes a common eyesore."
The piece notes how a demographic time bomb has the potential to cause social and economic catastrophe, but celebrates the notion that it would be good for the environment.
"A planet with fewer people could ease pressure on resources, slow the destructive impact of climate change and reduce household burdens for women," write the authors.
The authors highlight how virtually every area of the world except for Africa, where the population will continue to grow, will be hit by rapidly dropping fertility rates.
"Like an avalanche, the demographic forces — pushing toward more deaths than births — seem to be expanding and accelerating," states the piece, adding, "Demographers now predict that by the latter half of the century or possibly earlier, the global population will enter a sustained decline for the first time."
Nowhere in the lengthy article is it mentioned that there could be cultural or environmental factors causing the drop in birth rates or anything beyond prosaic economic factors.
Stunning NYT examination of the sharp decline in fertility across the world, except in Africa.
One unexpected stat: By the end of the century, Nigeria could surpass China in population.
By @damiencave, @EmmaBubola, Choe Sang-Hunhttps://t.co/sfny3XQ193

— Cliff Levy (@cliffordlevy) May 23, 2021
As we previously highlighted, a top environmental scientist recently warned that plastic pollution is shrinking penises and making men infertile, meaning most of them won't be able to produce sperm by 2045.
"Phathalates mimic the hormone oestrogen and thus disrupt the natural production of hormones in the human body, which researchers have linked to interference in sexual development in infants and behaviours in adults," reported Sky News.
The chemical, which is used to make plastics more flexible, is being transmitted to humans via toys, food and other items.
Exposure to such chemicals has also worsened as a result of face masks becoming ubiquitous since the start of the COVID pandemic.
Last year, a CNN piece acknowledged that if sperm was an animal it might be "heading toward extinction in western nations" and that one of the potential causes of testosterone and sperm counts are plummeting across Europe and North America was "pollution and chemicals in our food, clothes and water."
The establishment has also relentlessly promoted the 'virtues' of not having children to westerners for decades, one of the latest examples being a piece about "the benefits of being single" published by CNN on Valentine's Day.
The NYT piece also completely fails to mention how many of the same people now pushing global warming alarmism also pushed the 'population bomb' myth for decades from the 1960's onwards.
America's fertility rate currently stands at 1.8 births per woman.
From 2007 to 2011 the fertility rate in the U.S. declined 9% in the space of just 4 years.
In 2016, the U.S. fertility rate fell to 59.8 births per 1,000 women, the lowest since records began.
Fertility rates for white women were down in every US state in 2017, while among black and Hispanic women, fertility rates were up in 12 and 29 states, respectively.
SUBSCRIBE on YouTube:
Follow on Twitter: Follow @PrisonPlanet
———————————————————————————————————————
Brand new merch now available! Get it at https://www.pjwshop.com/
ALERT!
In the age of mass Silicon Valley censorship It is crucial that we stay in touch.
I need you to sign up for my free newsletter here.
Support my sponsor – Turbo Force – a supercharged boost of clean energy without the comedown.
Also, I urgently need your financial support here.
———————————————————————————————————————
"This Is Appalling": Major Tax Filing Services Have Been Sending Financial Information To Facebook
Major tax filing services, including H&R Block, TaxAct and TaxSlayer, have been covertly sending Facebook sensitive financial information when Americans file their taxes online, according to The Markup.
The data includes names, email addresses, income, filing status, refund amounts and college scholarship information – which is sent to Facebook regardless of whether a person even has a Facebook account – or with other platforms owned by Meta. The company can then be used to fine tune advertising algorithms.
It is sent through widely used code called the Meta Pixel.
Of note, Intuit-owned TurboTax does use Meta Pixel, however the company did not send financial information – just usernames and the last time a device signed in. Beyond that, they have kept Pixel entirely off pages beyond sign in.
Each year, the Internal Revenue Service processes about 150 million individual returns filed electronically, and some of the most widely used e-filing services employ the pixel, The Markup found.

When users sign up to file their taxes with the popular service TaxAct, for example, they're asked to provide personal information to calculate their returns, including how much money they make and their investments. A pixel on TaxAct's website then sent some of that data to Facebook, including users' filing status, their adjusted gross income, and the amount of their refund, according to a review by The Markup. Income was rounded to the nearest thousand and refund to the nearest hundred. The pixel also sent the names of dependents in an obfuscated, but generally reversible, format. -The Markup
TaxAct, which services around three million "consumer and professional users," also sends data to Google via the company's analytics tool, however names are not included in the information.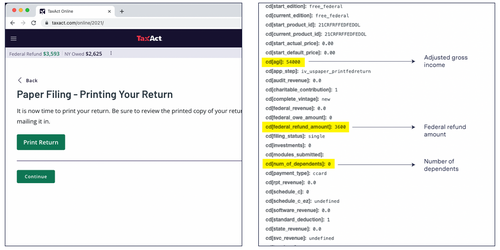 "We take the privacy of our customers' data very seriously," said TaxAct spokeswoman Nicole Coburn. "TaxAct, at all times, endeavors to comply with all IRS regulations."
H&R Block embedded a pixel on its site that included information on filers' health savings account usage, dependents' college tuition grants and expenses. The company similarly claimed in a very boilerplate statement that they "regularly evaluate[s] our practices as part of our ongoing commitment to privacy, and will review the information."
While TaxSlayer – which says it completed 10 million federal and state returns last year – provided Facebook information on filers as part of the social media giant's "advanced matching" system which attempts to link information from people browsing the web to Facebook accounts. The information sent includes phone numbers and the name of the user filling out the form, as well as the names of any dependents added to the return. Specific demographic information was also obscured, but Facebook was still able to link them to existing profiles.
Another tax filing service, Ramsey Solutions, told The Markup that the company "implemented the Meta Pixel to deliver a more personalized customer experience," but that they "did NOT know and were never notified that personal tax information was being collected by Facebook from the Pixel."
"As soon as we found out, we immediately informed TaxSlayer to deactivate the Pixel from Ramsey SmartTax."
Harvard Law School lecturer and tax law specialist Mandi Matlock said the findings showed that taxpayers have been "providing some of the most sensitive information that they own, and it's being exploited."
"This is appalling," she added. "It truly is."
Read more here…
This post was originally published at Zero Hedge
SUBSCRIBE on YouTube:
Follow on Twitter:
Follow @PrisonPlanet
———————————————————————————————————————
Brand new merch now available! Get it at https://www.pjwshop.com/


ALERT! In the age of mass Silicon Valley censorship It is crucial that we stay in touch.

We need you to sign up for our free newsletter here.

Support our sponsor – Turbo Force – a supercharged boost of clean energy without the comedown.

Also, we urgently need your financial support here. ———————————————————————————————————————
Democrat Intel Senator: "Trump Was Right" About TikTok
"All of that data that your child is inputting and receiving is being stored somewhere in Beijing."
The top ranking Democrat on the Senate Intelligence Committee warned Sunday that TikTok is a national security threat and that President Trump was right to want to ban it in 2020.
Committee Chairman Senator Mark Warner told Fox News Sunday "I think Donald Trump was right, I mean, TikTok is an enormous threat, it's a threat on two levels."
"One, it is a massive collector of information, oftentimes of our children. They can visualize even down to your keystrokes. So If you're a parent and you've got a kid on TikTok, I would be very, very concerned," Warner explained.
He added, "All of that data that your child is inputting and receiving is being stored somewhere in Beijing."
"The idea that we can somehow separate out TikTok from the fact the actual engineers writing the code in Beijing I think is a — The Justice Department's trying to come up with a solution. I'm going to take a look at that solution, but they've got a huge mountain to climb," the Senator further noted.
"The second problem is that TikTok in a sense is a broadcasting network." Warner continued, adding "And if the Chinese Communist Party and TikTok at the end of the day has to be reliant on the Communist Party, the Chinese law states that."
"If they suddenly want to dial up the fact that we're going to decrease the content that criticizes Chinese leadership but increase the content that your kids may be seeing saying, hey, you know, Taiwan really is part of China, that is a distribution model that would make RT or Sputnik or some of the Russian propaganda models pale in comparison," he further stated.
Earlier in the broadcast, Republican Senator Tom Cotton warned that China is lying about claims that it stores Americans' TikTok user data in the United States with backups in Singapore.
"There have been reports indicating that that data is accessible in mainland China. That TikTok, a Chinese company, is subject to communist China's laws and that TikTok is one of the most massive surveillance programs ever, especially on America's young people," Cotton stated.
"It's not just the contents you upload to TikTok but all the data on your phone and other apps, all your personal information, even facial imagery, even where your eyes are looking on your phone," Cotton added.
"That's why I've encouraged every American, if they're using TikTok, to delete it from their phone if they can, to get a new phone all together," The Senator further warned.
The Chinese-owned video app, which is notorious as perhaps the most censorious in existence, has previously allowed fake news about Trump resigning to go viral, has censored videos that make fun of Dr. Anthony Fauci, has removed videos that highlighted inconsistencies in Amber Heard's testimony, and has also threatened to censor criticism of Joe Biden.
SUBSCRIBE on YouTube:
Follow on Twitter:
Follow @PrisonPlanet
———————————————————————————————————————
Brand new merch now available! Get it at https://www.pjwshop.com/


ALERT! In the age of mass Silicon Valley censorship It is crucial that we stay in touch.

We need you to sign up for our free newsletter here.

Support our sponsor – Turbo Force – a supercharged boost of clean energy without the comedown.

Also, we urgently need your financial support here. ———————————————————————————————————————
Just Kidding! CBS News Resumes Twitter Posts After 40-Hour Tantrum
It only took 40 hours for CBS News to realize what absolute morons they'd been to stop posting on Twitter over "security concerns" with the platform.
"After pausing for much of the weekend to assess the security concerns, CBS News and Stations is resuming its activity on Twitter as we continue to monitor the situation," the news organization's communications team tweeted Sunday morning.
The outlet announced on Friday that they would be pausing its activity on the social media platform "out of an abundance of caution," which was apparently no longer an issue by Sunday morning. The massive virtue signal marked perhaps the most significant organization to protest the threat of free speech at the Musk-owned social media giant – after multiple advertisers announced that they would be pausing ad spending amid the chaos of locked-out employees and fired executives.
Musk took Twitter private on Oct. 27 – firing the senior management team and appointing himself as CEO, before then firing 50% of the company. On Nov. 17, hundreds of Twitter employees resigned after Musk set a deadline for workers to agree to "extremely hardcore" working conditions.
According to Variety, CBS News was particularly concerned about the security of information on Twitter, as key personnel related to that area had departed.
The news outlet has been closely watching the situation to see if any of Twitter's critical functions break down and whether Twitter is susceptible to hacking attacks.

The mass employee exodus from Twitter — now with a headcount estimated to be less than 2,500, down from 7,500 prior to Musk's $44 billion acquisition — has escalated fears that the platform may start to break down operationally. -Variety
The decision by CBS News comes after Musk reinstated former President Donald Trump's account following a 24-hour poll.
The responses, as expected, have been hilarious.
This post originally appeared at Zero Hedge