50 Cent Flees New York For Texas After Complaining About COVID Restrictions, High Taxes
Joins wave of Americans, both rich and middle class, leaving coastal cities.
Rapper Curtis '50 Cent' Jackson has joined the wave of Americans fleeing New York, announcing that he had moved to Texas after complaining about draconian COVID-19 restrictions and high taxes.
"I love New York, but I live in Houston now," 50 Cent told his social media followers. "I'll explain later."
I Love NY, but i live in Houston now i'll explain later.🚦Green Light Gang 💣BOOM💥 pic.twitter.com/z6FAkAYwB4

— 50cent (@50cent) May 4, 2021
However, the hip hop star had already made it clear why he was planning to leave the Big Apple in March by responding to Texas Governor Greg Abbott's vow to lift mask mandates and other lockdown restrictions with the remark, "I'm headed to Texas fuck this."
The actor and producer is also notorious for flouting COVID rules, having hosted a huge party in an aircraft hangar in St. Petersburg, Florida back in February, putting himself at risk of a massive fine.
In October last year, Jackson also said he was voting for Trump in an attempt to avoid Joe Biden's punishing tax policies, which would have taken 62% of his earnings.
👀WHAT THE F*CK! (VOTE ForTRUMP) IM OUT, 🏃‍♂️💨F*CK NEW YORK The KNICKS never win anyway. 🤷🏽‍♂️I don't care Trump doesn't like black people 62% are you out of ya fucking mind. 😤 pic.twitter.com/uZu02k2Dlz

— 50cent (@50cent) October 19, 2020
"I don't care [if] Trump doesn't like black people," 50 Cent said. "62% – are you out of ya f**king mind?"
50 Cent follows Elon Musk and Joe Rogan in fleeing from a liberal coastal city to low tax Texas, but many ordinary Americans are also making the move.
A survey conducted in September 2020 found that two in five New Yorkers wanted to leave the city, with the reasons cited being crime and public safety as well as the anemic post-COVID economic recovery.
Moving trucks became a common sight on the streets, with 2020 showing a 44% increase in home sales in the suburbs compared to the same time period in 2019 as people flee for bigger homes in safer areas.
As we highlighted yesterday, judging by the supposedly 'busy' rush hour traffic in Manhattan, it may take years for New York to recover from draconian lockdown measures.
SUBSCRIBE on YouTube:
Follow on Twitter: Follow @PrisonPlanet
———————————————————————————————————————
Brand new merch now available! Get it at https://www.pjwshop.com/
ALERT!
In the age of mass Silicon Valley censorship It is crucial that we stay in touch.
I need you to sign up for my free newsletter here.
Support my sponsor – Turbo Force – a supercharged boost of clean energy without the comedown.
Also, I urgently need your financial support here.
———————————————————————————————————————
Elon Musk Quietly Dumps A Massive $6.9 Billion In Tesla Shares
Remember way back in April 2013 when Elon Musk vowed at the Tesla annual shareholders meeting that "just as my money was the first in, it will be the last out." No? Good, because fast forwarding to Tuesday night, we learned that Musk just took 6.9 billion steps to be among the first to get the hell out of Dodge.
According to four Form 4 filings filed late on Tuesday night, Elon Musk sold a total of 7.92 billion (or $6.9 billion) of shares in Tesla, the first time he has sold stock in the carmaker since April, when he was allegedly selling TSLA shares to help him "fund" the Twitter acquisition… for which he dropped his bid shortly after, almost as if the TWTR deal was just a pretext.
According to the new filings, Musk dumped the shares on Aug. 5, the day when TSLA stocks tumbled some 8%.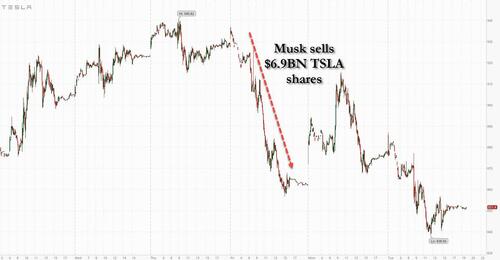 The sale took place shortly after Musk's latest taunt to shorts, who it appears were right – judging by Musk's own sale – but were squeezed nonetheless.
With the latest sale, Musk has now sold around $32 billion worth of TSLA stock in the past 10 months.
Tesla's stock slumped late last year as Musk offloaded more than $16 billion worth of shares, his first sales in more than five years. The disposals started in November after Musk polled Twitter users on whether he should trim his stake.
The shares have risen about 35% from its recent lows in May. Some have noted how every time Musk dumps a boatload of stock, an unexplained gamma squeeze kicks in just before the sale, affording Musk a far higher sale price.
It is surely also a coincidence, that just as Musk was about to dump his shares, a massive burst of retail buying emerged in recent weeks, which it is safe to say, spilled over into meme stonks and forced the latest WallStreetBets short squeeze. As a reminder, last Wednesday we wrote that "Explosion In Retail Buying Revealed As Source Of Latest Tesla Stock Surge." Perhaps some regulator will finally look into this.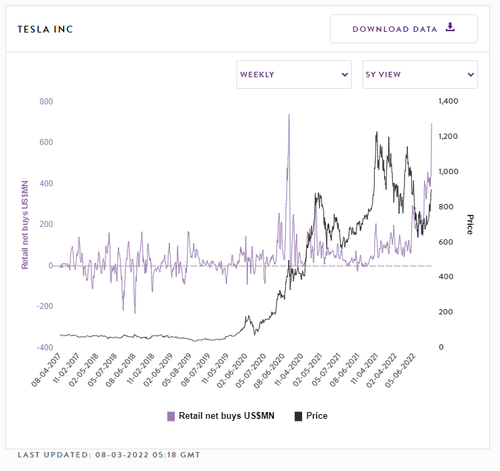 Of course, there is a less sinister explanation: Musk and Twitter have reached a settlement agreement, and Musk was quietly prefunding the balance of his purchase commitments, which means that Twitter employees are about to have a very unpleasant night. Then again, if not one can add this latest Tesla mega-dump to the long list of bizarre events Musk will have to explain in court in a few months…
This post was originally published at Zero Hedge
"Anything But A Cashless Society": Physical Money Makes Comeback As UK Households Battle Inflation
The World Economic Forum (WEF) has been pushing hard for a 'cashless society' in a post-pandemic world, though physical money has made a comeback in at least one European country as consumers increasingly use notes and coins to help them balance household budgets amid an inflationary storm. 
Britain's Post Office released a report Monday that revealed even though the recent accelerated use of cards and digital payments on smartphones, demand for cash surged this summer, according to The Guardian. It said branches handled £801mln in personal cash withdrawals in July, an increase of 8% over June. The yearly change on last month's figures was up 20% versus the July 2021 figure of £665mln.
Across the Post Office's 11,500 branches, £3.31bln in cash was deposited and withdrawn in July — a record high for any month dating back over three centuries of operations. 
The report pointed out that increasing physical cash demand was primarily due to more people managing their budgets via notes and coins on a "day-by-day basis." It said some withdrawals were from vacationers needing cash for "staycations" in the UK. About 600,000 cash payouts totaling £90mln were from people who received power bill support from the government, the Post Office noted.
Britain is "anything but a cashless society," according to the Post Office's banking director Martin Kearsley.
"We're seeing more and more people increasingly reliant on cash as the tried and tested way to manage a budget. Whether that's for a staycation in the UK or if it's to help prepare for financial pressures expected in the autumn, cash access in every community is critical," Kearsley said.
We noted in February 2021, UK's largest ATM network saw plummeting demand as consumers reduced cash usage. At the time, we asked this question: "How long will the desire for good old-fashioned bank notes last?
… and the answer is not long per the Post Office's new report as The Guardian explains: "inflation going up and many bills expected to rise further – has led a growing numbers of people to turn once again to cash to help them plan their spending."
So much for WEF, central banks, and major corporations pushing for cashless societies worldwide, more importantly, trying to usher in a hyper-centralized CBDC dystopia. With physical cash back in style in the UK, the move towards a cashless society could be a much more challenging task for elites than previously thought.
This post was originally published at Zero Hedge
Unbelievable News Out of Spain
Total insanity.
Spain's socialist government is actually imposing a decree that bans air conditioning below 27°C (80.6°F).
It's going ahead despite violating a labor law which states the temperature can be no higher than 25°C.
Please share this video! https://youtu.be/l3NS9DM8Nw8
SUBSCRIBE on YouTube:
Follow on Twitter: Follow @PrisonPlanet
———————————————————————————————————————
Brand new merch now available! Get it at https://www.pjwshop.com/
ALERT!
In the age of mass Silicon Valley censorship It is crucial that we stay in touch.
I need you to sign up for my free newsletter here.
Support my sponsor – Turbo Force – a supercharged boost of clean energy without the comedown.
Get early access, exclusive content and behinds the scenes stuff by following me on Locals.
———————————————————————————————————————