Crazy: Nancy Pelosi Says Border Situation Has Improved Under Biden
What is "good" about rape, disease and human trafficking?
Speaker of the House Nancy Pelosi told reporters Wednesday that the situation at the border has improved since Joe Biden took office and that it is now on a "good path".
"The fact is that we're on a good path at the border under the leadership of President Biden … we were in a very bad situation under the Trump administration," Pelosi proclaimed:
Pelosi's statement is nuts, by anyone's standards.
Even the White House has admitted there is a humanitarian crisis on the border. What is good about that?
There are now over 17,000 unaccompanied migrant children in facilities that are only equipped to hold a few hundred.
The conditions are squalid, with illegals packed in together sleeping on concrete floors.
Many are suffering from diseases, including Covid.
Is that good?
The Cartels are engaged in people trafficking, and footage has emerged of babies being thrown over the border fences.
Women and children are being sexually abused as they attempt to cross the border, both by the traffickers and by other migrants.
But thank goodness Trump is out and Biden is in.
Texas Lt. Gov. Dan Patrick (R) has warned "The president and the vice president of the United States and the Democratic Party are so concerned about placating the left for open borders, children are allegedly being sexually assaulted on American soil because of their total neglect of protecting our border, protecting this country, and protecting these kids, whether they're dropped over the fence, whether they're sexually assaulted, whether they're sent into the country into sex trafficking. Joe Biden and Kamala Harris have this on their hands."
Reuters reports that U.S. border authorities apprehended over 171,000 migrants in March, including 19,000 unaccompanied minors, 53,000 family units, and 99,000 single adults.
Doesn't sound like much of a "good path".
Video: Sam Harris Claims It Was An "Accident" That NY Post Was Right About Hunter Biden Laptop
He previously admitted he 'wouldn't have cared if Hunter Biden had corpses of children in his basement'
Lefty 'philosopher' Sam Harris, who previously admitted he supported the suppression of reporting on the Hunter Biden laptop immediately prior to the election, has now claimed that the New York Post's reporting on the story was accurate only "by accident."
Speaking with Bill Maher on his podcast, Harris declared that the reaction to him saying he wouldn't have cared if Hunter Biden had corpses of children in his basement was "right wing lunacy," and that it "kind of distorted my position."
Harris further declared that "the velocity of the hatred was something new," and claimed that "it was completely plausible to worry that this was a fake story… there simply wasn't enough time to get to the bottom of it."
Maher challenged him on the suppression of the laptop story, noting "Well then why did the outlets that did get to the bottom of it, get to it? The New York Post had no problem getting to the bottom of it."
Harris replied, "They wanted to believe it and yes, you know, sometimes you're right by accident."
Maher responded, "Can I go to step two of what the two reasonable people in the room would agree on. One, they'd agree it was kind of suppressed. Two, they'd agree that Hunter Biden, being the son of the current Vice President, and being a complete douchebag, was ripe to be used as a conduit to his father, through which he was, but nothing really. It was kind of sort of everyday graft, that's sleazy, but doesn't affect the world."
"It's possible we still don't know, right," Harris replied, adding "I'll give some credence to the possibility that it's worse than I understand. But the problem is ten days is not enough to figure that out and we knew that it was going to rail the issue."
Harris then attempted to steer the conversation to Trump and his administration being more corrupt than Biden.
Watch:
The New York Post story on the Hunter Biden laptop was censored on Twitter and other platforms and labelled 'Russian disinformation' in a chilling example of election meddling fewer than 3 weeks before the vote that saw Biden take the White House.
It has since been proven that the story is completely accurate, with  journalists such as Glenn Greenwald describing the cover up as "the single biggest media fraud" in the past decade.
Harris put himself in the spotlight again this week by criticising Elon Musk's attempts to restore free speech on Twitter:
SUBSCRIBE on YouTube:
Follow on Twitter:
Follow @PrisonPlanet
———————————————————————————————————————
Brand new merch now available! Get it at https://www.pjwshop.com/


ALERT! In the age of mass Silicon Valley censorship It is crucial that we stay in touch.

We need you to sign up for our free newsletter here.

Support our sponsor – Turbo Force – a supercharged boost of clean energy without the comedown.

Also, we urgently need your financial support here. ———————————————————————————————————————
Howls Of Outrage After New York Times Confirms SBF To Speak Alongside Zelenskyy, Yellen
As we discussed last night, Sam Bankman-Fried has now demonstrated that he is both a pathological liar and a sociopath, the kind who in "explaining" to his employees how he stole billions (over $4 billion according to new FTX CEO John J. Ray) from the now bankrupt FTX, an act which left it insolvent and without liquidity, called it "loans" which were "generally" not used for "large amounts of personal consumption" (just "small amounts" used for such trivial items as $40 million penthouses and private jets).

And the only reason we don't officially call him a criminal just yet, is because he has not yet confirmed he used client money from his exchange to fund his personal hedge fund, an act which would cost any other individual decades in jail… but not prominent democrats like SBF or Jon Corzine, of course. Plus it's the US legal system's job to do that, not ours. Although we are growing increasingly skeptical this prominent Democratic donor will ever see the inside of a courtroom.
It's not just us: with much of the entire world demanding to know how this corpulent 30-year-old still has not been thrown in prison, or at least charged with a variety of crimes, the NYT just confirmed to the entire world what a farce the one-time paper of record has become, and how it is willing to whore itself out for clicks – not to mention prominent Democrat donors – because moments after SBF tweeted that he will be speaking with Andrew Ross-Sorkin moderated NYT "summit" on Nov 30…
… Sorkin quickly confirmed as much.
And so, instead of being under arrest, SBF will instead be treated like a luminary alongside other such other Democrat icons as Zelenskyy (who according to some may have been intimately familiar with FTX fund flows in the past year) and of course the woman who along with Ben Bernanke and Jerome Powell, made it all possible by blowing the biggest asset bubble of all time: Janet Yellen.
And while we are certain that the NYT – which we assume is done writing puff pieces on behalf of SBF after it became a laughing stock last week – would be quick to mercilessly cancel and expel from its "prestigious" conference anyone who had misgendered some post-op transsexual, it is willing to give this thieving pathological liar and sociopath a forum in which to profess his innocence to the entire world, and by association with other Democrat "celebrities" such as Bill Clinton.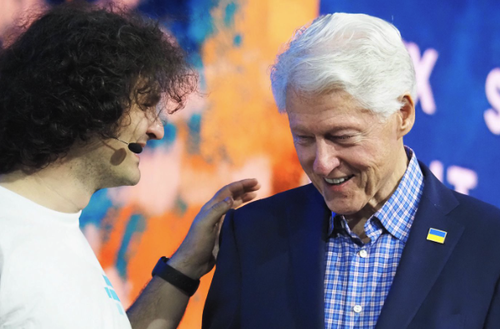 … to boost his standing within a legal system that is clearly as much as joke as the venue that he will be sharing with the following individuals: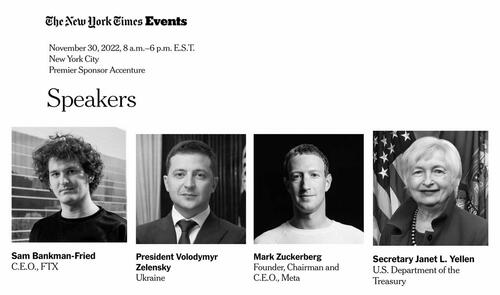 Here are all the other "top business and policy leaders" at the NYT whitewashing summit:
Eric Adams, New York City mayor
Ben Affleck, Artists Equity C.E.O.
Sam Bankman-Fried, FTX founder
Gerry Cardinale, RedBird Capital Partners founder, managing partner and C.I.O.
Shou Chew, TikTok C.E.O.
Larry Fink, BlackRock chairman and C.E.O.
Reed Hastings, Netflix founder and co-C.E.O.
Andy Jassy, Amazon president and C.E.O.
Van Jones, CNN host, author and Dream.Org founder
Scarlett Lewis, Jesse Lewis Choose Love Movement founder and mother of Sandy Hook shooting victim, Jesse
Mike Pence, 48th vice president of the United States and author of "So Help Me God"
Benjamin Netanyahu, former Prime Minister of Israel, current leader of the Likud party
Priscilla Sims Brown, Amalgamated Bank president and C.E.O.
Secretary Janet L. Yellen, U.S. Department of the Treasury
President Volodymyr Zelensky of Ukraine
Mark Zuckerberg, Meta founder, chairman and C.E.O.
The shocked, stunned and simply disgusted reactions are still coming in:
This post was originally published at Zero Hedge
MSNBC's Resident Fed: Tucker Carlson Should Face "Civil Consequences" If Mass Shooters Watch His Show
"We need to see accountability and consequences," but only when it fits the narrative
MSNBC talking head Frank Figliuzzi proclaimed Tuesday that conservative figures like Tucker Carlson and GOP Rep. Lauren Boebert should be subject to "civil consequences" if mass shooters are found to have "consumed" their content.
Ranting about the shooting in a gay club in Colorado Springs this past weekend, Figliuzzi, a former FBI agent with clout, stated that "If [the Colorado Springs shooter] is a consumer of the people we just rattled off, from Lauren Boebert to Tucker Carlson, let's get it out at trial, let's expose it for what it is, name it and shame it."
"He's a consumer of these people and those people should face civil consequences from the victims," asserted Figliuzzi, a rabid anti-Trump hack and now MSNBC's "national security analyst".
"We need to see accountability and consequences," Figliuzzi further declared.
Watch:
The latest reports suggest that the shooter isn't some anti-LGBT right wing nut job, but rather identifies as "nonbinary" and uses "they/them pronouns," according to the New York Times. 
Right, so who should face "civil consequences" for voicing their opinions now then?
What about when a mass killer falls outside such simplistic propaganda narratives? Any civil consequences needed for anyone then?
Nah, doesn't appear so.
SUBSCRIBE on YouTube:
Follow on Twitter:
Follow @PrisonPlanet
———————————————————————————————————————
Brand new merch now available! Get it at https://www.pjwshop.com/


ALERT! In the age of mass Silicon Valley censorship It is crucial that we stay in touch.

We need you to sign up for our free newsletter here.

Support our sponsor – Turbo Force – a supercharged boost of clean energy without the comedown.

Also, we urgently need your financial support here. ———————————————————————————————————————