Tucker: 'Troops Will Never Leave DC; They're There To Prop Up The Regime'
Phantom threats including "QAnon Inauguration Day" are being used to continue an occupation around the centre of government
Tucker Carlson outlined Thursday how Democrats intend to maintain a permanent military presence in Washington DC and will continue to manufacture security threats to keep fear among leftists high.
"When you're a liberal, the world is a very scary place, but there is one fear that rises above all other fears in the liberal mind: The fear of "the other," Carlson opined in his monologue.
He continued "Liberals understand most of the American continent as a mysterious dark space, like a medieval map populated by drooling Trump voters and violent illiterates with extra chromosomes."
"There's nothing rational about that behavior, but you shouldn't be surprised by it. Modern liberalism is not a coherent worldview, it's a deeply unhappy, high-strung personality type. Wokeness is what you get when people are miserable inside," Carlson added.
The host then outlined how phantom threats including "QAnon Inauguration Day" are being used to continue an occupation around the centre of government.
"What is QAnon Inauguration Day? We have no idea, and we don't know anyone who does," Tucker continued, adding "We'd bet money that not one Trump voter in a million had heard of it until this week, when the hysteria merchants on the other channels started yapping about it on television."
Carlson noted how Nancy Pelosi and House leaders rescheduled votes Thursday and many even fled the Capitol, including even some Republicans, believing their own fear mongering that there would be another "peasants revolt".
"It was all just another lie," Tucker urged, noting that it is "not so different from when they told us we would need troops to protect Joe Biden's inauguration. Then, they said we would need soldiers to keep QAnon away from the impeachment trial. Then, there was today's hysteria. Next, there will be something else. Capitol Police are now saying they will need soldiers in Washington for at least two more months."
"The troops will never leave." Carlson emphasised, adding "As you probably figured out by now, the troops are in the Capitol for political reasons. They're there to prop up the regime."
He continued "If this were happening in Cameroon, our State Department would complain about it, call it 'an offense against democracy.' But because it's happening here in America, we have been slow to catch on."
ULEZ
Backlash accelerates.
The massive backlash against Sadiq Khan's odious ULEZ scheme is accelerating, with a quarter of all spy cameras sabotaged or missing.
Please share this video! https://youtu.be/WxhJNhKpymY
SUBSCRIBE on YouTube:
Follow on Twitter: Follow @PrisonPlanet
———————————————————————————————————————
Brand new merch now available! Get it at https://www.pjwshop.com/
ALERT!
In the age of mass Silicon Valley censorship It is crucial that we stay in touch.
I need you to sign up for my free newsletter here.
Support my sponsor – Summit Vitamins – super charge your health and well being.
Get early access, exclusive content and behind the scenes stuff by following me on Locals.
———————————————————————————————————————
DHS Sought To Assign Social Credit Style "Risk Scores" To Social Media Users
Newly-obtained documents reveal.
In a sharp spotlight on the interplay between national security and individual privacy, newly disclosed documents have unveiled that the Department of Homeland Security (DHS) entered into a contract with the University of Alabama at Birmingham (UAB) in 2018 to develop a project, dubbed "Night Fury," designed to analyze and assign "risk scores" to social media accounts.
The Brennan Center for Justice procured these documents through a public records request, and Motherboard was the first to report on them. Project Night Fury aimed at utilizing automation to detect and evaluate social media accounts for connections to terrorism, illegal opioid distribution, but also disinformation campaigns.
The DHS document stated, "The Contractor shall develop these attributes to create a methodology for developing a ranking, or 'Risk Score,' associated with the identified accounts."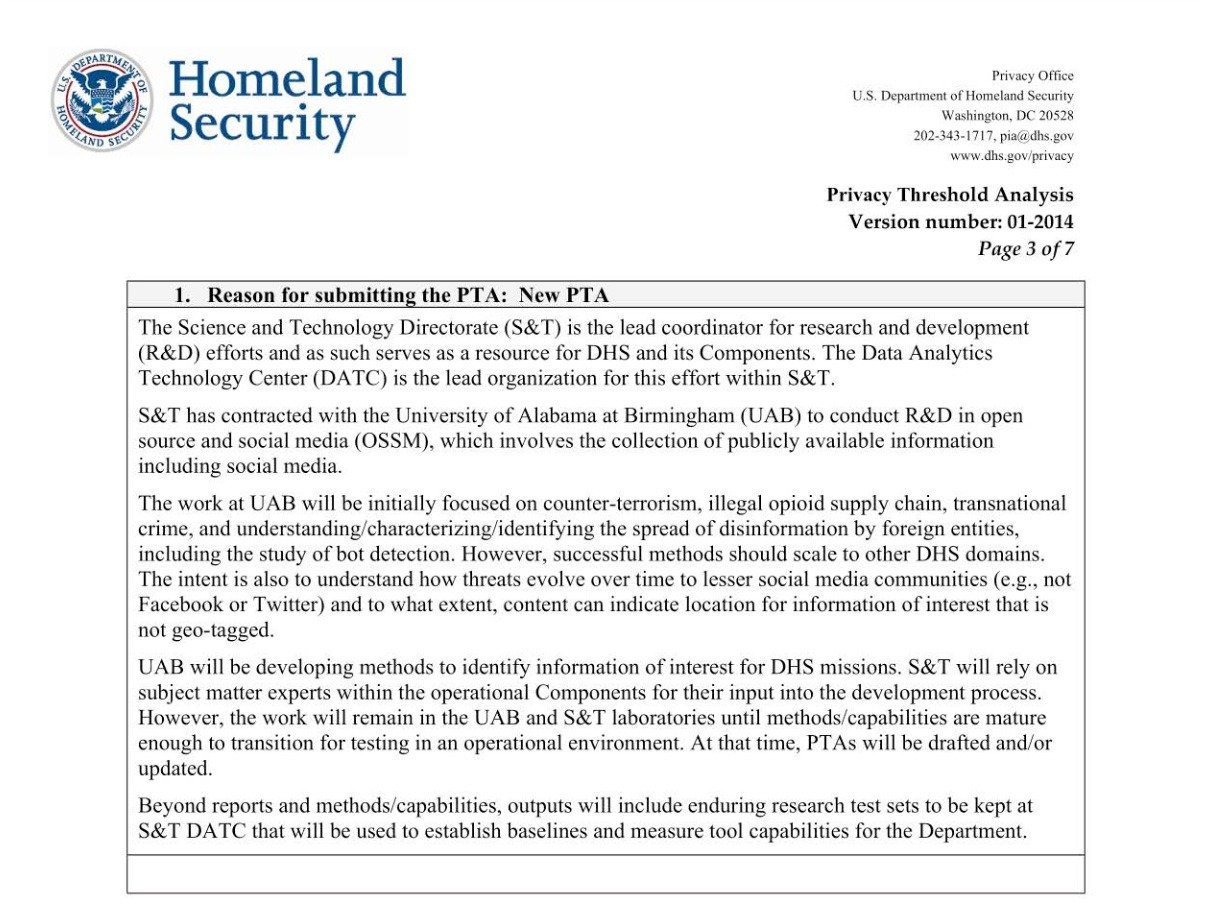 Project Night Fury had also planned on incorporating involvement from Customs and Border Protection (CBP), Immigration and Customs Enforcement (ICE), Transportation Security Administration (TSA), and US Citizenship and Immigration Services (USCIS) to provide "cross-mission operational context," according to one of the documents.
Experts had warned DHS about the inherent difficulties and biases involved in automated judgment for these matters, citing that characteristics like being "pro-terrorist" have no concrete definition.
Notably, DHS terminated Project Night Fury in 2019. However, it underscores the agency's continued interest in social media as a resource for analysis. This comes in the wake of earlier reports of CBP utilizing an AI-powered tool, Babel X, for analyzing travelers' social media at US borders.
While Night Fury's focus was initially on "counter-terrorism, illegal opioid supply chain, transnational crime, and understanding/characterizing/identifying the spread of disinformation by foreign entities," the documents indicate that UAB's work was intended to "scale to other DHS domains" and "build next generation capabilities."
This post was originally published at Reclaim The Net
Like, Totally Orwellian: Nearly A Third Of GenZ Favors 'Government Surveillance Cameras In Every Household'
Nearly one-third of Generation Z says they'd be just fine with government-installed surveillance cameras in every household under the guise of reducing domestic violence and other illegal activity.
"Would you favor or oppose the government installing surveillance cameras in every household to reduce domestic violence, abuse, and other illegal activity?" asks a new survey from the Cato Institute. Of the responses, 29% of those aged 18-29 said yes.
As the NY Post notes;
In 1791, the utilitarian philosopher Jeremy Bentham proposed building a "panopticon" in which people's behavior could be monitored at all times.

But Bentham's panopticon was meant to be a prison. A sizable segment of Generation Z would like to call it home.
When it comes to other age brackets, 20% of millennials (between the ages of 30 and 44) also want everyone watched.
Then, wisdom appears to kick in – as just 6% of Americans aged 45 and older were OK with government surveillance in every home.
Broken down by politics, 19% of liberals and 18% of centrists agreed that our daily lives should be monitored by the government for our own safety, while 9 – 11% of those who identify as conservative, very conservative, or very liberal agreed in what appears to be a "horseshoe" issue that unites both ends of the political spectrum.
It's the middle that has the ethic of old East German secret police — or the KGB.

Maybe that's not surprising considering the way respectable liberal institutions now run themselves.

From Ivy League campuses to the publishing industry and the digital domains of Facebook, there is an Orwellian sense of perpetual emergency, an irrational fear that misinformation and hate speech will overwhelm society unless every utterance is subject to a censor's scrutiny.

Even Orwell didn't imagine Newspeak would require new pronouns. -NY Post
Broken down by race, 33% of black Americans said they're fine with government in-home surveillance, as did 25% of hispanics, 11% of whites, and 9% of asians respectively.
The question was asked as part of the Cato Institute's survey on American attitudes on the prospect of a 'central bank digital currency.' What's interesting about that is that 53% of Americans who support a CBDC also support in-home surveillance cameras.
Notably, Americans who support a CBDC stood out in how they think about in‐​home government surveillance cameras. A majority (53%) of Americans who support a CBDC support the government installing in‐​home surveillance cameras to reduce abuse and other illegal activity. This suggests that some of the psychology behind support for a CBDC springs from an above average comfort level with trading some personal autonomy and privacy for societal order and security. -Cato Institute
What's more, those who view the Federal Reserve favorably are more likely to support a CBDC (duh).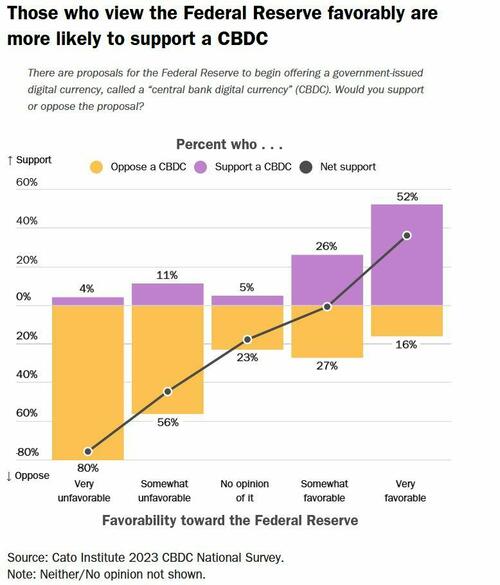 Sheep gonna sheep?
This post was originally published at Zero Hedge