Gab Hacked; Group Promises 'Gold Mine' Of Info On 'Militias, Neo-Nazis, QAnon'
Alex Jones among those targeted by "mentally ill tranny demon hackers"
The free speech alternative to Twitter, Gab has been hacked, with those behind the action promising to release a treasure trove of information including passwords, private posts, and messages.
The hacking group calling itself 'DDoSecrets' says it has obtained 70-gigabytes of data, and has dubbed it "Gableaks".
Among the "private posts, user profiles, hashed passwords for users, DMs, and plaintext passwords for groups," is data for an account supposedly belonging to President Trump, as well as an account owned by Gab's own CEO, Andrew Torba.
DDoSecrets cofounder Emma Best told Wired that the data "contains pretty much everything on Gab, including user data and private posts, everything someone needs to run a nearly complete analysis on Gab users and content."
"It's another gold mine of research for people looking at militias, neo-Nazis, the far right, QAnon and everything surrounding January 6," Best claims.
Gab released a statement Gab announcing that it is "aware of a vulnerability" on its platform, claiming it has fixed it.
Torba charged that Wired is "in direct contact with the hacker and [was] essentially assisting the hacker in his efforts to smear our business and hurt you, our users." 
The Gab CEO labelled those behind the action "mentally ill tranny demon hackers", further suggesting that they are "The same people" who "targeted law enforcement officers and their family members last summer."
In addition to Trump, the hackers also claim that they have obtained the passwords of Infowars' Alex Jones, Republican congresswoman Marjorie Taylor Greene, and MyPillow CEO Mike Lindell.
It is claimed that so far neither Wired nor DDoSecrets has attempted to decrypt the passwords, or gain access to the accounts.
Report: Fauci Oversaw Dangerous, Torturous Experiments On Dogs
"Fauci is increasingly becoming Dr. Evil. Over and over again"
In addition to overseeing funding of gain of function coronavirus experiments in Wuhan, and then lying about it, it has now emerged that Dr Fauci was in charge of funding horrid experimental research on dogs, including purposefully infecting the animals with parasites known to be contagious to humans.
The report from the White Coat Waste Project draws on information gleaned from a FOIA request which revealed that $400,000 was pumped into National Institutes of Allergy & Infectious Disease experiments to infect beagles with parasites from biting flies.
The report outlines how the dogs "endured months of pain, and once researchers were done with them, they were killed."
The NIAID task order states that "28 beagles were to be allowed to develop infections for three months before being euthanized for blood collection."
The records obtained under the FOIA request show the dogs "vocalized pain" during the experiments.
Torturing and killing dogs, the most loving and innocent creatures on Earth, with deadly parasites that are also extremely dangerous to people.
Can this guy get any more evil?
What's next? Funding for research on what temperature it is best to roast new born babies?
Breaking down the report, Fox News host Ben Domenech noted that "If Dr. Anthony Fauci thought Rand Paul was mad at him, wait until the animal activists see this."
As noted by Justin Goodman, one of the authors of the report, experimental and cruel research on dogs was ended a long time ago by the EPA and other agencies, because there's very little of use to us that can be gleaned scientifically from it, yet Fauci's agency continued with it nonetheless.
Host Lara Logan chimed in, commenting "How could you not love dogs? This has to be something that people everywhere are united on," adding "In fact, they're supposed to be far fewer experiments on animals, particularly dogs, because so many people are really just horrified by it. There's ethical considerations, moral considerations and of course, there's the practical considerations."
"We know these things happen, but should they be happening with taxpayer money? Dr. Fauci is increasingly becoming Dr. Evil. Over and over again, the decisions that he made that have just destroyed millions of lives all over the world are becoming more apparent by day," Logan added.
Logan further pointed out "We still don't know so much about what he's doing. We don't know what they're doing at the NIH with animals. We don't know what research they're funding with gain of function."
Fox News states that unsurprisingly neither Fauci nor the NIH has responded to requests for information on this matter.
SUBSCRIBE on YouTube:
Follow on Twitter:
Follow @PrisonPlanet
———————————————————————————————————————
Brand new merch now available! Get it at https://www.pjwshop.com/


ALERT! In the age of mass Silicon Valley censorship It is crucial that we stay in touch.

We need you to sign up for our free newsletter here.

Support our sponsor – Turbo Force – a supercharged boost of clean energy without the comedown.

Also, we urgently need your financial support here. ———————————————————————————————————————
Facebook Rolls Out Weird 'You've Been Exposed To Extremist Content' Alerts
Asks users to report anyone they think 'might be becoming an extremist', without defining what that even is.
Facebook users have begun to receive creepy messages warning them that they 'may have been exposed to extremist content' and asking if they need support, as well as asking them to report anyone they know who 'may be becoming an extremist'.
The warnings began popping up Thursday and have little indication of what the platform considers to be 'extremist content':
Encouraging people to turn in their friends, relatives and neighbours for wrongthink, where have we heard about this before?
Here's what the Facebook warnings end up at:
On closer inspection, the warnings further link to a group that calls itself Life After Hate.
The About description on their website reads:
Our Mission -Life After Hate is committed to helping people leave the violent far-right to connect with humanity and lead compassionate lives.
Our Programs -Our primary goal is to interrupt violence committed in the name of ideological or religious beliefs. We do this through education, interventions, academic research, and outreach.
Note that there is still no definition of what 'violent far-right' means, and there is no mention of any far-left hate groups, of which there are plenty.
A 'fact sheet' posted to Life After Hate's website also proclaims that "far right extremism and white supremacy are the greatest domestic terror threats facing the United States."
So, ok hate only exists on the right. And surely every woke leftist this message is sent to won't use it against the conservative neighbour or colleague who merely disagrees with them.
You can see where this is heading.
Facebook responded to questions about the alerts Thursday, issuing a statement that says "This test is part of our larger work to assess ways to provide resources and support to people on Facebook who may have engaged with or were exposed to extremist content, or may know someone who is at risk,"
"We are partnering with NGOs and academic experts in this space and hope to have more to share in the future," the Facebook statement also read.
This group appears to be yet another like the Southern Poverty Law Center, a far left political entity masquerading as a bipartisan organisation with the express goal of silencing anyone who does not adhere to their warped outlook.
We shouldn't be surprised, Facebook has been doing this for years already, first targeting and attempting to silence those who publicly engage in wrongthink, and then going after everyone else.
As Pink Floyd legend Roger Waters recently noted, Facebook and Zuckerberg have an insatiable desire to "insidiously take over absolutely everything" and wipe out anyone or anything they cannot control.
SUBSCRIBE on YouTube:
Follow on Twitter:
Follow @PrisonPlanet
———————————————————————————————————————
Brand new merch now available! Get it at https://www.pjwshop.com/


ALERT! In the age of mass Silicon Valley censorship It is crucial that we stay in touch.

We need you to sign up for our free newsletter here.

Support our sponsor – Turbo Force – a supercharged boost of clean energy without the comedown.

Also, we urgently need your financial support here. ———————————————————————————————————————
Watch: Another Video Of Future Killer Robot Dogs Dancing
Cable of chasing you down, ripping out your lungs, AND dropping some wicked moves to K-pop!
It's all fun and games when it comes to Boston Dynamics' robot dog SPOT. Watch as the loveable scamps dance to Korean boy band music in their latest video:
As Zero Hedge notes, the video was made to signify South Korean firm Hyundai finalizing its acquisition of Boston Dynamics earlier this month.
Eric Whitman, a Boston Dynamics roboticist commented "There were a lot of challenges around getting the vision of our choreographer, who's used to dealing with human dancers, into our software." 
What is the deal with this?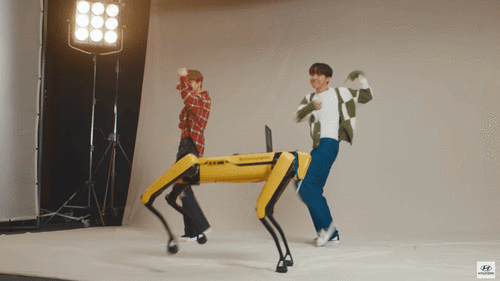 Are we really supposed to believe that these machines are being developed so they can dance around with 14 year old K-pop boys?
In reality, these machines are being made for military and law enforcement purposes, as this recent video of the French military highlights:
Last December, the NYPD is deployed a similar 70 pound robotic Boston Dynamics dog capable of opening doors and moving objects out of its path.
In fact, the 'dog', called Digidog, is actively being used to apprehend suspects, according to a report by ABC 7 News.
"This dog is going to save lives, protect people, and protect officers and that's our goal," NYPD Technical Assistance Response Unit Inspector (TARU) Frank Digiacomo said.
"This robot is able to use its artificial intelligence to navigate things, very complex environments," NYPD TARU's Deepu John added.
Watch:
Last year, one of the machines was used in Singapore to enforce social distancing and mask wearing:
The 'SPOT' dog was also deployed last year by Massachusetts State Police in live action situations to provide troopers with images of suspicious devices or reveal where suspects were hiding.
Video of MA State Police testing the dogs shows one of the robots opening a door, mirroring footage released previously by Boston Dynamics.
Boston Dynamics routinely releases slick videos of the machines in action:
The AI on the dogs is open, so it can be customized, and the machines can be fitted with weapons. Along with the lease to law enforcement, that is enough for Kade Crockford, director of the technology for liberty program at the ACLU of Massachusetts to issue a warning.
"We just really don't know enough about how the state police are using this," Crockford said. "And the technology that can be used in concert with a robotic system like this is almost limitless in terms of what kinds of surveillance and potentially even weaponization operations may be allowed."
"We really need some law and some regulation to establish a floor of protection to ensure that these systems can't be misused or abused in the government's hands," Crockford said, adding "And no, a terms of service agreement is just insufficient."
The robot dogs inspired an infamous episode of Black Mirror in 2017, where machines very similar looking to the SPOT, but more advanced, were depicted hunting down and killing people after the unexplained collapse of human society.
SUBSCRIBE on YouTube:
Follow on Twitter:
Follow @PrisonPlanet
———————————————————————————————————————
Brand new merch now available! Get it at https://www.pjwshop.com/


ALERT! In the age of mass Silicon Valley censorship It is crucial that we stay in touch.

We need you to sign up for our free newsletter here.

Support our sponsor – Turbo Force – a supercharged boost of clean energy without the comedown.

Also, we urgently need your financial support here. ———————————————————————————————————————